Indians in Singapore
Indians are the third largest ethnic group in Singapore (after the Chinese and the Malays). Historically, many of their ancestors migrated here after the British colonisation of Singapore to serve as British troops, prisoners or to work. The Indian culture can be sub-divided into two main groups: the North Indians and the South Indians. The Tamils and Malayalees are the two predominent South Indian communities in Singapore while there are four main North Indian groups here include the Punjabi, Sindhi, Hindi and Gurati communities. Visitors to the country can enjoy both North and South Indian cuisines here in Singapore.
About Biryani
The word biryani is an Urdu word derived from the Persian language and is one of the most signature dishes in Indian Cuisine. "When we have any occassions or get togethers, we cook our signature dish which is the biryani," explains chef Javed Ahmed from The Punjab Grill. He adds that there are two types of Biryani: Kutchi (raw) Biryani and Pukki (cooked) Biryani. The former does not meet the strict meaning of Biran in Fari which means 'friend before cooking' while the latter comes close. For Kutchi Biryani, raw marinated meat is layered with raw rice and for Pukki Biryani, cooked meat and cooked rice are layered and put in Handi (a deep, wide-mouthed cooking vessel) to finish.
In this story, chef Ahmed shares his restaurant quality North Indian biryani while consultant Shasikala Kalai Silvan shares her South Indian family version.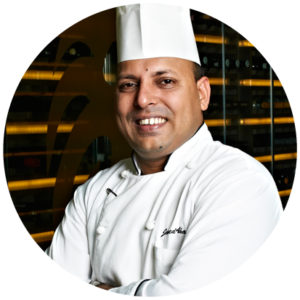 Vegetable Biryani Recipe (Chef Version)
From: Chef Javed Ahmad, Punjab Grill
"I chose a vegetable biryani as this is something that both vegetarians and non-vegetarians can enjoy. My criteria for good biryani is as follows: it should have both a sweet fragrance and a warm, herbal aroma and it should be savoury but not spicy. Most importantly, it must meet the age old test where you drop a handful of Biryani on a hard floor and no two grains of rice should stick to each other."
Ingredients:
2 carrots, diced
100gm French beans diced
50g cauliflower florets
1 large onion, finely sliced
1 tbsp chopped coriander leaves
1 tbsp chopped mint  leaves
2 tbsps ghee
1 tbsp oil
1 cup thick curd/yogurt
4 green chillis, make a small slit in them
1/2 tbsp ginger garlic paste
1 tsp red chilli powder (adjust)
1/4 tsp turmeric powder/haldi
1/2 tbsp coriander poweder
salt as required
pinch of saffron soaked in 3 tbsps  ofluke warm milk for 10 minutes
Biryani Masala – dry roast for 2 to 3 minutes and powder:
2 cloves
1/2 inch cinnamon stick
2 elaichi/cardamom
1/4 star anise
4 pepper corns
Ingredients to cook rice:
2 cups Basmati rice
3 cloves
3 cardamoms
1/2 inch cinnamon stick
1 bay leaf
5-6 mint leaves
1/2 tbsp oil
3/4 tbsp salt
water as required
1.In a bowl, add green chillies, mint leaves, coriander leaves and ginger garlic paste, red chilli powder, turmeric powder, coriander powder, biryani masala powder, and salt and combine well. Add the sautéed mixed vegetables and yogurt and combine. Marinate for 30 minutes.
2.Cook basmati rice in lots of water along with bay leaves, cloves, cinnamon, cardamom, marathi mogga, elaichi, mint leaves, oil and salt until its half cooked. Strain the water and spread the rice on a large wide plate.
3. Heat 1 tbsp oil and 1 tbsp of ghee in a vessel, add sliced onions, sauté for 8 to 10 minutes till caramalised. Remove and keep aside.
4. Take a wide deep vessel to prepare the biryani. Drizzle some oil all over, add the marinated mixed vegetables   along with the rest of the marinade and spread out in the vessel. Add a cup of water and cook until the potatoes are fork tender and the gravy thickens.
5. Next spread the rice over the potato layer, pour 1/2 tbsp of ghee all over the rice, spread the caramalised onions (keep aside a tbsp of caramalised onions for garnish) over the rice layer. Next sprinkle coriander leaves and pour the saffron milk over the rice.
6. Place lid and over the lid place a heavy weight. Cook on medium high flame for 3 minutes. Remove the vessel from fire and place a iron tava (flat flying pan) over a low flame. Place back the vessel on the iron tava on a low flame and cook biryani for 15 minutes. Turn off the heat and do not remove lid for five minutes
7. Remove lid, combine gently and remove onto a serving bowl. Garnish with chopped coriander leaves and caramlised onions and serve hot with raita and curry of your choice.
Mutton Biryani Recipe (Family Version)
From: Shasikala Kalai Silvan
This recipe is consultant Shasikala's family recipe that has been passed down to her
Ingredients:
Spice mixture:
5 to 6 tbsps chee
2 cinnamon sticks
2 cloves
3 star anise
3 cardamom pods
1 big onion, sliced
blended ginger
garlic
Rice:
3 cups of Basmati rice
1 tsp salt
1 tbsp rose water
3 tbsps Baba's biryani powder
Mutton Curry
1.5kg mutton
3 tbsps of blended garlic and ginger
Curry leaves
1 big onion
4 cloves
3 star asnise
5 cinnamon sticks
2 broken cardamom pods
3 potatoes, chopped
salt
mutton powder
coconut cream
3 to 4 sliced red chillies.
Directions:
Rice:
1. In a pan, add the ingredients for the spice mixture together and stir. Prepare mixture and keep aside.
2. Wash rice and add 5 cups of water
3. Soak for 30 minutes and after soaking, add salt, rose water and biryani powder
4. Pour in the spice mixture and stir.
5. Cook until rice turns light brown in colour.
6. Once rice is cooked, stir slowly with wooden spoon.
7. Serve with raisins, cashew nuts and sliced red chilllies on top.
Mutton Curry:
1. Cut mutton into medium sized cubes
2. Place in pressure cooker and add the blended garlic and ginger paste, cook for 20 minutes until tender.
3. Add a bit of oil, the curry leaves, onion and the spices together with potatoes into the pan and stir slightly.
4. Pour in the mutton from the pressure cooker into the pan and add a bit of water, salt, mutton powder and some coconut cream.
5. Once the potatoes are cooked, add in 3 or 4 sliced red chillies.
6. Serve in a big bowl.