If cooking is off the menu for you this festive season – we've got you covered with some of THE best festive takeaways this Christmas. 
Indulge in succulent meats roasted to perfection, delectable sides and delicious desserts whipped up by the talented chefs at these restaurants. Spend less time fussing in the kitchen and more time entertaining your guests while dining in fabulous style in the comfort of your own home.
So get the table dressed in your best tableware and light some candles – these maestros will take care of the feast.
Santa's Shop | Hyatt Hotel 
Hyatt's Santa's Shop at mezza9 is offering a gastronomical selection of seasonal homemade and gourmet treats to create customisable festive hampers and gift boxes. An entire sumptuous Christmas spread can be customised for festive celebrations at home, with hearty selections such as spit roasts, cold deli items, bakeries, Christmas roasts, and more.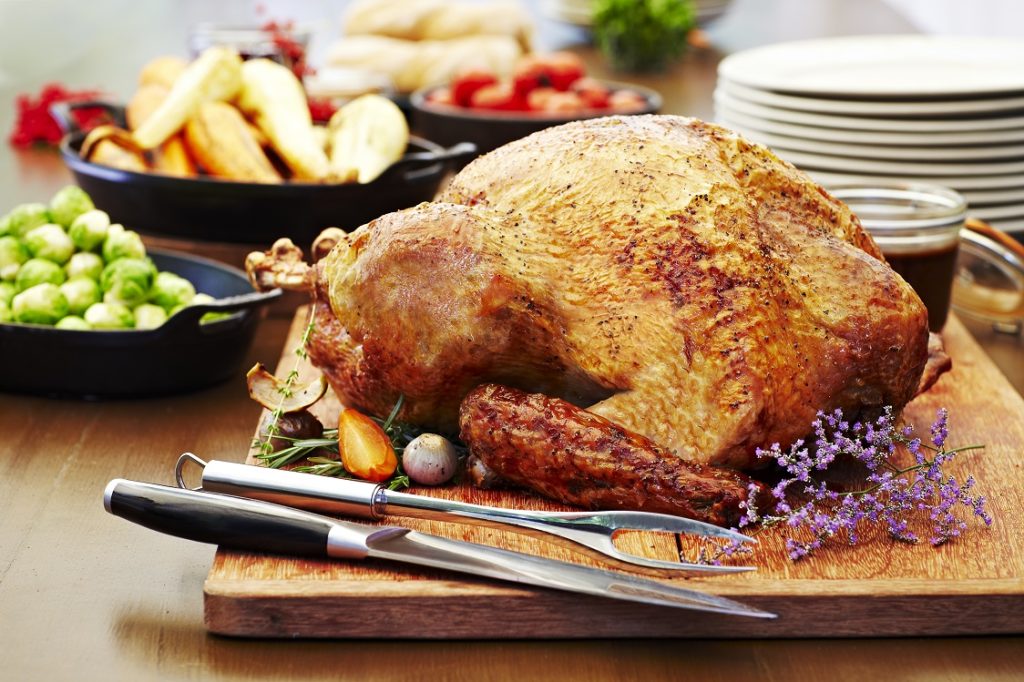 For the ultimate Christmas meal, mezza9's sharing menu will make Christmas hosting a breeze with selections that can feed up to ten people. This menu includes breads and dips, a garden salad, a chilled sustainable shellfish platter (Maine lobsters, Spencer Gulf king prawns, black mussels), mezza9 sushi and sashimi variation, a traditional Christmas roast with all the trimmings, and Christmas plum pudding with brandy sauce.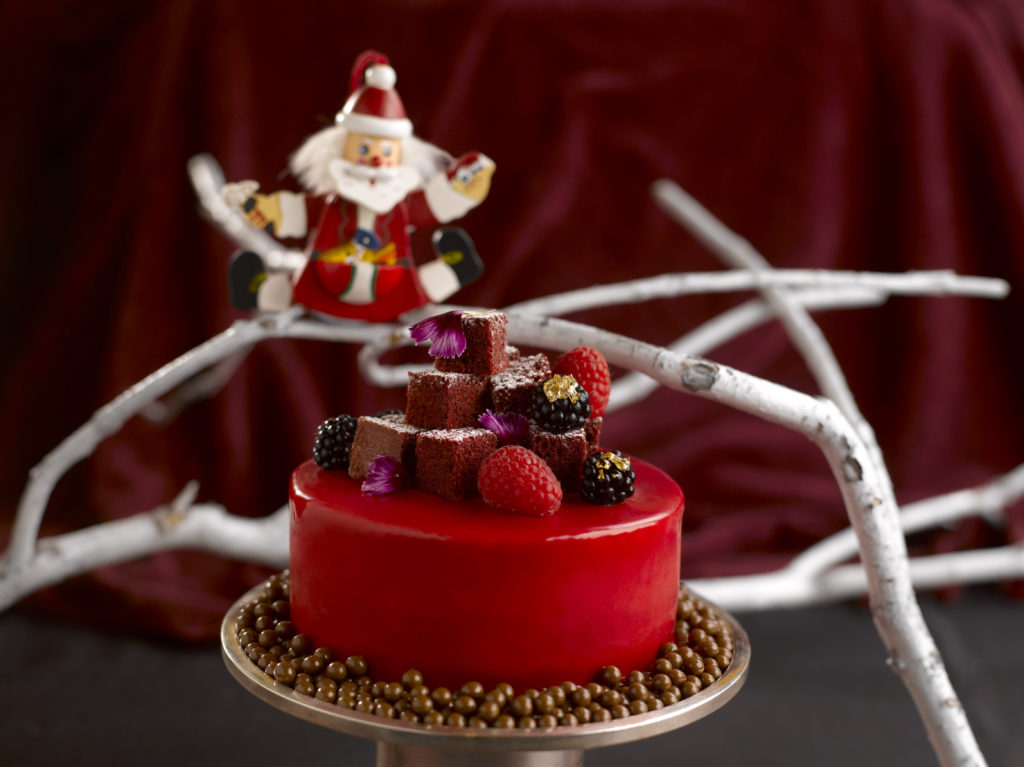 The patisserie offers a divine selection to finish off your dinner on a sweet note – an assortment of pastries will include traditional English fruit cake, Christmas plum pudding, mango & passion fruit log cake, chocolate truffle cake made from La Esmeralda chocolates — a Christmas feast.
Available from now to 1 January 2018. Orders can be made through Santa's Shop Order Form.
The Gift of Christmas | DEAN & DELUCA
Indulge in an array of delicious holiday meats and sides from the good people at Dean & Deluca. They have rolled out a spread of gourmet hampers so you can enjoy a gorgeous Christmas spread without slogging in the kitchen.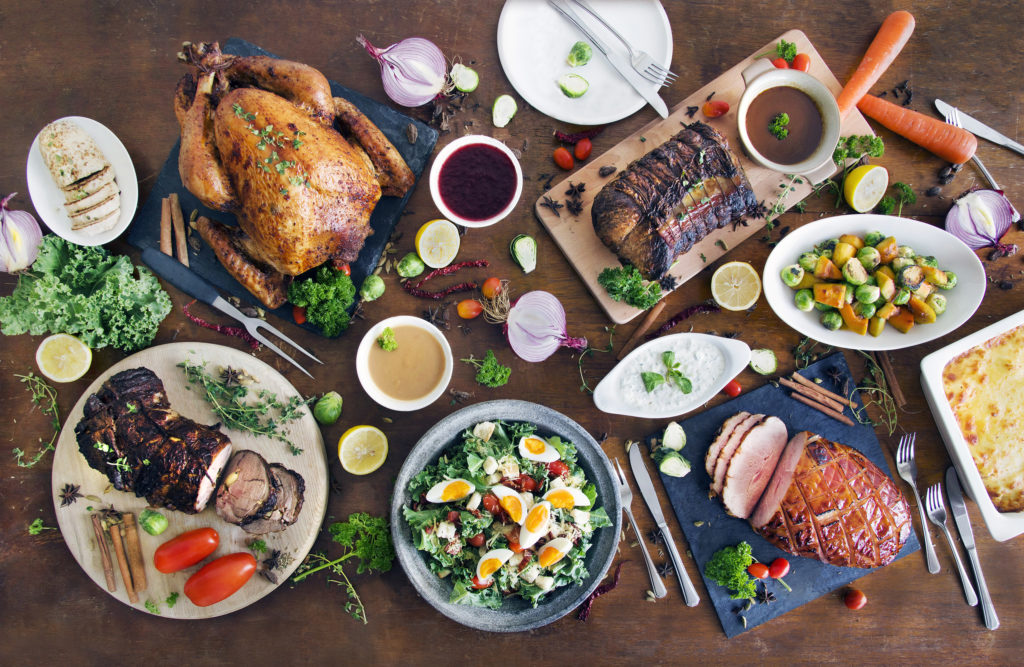 Everything you need for your traditional holiday meal, indulge in the Whole Roasted Turkey ($150) served with stuffing and kale caesar salad. Other takeaway dinners include the Apricot Glazed Gammon Ham ($135) served with caramelised brussels sprouts; the Whole Roasted Angus Beef ($140) served with merlot jus and truffle mac & cheese; the Roasted Harissa Lamb Leg ($150) served with tzatziki sauce and cauliflower gratin. All of which includes a side of kale caesar salad which will leave your family and friends sated.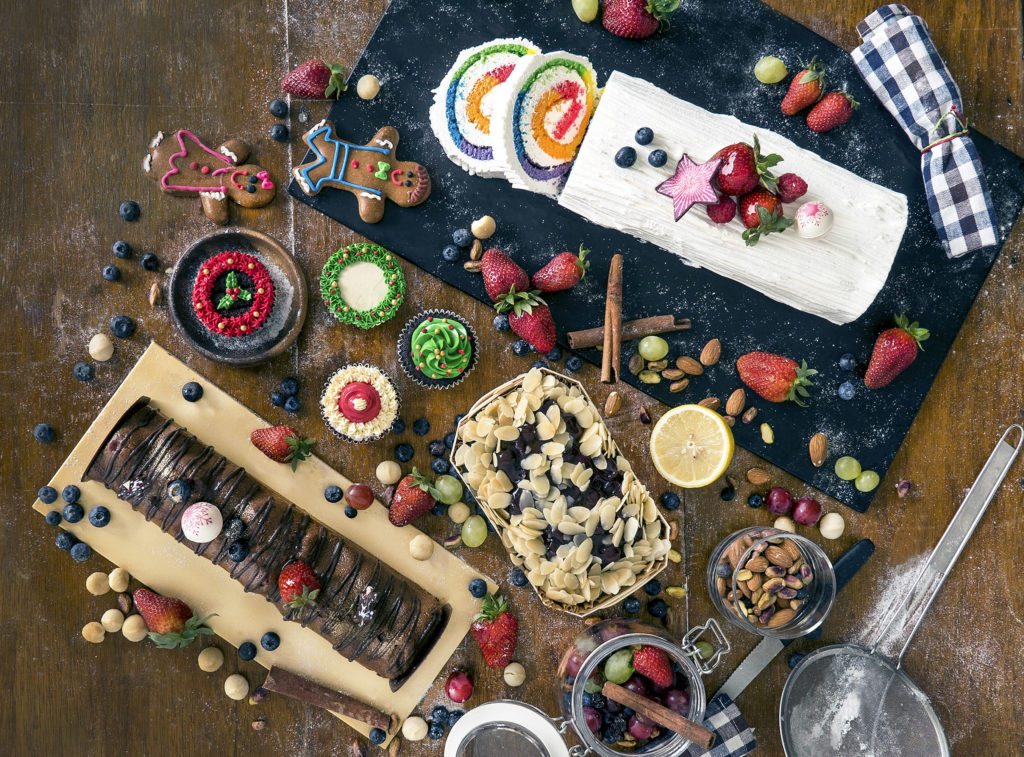 Round off the meal on a sweet note with our holiday pastries. Putting a spin on the cafe favourite, the Rainbow Log Cake ($85) is sure to be a treat for all. For a more traditional sweet, there is the yuletide must-have Chocolate & Raspberry Log Cake ($90), and the all-time Christmas favourite Brandied Cherry & Almond Fruit Cake ($68).
Order now by downloading the festive form from DEAN & DELUCA, with the option of home delivery with a charge of $25. Or order from any Dean & Deluca outlets.
Festive Gourmet Goodies | The Marmalade Pantry
Revel in the holiday cheer with The Marmalade Pantry's exquisite selection of meats and sweets to wow your guests at home this Christmas.

The Marmalade Pantry is offering a variety of carvery and sides for your stress-free Christmas party. Pick from classics like their juicy Whole Roasted Turkey with Fresh Herbs ($88++)or the Maple Honey Glazed Gammon Ham ($88++). Other choices include the Angus Ribeye ($88++) topped with merlot infused beef jus, the Apple Baked Salmon ($88++) with lemon, capers and fill beurre blanc sauce, as well as the Moroccan Roasted Boneless Lamb Leg ($88++).
Sides include the brand's signature Marmalade Mac & Cheese ($20++), the Traditional Sage & Oregano Turkey Stuffing ($20++), Caramelised Brussels Sprouts & Roasted Pumpkin ($20++), Green Bean Casserole ($20++) with mushroom gravy and fried onion and Broccoli & Cauliflower Gratin ($20++) complete with gruyere cheese. Customers will also enjoy a festive bundle price of one carvery and two sides at $110++.
To finish off your feast, you've got to try their sweet selection, choose from the Baked Lemon Meringue Tart ($35++), a Chocolate & Raspberry Log Cake ($60++) and a pair of Snowman and Christmas tree cupcakes for the little ones or get them all!
Available for pick-up at The Marmalade Pantry Downtown or Novena outlets and delivery. Order via their online form or call 9178 0250 or email festive@themarmaladepantry.com.sg for general enquiries.
Eurasian Christmas | Quentin's
For Christmas with a delectable Eurasian twist, you just have to try out Quentin's takeaway menu. What makes them different from the rest on our Christmas list,  is their signature Sugee Cake. If you're looking to add something new on the menu, this Eurasian oldie is it!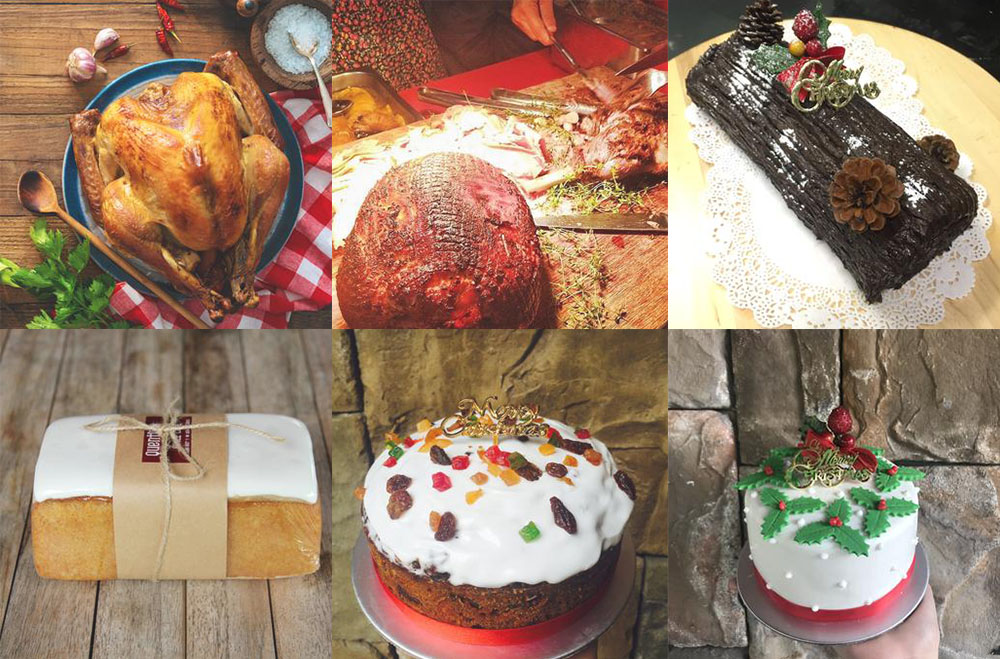 Besides the usual Christmas fair of their juicy, roasted to perfection Turkey (from $135+) and Gammon Ham (from $140). You will be spoilt for their dessert selection; Fruit Cake with royal icing (from $60), Log Cake with vanilla and chocolate frosting ($35+), Mini Sugee Cake (from $35+), Sugee Cake (from $65+) and their Sugee Loaf (from $25+).
The sugee cake is a Christmas must-have for every Eurasian family come Christmas, Birthdays and Christenings. Every Eurasian family would have a closely guarded family recipe of their own and no baked sugee is ever spared a ruthless comparison. This highly regarded cake is a heavy (tons of eggs), almond-infused cake, very buttery with just enough almond crunch to add an interesting texture. It is finished with marzipan and royal or fondant icing although many prefer it naked.
Order via Quentin's by 17 December.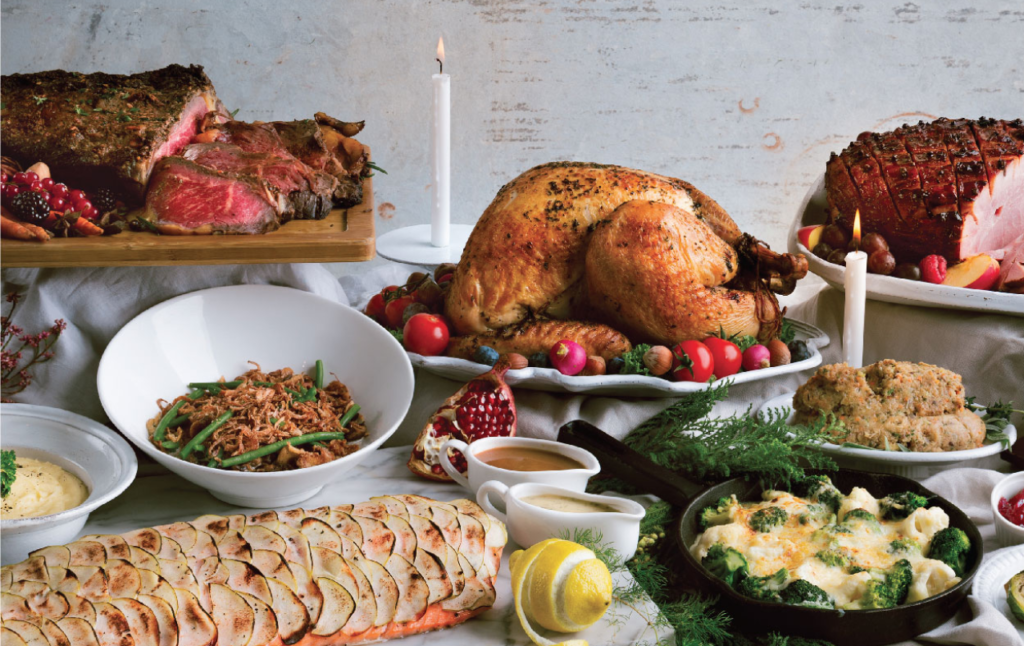 Kitchen Language Catering
Succulent meats cooked to absolute perfection is what you need on your table. Kitchen Language Catering's festive gourmet take away menu include delicious favourites like the Apricot Glazed Gammon Ham ($88++), Roasted Boneless Lamb Leg ($88++), Angus Ribeye with Merlot Beef Jus ($98++), and Whole Roasted Turkey with your choice of two sides ($108++).
Round off your meats with their selection of sides when you order the turkey – Buttery Pomme Purée, Caesar Salad, Cauliflower Gratin, Traditional Sage / Oregano Turkey Stuffing, Caramelised Brussels Sprouts & Roasted Pumpkin or Truffle Mac & Cheese.
End your feast on a sweet note with moist Brandied Cherry Almond Fruit Cake ($60++), and a Chocolate & Raspberry Log Cake ($60++). Their Ginger Bread Boy/Girl ($8++), and Christmas Cupcakes ($45++/dozen) will be a hit with the kids.
To order call 6830 6456 or email catering@kitchenlanguage.com.sg
Ryan's Grocery
The Christmas Beef Set features an Organic Black Angus Beef Ribeye Roast (1.5kg) marinated in Mediterranean spices, accompanied with a Classic Roast Turkey with Chestnut Stuffing (6kg) and Ryan's Honey Baked Ham (1kg) at $298 only. Ryan's Grocery uses 100% grass-fed organic beef, naturally grazed on wholesome Australian premier pastures to guarantee a healthy, flavoursome and tender Christmas roast. A Christmas Pork Set is also available at $198, featuring a Free-range Pork Collar Rolled Roast (2kg) that uses free-range Borrowdale pork infused with red wine and garlic. This also comes with a Classic Roast Turkey with Chestnut Stuffing and Ryan's Honey Baked Ham.
The icing on the cake for the Christmas offerings at Ryan's Grocery is Loison, which uses only the finest ingredients for its top-of-the-line panettone. Wrap up your Christmas dinner with Loison's Panettone Alla Rosa ($39.95). Its dough is lightly flavoured with rose syrup and Italian honey and comes studded with sweet plump Sultana raisins. Running through the soft and fluffy panettone is a delicately fragranced Damask rose cream made with fresh ricotta, rose petal jam and Madagascar vanilla. Other flavours available include Panettone Classico ($29.95) and Panettone Mandorlato (almonds) ($29.95).
Order at Ryan's Grocery, while stocks last.
Regent Hotel, Dolcetto by Basilico
Familiar favourites include the Acacia Honey-glazed Gammon Ham with Grilled Pineapples, Marsala Wine Sauce and Vegetables ($172 – 1.5kg). For the novelty-seeking gourmands, new on the menu is the Slow-roasted Roman-style Pork Belly stuffed with Amarena Cherry and Pomegranate Sauce ($178 – 2kg); and the Roasted Aged Rum-infused Whole Turkey with Rosemary Roasted Pumpkin and Chestnut Stuffing ($222 – 4.5kg), among others.
Look forward to a new line-up of festive log cakes such as the Incandescent (pistachio sponge with mango yuzu cream, $85/1kg); Miniature Gingerbread Village (banana sponge with caramel chocolate mousse, $105/1kg); and the Raspberry Mushroom Cake (Sacher sponge with raspberry chocolate mousse, $74/1kg). For the little ones, Dolcetto by Basilico's house-made gelati and sorbet selection is sure to please.
Order at Dolcetto by Basilico three days in advance. Last day for delivery is 1 January 2018.
Swiss Butchery
Choose from the Traditional Roast Turkey and Beechwood Smoked Roast Turkey. Prices start from $99 and are roasted fresh on the day of collection. If you choose to roast your own, you may pick up a brined and lightly marinated raw turkey and complement it with home-made stuffing, available in five different flavours. Master Butcher, Matthias Orth creates four different hams – Apple Cinnamon Ham, Juniper Ham, Porcini Ham, and Walnut Ham with prices starting from $37.
Meal accompaniments include Traditional Christmas Terrine ($115), Salmon Coulibac ($82), and an Oyster Platter from Europe ($89).
Delicious from the start to the end – Swiss Butchery's exquisite Classico Panettone ($51) – is the perfect end to a festive meal. Made with the finest ingredients from Italy and is enriched with natural Madagascar Vanilla, Sultana Raisins and Sicilian Candied Oranges, Swiss Butchery's Panettones are also great for gifts and customers can choose from a variety of flavours.
Order at Swiss Butchery by 4pm on 18 December, free delivery with a minimum purchase of $200.
More Christmas Stories here.
4 Christmassy Things To Do With The Kids
Fantastic Christmas Movies To Catch With The Kids
Gifts For Your Favourite Foodie
---