Christmas time isn't about the gifts and feasting and copious amounts of shopping, it's about love, family and tradition.
One of my favourite traditions with my kids, after the home is decorated and presents wrapped, is when we put on our pajamas, get comfy on the sofa with our favourite snacks and watch a (or several) Christmas movies. We do it every year and it's such a wonderful way to set the mood for Christmas. We've put together some movies that are out this November/December at the cinemas as well as some favourite classic you can catch all snuggled up on your own sofa.
Ferdinand 
From 21 December
Ferdinand is an animated, modernised take on the classic picture book The Story of Ferdinand. Ferdinand is a gentle bull who prefers sniffing flowers to fighting in an arena. But when villains see how big and scary-looking he is, they kidnap him to make him fight. He must rely on new friends to escape and stay true to himself.
The bright, colourful animation goes far beyond the book's ink illustrations, and it's safe to expect lots more slapstick and some rude humour. But overall this looks like a sweet, funny movie that kids and families will enjoy.
The Man Who Invented Christmas
From 30 November
The Man Who Invented Christmas imagines the story of how Charles Dickens came up with the classic holiday story A Christmas Carol. After a series of flops and a dreadful case of writer's block, Dickens finds himself struggling to come up with his next great story idea – then the character of Ebenezer Scrooge pops into his head (and his house), full of smart-mouthed opinions.
Inspired by Dickens' own friends and neighbours and fueled by his vivid imagination, timeless characters like Tiny Tim and the Ghost of Christmas Past begin to fall into place, but Dickens still has no publisher – and no ending. This movie looks to combine Victorian seriousness with a dash of humour to create a heartfelt holiday film that will hopefully be fine for big kids and up. But you might want to introduce them to A Christmas Carol first.
Coco 
From 23 November
Coco is an animated adventure from Pixar inspired by Mexican folklore related to Día de Los Muertos (the Day of the Dead). Miguel, a young boy with a passion for music, hopes to unwrap the mystery surrounding his family's hatred of music. He sets out on a quest full of twists and turns to pursue his dream and understand his history.
Always accompanied by his loyal dog companion Dante, Miguel finds himself in the vivid and colourful Land of Dead, where he meets many interesting characters. Expect Pixar's latest to continue the studio's tradition of stunning visuals and emotional stories. But there will also likely be intense scenes with ghosts, skeletons, and other supernatural aspects that could be too much for younger, more sensitive viewers.
The Star 
From 30 November
The Star is an animated holiday comedy with a talented, diverse voice cast. It centres on a group of animals who accidentally end up heroes during the first Christmas. A small donkey named Bo dreams of a life beyond his small village, and one day he finds the courage to go on an adventure. Along the way, he meets a sheep named Ruth, a dove named Dave, three wisecracking camels, and more plucky animals.
They follow a bright star that leads them to a couple named Mary and Joseph. When they find out that the couple's child is in danger, the animals do everything they can to save the day. This is an unconventional take on the birth of Jesus, and you can expect more comic pratfalls and potty humour than most stories about the first Christmas. But overall this looks like a family-friendly holiday comedy.
If getting to the cinema is off the list for you, here's a few Christmas classics to watch off Netflix, iTunes or any video rental.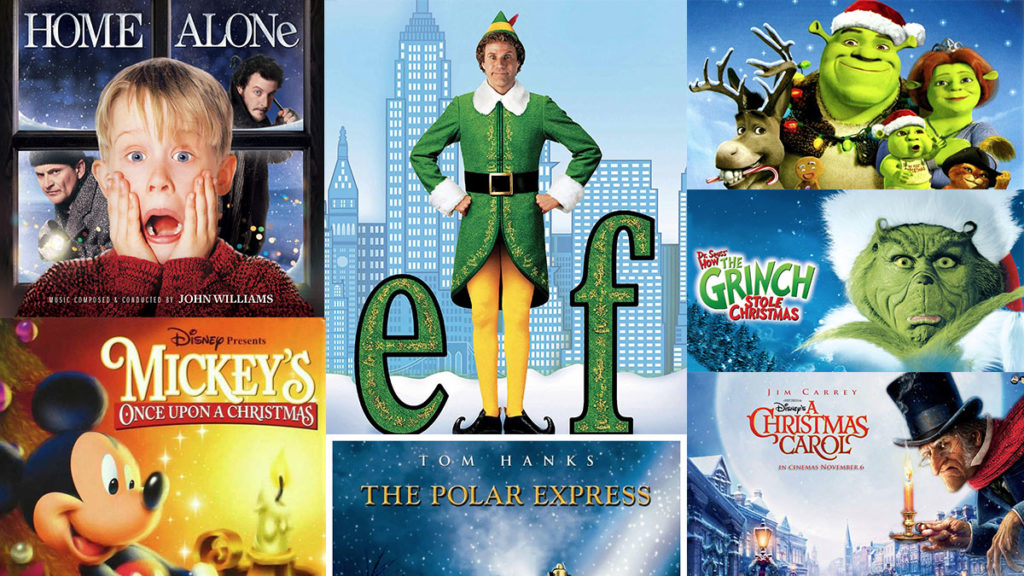 A Christmas Carol
Elf
Home Alone
Mickey's Once Upon A Christmas
Miracle on 34th Street
Shrek The Halls
The Grinch Stole Christmas
The Polar Express
---
Written together with Common Sense Media, an independent non-profit organisation dedicated to helping kids thrive in a world of media and technology.