Story 1: The Nanny-Turned-Second Mummy.
Social worker, Goh Zhi Ling, 33, spent her first 15 years at another home. Since she was 40 days' old, Zhi Ling went to her nanny's home every weekday as her mother had to return to work. Her nanny or babysitter, Mangai (pronounced "mung-gay") lived near her family home. Every morning, Zhi Ling would be dropped off for the day before getting picked up again in the evening by her parents'. She did this every weekday till she turned 15.
What's unique is: Mangai is Indian, and Zhi Ling is Chinese. In spite of the cultural differences, Zhi Ling thrived and learned to have more respect and empathy of people from different racial and cultural backgrounds. She calls her "Amma" like they do in traditional Indian homes and visited the temples with Mangai when she was young.
Even though Zhi Ling has left Amma's care for the past 18 years, her love and care has left such an indelible mark on her that Zhi Ling chose to be a social worker – giving others of herself like Amma.  Till this day, Zhi Ling visits her every year during Deepavali and often calls Mangai, who is now 71, to chat or when she misses her.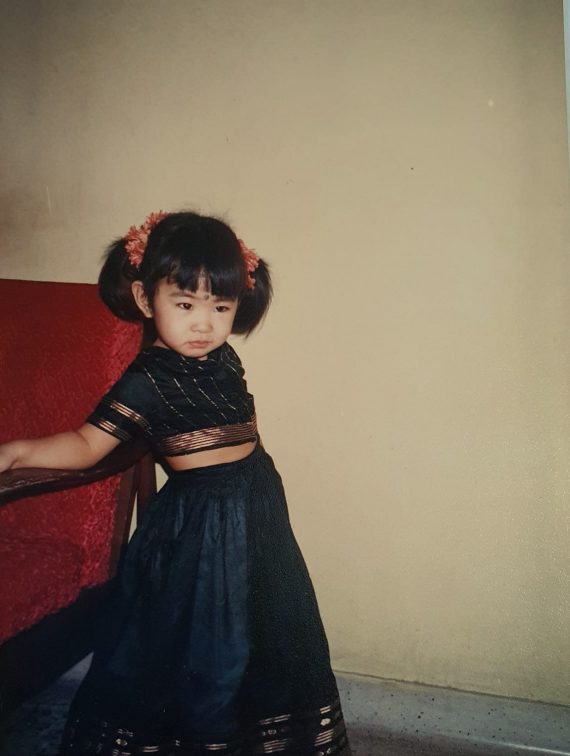 Zhi Ling:
I have known Amma all my life. I was the first child she babysat and probably stayed on the longest, amongst all the three she looked after.  She started to take care of our neighbour's two boys as I was finishing up primary school.  I left her care the year I turned 15.
The best memory of my childhood with Amma? The constancy of her. As both my parents worked hard at their jobs, they needed someone to look after me in the day. I got dropped off in the mornings, while Amma prepared me for school. Then again when I got back from school. I did my homework, had my meals and then went home with my parents in the evenings. I spent so much time with Amma, her husband and three daughters, that I always felt like I was part of their family. There was a lot of love and care – I felt I grew up with extra sisters and learned more about religion outside my own Christian faith.  Occasionally, Amma would bring me to the Hindu temple, she also taught me about their religious practices. This deepened my understanding of other cultures and beliefs.
Because Amma is Indian and I am Chinese, growing up, we would get stared at by strangers. Amma would always be protective of me and once, even shot back, "She's my daughter, OK!".  As I grew older, I became more aware of the sensitivities surrounding race and culture. It is also from this that inspired me to become a social worker to do my part for social injustices.
While my mother was happy and grateful for Amma's genuine care and love for me in the day, she was also adamant that I came home at night and she took over the parenting then.  Subsequently, because of this arrangement, I grew up very emotionally secure.  I always knew who my natural mother was while experiencing the extra love my "other" mother, Amma, showered on me.
It has definitely made me a better person; knowing that I grew up with "two mothers", has made a difference to who I am.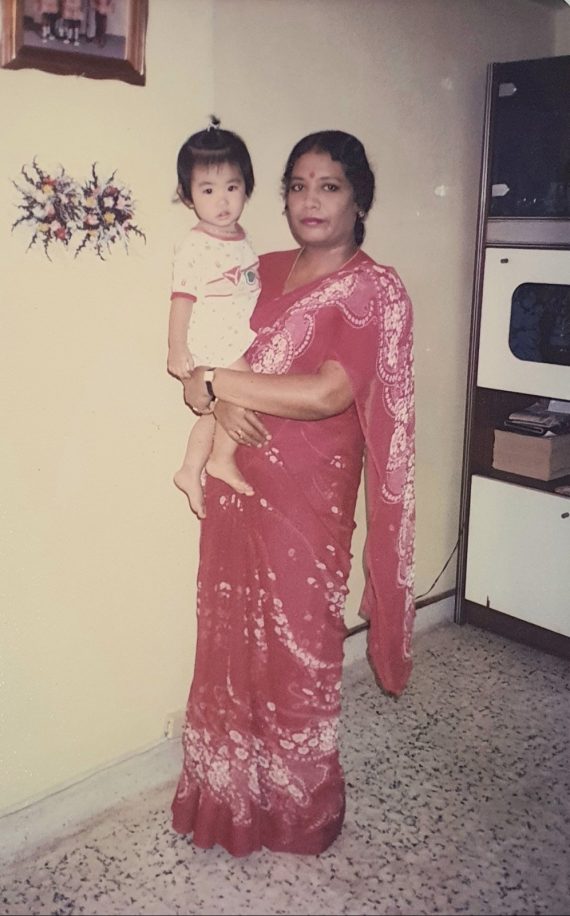 Mangai:
Zhi Ling, I call her Ling Ling, came to me when she was only 40 days old! I have loved her since, and looked after her like my own. I raised her like I did my own daughters, it was very natural to me. For example, as she was a new-born, we bathed her by hand and with only warm splashes of water as she lay on my lap. I even did our traditional Indian hair rituals for her – I poured oil over her hair so it would become thick, dark and shiny.  We bathed like this till she was old enough to stand or sit during her bath-time. When she started to wean, we let her experience all our Indian foods as well. She loved yogurt a lot!
I love children and felt it was my duty to love whoever came through my doors. I don't believe in caning or smacking – there was no need to cane in my house! You must be firm and explain to them why they've been naughty or what they have done wrong.
When Ling Ling went to primary school, one of our neighbours asked if I could look after her boy and I said yes. When his brother came along, I looked after him too.
All my children come back and see me often. In fact, my first boy, when he booked out from his Basic Military Training in National Service, he told his Dad to take him to my home before going back. When his brother booked out, the same thing happened! He told me he wanted to come home to see me, eat my food before going home.
It isn't difficult to look after children because I love them. Because of our tradition, we eat with our hands. For children, we feed them till they can eat on their own. I fed Ling Ling and the two boys by hand till they went to primary school. I felt that they were not eating well enough and portions were better when I fed them by hand. They love all types of curries – fish, chicken, mutton and vegetables! I always cook their favourite dishes if I know they are coming over.
I am immensely proud of all my children – especially the ones I've looked after. Even though they are not my own, I love them as if they are. And for Ling Ling, I am happy to be part of her life. She has always been kind and loving, and I am proud of who she has become.