Entrepreneur, athlete, pilot, banker, doctor, musician and most importantly, Mum, these incredible women have juggled between career and family to put our little red dot on the map. We celebrate their accomplishments and salute them this Mother's Day for shaping Singapore's history.
Indranee Elizabeth Nadisen
–
Singapore's longest-serving foster mother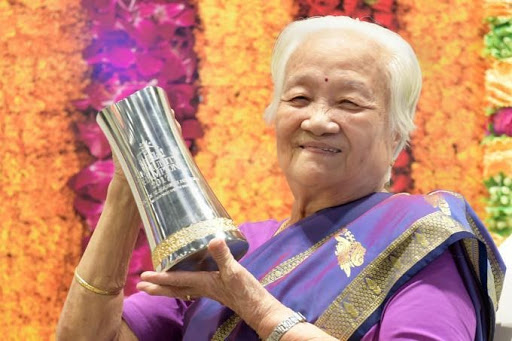 Indranee Elizabeth Nadisen is Singapore's longest serving foster mother to vulnerable children. Her fostering journey began when she signed on with the Ministry of Social and Family Development's Fostering Scheme in 1976 when all of her 6 children were in school. Despite having limited space in her humble 4-room flat in Lorong Ah Soo, Indranee still found the space to care for the 43 foster children in all her 35 years of being part of the scheme. Thereafter in 2008, she retired from the scheme as she could no longer carry children due to persistent shoulder and knee problems. Indranee was an adopted child herself and has said that it was the love she got from her adoptive parents that spurred her on to be a foster parent. In 2017, Indranee was presented with tabla!'s seventh Community Champion Award for her tireless work and also received a cash donation of S$10,000 from the State Bank of India, which she had decided to donate the money to the Ramakrishna Mission and the Sree Narayana Mission. She still lives in her Hougang flat today with her husband Mr Ambrose Anthony Dorai and spends her time reading, watching television and taking walks.
Cynthia Goh
–
Pioneer in palliative care in Singapore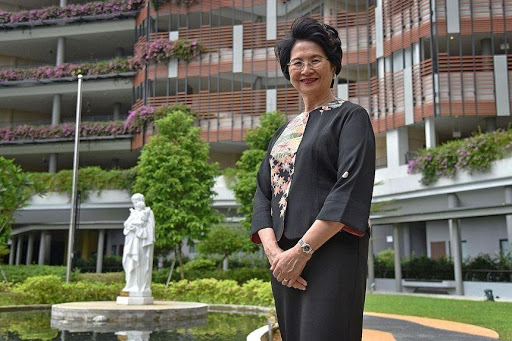 Cynthia Goh is the current face of hospice and palliative care in Singapore and has carved a niche in the medical field. Her journey with palliative care started at St Joseph's Home and Hospice where she joined as a volunteer doctor. From St Joseph's Home, she and her co-volunteers started a hospice home care service under the Singapore Cancer Society, which eventually led to the formation of the Hospice Care Association (now HCA Hospice Care) in 1989. Cynthia ensures that everyone who needs palliative care should attain it and has made a range of hospice and hospital palliative care services is available to people suffering from life-limiting illnesses such as cancer, end-stage organ failure, HIV, motor-neurone disease, dementia, strokes and other neurological conditions. At present, Cynthia is senior consultant at the Division of Palliative Medicine at Singapore's National Cancer Centre. She was the founding centre director and is currently deputy chair of the Lien Centre for Palliative Care.
Anastasia Gan
 –
Singapore's first female commercial pilot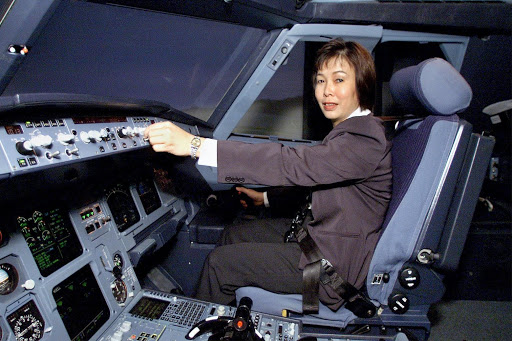 Anastasia Gan went from being among the first few batches of female officers in the Singapore Armed Forces (SAF) to Singapore's first female commercial pilot. She was part of the pioneer batch of students at Catholic Junior College (CJC) and joined the SAF's Women Officer Cadet Course. She applied to be a pilot when the SAF began recruiting in 1977 and was accepted. Anastasia said in a collection of reflections written by the pioneer batch of students from her college that pilots "were always associated with excitement and adventure, and portrayed as awesome, tough and cool men in fighting machines" and she knew she "had to fight all social norms to step into the unknown male-dominated arena." She also became one of a handful of women to earn the coveted RSAF pilot wings in 1979 and subsequently became SAF's first female qualified flying instructor. After 23 years in the force, she joined SilkAir in 2001. A mum of 3 daughters, she was also appointed as an authorised flight examiner by the Civil Aviation Authority of Singapore in 2012.
Annabel Pennefather
–
Trailblazing sports administrator and lawyer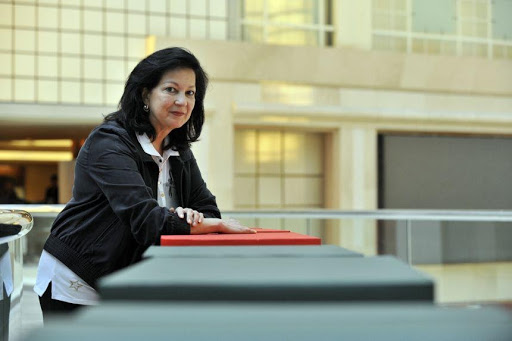 Annabel Pennefather is no stranger to the sports scene as she was born to a sporting family. Both her parents were national hockey players, and her grandmother was one of the most outstanding sportswomen in Singapore of her time. Annabel was a national hockey player from the age of 16 and had captained the national women's team from 1970 to 1980. In 1999, she became the first woman to be co-opted into the Singapore National Olympic Council (SNOC) executive committee and was elected its vice-president in 2002. She was also Singapore's first female chef de mission, serving at the Commonwealth Games in 2002 and Olympic Games in 2004. From 2004 to 2012, she was the Singapore Hockey Federation's first female president. Aside from hockey, Annabel was also a lawyer and has advised the government on changes to property law. For all her contributions, Annabel was awarded the Public Service Medal in 2001 and subsequently the Public Service Star in 2012. Her daughter, Vanessa, a pilot with SilkAir mentioned that her mum was an inspiration to her and that the turning point in her life was then she found out that she had a hole in her heart in 1996 and needed an operation immediately. In 2020, Annabel's health problems returned, and she passed away as a result of heart failure.
Elizabeth Sam
–
Key figure in Singapore's growth as a global financial centre
Elizabeth Sam's notable career spans over 40 years and is a well-known figure in Singapore's financial scene. She was responsible for developing Singapore's financial markets during her years in the Ministry of Finance and Monetary Authority of Singapore (MAS). Her contributions were significant considering she was largely in a male-dominated financial industry. She joined OCBC Bank in 1988 as their Executive Vice President and in October 1996, she became the first woman to be appointed to the main board of a big four bank. Elizabeth was awarded the Public Service Star in 1996 for her contributions to Singapore's development as a global financial centre. Thereafter in 1997, she was recognised as one of the top 50 outstanding women globally in finance by Euromoney. After her divorce, Elizabeth moved back to her parents with her son, Sherman, who was then a toddler. Despite her hectic schedule and dedication to work, Sherman recalls that weekends were reserved for him and his mum. Elizabeth's vacations were centred around visiting Sherman at his overseas schools or with family in Vancouver and Switzerland. Since retiring from the banking world, Elizabeth took up ballroom dancing and spends time with her son.
Lynnette Seah
–
Acclaimed violinist and founding member of the Singapore Symphony Orchestra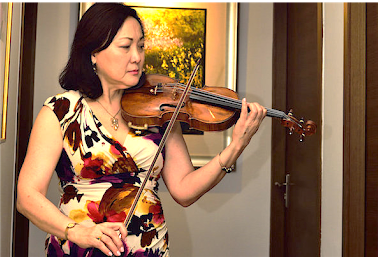 Lynette Seah is the founding member of the Singapore Symphony Orchestra (SSO) as well as the a recipient of the Cultural Medallion, the highest award for the arts in Singapore. Her mum, the late Lau Biau Chin, was a concert pianist and inspired her to embark on her career as a violinist. At the age of 9, Lynette was already performing at her first concert with her mum in the old National Theatre. Lynette represented Singapore in the Southeast Asian Violin Competition when she was just 15, and won herself a scholarship to study at the Hannover Hochschule for Music in Germany for 2 years. Lynnette was presented with the Cultural Medallion, Singapore's highest arts award, by President S R Nathan in 2006. Furthermore, she was honoured with the Singapore Women's Hall of Fame Award and in 2009m her album 'A Musical Odyssey' was released. To Lynette, food and music go hand-in-hand and when she is not practising for any SSO event, she cooks and hosts for her private dining service, Lynette's Kitchen. She holds on to the dream of opening an eatery one day that will offer her array of Peranakan specialities on the menu. A single mum with 2 grown-up sons, Lynette said recently in an article in The Straits Times that she is happy to juggle her time between her commitments at the SSO and Lynnette's Kitchen.
Cheong Koon Hean
–
Key architect of Singapore's cityscape and housing estates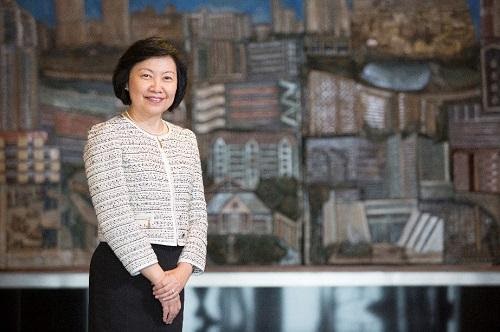 Cheong Koon Hean is instrumental in shaping Singapore's city and housing landscape. Her public sector career started in 1981 and she was the first woman to head the Urban Redevelopment Authority (URA). Her achievements include crafting the iconic Marina Bay precinct skyline and developing the area to become a work-play enclave. Koon Hean's portfolio expanded when she became the Chief Executive Officer of the Housing Development Board (HDB) and oversees one of the largest building programmes ever implemented by HDB to meet the demand for public housing. Furthermore, she has also launched HDB's Roadmap for Better Living she aspires to build better designed, more sustainable, and community-centric towns. Thereafter in 2016, she was named the recipient of the prestigious Lynn S. Beedle Lifetime Achievement Award by the Council on Tall Buildings and Urban Habitat (CTBUH), based in USA Chicago. When not working, Koon Hean focuses her attention on her family. She is married to financial consultant Cheong Heng Lim and has 2 sons, Jonathan and Justin.
Geh Min
–
Champion of the environment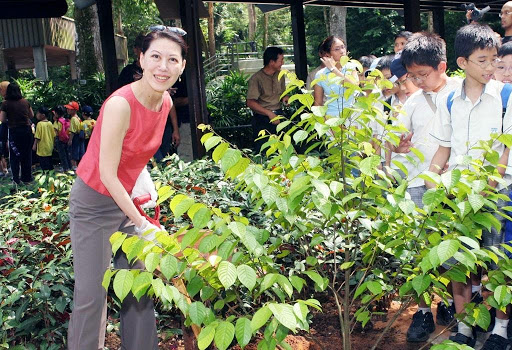 A respected eye surgeon, a passionate conservationist, granddaughter of philanthropist Lee Kong Chian and great-granddaughter of rubber tycoon Tan Kah Kee, Geh Min became the Nature Society's first female president and remained at its forefront until 2008. She's responsible for saving Chek Jawa wetlands on Pulau Ubin and continues to be active in discussions conserving the Rail Corridor and other projects. Her stint as the Nominated Member of Parliament from 2004 to 2006 enabled her to speak up on a host of environmental and wildlife conservation issues. Geh Min was one of three recipients of the inaugural President's Award for the Environment in 2006 and in that year, she also received the Stellar Award from the United Nations Development Fund for Women (UNIFEM). Green exudes Geh Min's lifestyle from driving a hybrid car to minimising her carbon footprint by using as little air-conditioning as possible. She is married to heart surgeon, Tong Ming Chuan and has a daughter, Wenfei.
Rahimah Rahim
–
One of Singapore's most prolific singer and performer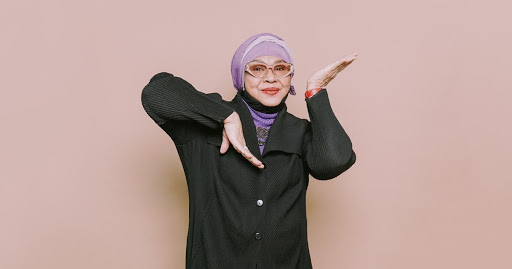 Rahimah Rahim's singer career began when she was around 14 years old and sang with her dad at nightclubs. She left school in 1971 and sang regularly with him. Thereafter in 1972, her first extended play, Mana Ibu Mu, was released. Rahimah rose to fame in 1974 when she took part in the Kimi Koso Talentime held in Tokyo, Japan and beat more than 100 singers from across Asia. She won the top prize that included a three-year recording contract with Warner Music. Rahimah had a bridal boutique between the years of 1984 to 1996, Rahimah Rahim's Fashion House and in 1989 she decided to retire from singing to spend more time with her young daughter. Since quitting showbiz, she went on pilgrimages to Mecca and has been working full-time at a law firm since 2009. Rahimah makes appearances in variety programmes on television and hosts her own programme on Vintage Radio Singapore, a digital radio station that plays songs from the '50s to the '70s. She is featured Rahimah Rahim is featured in Generation M: The Music Made Us, an exhibition at [email protected] from now till 6 June 2021.
Tang Pui Wah
–
Singapore's first female Olympian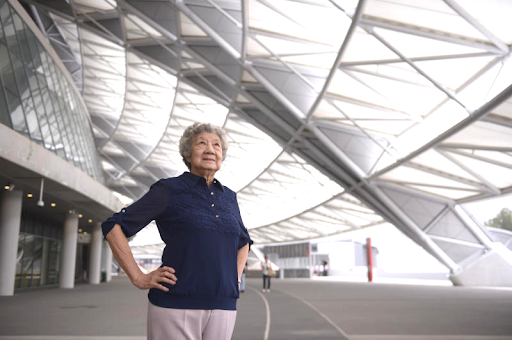 A trailblazer for Singapore's athletes, Tang Pui Wah paved the way for female athletes in Singapore colours when being champion in sports was generally frowned upon. Pui Wah was our country's first female Olympian when she took part in the 100m sprint and 80m hurdles at the 1952 Helsinki Games. Although she did not make it past the heats in the Helsinki Games, she won the title "The Helsinki Girl" that has stuck with her till today. Pui Wah broke the China Olympic record in the 100m hurdles in 1949, then set an All China record of 13.3sec in the hurdles the following year. Subsequently in 1951, she clinched 3 gold medals in the 80m hurdles, 100-yard sprint and 220-yard sprint at the Malayan Amateur Athletic Association sports meet. Furthermore, she represented Singapore in the 80m hurdles at the first Asian Games in New Delhi. At the 1954 Asian Games in Manila she finally won an international medal, a bronze in the 80m hurdles. In 1956, she gave up her spikes for good and went on to complete her secondary education. Pui Wah taught Mathematics and Physical Education(PE) at Kheng Cheng School for 2 years after her graduation. She got married thereafter and left her job to raise her two sons.