All you really need to do is show up with a ravenous appetite and lots of cheer this Chinese New Year.
If having your reunion dinner at home isn't an option this year, you'll be spoilt for choice with the incredible menus that are lined up for that once a year family gathering with our roundup.
Hotel Jen Orchardgateway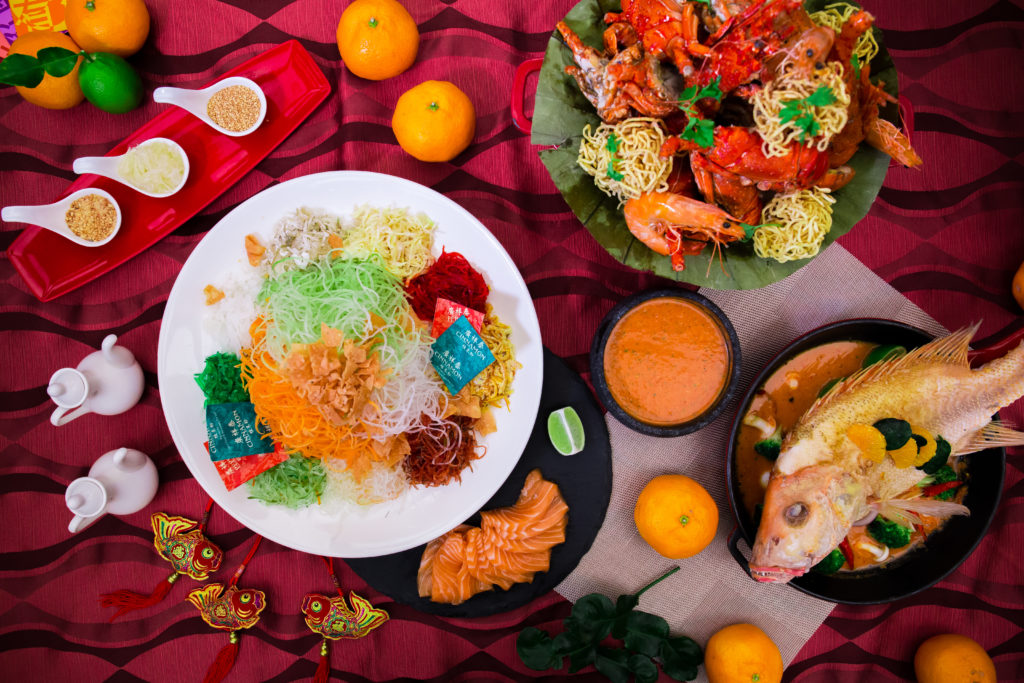 The auspicious specials on the buffet line are specially prepared by Hotel Jen Orchardgateway's Chef de Cuisine, Lee Hoong Wan and his team of culinary experts which includes mouth-watering Roast Suckling Pig with Chef's Special Marinade, Braised Eight Treasure Vegetables, Roasted Duck with Plum Sauce, Jen's Signature Laksa Fried Rice and many more.
For reservations or enquiries call  6708 8899 or email [email protected]
Adrift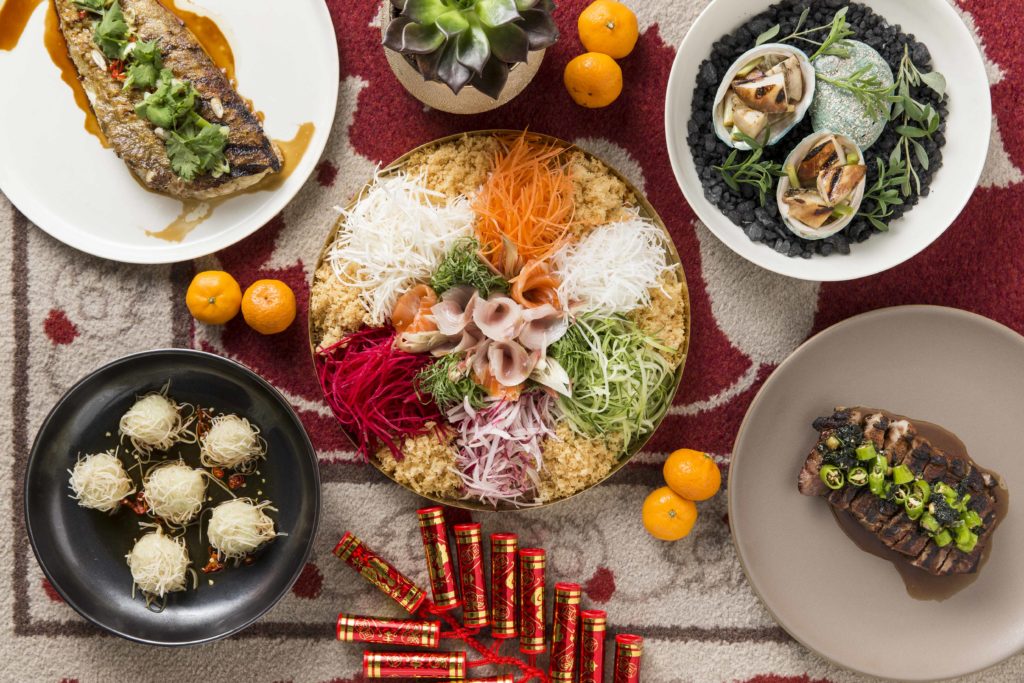 Adrift at David Myers ushers spring with a bountiful six-course dinner menu ($88++ per person), available from 11 to 18 February. The culinary team displays its mastery of grilling techniques with dinner highlights such as Grilled Dover Sole with black vinegar, coriander and peanut oil and Charcoal grilled abalone with sea herbs and white soy butter.
For reservations, call +65 6688 5657 or email [email protected]
Cassia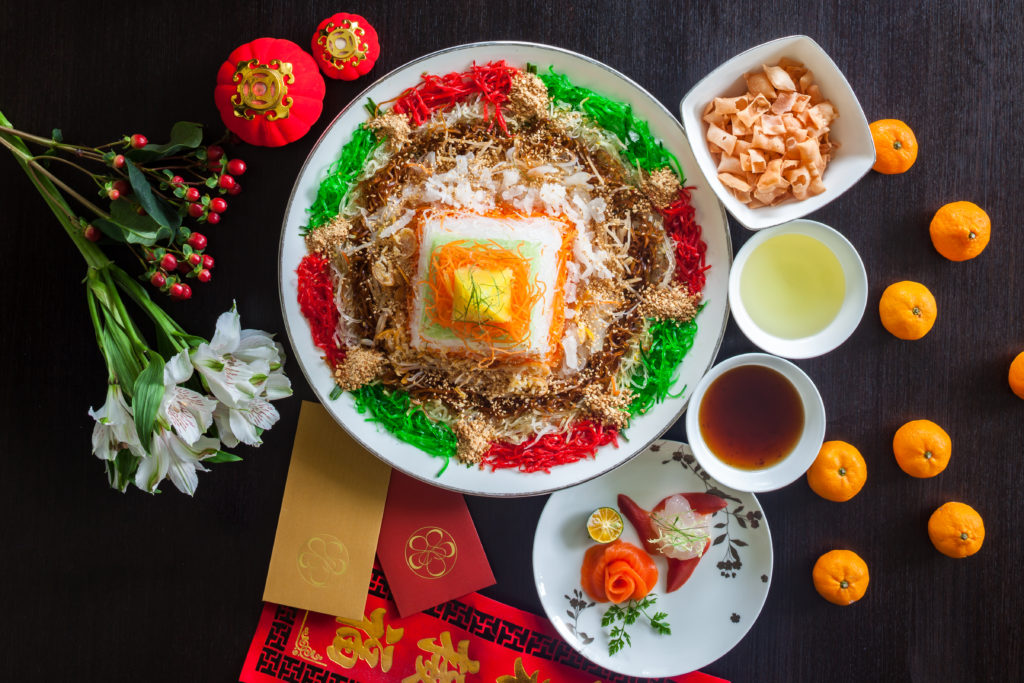 Mark the start of the Year of the Dog in style with a colourful plate of Yu Sheng (commonly known as Lou Hei) designed by the Executive Chef of Cassia, Chef Lee Hiu Ngai.
Fortune Reunion Set合家聚满堂, priced at $169++ per person, is thoughtfully created by Chef Lee to bring extended family members together for a heartwarming celebration. Savour Cassia's signatures with unique twists. Highlights include the Prosperity Yu Sheng platter, Braised Bird's Nest with Caviar in Superior Brown Sauce, Braised Three Heads Australian Abalone with Sea Cucumber, Flower Mushroom and Seasonal Greens, and Steamed Lobster with Black Garlic in Light Soya Sauce. End the scrumptious feast on a perfect note with Cassia's dessert highlight, the Chilled Coconut Cream with Pearls and Sago topped with Ice Cream.
Fortune Reunion Set is available only on 15 February 2018. First seating from 6pm to 8pm and second seating from 8.30pm to 10pm.
For reservations or enquiries, call 6591 5045 or email [email protected]
The Lighthouse Restaurant
Like a modern day Marco Polo, The Lighthouse Restaurant's Chef de Cuisine Carlo Marengoni stirs the nest with a deft fusion of Italian and Chinese flavours. Traditional chicken ragout takes an Asian spin in an appetiser of Tagliolini Orientali while mains feature a symbol of the popular Chinese saying 大鱼大肉with Grouper Fish Fillet, Ginger, Garlic, Coriander and X.O. Sauce. The meat component is a Honey-Lacquered Pork Belly with Apple Purée and Onions Braised with Rock Salt.
The Lighthouse Restaurant's Marco Polo 4-course Lunar New Year Menu is priced at $118* per person for dinner.
For reservations or enquiries, call 6877 8911 / 8912 or email [email protected]
db Bistro & Oyster Bar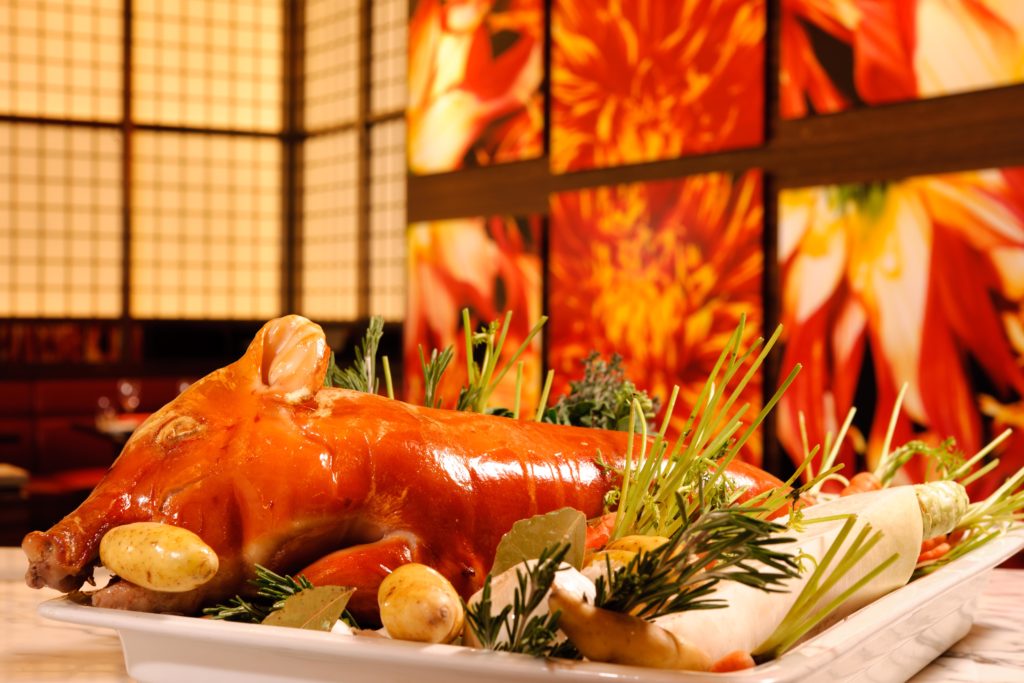 This Lunar New Year (15 – 18 Feb), db Bistro & Oyster Bar ushers in good fortune with a festive a la carte menu. Executive Chef Jonathan Kinsella brings back the yearly crowd-favourite Roast Stuffed Suckling Pig ($90++ for two persons; $180++ for four persons; $350++ for whole pig which serves six to ten persons). Served with wild mushrooms, chili garlic kailan, turnips and spiced pork jus, the tender and juicy meat is encased in a layer of crackling skin, roasted to perfection.
The French restaurant also adds a local spin to their famous New Zealand ocean catch, with specials such as Soft Shell Chili Crab ($98++), served with greens and house-made Brioche "Mantou buns", as well as Black pepper Boston Lobster ($65++ for half lobster; $120++ for whole lobster), served with chili and spicy mustard greens.
The popular db Junior Pastry Academy returns for its first session in 2018 with a Chinese New Year themed class. Sip champagne and enjoy some fine canapes, as you watch your little ones put their creativity into play in a junior masterclass led by Executive Pastry Chef Mandy Pan. Priced at $105++ per child (inclusive of one accompanying adult), the session will be held on 10 February, from 11am to 12.30pm. Additional adults and children can join in the fun at $35++ and $45++ respectively.
For reservations or enquiries, call 6688 8525 or email [email protected]
Parkroyal on Pickering
Count on the modern Lime Restaurant to put a cosmopolitan spin to the usual Lunar New Year meal by whipping up unique culinary offerings such as the Pink Peppercorn Brined Salmon fillet with Garlic Aioli, Half Shell Scallop with Garlic Butter, Thyme and Garlic Roasted Lamb Chop with Mongolian Sauce and Peking Duck with Hoisin Sauce Pizza.
In the spirit of being unconventional, all diners will be welcomed with a complimentary glass of Swag, a festive concoction made using Eight Treasure Herbs, Wild Berries and topped with Salted Egg Cadillac Foam. Meat lovers can also look forward to a dedicated carvery station where one can indulge in the Roasted Pork Knuckle or Slow Roasted Boneless Beef Short-Ribs.
Fret not if grandma is a traditionalist because distinctly Asian dishes like the Braised Pork Belly Buns (Kong Ba Bao), Double Boiled Chicken Soup with Ginseng, Braised Fish Fillet in Traditional Five Spice Soya Sauce and a Chinese New Year must-have – the Slow Cooked Soy Braised Pork Belly with Fatt Choy will also be available on the buffet spread.
For reservations or enquiries, call 6809 8899 or email [email protected]
VLV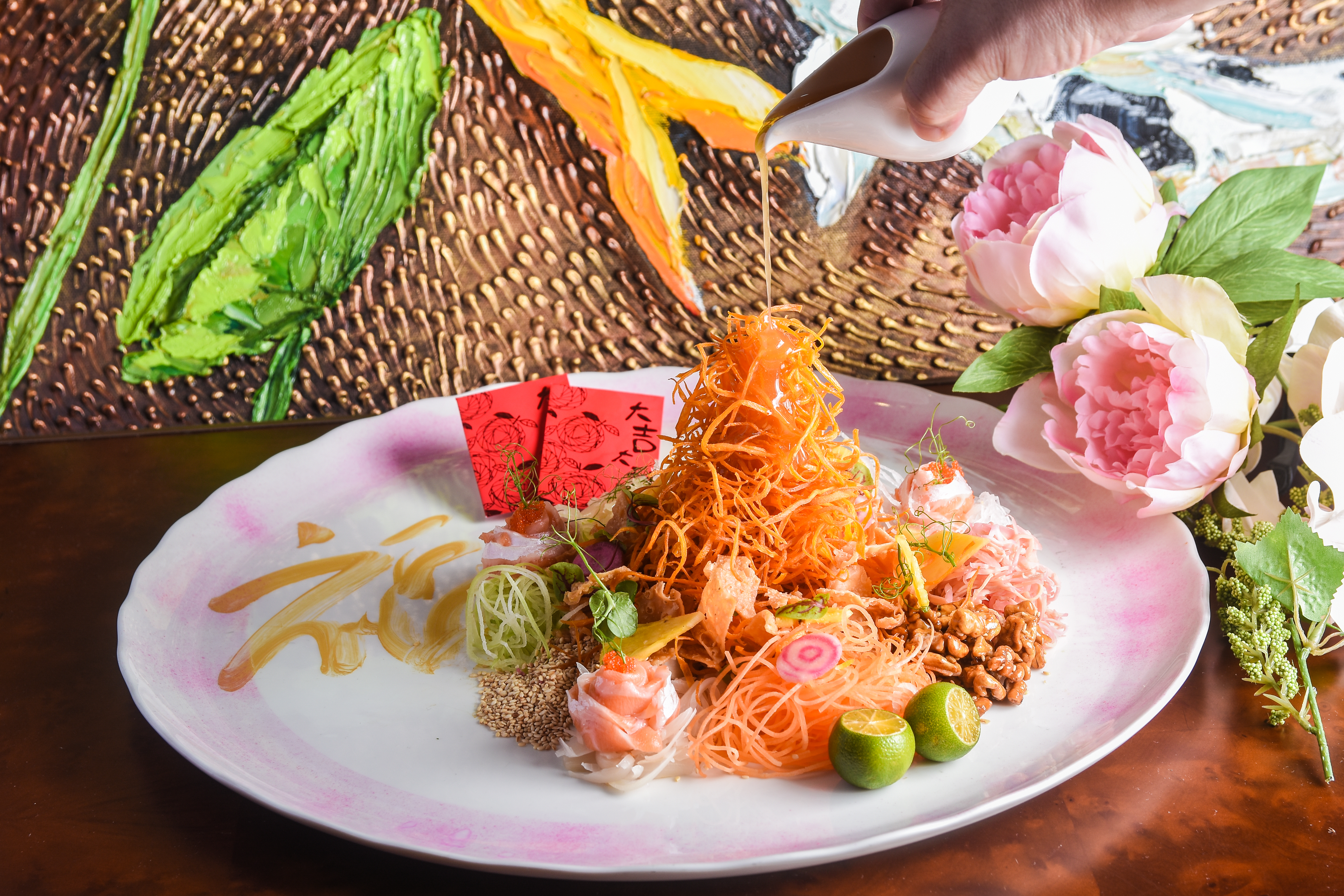 VLV Singapore offers a wide range of eleven set menus. Each set comes with Lo Hei is available for both lunch and dinner. Indulge in dishes like Crispy Sakura Chicken with Sesame, Truffle London Roasted Fat Duck, Braised Stuffed Abalone with Fish Maw and Shrimp Paste, and Steamed Glutinous Rice with Scallop and Black Bean served in Bamboo Basket. After which, look forward to desserts like Yuzu Berries Cheesecake and Golden Charcoal Sesame Ball.
For reservations or enquiries, call 6661 0197 or email [email protected]
Kuvo
Kuvo will be welcoming a prosperous Chinese New Year by showcasing six set menus (Abundance, Fortune, Wealth, Happiness, Luck and Prosperity) as well as ala carte delights. Highlights on the set menu include classics such as the Steamed "Soon Hock" Fish With Superior Soya Sauce, Chef Chan's Famous Crispy Roasted Chicken and Deep-Fried New Year Cake.
From 26 January to 2 March, guests can also order (at least one day in advance) KUVO's very own Prosperity Abalone Treasure Pot (Small, $298++ / Big, $488++) and Norwegian Salmon "Yu Sheng" ($48.80++ / $68.60++).
For reservations or enquiries, sms or call 9277 3315 / 6733 8272.
Grand Mercure Singapore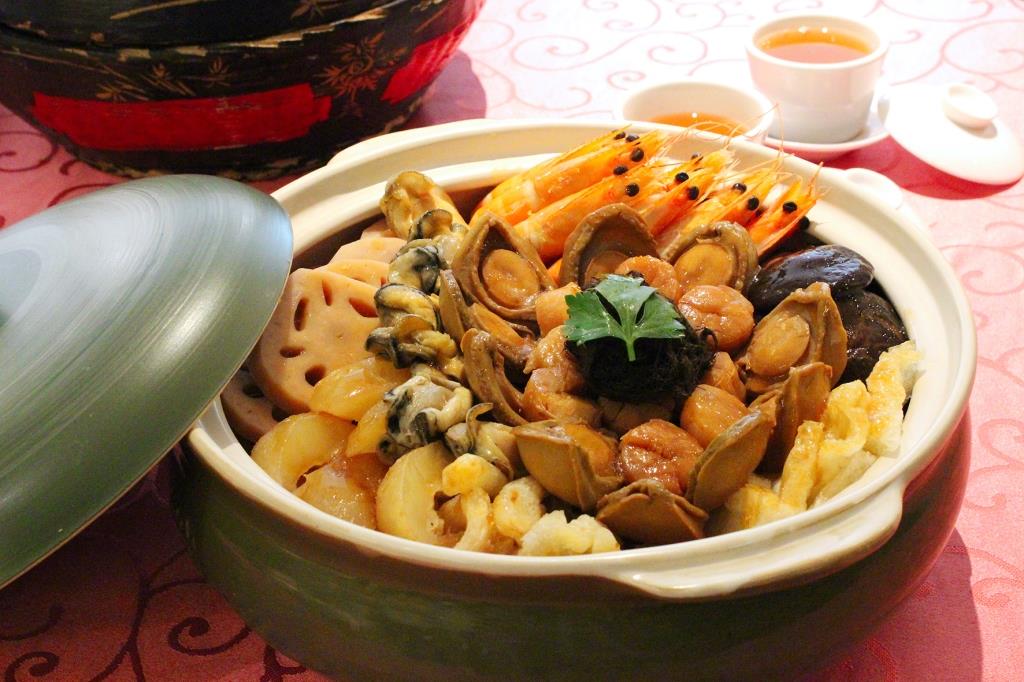 Grand Mercure Singapore Roxy has also introduced customized set menus which are ideal for reunion dinner gatherings with both family and friends at Jia Wei Chinese Restaurant. Look out for signature dishes such as Steamed Barramundi with Chef's Homemade Green Chilli Sauce, Braised Abalone with Dried Oyster in Golden Bag, Jia Wei Charcoal Grilled Suckling Pig and more creations. Diners can also customise their own meal through the dedicated Lunar New Year A La Carte set menu, which has well over 20 dishes.
For reservations or enquiries, call 6340 5678.
Myo Restobar
Myo Restobar offers a variety of set selections. For the Health set, it starts off with Myo's Prosperity Salmon Yusheng, made with a fruit-based sauce made with pineapple, orange and lemon, a departure from the usual plum sauce. Followed by a mix of dim sum such as the Siew Mai with Conpoy and Myo's signature Healthy Walnut Buns, with items from the wok station featuring crowd-pleaser Kia Hiang Claypot Organic Chicken, Fried Prawns in Salad Cream, and Myo's Chilli Crabmeat with Buns.
For a more luxurious meal, you can opt for the Wealth set, or Myo's signature Chinese New Year soup the Treasures of the Sea. Full of delicacies such as whole dried scallop, sea cucumber, fish maw, deer tendon and fragrant mushroom, Treasures of the Sea is stewed for at least for three hours in a flavourful rich stock made from chicken and pork.
Rise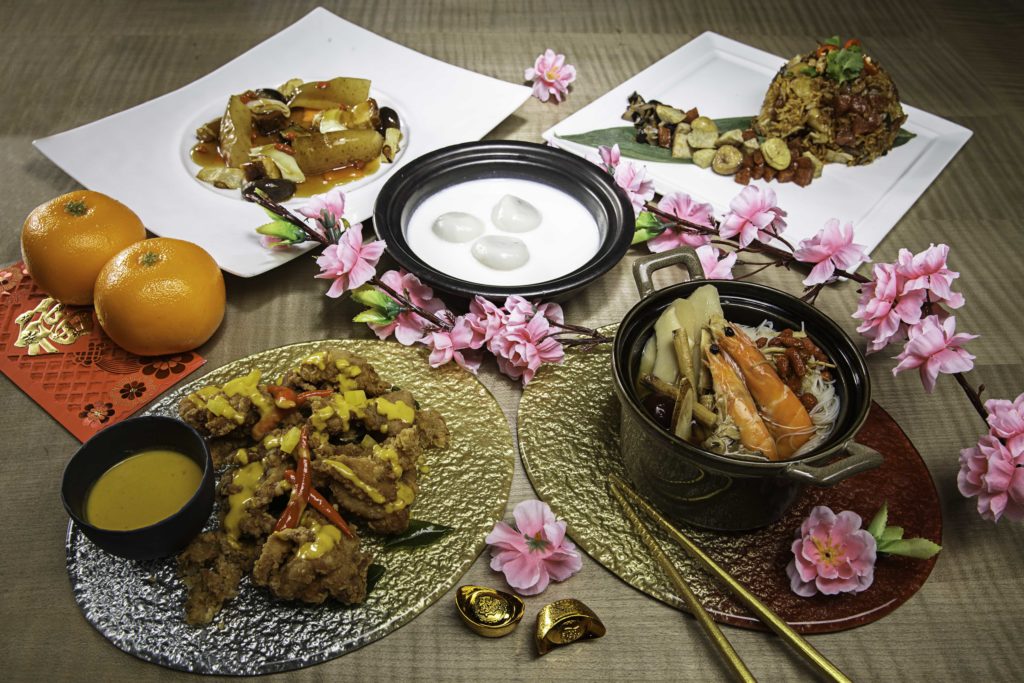 Family and friends can savour a spread of traditional Chinese delights at Rise this Lunar New Year, from 15 to 17 February. Festive specials include Crispy Chicken with Pumpkin & Salted Egg Sauce, Stir Fried Sea Cucumber with Roasted Pork, Leek and Ginger, and Seafood Golden Broth.
Guests will also be treated to a special Kungfu Tea performance, which will happen daily at 1.18pm and 7.28pm. From 15 February to 2 March, toss to good fortune with Rise's Prosperity Yu Sheng ($68++ for four to six persons; $88++ for six to eight persons; $98++ for 10 – 12 persons).
For reservations or enquiries, please call 6688 5525 or email [email protected]
La Brasserie's Josper Grill Specials
La Brasserie's bistro fare dons festive ingredients for the new Dog Year. Tiger Prawns are accented by Chilli-Orange Glaze and Crispy Cereal Crumble, then fired in a Josper Grill over apple wood until perfectly charred and juicy. The repertoire stays Oriental with Cote De Bouef, a 500g teriyaki balsamic glazed rib-eye on the bone with fresh scallions and garlic confit.
For reservations or enquiries, call 6877 8911 / 8912 or email [email protected]
More for Chinese New Year
Kids Style: Shopping For CNY
Beauty Files: CNY Makeup Looks To Usher In The Year Of The Dog
It's Not Too Late For Your CNY Vacation Break!
---