The Mid-Autumn Festival is right around the corner, bringing excitement to people all over the world. However, due to COVID-19 restrictions, meeting with your extended family members is a tradition that has to be skipped this time round. As only gatherings of maximum 5 people are allowed, many would opt to stay home to 'meet' their family members online instead, through means of online platforms such as Skype, Zoom or Google Meet.
We would be able to still spread joy during the festival period by sending mooncakes to our family members, surprising them with their favourite flavours, or even new ones to try together on a video call! We've compiled various types of mooncake flavours, ranging from traditional ones to outstanding flavours that has been unheard of until now.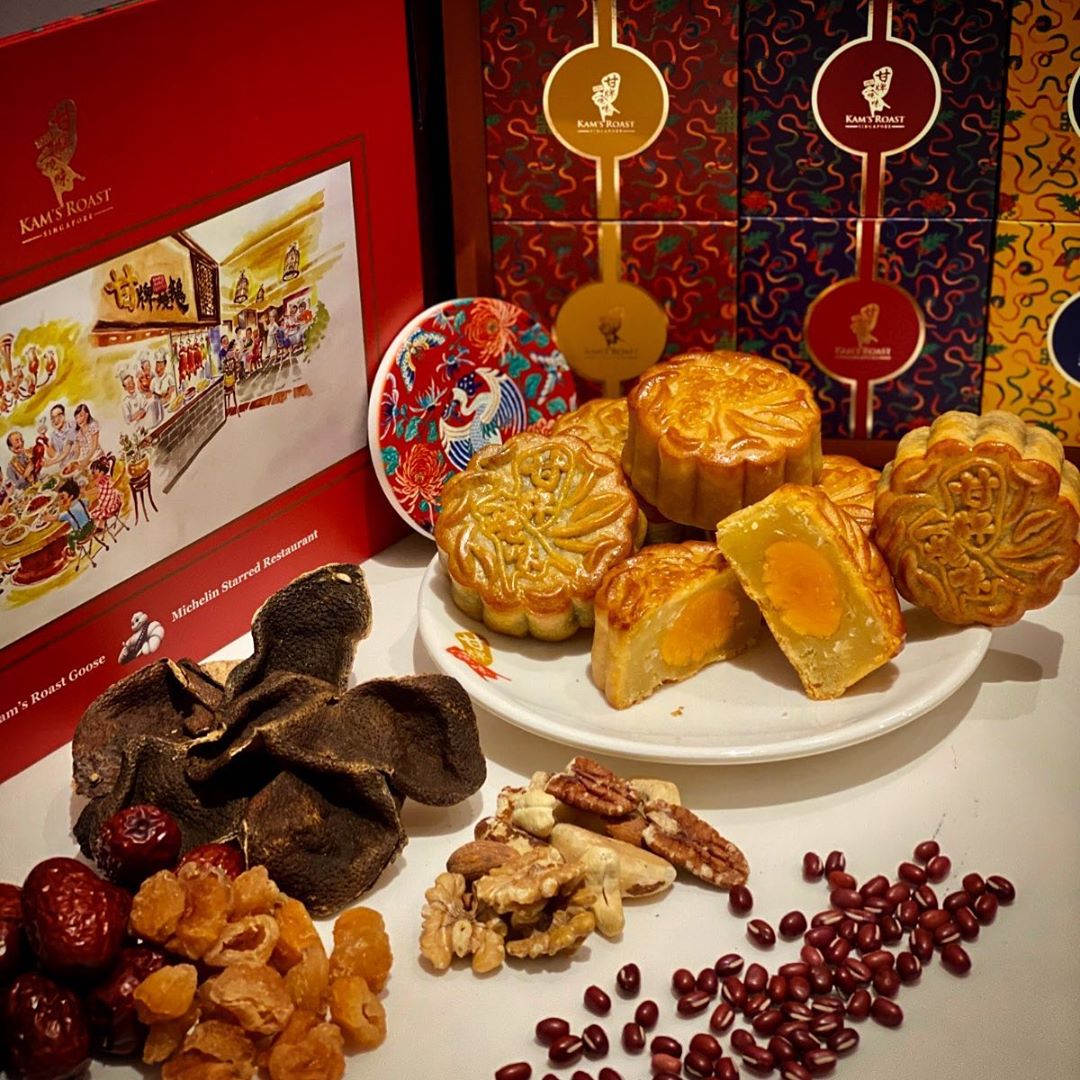 Kam's Roast started off in 1942 as Yung Kee Restaurant on Wellington Street in Hong Kong. Mr Kam Shui Fai and Mr Kam Kinsen Kwan Sing were the founders of Kam's Roast, bringing class to a whole new level as they started off a legacy which has been around for over 70 years.
This year, they introduce three new flavours; red dates longan mooncake, almond egg custard mooncake and coconut egg yolk mooncake. These mooncake flavours are new to the scene, with mixtures that were never seen before. However, these flavours can't beat their Assorted Nuts with Roast Duck mooncake which is the only mooncake ever with roast duck as one of its components. It features an amazing combination of carefully selected assorted nuts such as walnut, sesame seeds, almond and melon seeds.
These mooncakes come in a box of six, priced at $68, or for $10.80 a piece. Kam's Roast is found at Jewel Changi Airport or Pacific Plaza from 11:00am to 9:30pm, for delivery, and 10:30am to 10pm, for pickup, every day.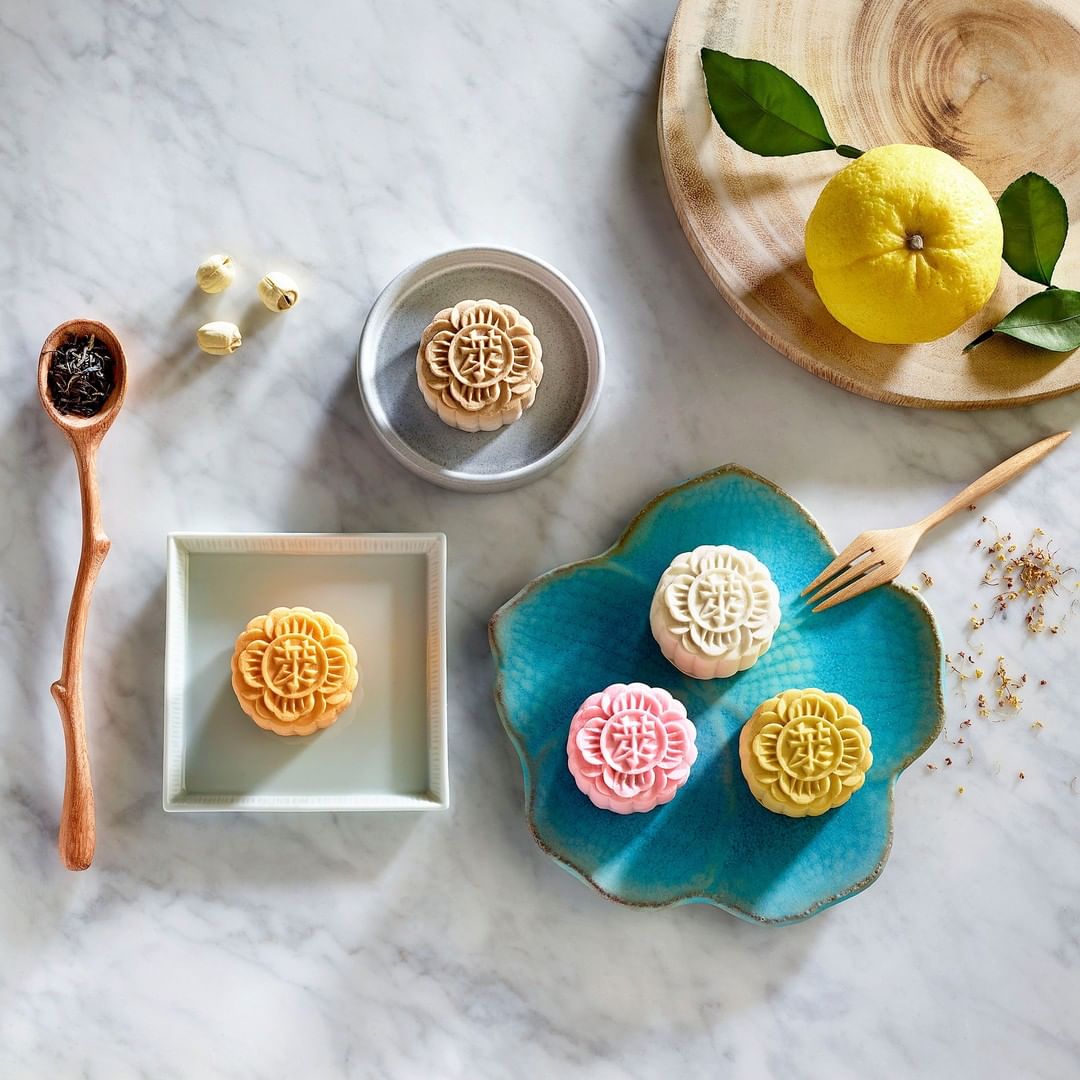 Raffles has outdone themselves with the collection of flavours that was crafted for this year's Mid-Autumn Festival, Apricot and Sourplum Snow-skin mooncake and Yuzu and Osmanthus Snow-skin mooncake. These unique flavours fit in nicely with their other special flavours, such as Champagne Truffle Snow-skin, Raffles Cognac Truffle Snow-skin and Earl Grey Tea and Pearl Snow-skin, you definitely would not want to miss out on trying their mooncakes this year!
Their mooncakes range from $76-$78 for different selections of flavours, with an additional $40 for delivery charges per location. Delivery services are only available from 10 August to 28 September 2020, Monday to Friday (excluding Public Holidays), 9:00am to 6:00pm. Collection is also available at Raffles Arcade – North Bridge Road Atrium from 9:00am to 8:00pm daily.
Hong Kong Meixin (Maxin's)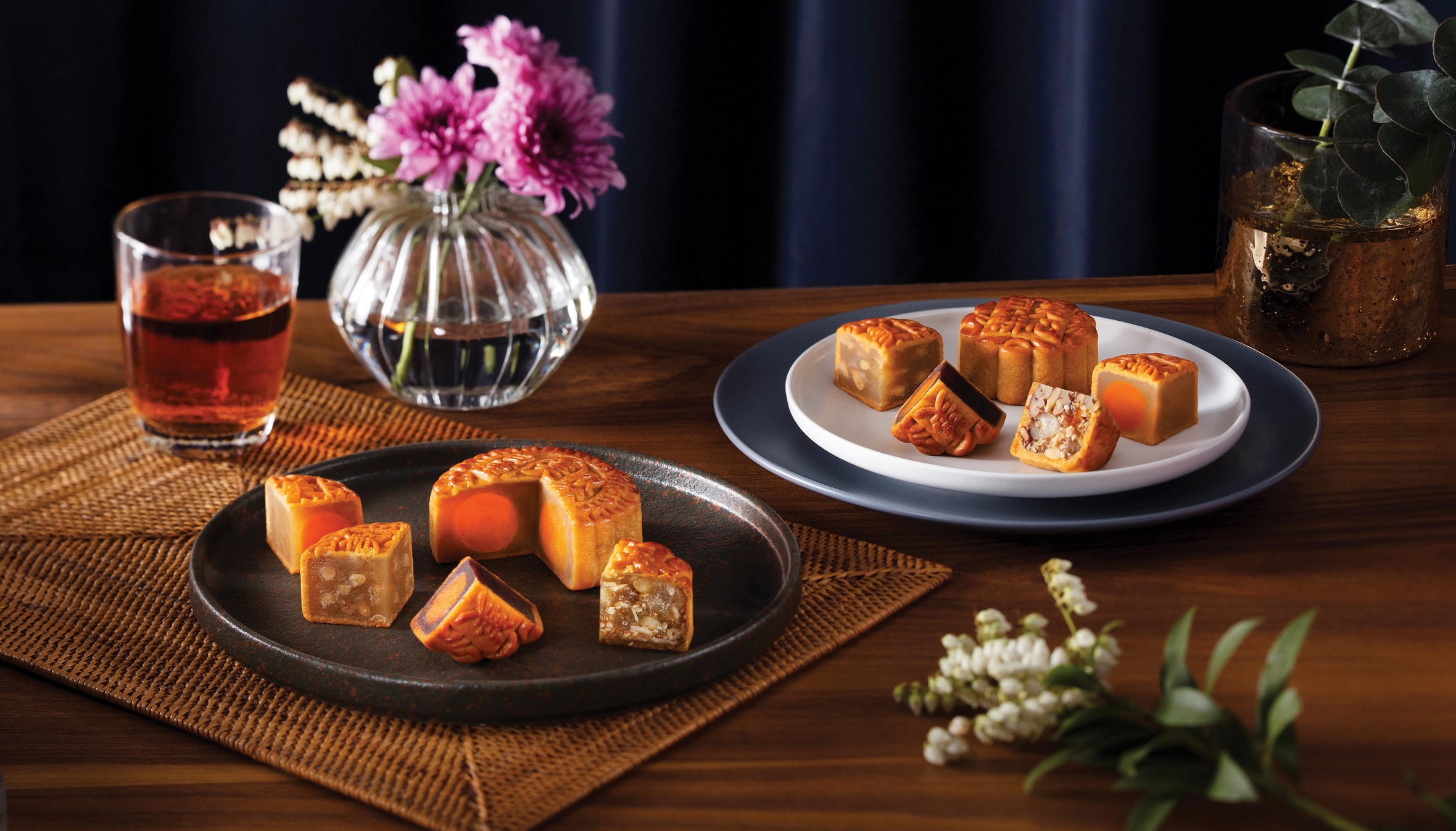 Everyone's heard of mooncakes and everyone's heard of lava cakes. But when you put both of them together, it becomes a new invention that Hong Kong Meixin prides themselves with, their Lava Mooncakes. Their Lava Mooncakes took the market by storm as no one else has managed to combine the two together and end up with a scrumptious outcome.
They offer a variety of options, from their Lava Custard mooncakes, to their Cheese Lava mooncakes, of which they would ooze out beautifully in your mouth when a bite is taken. Several other renditions of their lava mooncakes include Lava Egg Yolk with White Lotus Seed Paste mooncake, Egg Custard mooncake, Lava Caramel Macchiato mooncake and Lava Chocolate mooncake. Their mooncakes range from $56.00 for their Lava Duet Mooncake package, which includes 3 pieces of Lava Custard mooncake and 3 pieces of Lava Chocolate mooncake, to $63.80 for 8 pieces of their Lava Cheese mooncakes. For purchases above $200, they offer free delivery if the order does not include Snowy mooncakes, to which, the order would be delivered for a flat fee of $15.00.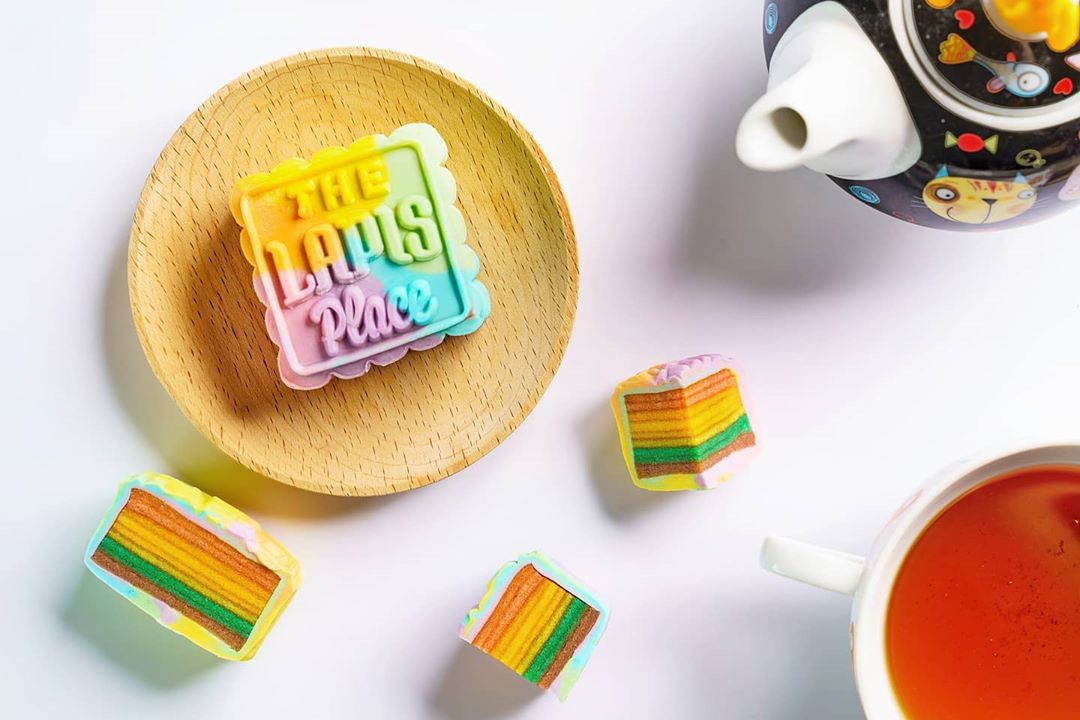 The Lapis Place, sticking true to their name, created a new category of mooncakes with their Lapis Snow-skin mooncake collection. Not only that, the flavours that they offer adds on to their quirk. Their exclusive flavours include Cempedak Lapis Snow-skin, Earl Grey Lapis Snow-skin, Pandan Lapis Snow-skin and Rainbow Lapis Snow-skin. They also have other interesting flavours such as Ferrero Rocher Truffle Snow-skin, Peach Truffle Snow-skin, Taro Truffle Snow-skin and Mao Shan Wang Durian Truffle Snow-skin.
With $46.00, you would be getting 2 pieces of their exclusive flavours. In addition to that, from 2nd September to 30th September 2020, if you quote "TLPMAF" at Checkout, you will receive a 15% discount for all mooncakes that you purchase! Delivery charges are $15.00 for orders below $200.00 and free for orders above $200.00. Other than their official website, The Lapis Place is also on GrabFood and FoodPanda for both their Xchange Admiralty and Plaza Singapura outlets.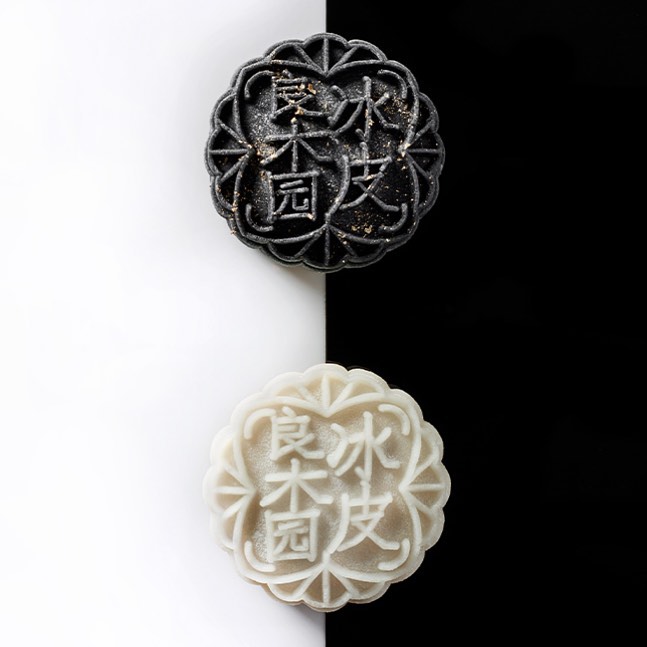 To celebrate their 120th anniversary, the Hotel crafted a 120th Anniversary Mooncake that includes 12 salted egg yolks in a white lotus seed paste baked mooncake spanning 16.5cm wide. That special mooncake would be packed in a limited edition red and gold circle box instead of their usual packaging, which further emphasises just how special it is. They are also introducing two new snow-skin mooncakes this year, Orange with Grape mooncake and Japanese Sweet Potato with Pumpkin-Coconut Centre.
They offer pre-order and self-collection from The Deli at Goodwood Park Hotel via their website, with advice of consuming their baked mooncakes within 5 days and snow-skin within 3 days as their mooncakes are freshly made with no preservatives.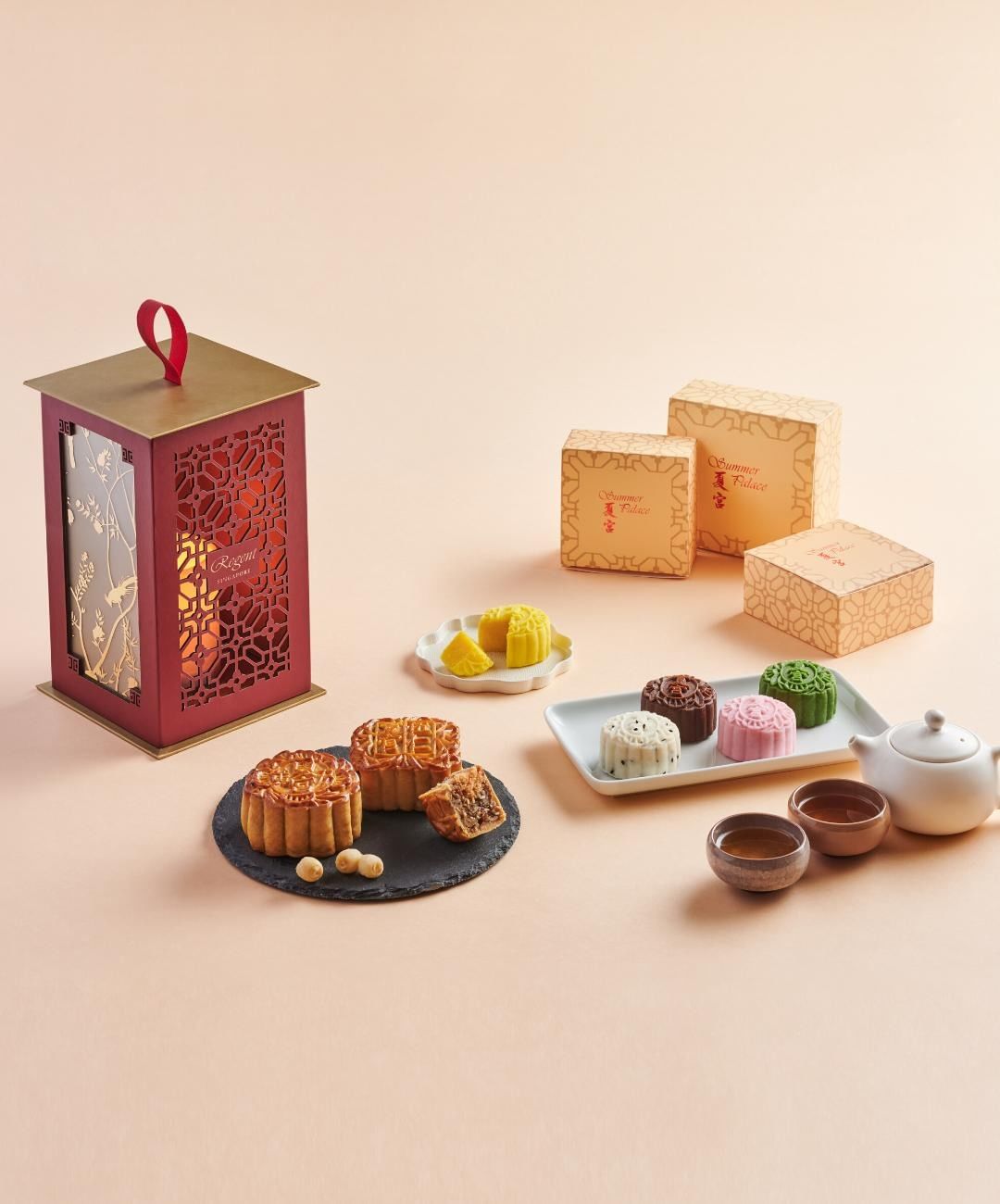 Throughout the years, Regent Singapore has been consistent with their quality as they house together four different cuisines. In one place, they offer options from the Italian cuisine from Basilico – Pistachio, Fig and Amarena Cherry snow-skin mooncake as well as Double Espresso and Almond Marzipan snow-skin mooncake, along with Tea Lounge's Green Tea with Melon Seeds snow-skin mooncake and an alcohol-infused mooncake from Manhattan, the Plantation Rum, Spiced Coconut and Yuzu.
Their special mooncakes are packed and delivered in a special gold-laced red box which holds up to four mooncakes. The box also doubles up as a lantern, with a small loop at the top to allow easy hanging anywhere; just attach a hook! From now till 1st October 2020, get your mooncakes from $78.00 for 4 pieces of baked mooncakes and $80.00 for 8 snow-skin mooncakes!
Fullerton Hotel Singapore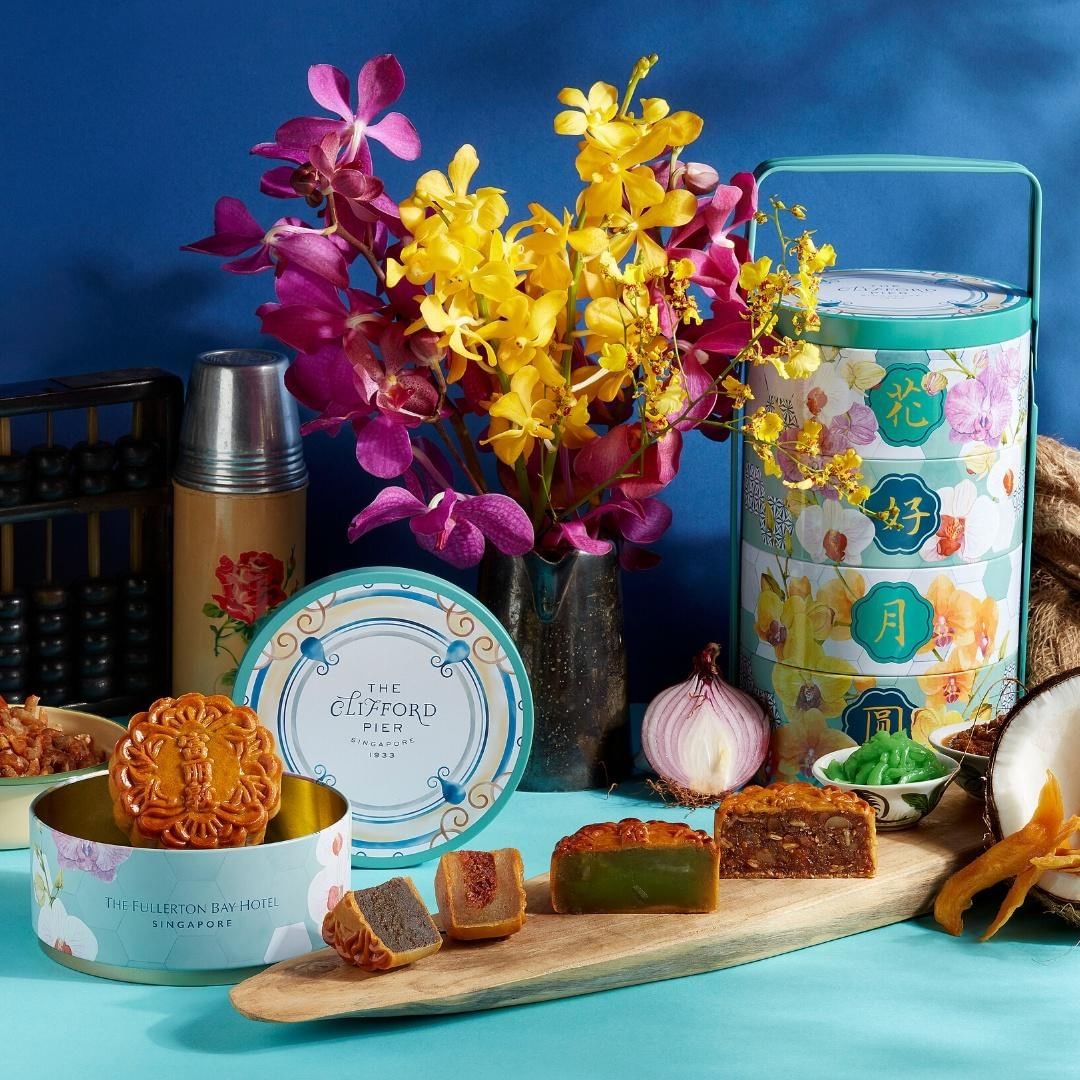 Fullerton Hotel is a surprising find, with the perfect balance of traditional and modern aspects of the mooncake together – not to mention, it's halal! Fullerton Hotel caters to all audiences with their mooncakes, featuring four inspired local flavours; Baked Mixed Nuts with Satay Sauce, Baked Salted Lotus with Hae Bee Hiam, Baked Assam Lotus with Mango and Baked Pandan Coconut with Chendol. These flavours are part of a newly launched package, part of the Jade Signatures Mooncake Collection, named The Clifford Pier Mooncake Tingkat.
The mooncakes are available for orders placed from 18 August 2020 to 1st October 2020, at $98.00 on their website under the label "Mid-Autumn Festival".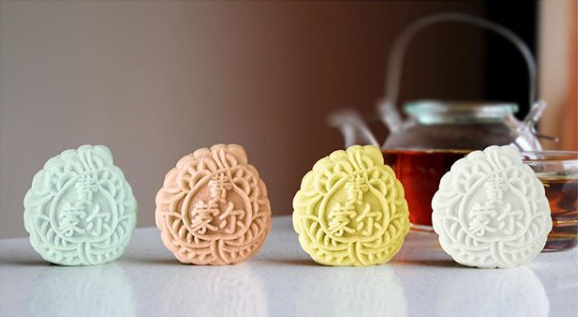 Fairmont Singapore never disappoints with their mooncakes every year. For 2020's Mid-Autumn Festival, they are introducing two new flavours; Caramel Sea Salt Mini Snow-skin and Pu Er with Chia Seed Mini Snow-skin mooncakes. These were crafted by the skilled Chef Mandy Yeo of Szechuan Court, along with the time-honoured classic flavours Mini Champagne Truffle with Chocolate Ganache Snow-skin and Pine Nuts in White Lotus Paste mooncakes from $71.03 for 4 pieces.
Online purchase for these incredible mooncakes is available until 28th September 2020 while self-collection and delivery are available until 1st October 2020 from 10:00am to 9:00pm. Delivery to one location is complimentary for orders above $100.00 and bulk orders could also be made via [email protected]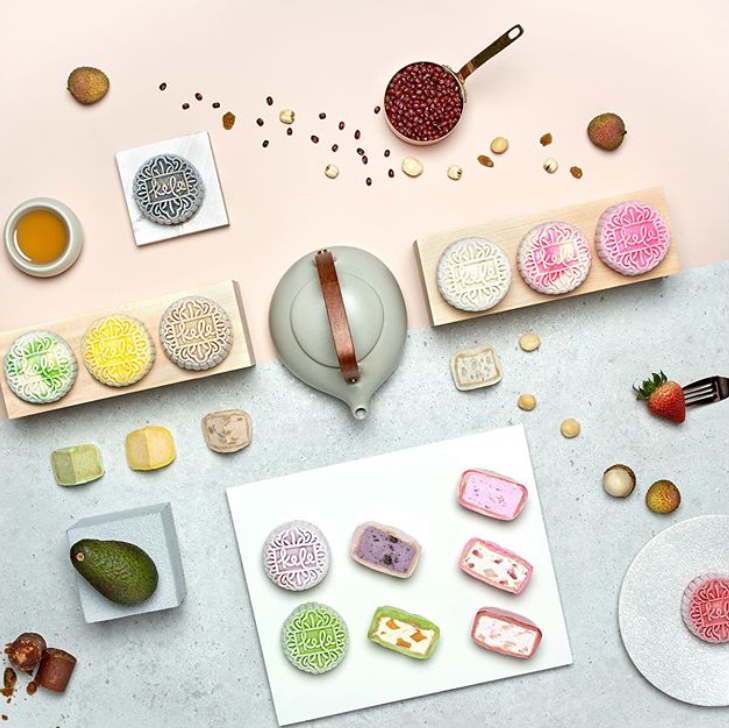 Kele Bakery amazes the crowd with their unique mooncakes this Mid-Autumn Festival. With flavours such as Avocado Macadamia Snow-skin and Rum & Raisin Snow-skin mooncakes, they continue to stand out and attract the public eye. They offer five packages, starting from $46.50 to $66.00 for 4 pieces of their mooncakes. In addition to that, they include allergen warnings on their site to ensure that their consumers are safe from harm. From now until 28th September 2020, you can place online orders and the last day for delivery and self-collection is on the 1st October 2020.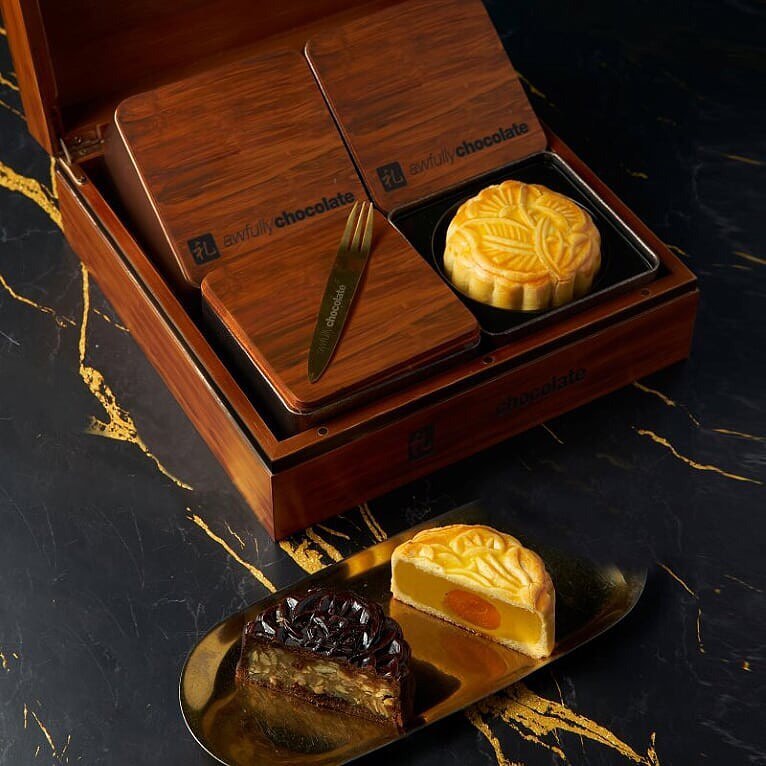 Awfully Chocolate's mooncakes are a must-to-try for chocoholics everywhere! Back with their signature baked mooncakes, they offer the Classic Baked Mooncakes package, which contains four flavours – Dark Chocolate Brownie, Six Treasures in White Lotus, Shanghai White Lotus with Double Yolk and Shanghai Golden Custard Single Yolk. Their Mid-Autumn mooncakes are baked in either light Golden Shanghai pastry or their dark chocolate pastry, with the addition of a Canton style finish.
The mooncakes would be packaged in a luxurious wooden chest, each hand-painted shades of cherry and dark oak. The chests would also be embellished with dark brass trimmings, making it the perfect gift box for your loved ones. At $88.00 per box, you would be getting 4 pieces, one of each flavour mentioned above.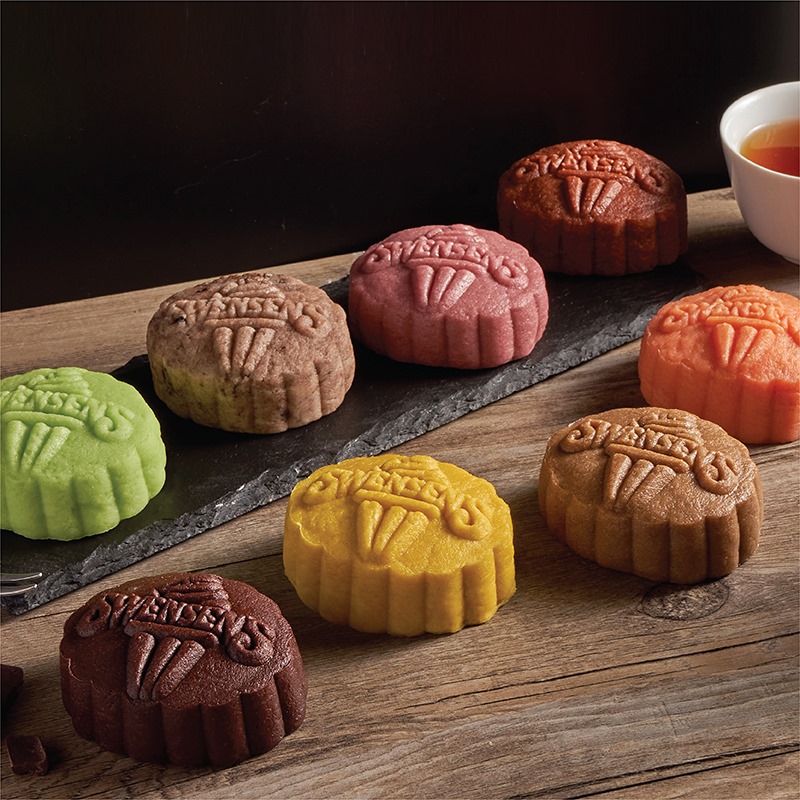 Swensens has always been known for their delicious ice cream, especially during birthdays. They are back with their iconic Mochi-snowskin Ice Cream Mooncakes, which takes a turn on the usual snow-skin mooncakes that we are all used to. They offer eight flavours; Kueh Salat, Cookie's 'n' Cream, Yam, Lotus Paste, Grapefruit, Salted Gula Melaka, Durian King and lastly, Sticky Chewy Chocolate, a crowd-favourite. And yes, as with everything else in Swensens, these delicious treats are also Halal certified.
You would be able to purchase any flavour of your choice either as a single piece at $10.90 or at $39.80 for a set of 4, which comes in an exclusive Swensens box. They also offer a Signature Set, which includes 2 pieces of Sticky Chewy Chocolate Mochi-snowskin ice cream and 2 pieces of Cookie's 'n' Cream Mochi-snowskin ice cream mooncakes. Swensens offer island-wide delivery or you could opt to pick up your mooncakes at any Swensens outlet.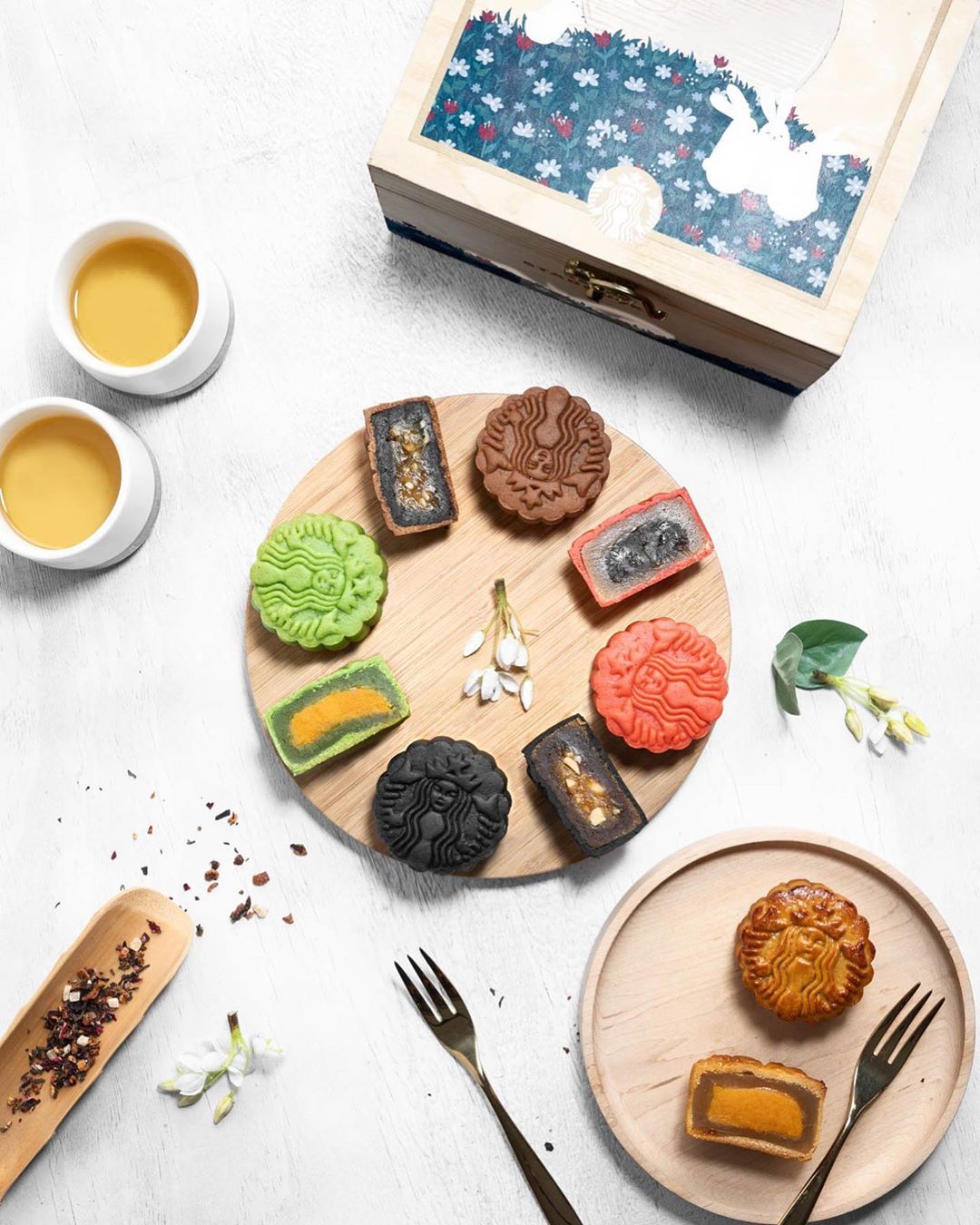 Not wanting to miss out on the festivities, Starbucks offers two promotional packages with original Starbucks mooncakes of their own! You can opt to buy either the Traditional Gift Box or the Assorted Gift Box for $59.90 each, and every gift box comes with a limited-edition reusable Starbucks canvas tote bag. Starbucks Rewards Members would enjoy a 15% discount with the purchase of 2 gift boxes and above.
The Traditional Gift Box would consist of eight traditional mooncakes, which is the Lotus Paste with Egg Yolk Baked Mooncake which the Assorted Gift Box would contain a mixture of the six total flavours offered by Starbucks.
Lotus Paste with Egg Yolk
Starbucks Coffee with Caramel and Hazelnut
Lychee Black Tea
Pandan Lotus Paste with Egg Yolk
Salted Caramel Chocolate
However, Starbucks only offers in-store payment with one's Starbucks Cards so this means that delivery is not available and you'd have to collect it at their stores.