Managing a successful business whilst maintaining a close-knit relationship with their kids are what Rhonda and Race Wong do on a daily basis. Sisters and co-founders of Proptech startup Ohmyhome, they stay true to their passions while achieving an ideal work-life-kids balance.  Rhonda (mum to Ashton) and Race (mum to Cara) have thrived in their quest to attune their work environment to be conducive to both their roles as go-getting career women as well as mums. This has proved to be a greater challenge especially during the Circuit Breaker (CB) period. 
Mummyfique chats with these two accomplished ladies on how their business has adapted during this pandemic, how they have ensured optimal productivity while working from home, plus their greatest advice for mums out there juggling work and familial commitments.
1. How has the pandemic and CB affected Ohmyhome, the business that you both co-founded and what changes have you made to the business to adapt to this challenging period?
Rhonda: For me, the greatest challenge during thi s period is keeping our team united and thinking of how to emerge from this crisis stronger than we entered it. With offices in 3 countries, each with different approaches to combating the virus, we have had to be conscious of the different needs of each team and figuring out ways to best support them.
When Singapore implemented its Circuit Breaker measures and property viewings became impossible, it brought a surge of interest to Ohmyhome's virtual tours and we found ourselves taking the lead ushering in a new era, where house buyers can purchase their next homes through virtual viewings, without traditional physical viewings through the Ohmyhome platform. 
We have also moved things to digital platforms where possible. Our live interactive webinar sessions, ohtalks!, are free for the public and cover a diverse range of in-depth property and home-related topics. The public can receive helpful guidance on navigating their property journey by interacting with my team of experienced real estate professionals, marketing experts, mortgage advisors, and our in-house interior designers.
Race: The pandemic has affected Ohmyhome in 2 significant ways. Firstly, the number of property transactions has dropped 90% in Singapore, which has a direct impact on our business. To cushion this impact, we implemented a video tour feature on our platforms allowing homeowners to upload not just photos, but also videos of their homes. This enabled home searchers to have an even clearer visual representation of the property. 
The second impact is in helping the team to adjust to the new way of life and work. Our back end team adapts to remote working without much difficulty as we have been working with our team in Manila on a daily basis. Our agents had the biggest shift. Instead of meeting clients face to face, they have also adapted to video conferencing tools. We have also shifted physical seminars to Facebook live programs. 
We did quite a bit of restructuring in terms of work flow, and readjusted our KPIs and OKRs. The result was a lot more cross collaborations between the different departments and a clearer objective for each initiative. 
2. And on the home front, what are the biggest changes you've had to make to accommodate working from home and balancing familial commitments? Could you share with us what a typical day is like for you?
Rhonda: Working from home, I've been able to spend a lot more time with my family, but the biggest change is having to create a boundary by setting aside time and space at home to focus on work. Previously, when working in the office, you are physically in another place but now that I'm home I have to explain to my son that it's important for me to focus on work at certain times. 
Typically, I start my mornings with update meetings with my team to establish the agenda for the day or week ahead. Lately, I have also been attending online CPD classes through Zoom in order to renew my license. Lunchtime is usually around 12.30pm after which is more meetings until 2.15pm when I spend some time with Ashton with educational activities like learning about colours by mixing coloured water. I spend the rest of the day working, either attending to calls that need my attention or planning the next steps for Ohmyhome. 
I try to finish work by 7pm, which is when I read to my son and prepare to put him to bed. The rest of the evening is spent having dinner with my husband and doing some exercises. I end most days catching up with the news. 
Race: In the last few years, I have often wished to just stay at home and not go anywhere else and I guess my wish came true. Be careful what you wish for. There have been pros and cons. The pros are being able to spend a lot more time with my daughter and husband and the ability to see them in between meetings. The cons… too much screen time and endless meetings? 
On a typical day, I'll wake up and spend around 30min with Cara and I'll start working on my computer. This goes on and on and on, sometimes through lunch and dinner. But on some days where I have some gaps at around 4pm, I'll do an activity with Cara. During this CB, I bought a bunch of educational toys and books for her. Our activity includes painting, slime making, experimental play, learning the piano etc. I vividly remember the first time I brought her table to the bathroom to do waterplay and her eyes lit up and she said "Wow mummy!". It is such a wonderful feeling doing something good for my child. 
My husband swims with Cara at 5pm daily. While they are swimming, I'll be on my yoga mat exercising. After which she'll have her dinner. I read her some books before she retires for the day.
I then have dinner with my husband, the 2 hours at dinner is typically when we chat about our day. After dinner, depending on which day, I either catch up on work or watch Netflix with my husband before bedtime.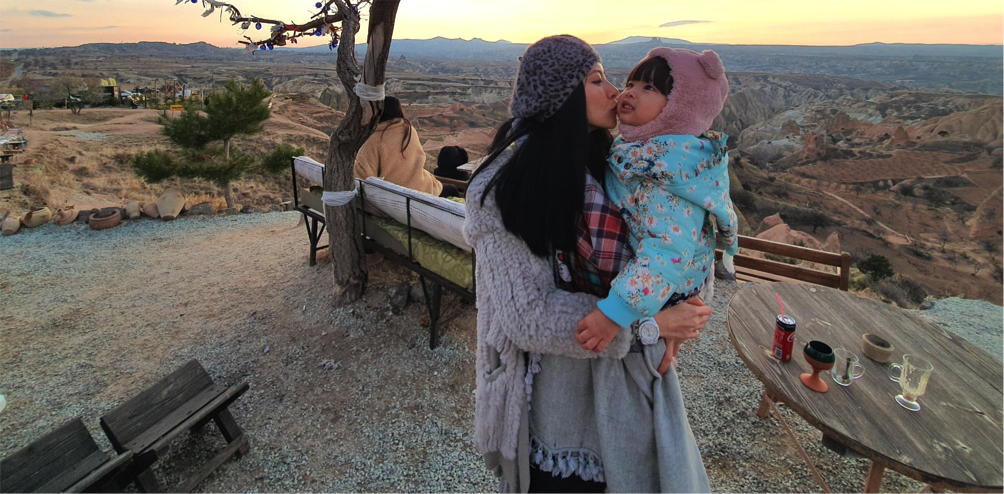 3. Both kids are still toddlers so I'm sure you are spared from the pressures of compulsory home-based learning issued by the schools. So, do you have a fixed daily activity schedule for them, planned around work? Could you share some insights/tips on how you manage this balancing act, while maintaining optimum level of productivity working from home?
Rhonda: I plan my schedule so that I have 2 blocks of time during the day that I spend with Ashton, one doing something educational and another doing something that my son enjoys. I think establishing a routine goes a long way. Being able to set aside time to focus completely on work means that you can be more productive. Having a clear timeline can also motivate people to be efficient with their work and come up with solutions on time. One benefit of working from home is that I can sneak in hugs and kisses with my son in between meetings!
Race: I'm really lucky that this lockdown happened when Cara is only 3 years old. I think it will be more stressful for the parents the older they are because they need more stimulation and friends when they're older. When it comes to school work, initially we started with online classes and once I got a hang of the curriculum the school is teaching, I planned for my own program and skipped the online classes as I am very particular about screen time. Moreover, at this age, they are learning very basic things which any adult can te ach as long as we put in the effort to do so. For Cara, they are teaching alphabets and numbers. I bought toys and books to assist me. I had to try different methods to see which works for her and for Cara, she likes to learn through story telling. I got a set of books where a story is told for each alphabet. This allows her to remember a chain of words starting with the alphabet. For example, for the letter 'A', the story is about an alligator who wants to be an astronaut, actor, artist, acrobat and author. To follow up with the story, I asked my helper to monitor Cara while she does worksheets on the alphabet. So if we read a story on alphabet K the previous night, the next morning, she will practice writing K. With numbers, I bought an abacus and taught her how to count and do simple additions. 
At the end of the day, for a working mum, it is impossible to do it all on your own. I'm lucky to have a good helper at home who can help me carry out the monitoring and teaching for me and of course my amazing husband whom I put in charge of teaching her math. Clear communication and setting expectations are very important. I am very specific on what I want Cara to learn and how she should be taught and it helped reduce miscommunication between me, my husband and my helper. I also used a reward system to rate her every single day. If she's good for a week, she gets a reward she chooses. It could be ice cream or watching a video.
4. Amidst all these commitments, how do you carve out me-time for yourselves? What do you do as a self-care routine and what's your go-to relaxation solution?
Rhonda: I have a personal mantra: "It's just work, don't let it get to you". It is something that helps to remind me to focus on the things that matter and that are within my control. This does not mean that work is not important to me or that I don't get stressed at work, rather it is a way of reframing that stress as something that is solvable and not intrinsic to who I am.
Reading the news at the end of the day allows me some time to be alone with my thoughts. But I have to say that I am fortunate that my son is very affectionate and showers me with kisses. Seeing the joy in his eyes never fails to lift my spirits.
Race: Every day is a new day for me. I don't have the habit of carrying the burden of the previous day on my mind so I don't feel the load or excessive stress where I have to do something very specific to relax. If I'm able to get a good night's rest, I'm good. I guess everyone's personality is different and I'm pretty simple in this sense. I don't ask for a lot. As long as I can finish my work, my team is doing fine, my family is healthy, that's enough for me. It's always mind over body isn't it? You can look like the fittest woman on the block but if you're unhappy, you're unhealthy. I like to keep a positive mindset and squeeze in pockets of time to exercise to destress my body from the hours of screen time. I found some effective 10 min exercise videos on youtube and I've been relying on that during this CB. We need to sweat it out to detox. It's good for our skin too.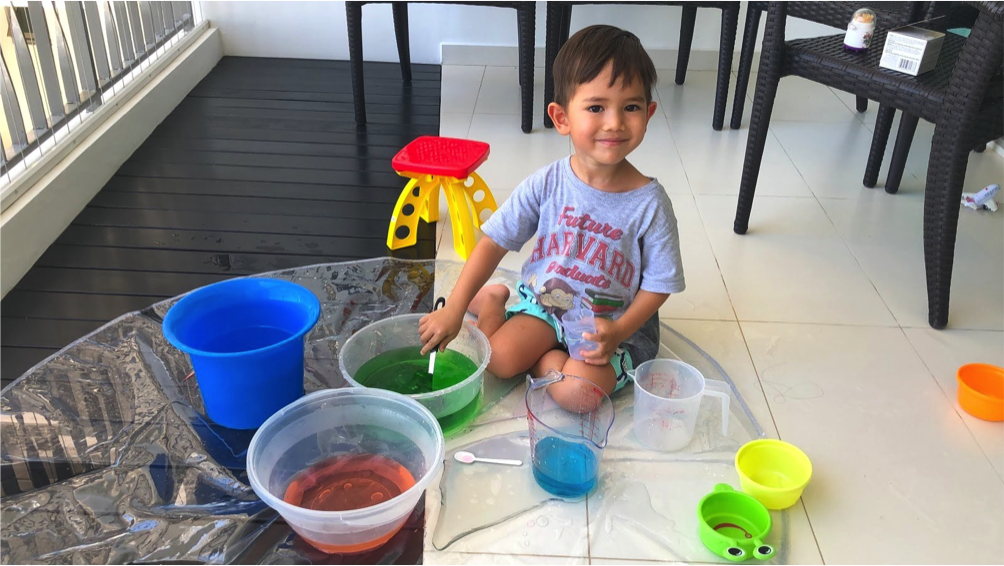 5. What's the one golden advice you'd give to working mums who are struggling to juggle work and family demands during this period?
Rhonda: Set a routine and try your best to stick to it. I try to spend as much time as I can with Ashton before and after work but during work I dedicate my focus on the task at hand. If it is possible, try to plan your schedule so that you and your spouse can take turns taking care of your children. Finding a routine that allows you to integrate family and work will help to alleviate some of the stress of balancing both as there is one less burden on your mental load. 
Race: Talk to your husband and children about your challenges in a calm manner. When we are all locked up at home, the only people you can count on or that can help you are the people inside your house. It's not just during this period, it applies to us all the time. Should there be challenges between couples, what can friends really do for you? After all the chats, we have to still go home and face the problem and find solutions. 
There are many ways to talk to your husband and it must always start by caring about their well-being in order for them to soften down and maybe reciprocate. For our children, you might think that they are too young to understand but even Cara showed understanding towards my long working hours and meetings before she turned 3 years old. It takes time to explain to them the importance of work and that food doesn't just show up on the table.