If you're looking for something to do together with the kids, give rock-climbing a try.
The kids and I had a go at Climb Central – that massive rock wall in Kallang Wave Mall. Yes, it seems intimidating at first, but they do have smaller (easier) walls to try out before the big one. And boy, was it a workout, but we had such a blast scaling those walls; pretending we were adventurers.
After registration and changing into our climbing gear, there was a compulsory safety briefing followed by a quick intro to climbing. The kids tried walls with varying difficulty but their favourite part was rappelling down.
Now, you've got to admire the stamina these kids have, they just kept going wall after wall after wall. I tried the climb and felt every single muscle in my body scream a little. But it did feel so good!
What's so great about Climb Central? First off, its location – you're at sports central, literally – there's food, sporting apparel and other sporting options – there's also Starbucks (just saying).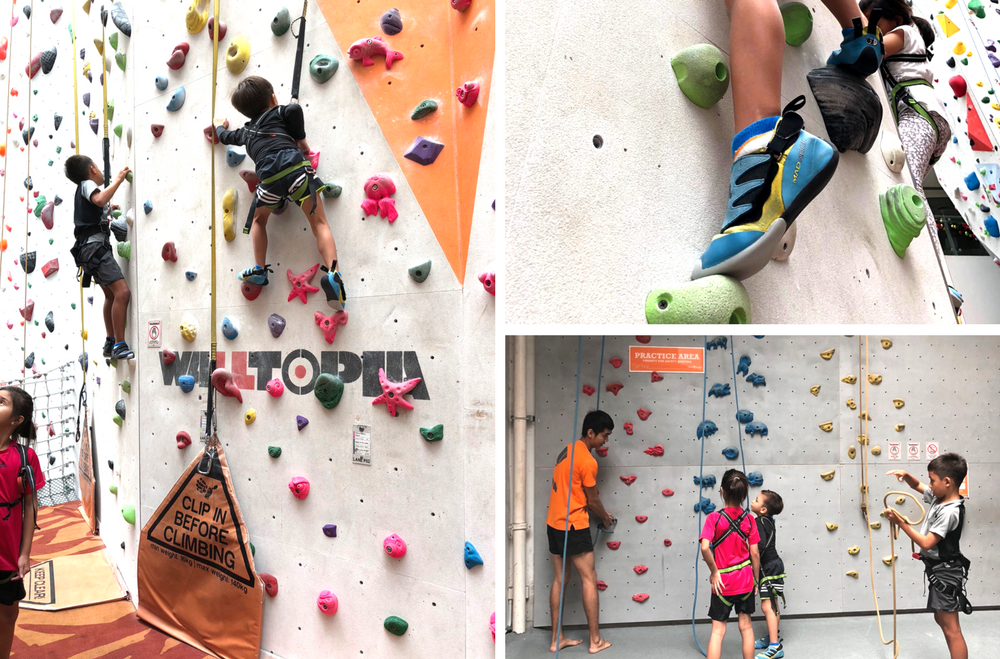 There are walls (or lanes) for both kids and adults as well as kid-sized climbing shoes and harnesses. If your child is between the ages of 5 to 12 and at least 1.1m tall and 20kg, you can drop them off with Climb Central's experienced instructors for a child-friendly introduction to climbing for $42 per child on Sundays from 1.00pm to 2.30pm.
If you're planning on climbing with the kids, I would advise wearing sporting gear, preferably with sports leggings because that harness probably won't sit too kindly on much else and socks, don't forget socks! Girls with long hair should have their hair tied securely.
WHERE: 1 Stadium Place, Kallang Wave Mall, #B1-01 (S) 397628 | +65 6702 7972 | [email protected]
WHEN: Monday – Friday, 11:00 am – 11:00 pm | Saturday, Sunday & Public Holidays, 9:00am – 9:00pm
HOW MUCH: 1 Adult $ 32 | 1 Kid $28 | 1 Adult + 1 Kid $38 | 1 Adult + 2 Kids $60
Damelza Harris-Olsen is your multi-tasking, on-the-go mum to two active little boys. When not stuck on writing, you'll find her on adventures with her husband and sons, on a photoshoot somewhere painting faces or on a home (re)decorating binge.