On our sunny island, temperatures are always at a sweltering high. Let your little ones cool off at these water play areas in Singapore.
1. Gardens by the Bay: Far East Organization Children's Garden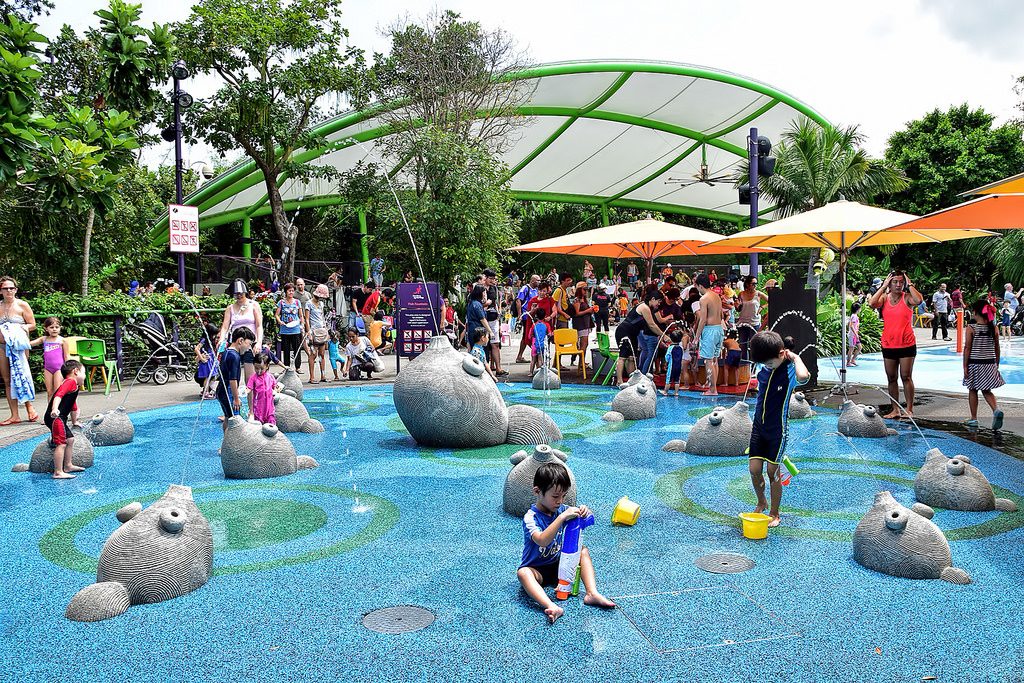 It's hard to believe that this one-hectare water play area for children is free given that there are readily available lockers and children showers, as well as staff on hand to ensure nothing goes wrong as your little ones enjoy playing with water. The wet area is divided into two with the fish fountain being more suitable for those under six as adorable looking stone fish statues spout out gentle streams of water.
Open from Tuesday to Sunday. Admission is free.
Visit gardensbythebay.com.sg for more information.
2. Safra Punggol: Splash @ Kidz Amaze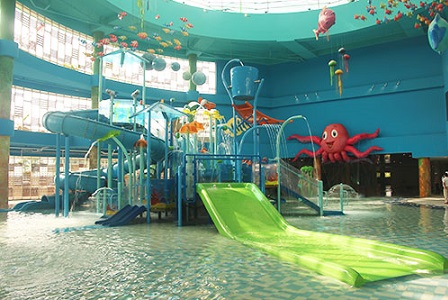 Have fun in the Enchanted Deep Sea at Splash @ Kidz Amaze's indoor water playground; you get to cool down and avoid the sun at the same time. The park is divided into two main areas – one for younger kids and one for older ones. The splash pad is the area set aside for toddlers and a giant octopus with water spouting out of his suction pads hangs overhead. The water structures here emit gentle streams of water and can be manoeuvred to allow children to "shoot" one another. If your tot is courageous enough, he can attempt taking the shorter slides over at the 'big kids' area. Stay until the evening to see the place light up in an enchanting purple hue.
Open daily (may be closed for scheduled maintenance or private bookings). Admission charges apply, free for children aged 18 months and under (accompanying adult is required).
Visit safra.sg for more information.
3. Marina Barrage: Water Playground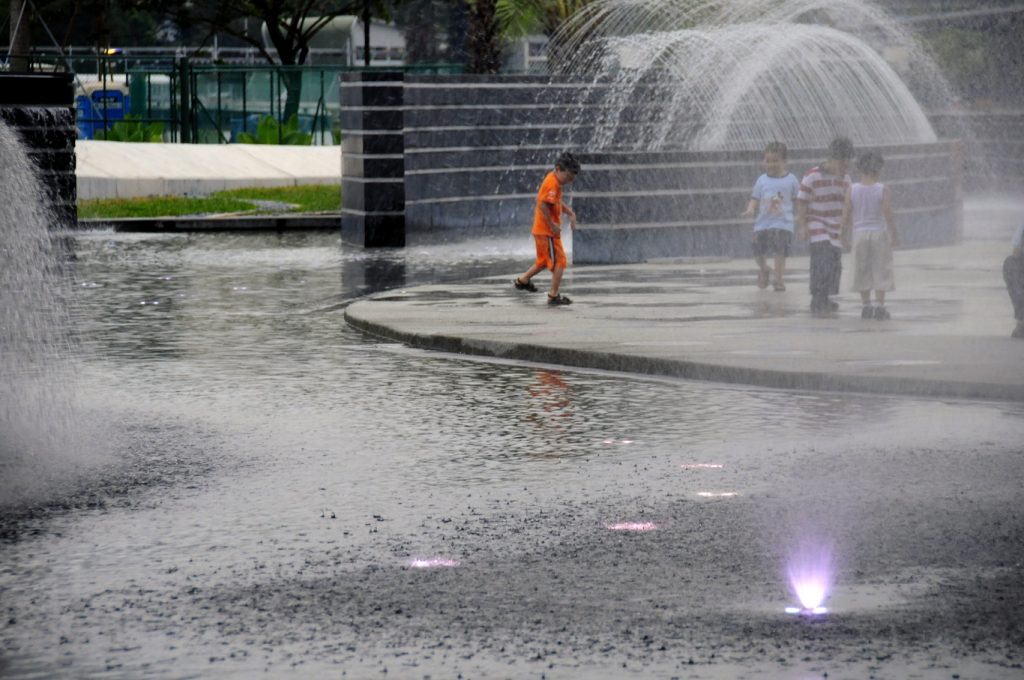 If you want to bring the kids out for an outing to fly kites and then cool off in the water, Marina Barrage is the ideal location. This water play area looks like your typical water feature but it's one that kids are allowed to skip and hop amongst the shallow pools of water and fountains. It may not be the most fancy water play area in Singapore, but it doesn't stop the kids from having the time of their lives.
Open daily. Admission is free.
Visit pub.gov.sg/marinabarrage for more information.
4. Botanic Gardens: Jacob Ballas Children's Garden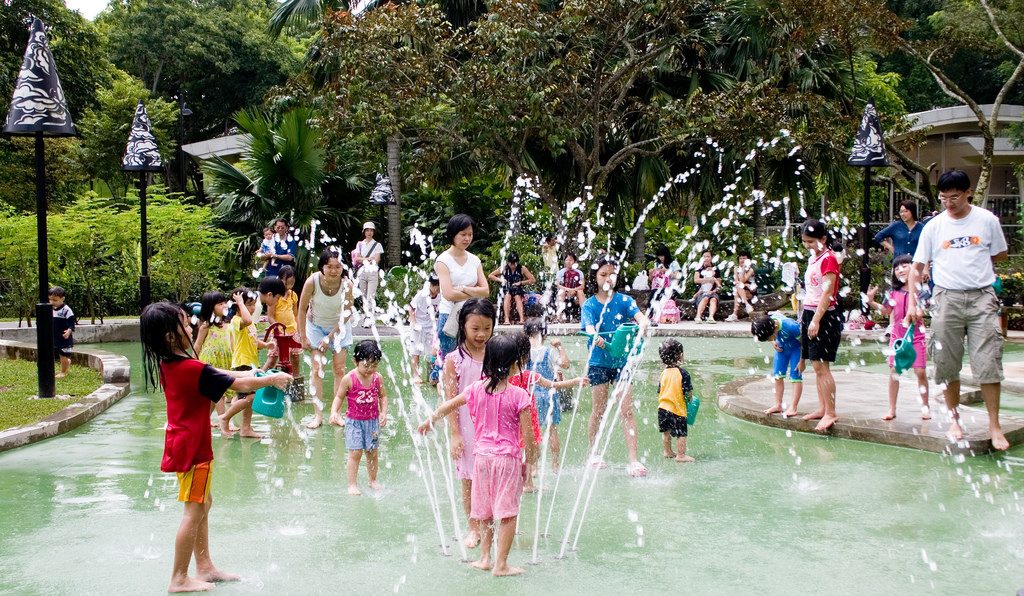 Within Singapore UNESCO World Heritage Site lies a garden that's dedicated just for kids. In fact, adults aren't allowed in, unless accompanied by a kid. As it's made just for little ones, it isn't complete without a water play area. Here you'll find spouting water at toddler-friendly heights. It's not too fancy, but it's a great place for little ones to cool down, especially after exploring the garden.
Open from Tuesday to Sunday. Admission is free.
Visit sbg.org.sg for more information.
5. Wild Wild Wet @ Downtown East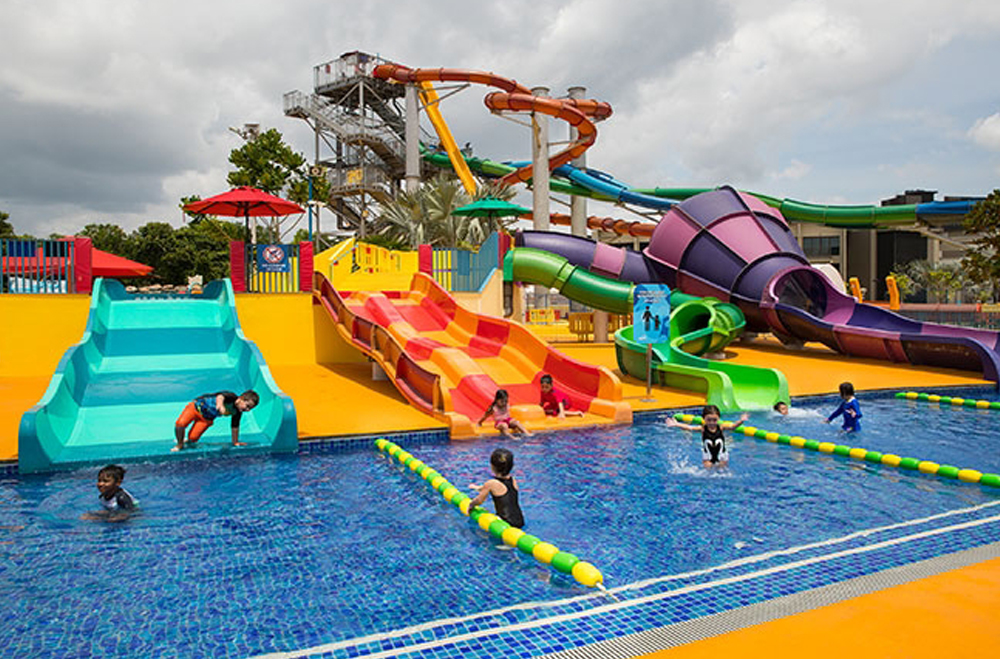 This old-time favourite location for water fun in Singapore does not leave the little ones out of the equation. Though the park consists of many fun water rides and slides that are catered to older kids, preschoolers can have a blast at the Kidz Zone where fun rides have been shrunk down to a size that is safe and suitable for tots. If you have babies with you, check out their Baby Water Carrier that allows you to bring your babies into the water with you.
Open daily. Admission tickets cost S$14 and up.
Visit wildwildwet.com for more information.
6. Bishan Park: Water Playground at Pond Gardens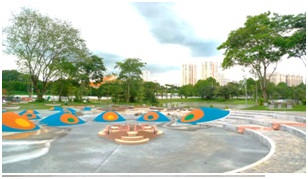 Comprising light blue mounds and sluice gates, children can interact directly and learn the varying ways that water can flow with the many metal contraptions (that are child-friendly) here in Bishan Park – very different from the usual water play areas where you find water spouting all over. Though the area is always open to the public, the water is turned on only on selected days
Open from Thursday to Sunday, and on public holidays. Admission is free.
Visit nparks.gov.sg for more information.
7. Jurong Bird Park: Birdz of Play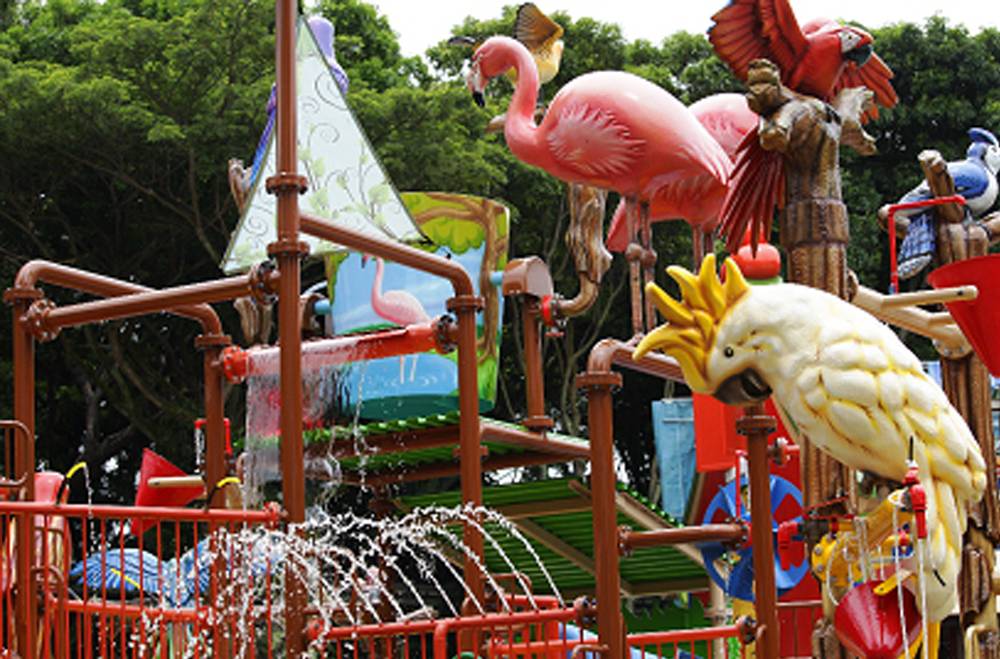 After a day out exploring and learning about feathered friends, head to Birdz of Play to have some splashing good fun. There's a wading pool for smaller ones, along with sprays and slides that every child would love. Sit on ducks and enjoy getting wet by the jetstreams of water or run through the green hoops and try to avoid being sprayed. We dare say that your kids might want to visit the bird park more often than you would have ever imagined after getting to play here.
Open daily. Admission to Science Centre Singapore applies.
Visit birdpark.com.sg for more information.
8. Lower Seletar Reservoir Park: Waterplay Area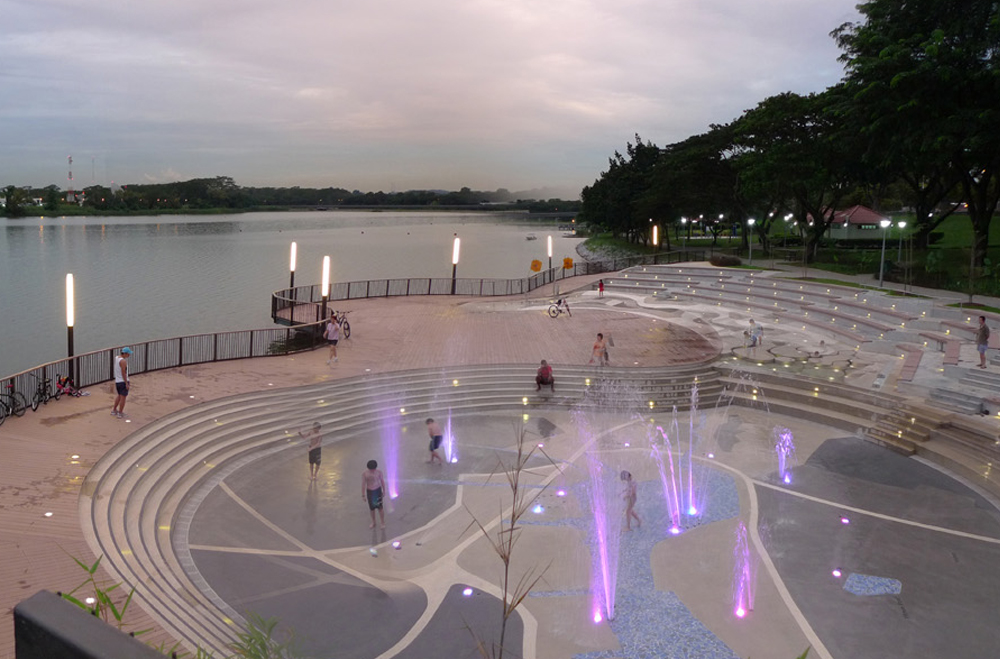 This park might slightly more secluded, but seclusion has its advantages – lesser crowds to deal with. Near the Family Bay area, you'll find a wading pool, water features and fountains for your little one to splash about in. There's even a thoughtful multi-level deck where parents can sit at to keep an eye on your children.
Open daily. Admission is free.
Visit nparks.gov.sg for more information.
9. Science Centre Singapore: WaterWorks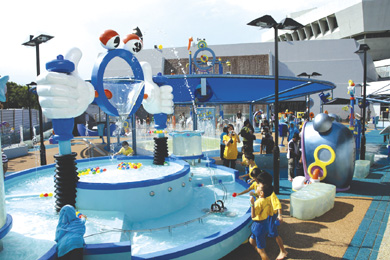 Scientific principles and water fun come together at this outdoor area at Science Centre Singapore where children can learn about science while cooling off at the same time. Shoot jets of water and discover how much water you use in daily life or test your ability to get through the water maze without getting wet. Parents would appreciate the giant dryer where minis can dry off once they are done playing.
Open daily. Admission to Science Centre Singapore applies.
Visit science.edu.sg for more information.
10. Punggol Waterway Park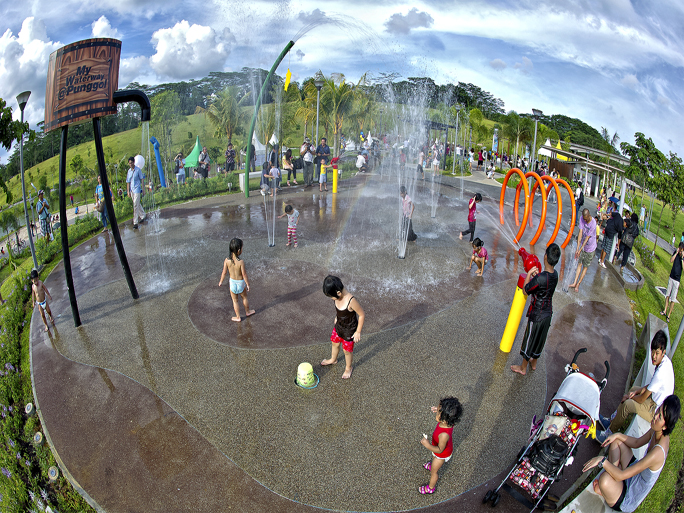 Most people these days would head to Punggol to explore Coney Island, but if that's all they visit, they are missing out on a gem in the area that is Punggol Water Park. The park is divided into four different themes, and nestled within the recreation zone is a water play area that though not very fancy, has water cannons and fountains that little ones can play with.
Open daily. Admission is free.
Visit nparks.gov.sg for more information.
11. Adventure Water Cove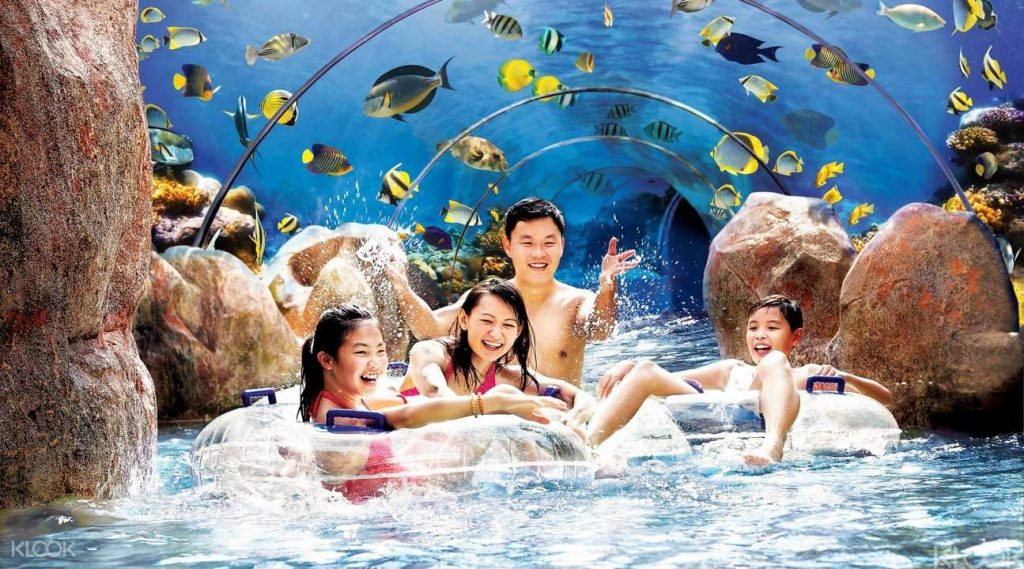 Twirls and whirls can be had has you slide down waterslides or sit in gigantic floats with your family to have a splashing good time. Most of the rides will require your mini to have an accompanying adult for them to be able to get on the ride, so do make sure that you have enough adults to go around for the number of children that you bring to the park with you.
Open daily. Admission starts from S$24.
Visit rwsentosa.com for more information.
12. Jurong East Swimming Complex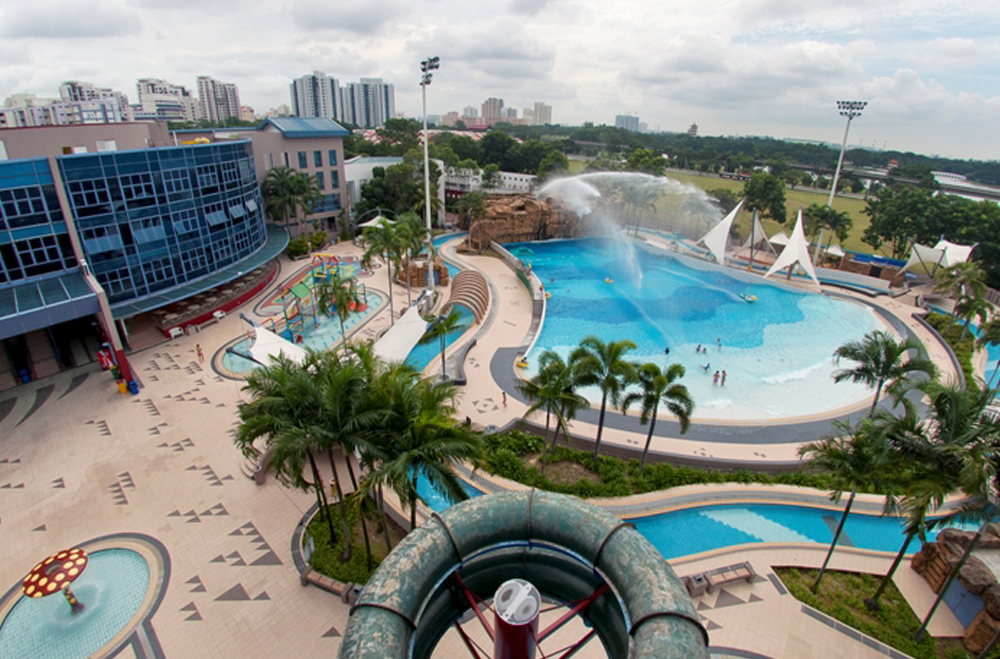 This was the first public pool in Singapore to include water slides and lazy rivers and make such fun facilities available to the public at an affordable price. It remains a firm favourite amongst those staying in the west and not be missed is the wave pool with a 'storm effect'. At certain times in the day, the water sprinklers throughout the park are turned on, creating a thunderstorm effect that little ones will enjoy.
Open daily. Admission starts from S$0.80.
Visit myactivesg.com for more information.