Hilton Singapore Orchard has unveiled its latest family-friendly amenities and experiences in its hotel. Cedric Nubul, the general manager shares, "Being a father of three myself, I understand that it's key to focus on creating experiences for the family and kids to spark creativity and be inspired. By focusing on their enjoyment, we can expertly design memorable experiences for the entire family."  Discover these thoughtfully-designed activities and amenities your junior explorers will love.
1. Fun Learning About Orchard Road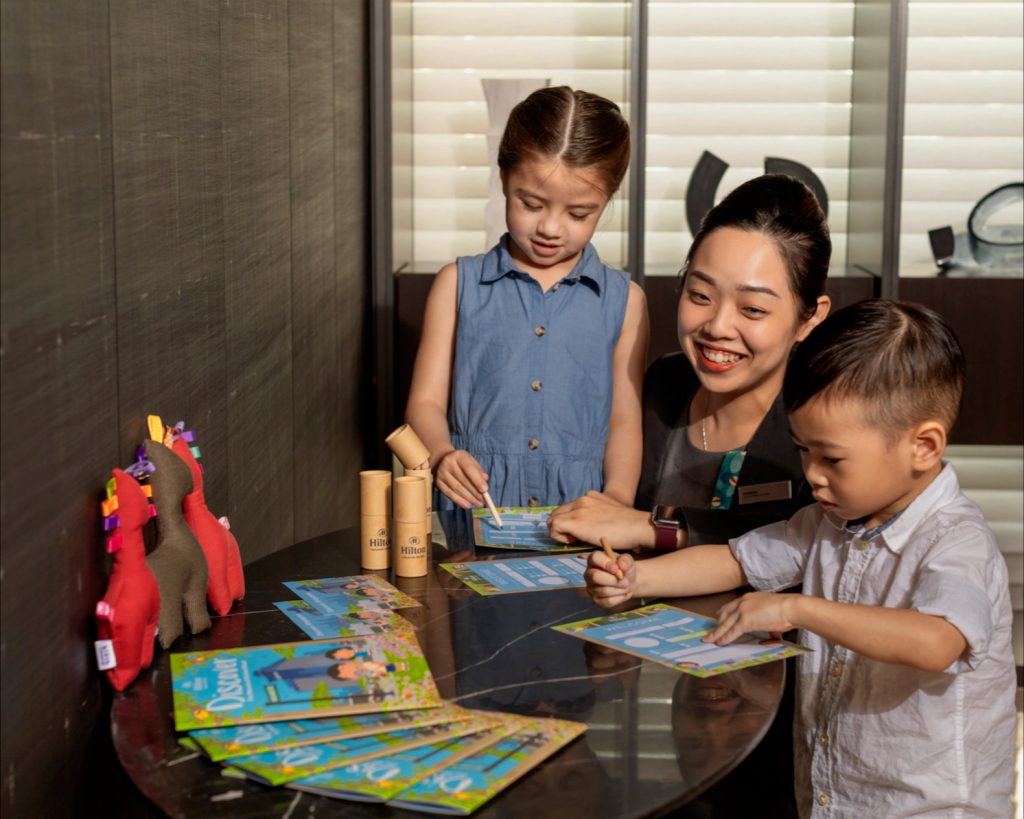 Great for family travellers, whether from overseas or as a staycation, Hilton Singapore Orchard is located in the premier shopping and entertainment district of Orchard Road. Their new kid-centric lineup lets kids explore within and around the hotel, with experiences designed to spark discovery and adventure as a family. For example, within their Junior Explorer kit, there are puzzles, quizzes and colouring activities themed around discovering the marvels of Orchard Road. Hence, while young guests fill up their activity book, they can also learn about the history of Orchard Road and uncover the hotel's gems. 
2. Confirmed Connecting Rooms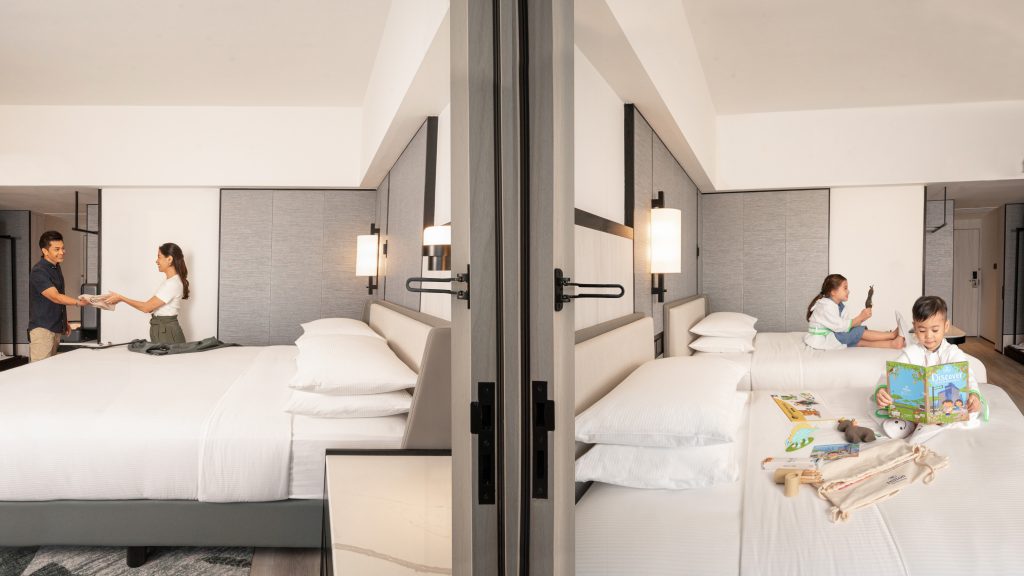 Hilton Singapore Orchard offers families Confirmed Connecting Rooms. Hence, families can easily book and instantly confirm at least two connecting rooms, and stay close together during their stay. Additionally, families can choose from 1,080 rooms in Hilton Singapore Orchard. For room-sharing families, try the corner or premium suites, deluxe or deluxe city view rooms, with more space for three persons to sleep. An extra rollaway bed charge applies ($90++), and is only available for the Deluxe category of rooms and suites. As for the littlest guests under two, Hilton Singapore Orchard has cribs, baby bathtubs and bottle sterilisers (subject to availability on arrival). Children will also receive their own kids' bathrobes, slippers and toiletries and can sample the sweet treats in their rooms.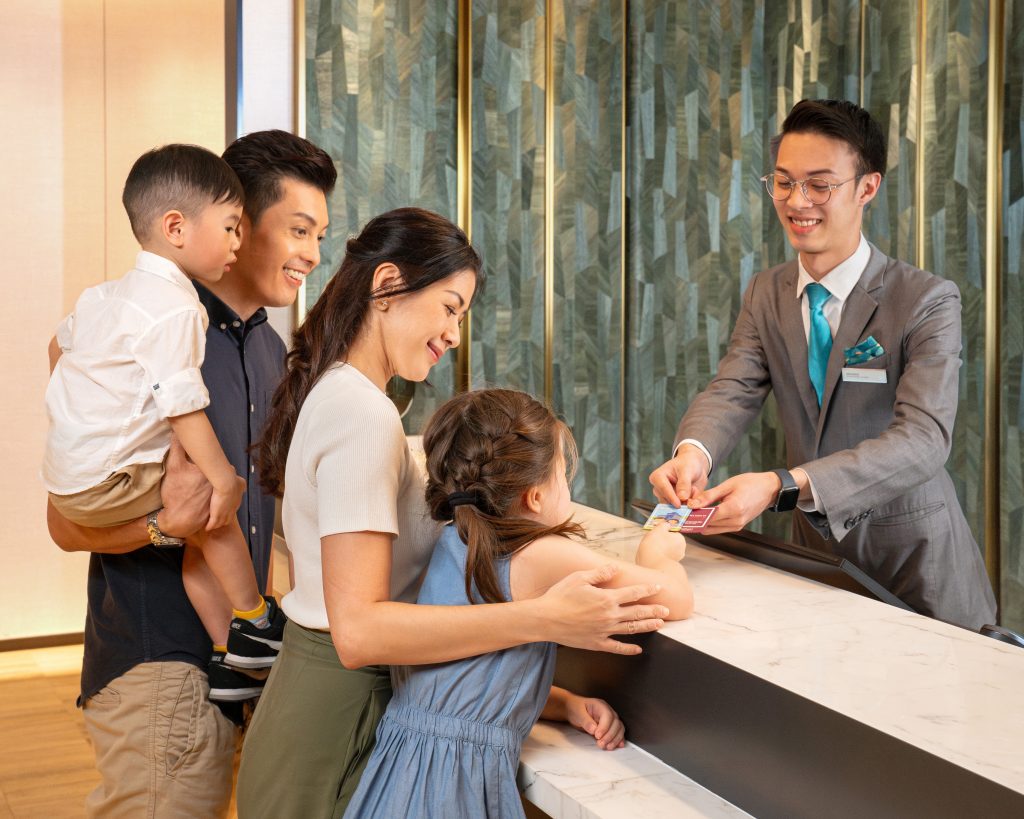 Across every department in Hilton Singapore Orchard hotel are Kids Ambassadors, trained to engage with families and junior guests. They are well-informed and can provide friendly assistance with almost anything. Some examples include kids' amenities available within the hotel and family-friendly recommendations on Orchard Road and around Singapore. 
The aforementioned Kids Ambassadors will lead the junior guests to their own dedicated check in corner, and let the kids fill in their own registration card. Additionally, kids also get their specially designed cards and a Hilton Singapore Orchard Junior Explorer Drawstring Bag. 
4. Junior Explorer Activity Kits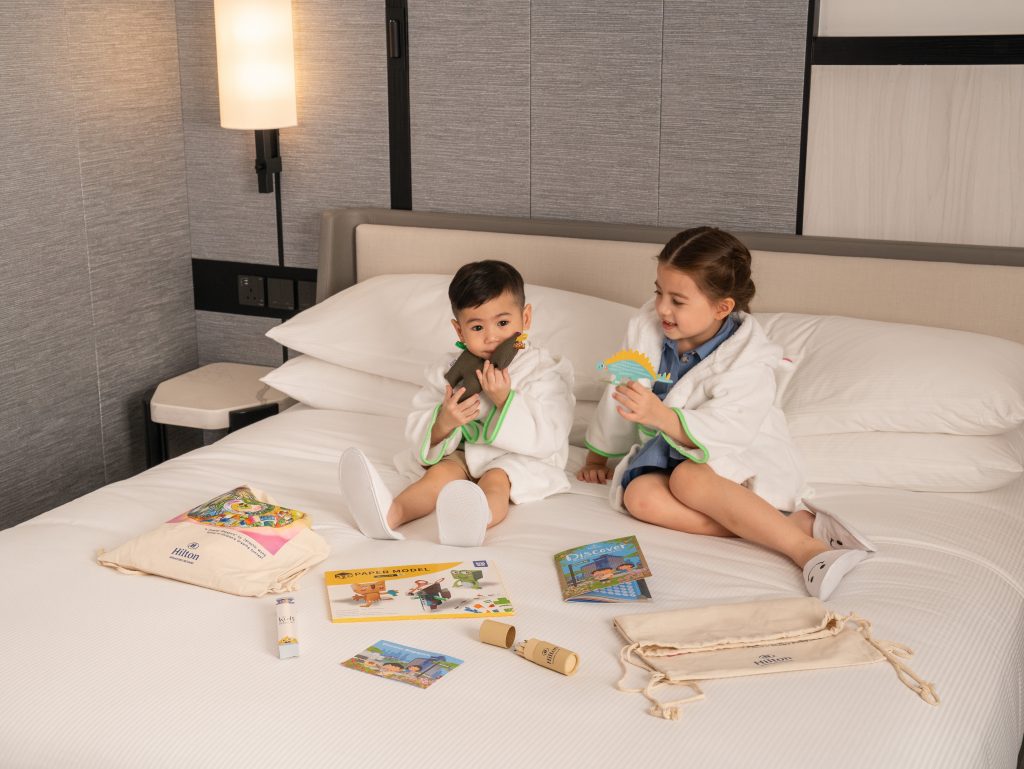 To make junior guests feel welcome throughout their stay, Hilton Singapore Orchard collaborated with Piqolo Kids. This local publisher and graphic illustrator specialises in creative storytelling for children. Thus, they have created a range of specially designed amenities for the younger guests. Some examples include memorabilia and an activity book to be completed during their stay. 
Inside, kids will find a box of recycled-wood colour pencils, an origami set and plush toy. Most notably, Kloth, a female-led social enterprise that supports women from impoverished and vulnerable communities, has created this plush toy, upcycled from hotel staff uniforms. 
5. Kid-Centric Activities
Unsure of what to do? Check out the hotel's new Kids' Service Menu, with a list of family-friendly itineraries curated together with Asia's leading travel and experiences platform Klook. Families staying at Hilton Singapore Orchard can not only access these itineraries but also enjoy exclusive promotional deals when booking via Klook. For example, they can try tufting workshops or art jamming sessions in Orchard Road. Nearby at Marina Square, children can enjoy the Pororo Park and Kidztopia indoor playgrounds, or test their aim at the NERF Action Xperience. Otherwise, they can venture to some of Singapore's best attractions such as Gardens By The Bay and Bird Paradise. Prefer to stay in? Children will love the hotel's outdoor pool on level five, with child-sized inflatable floats.
When parents want to enjoy a lovely dinner, sans kids, the Kids Ambassadors can also arrange babysitting services ($30 per hour for a minimum of four hours for two children). Additional charges apply for additional services, such as looking after a third child and/or if the babysitter needs to accompany the guests on outings. Of course, the babysitters are not allowed to bring children out of the room without your express permission.
7. Junior Masterchef-esque Cooking Class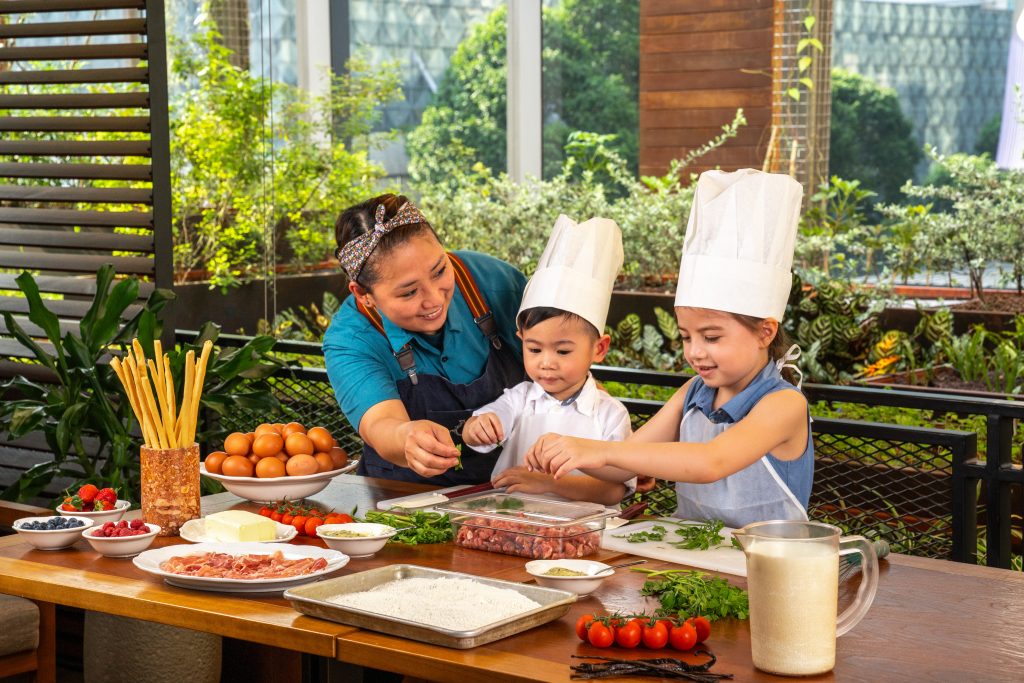 Older kids between 7 to 14 years old can put on their chef hats in a Junior Masterclass series available every first Saturday of the quarter. Beginning on 14 October 2023, each 1.5-hour masterclass ($78++ per child) will let aspiring master chefs discover Italian flavours and prepare an authentic three-course meal. Led by celebrity American chef Nancy Silverton at Osteria Mozza, the junior chefs will prepare dishes like spaghetti and meatballs and a Vanilla Bean Panna Cotta. Afterwards, they can pose in their aprons and chef hats, and savour their creations for lunch, paired with juice and soft drinks. While waiting for their junior chefs, parents can top up $45++ per adult for a glass of champagne or cocktail with light canapés.
8. Dining in at Hilton Singapore Orchard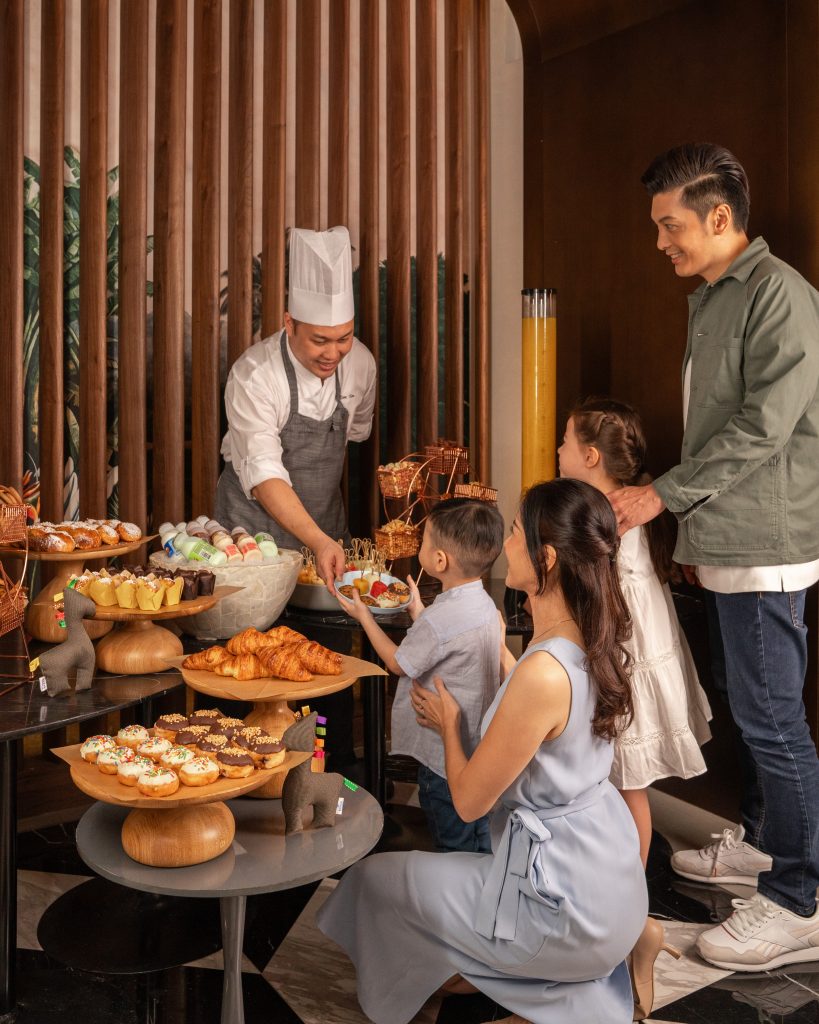 Now, Hilton Singapore Orchard has a comprehensive dining programme to include kid-friendly options at the hotel's dining outlets and in-room dining service menu. At the all-day buffet restaurant Estate, junior guests will love the kid-friendly selection at the dedicated kids' corner, with cereals, muffins and doughnuts. Similarly, the Sunday Brunch buffet spread has been tweaked to include more child-friendly treats. Some options include penne pasta with meatballs, popcorn chicken, French fries and egg fried rice. They will likely also love the gelato selection, featuring vanilla, dark chocolate, wild berries and mango. 
Children five and under eat free for all meals. Older children, meanwhile, between six and 12 can enjoy breakfast at $19++ per child, and at a special price at the restaurants for the other meals. Do inform the staff if your child has any dietary restrictions or allergies.
9. Sunday Brunch Fun Activities for Junior Gourmands
Additionally, during  Estate's Grand Sunday Champagne Brunch, Hilton Singapore Orchard has prepared an array of complimentary activities to keep their junior guests occupied while parents are lingering over the sumptuous spread. Such activities include painting and board games, Singapore's classic childhood games and magician acts. While parents are getting their children food, the little ones can work on the engaging activities on their specially designed placemats. 
After a memorable stay at Hilton Singapore Orchard, junior guests will have a customised postcard to jot down their own messages and memories. Following this, the guests can then send their postcards wherever they wish, courtesy of the hotel's complimentary mailing service at the concierge specially made available to junior guests for this purpose. Hence, this memento ensures that the memories made at the hotel will be cherished for many years. 
Relevant Reads: September Holidays, and Mummyfique's Gratitude Luncheon
All images are courtesy of Hilton Singapore Orchard.