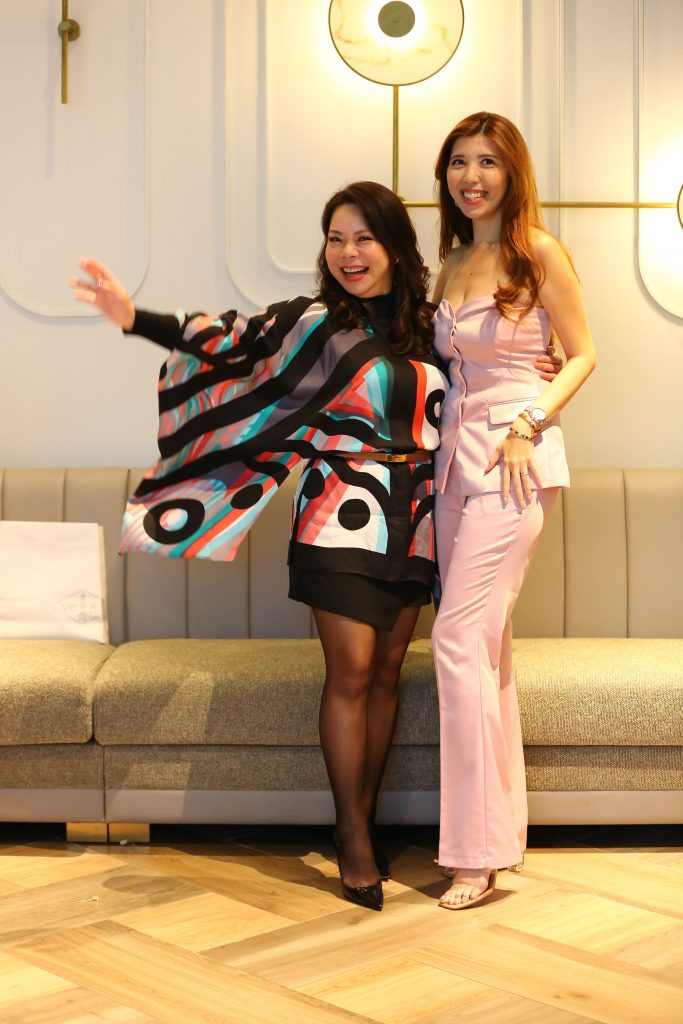 For eight years running, Mummyfique has organised get-togethers for some very special people – mothers, friends and clients who have supported us since the beginning. This year, Mummyfique's Gratitude Luncheon was held at Estate Restaurant in Hilton Singapore Orchard on 27 June.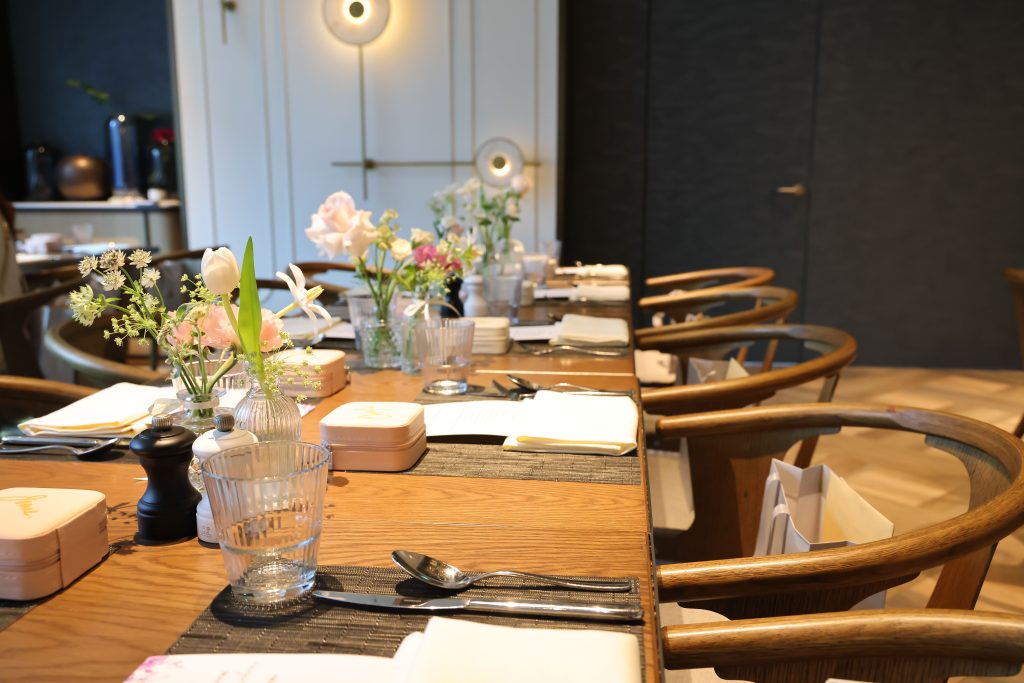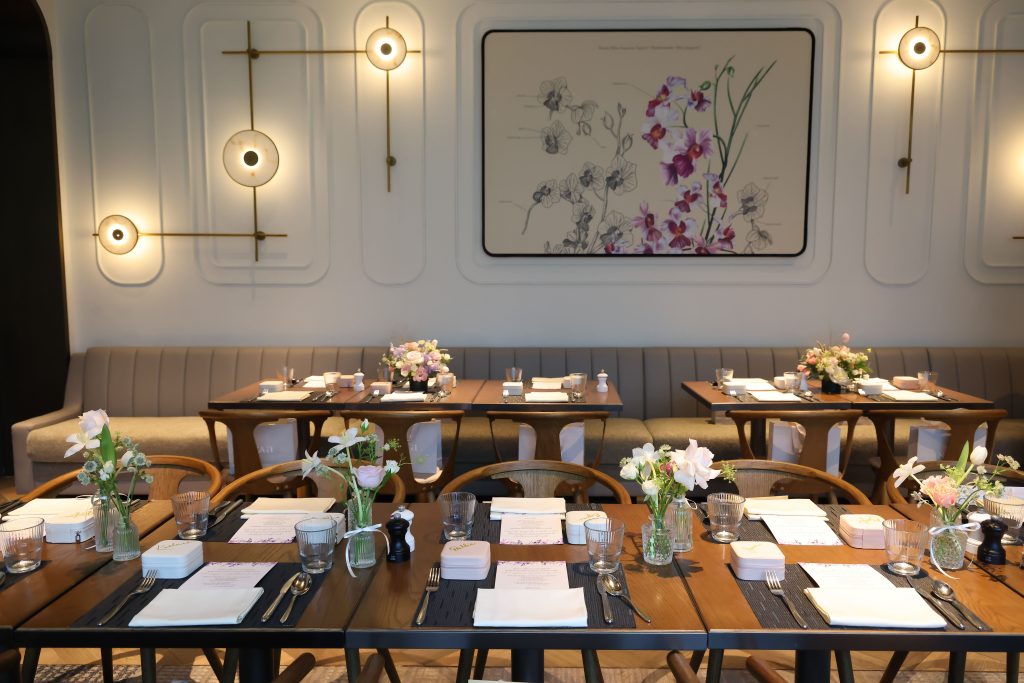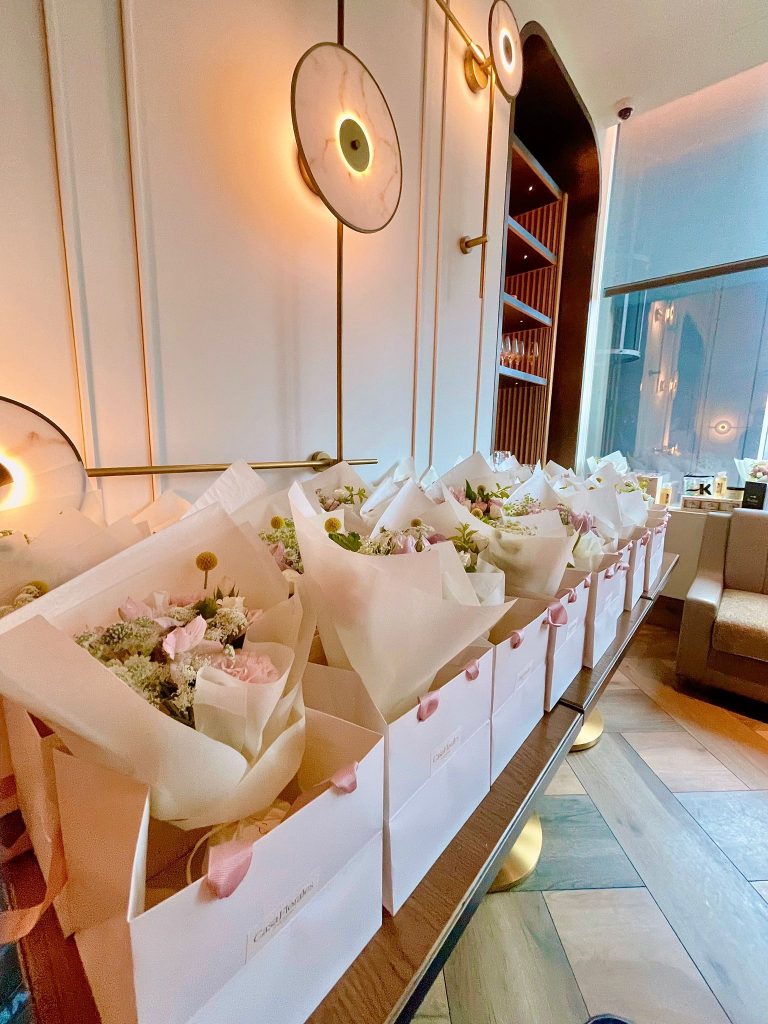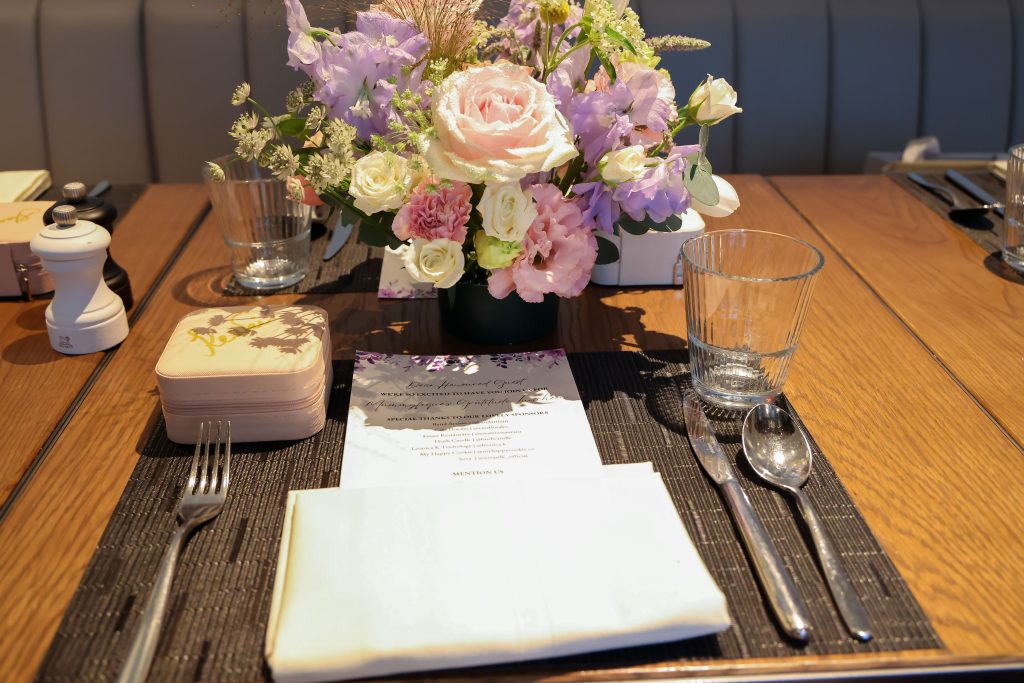 To kick things off, our Chief Executive Mummy Dolores Au welcomed everyone, saying, "Thank you all for coming today, I'm so happy to see all of you." She described the luncheon as an opportunity for everyone to gather and "just have an afternoon of celebration". The gratitude luncheon, she added, was to thank everyone who had been with Mummyfique from day one. She said, "We exist because of all of you."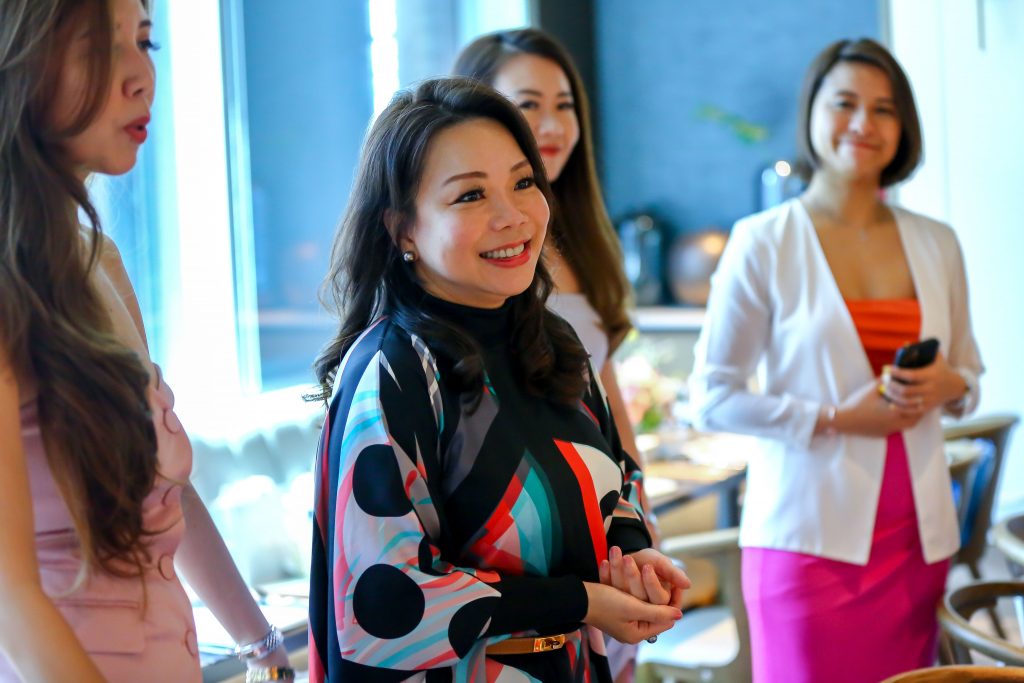 The Buffet Spread at the Estate at Hilton Singapore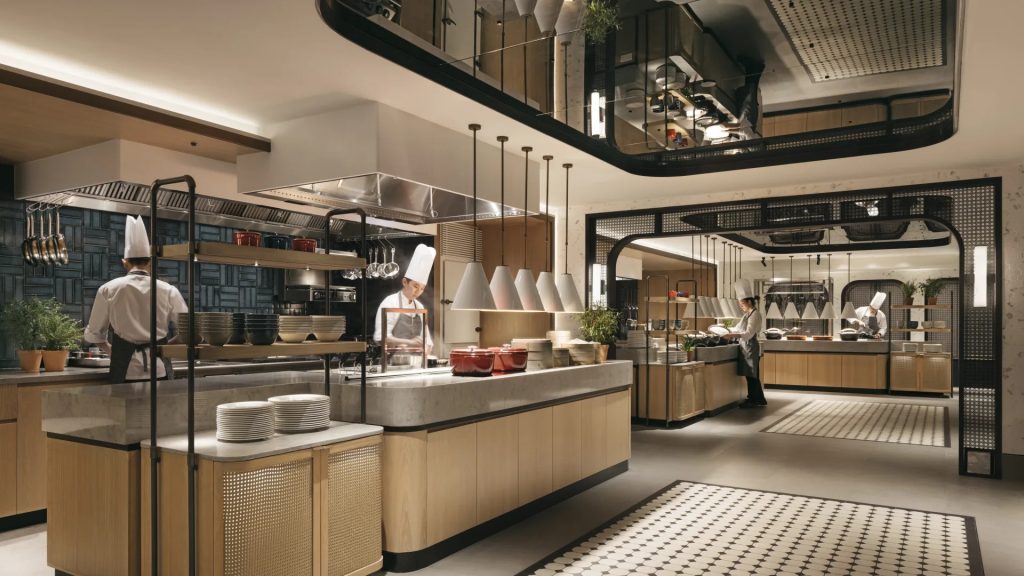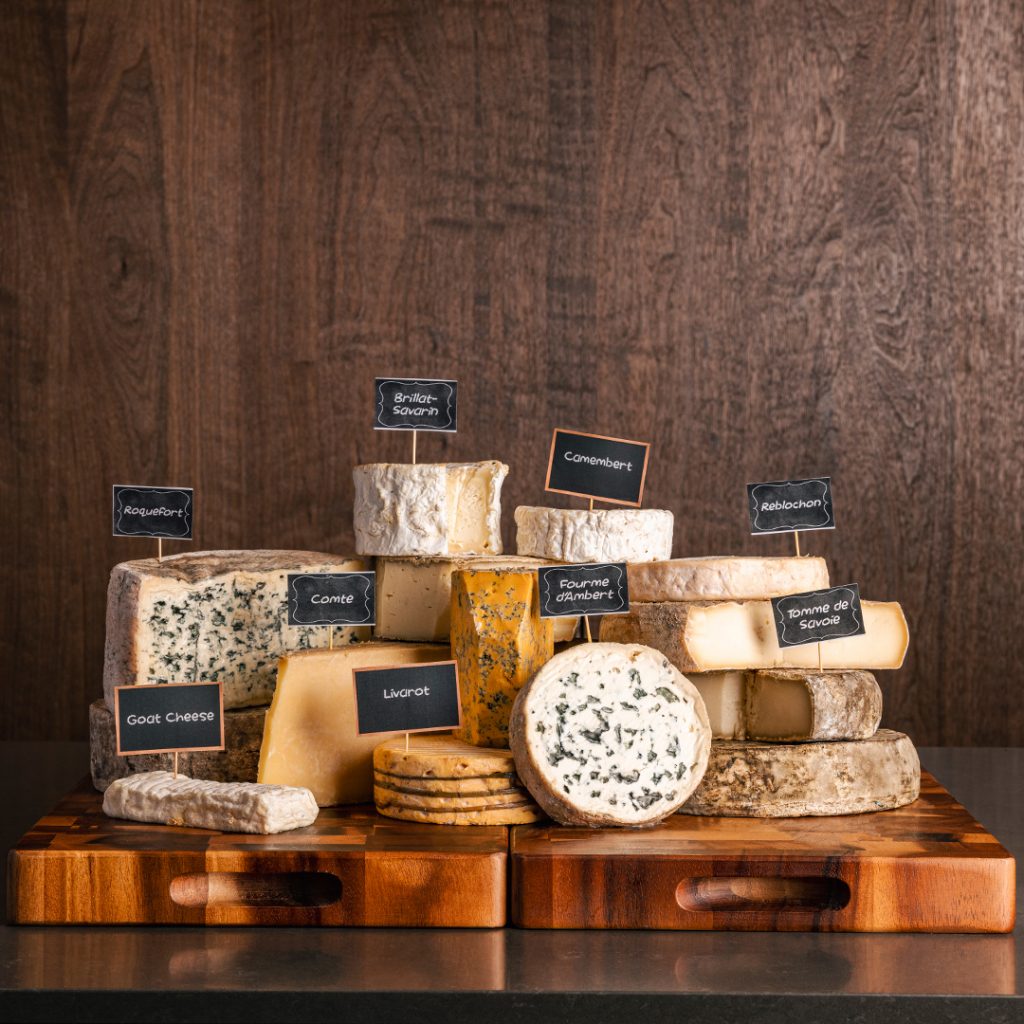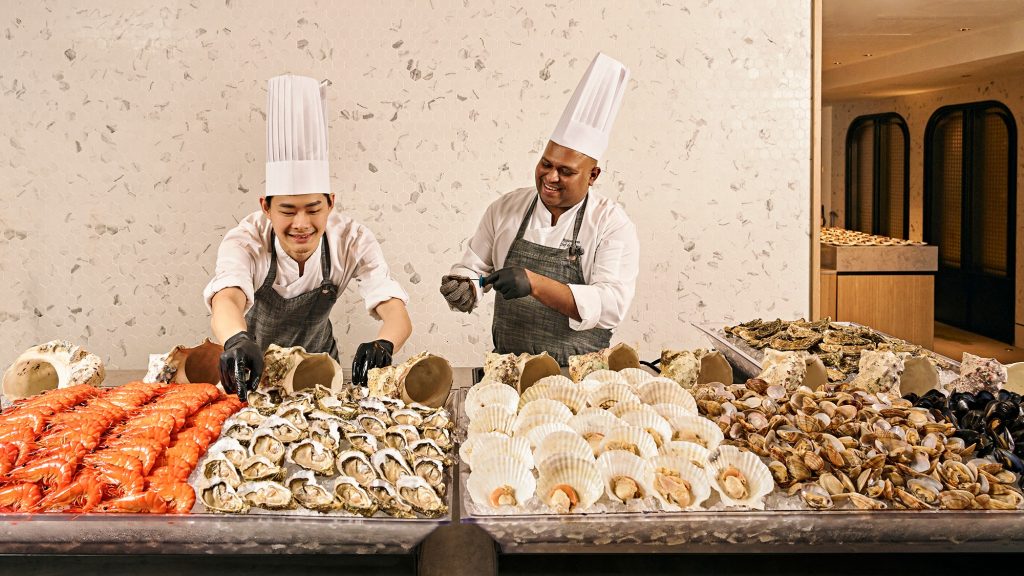 Estate's lunch buffet was extensive, including appetisers, mains and desserts, with a salad bar, raw and cold seafood and a huge selection of cheese. For guests who chose to start with the very fresh tiger prawns, the attentive staff also provided them with bowls of lemon water to dip their fingers into.
Moving onto the mains, these included the Carving station, featuring the herb-marinated roast beef sirloin, Peruvian-style roasted organic chicken and smoked pork belly. Complementing these were the roasted garlic and herb potato, grilled asparagus, Mediterranean vegetable sauté, and grilled caramelised corn.
Naturally, the buffet also showcased local flavours with dim sum, nasi kerabu – butterfly pea flower rice with fried chicken, salted egg and sambal – and Indian cuisine. Over at the soup station, guests could enjoy the Singapore-style fish noodles with crispy fish, vegetables, quail egg and homemade chilli padi, or double-boiled black chicken soup with coconut and herbs. 
Sweet Treats and Celebrations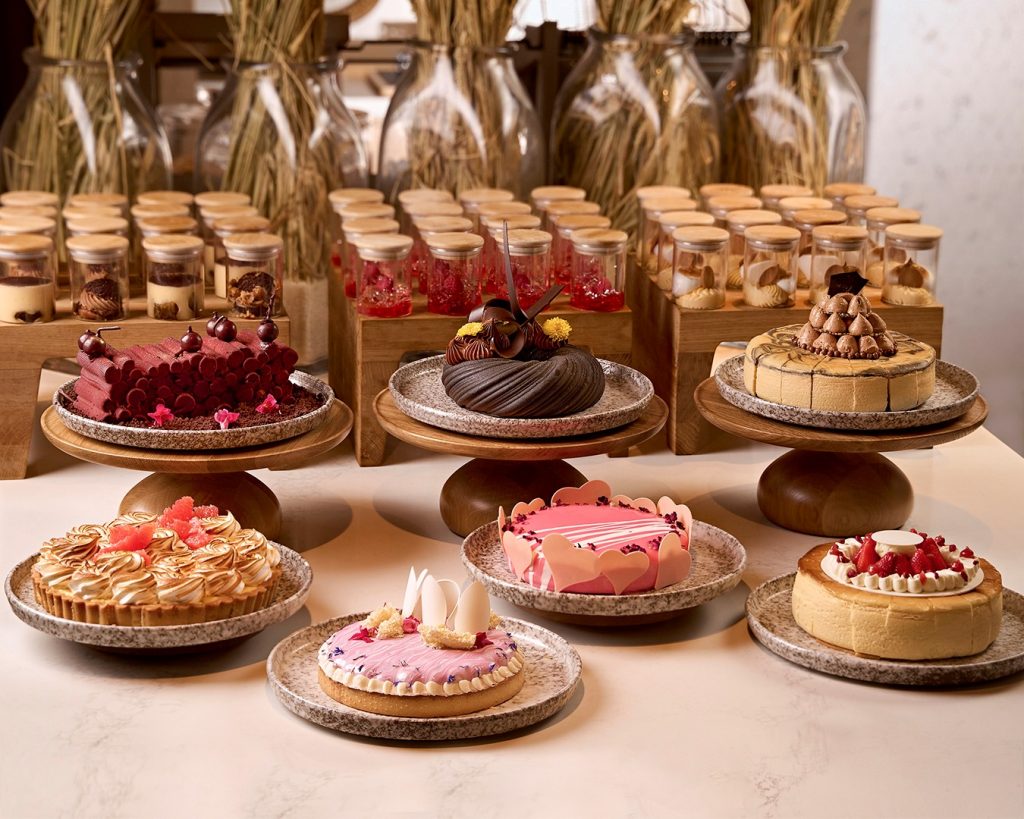 Ending off on a sweet note, the desserts included strawberry and chocolate gelatos, Estate's chocolate cake, Hilton's iconic cheesecake and dessert in jars such as the strawberry crème panna cotta and the mango pomelo pudding.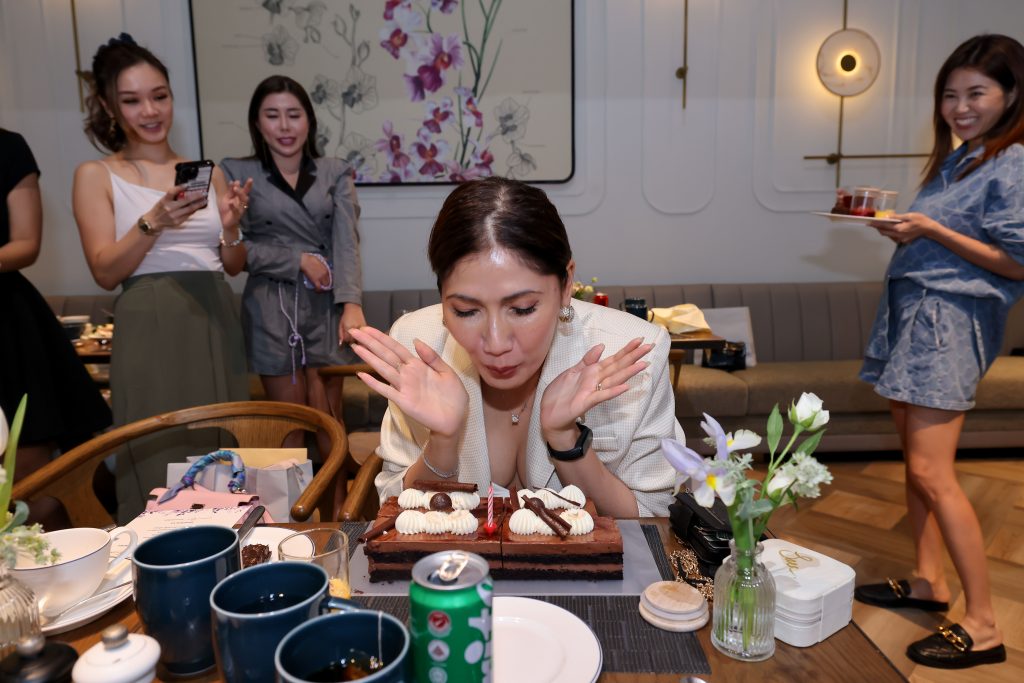 Aside from feasting on the delectable lunch buffet, it was also a chance for the guests to relax, socialise with other like-minded mums and business owners. Mum of three, entrepreneur Cheryl Wee said in her Instagram Stories, "My first Mummyfique lunch! Thanks Gidania for having me, really nice connecting with other moms over lunch at Estate Restaurant."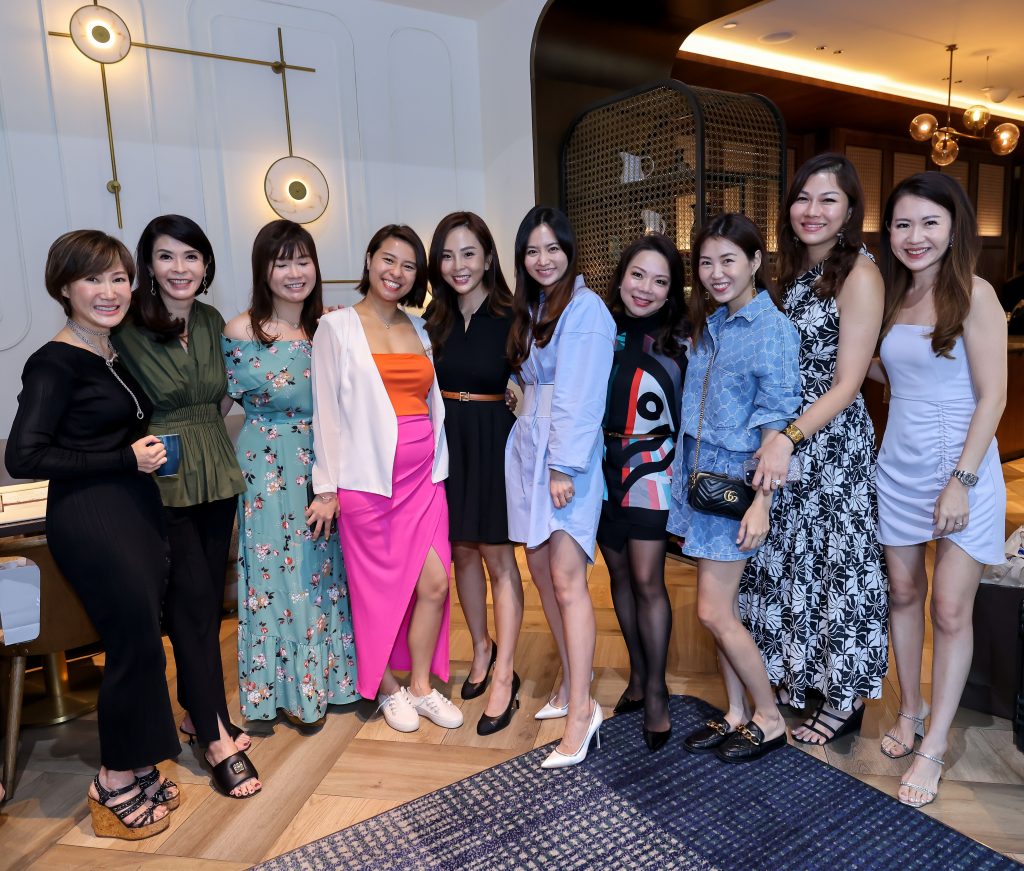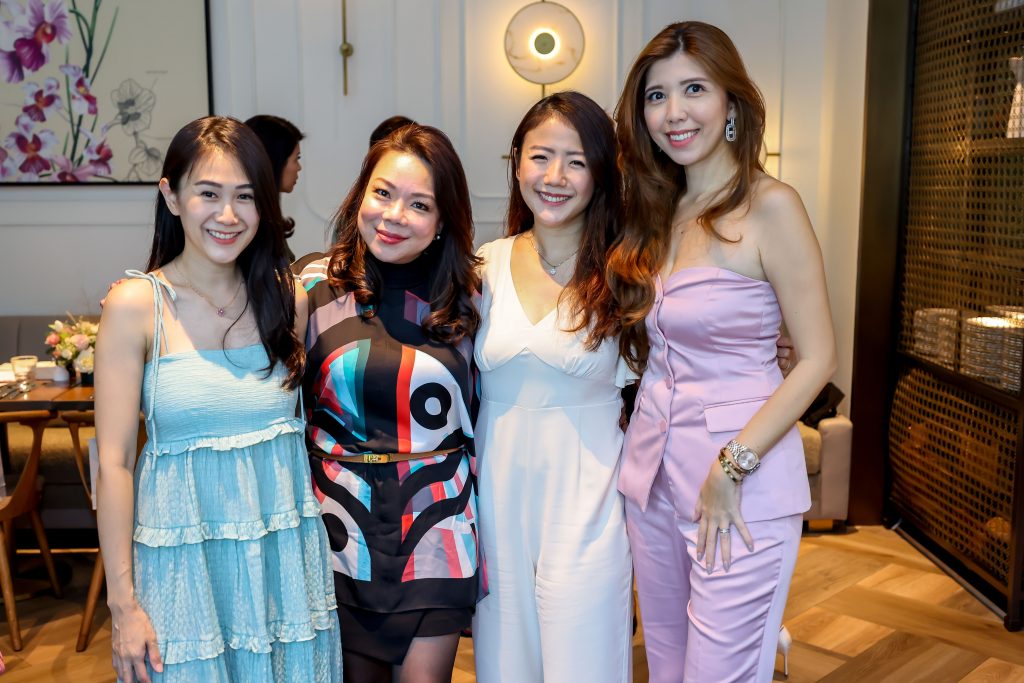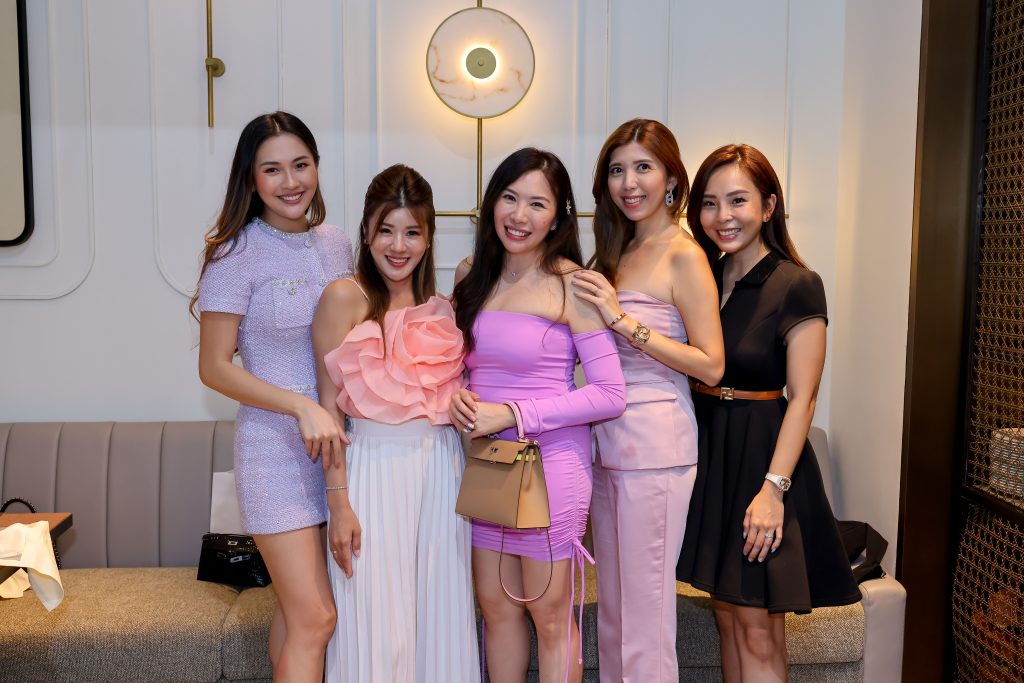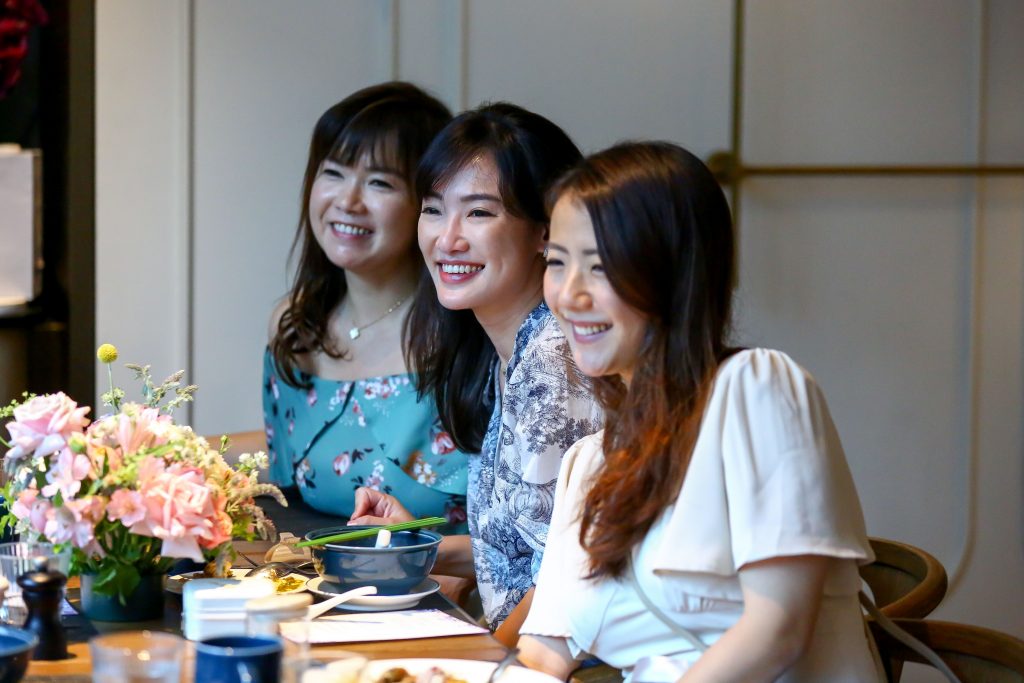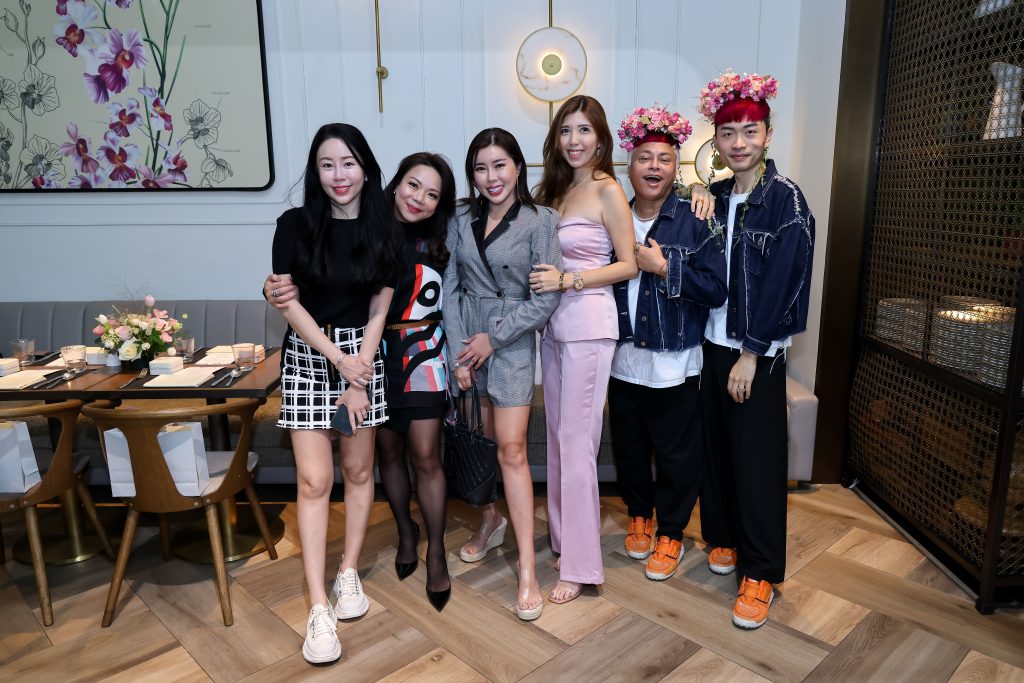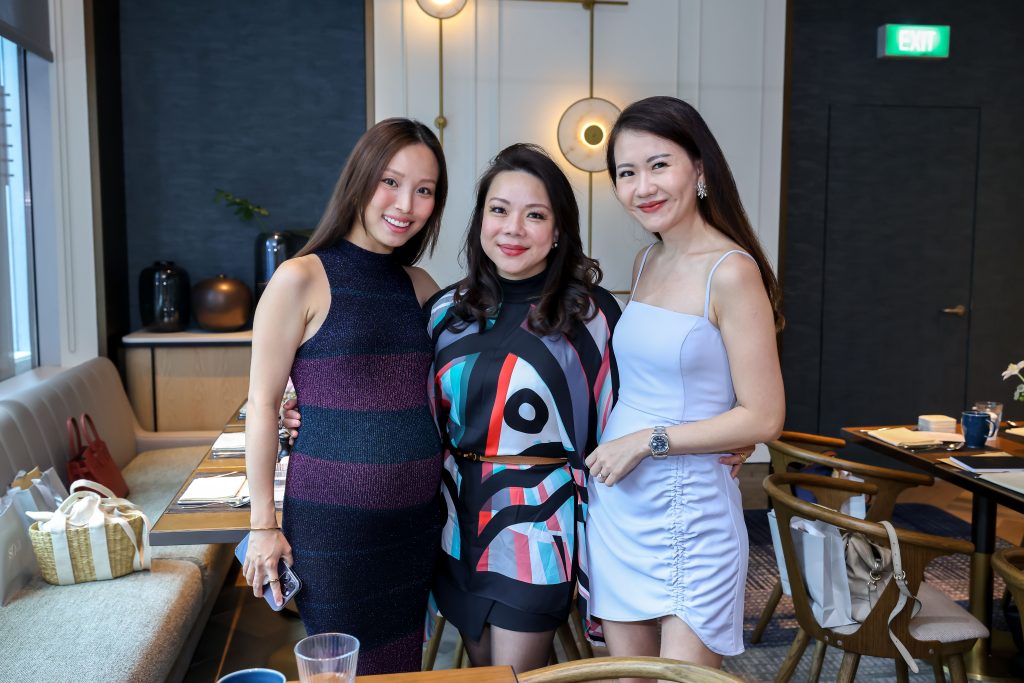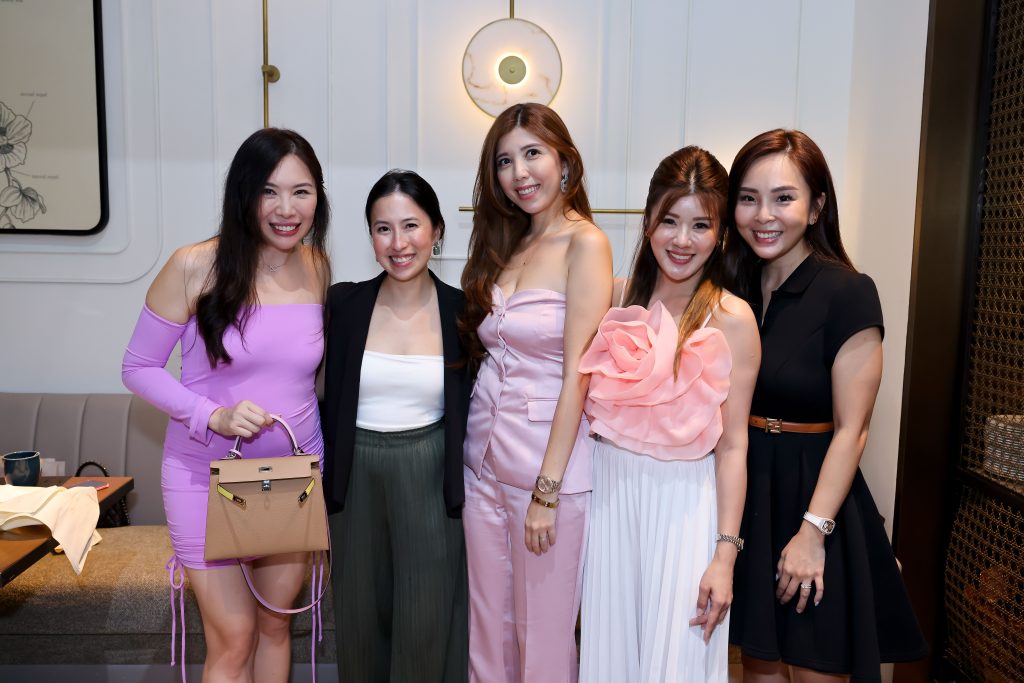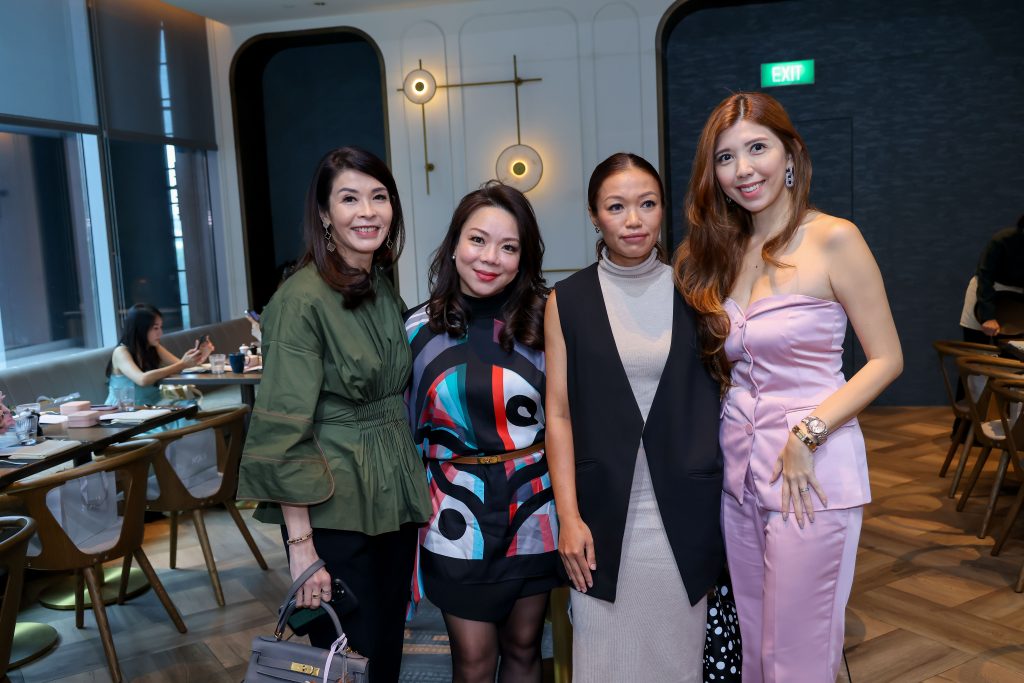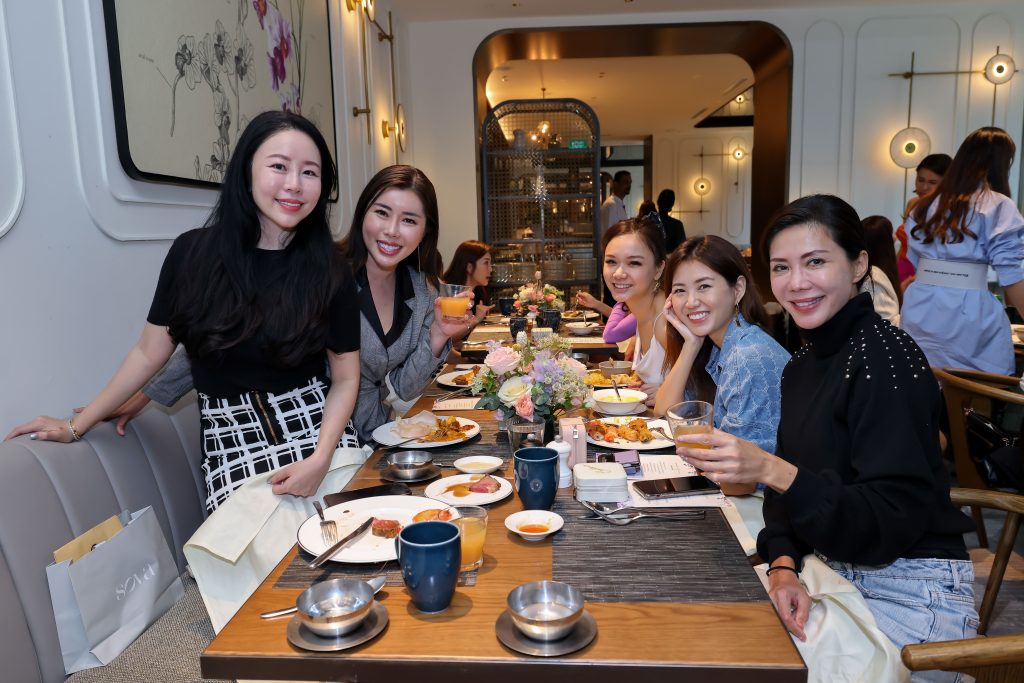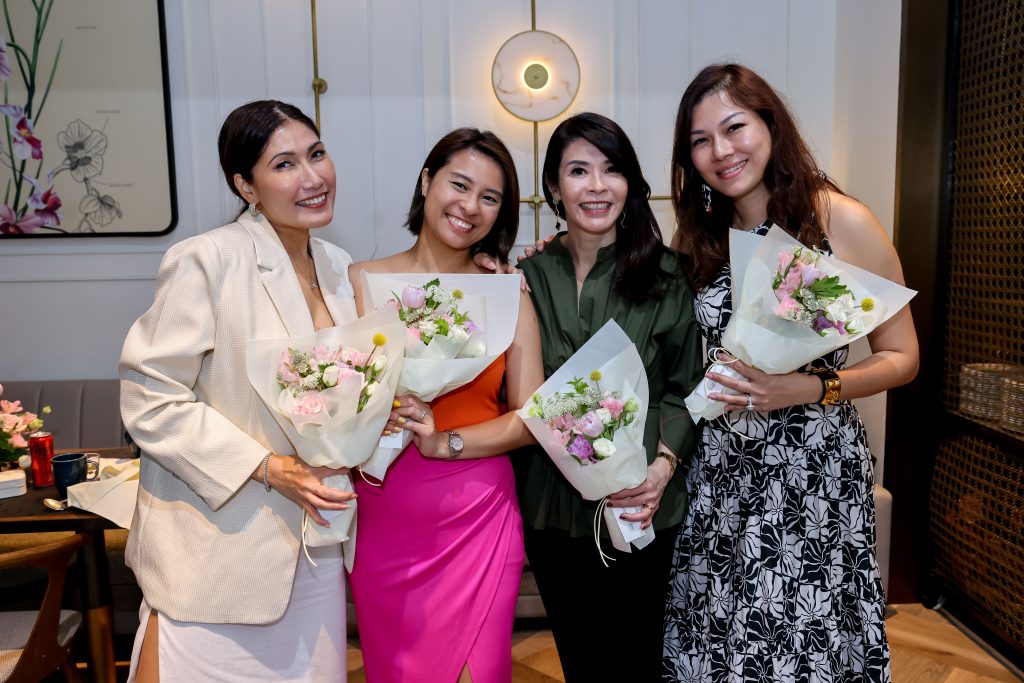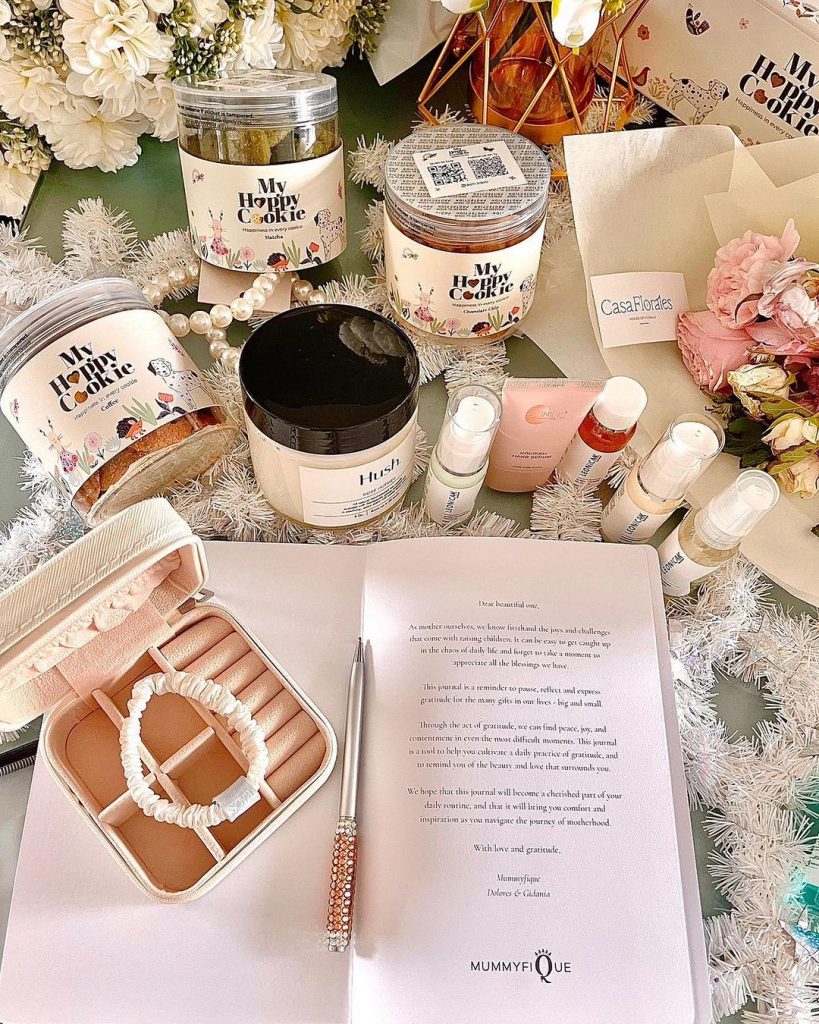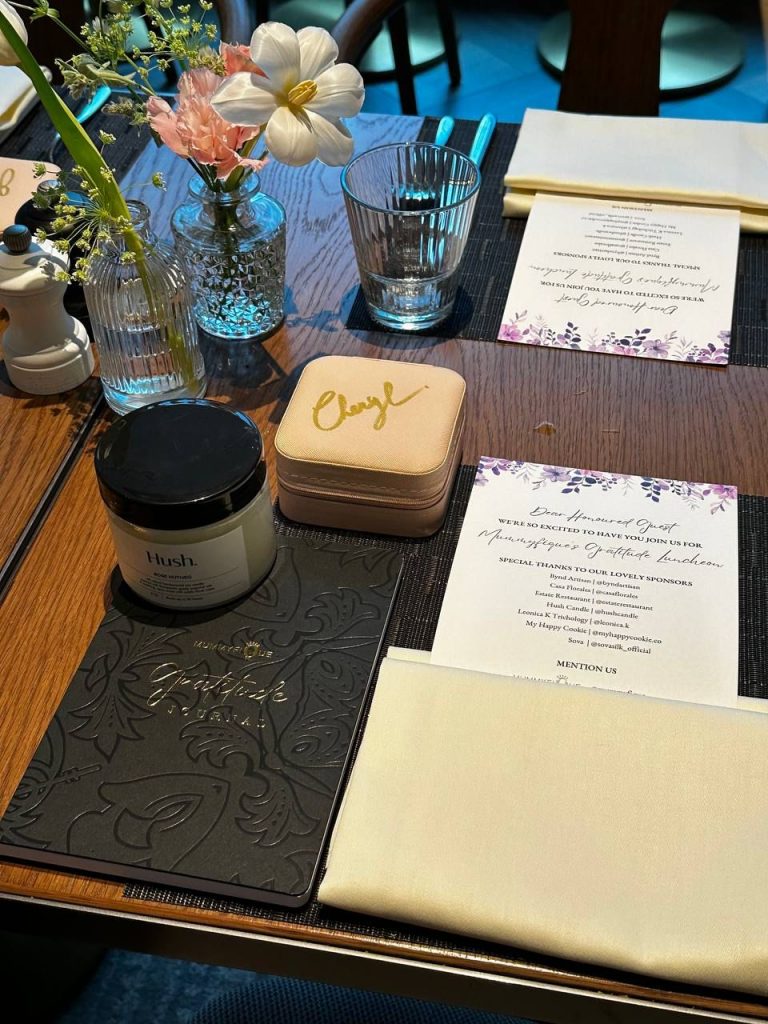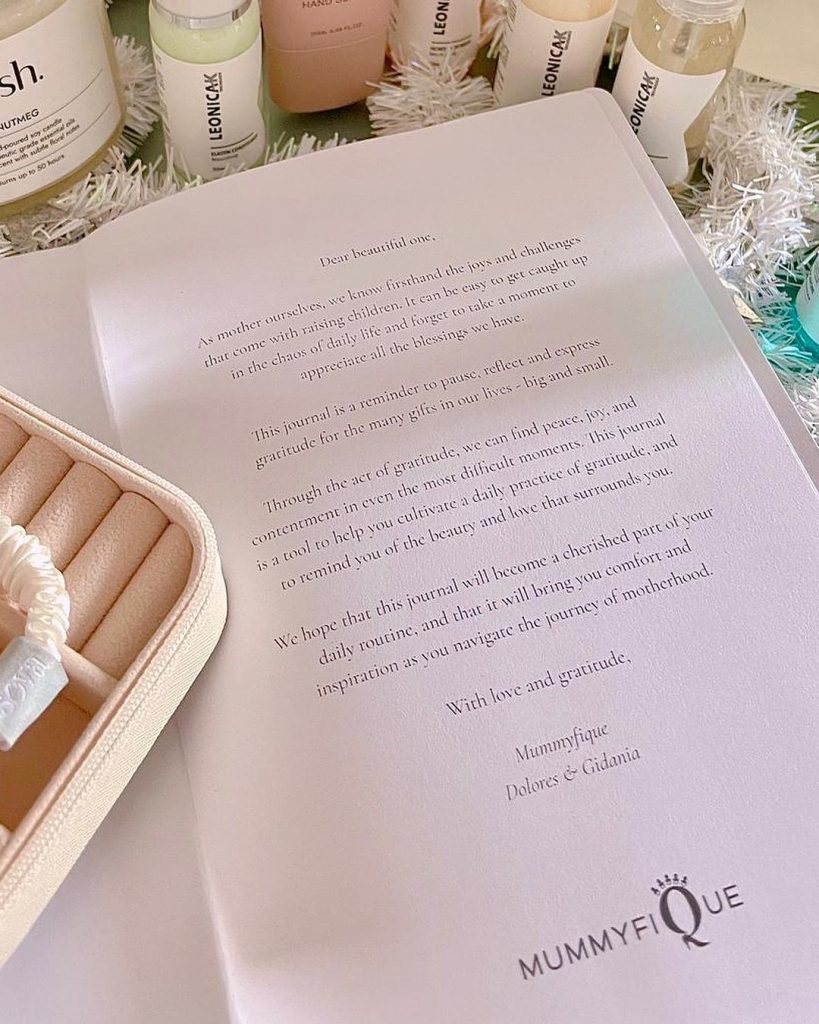 Guests received a customised Gratitude Journal from Bynd Artisan. This book, with exposed kettle stitch binding at the spine, lies flat when opened for a comfortable writing experience. Additionally, their paper products are made from FSC-certified paper from Europe and Japan. Within, Dolores and Gidania penned a heartfelt note encouraging the guests to remember to pause, reflect and express gratitude for the many gifts in their lives. Dolores suggested that everyone,  in particular, all the stressed, multi-tasking mums, write down what they're thankful for daily. She said, "So when we wake up, we can feel blessed, and feel grateful for what we have."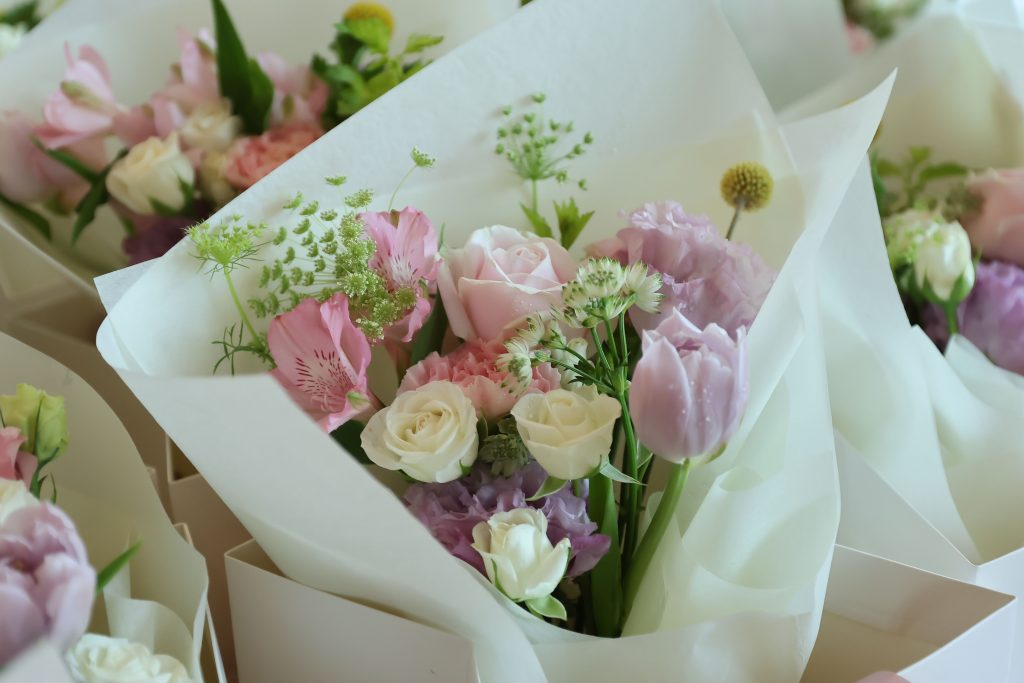 Guests also received a beautifully wrapped floral bouquet from Casa Florales. These featured a pretty pastel palette of flowers in light pinks and whites. Brighten up your home with a Daily Bunch ($45), perfect if you love all flowers. The talented and creative florists will arrange a colourful and beautiful bouquet with four to six different flowers. Other options would be to choose a colour palette based on your recipients' personality and preferences. While the flower varieties and arrangements are not fixed, the colour palette is guaranteed. For example, in the Sweet Pastels ($80 to $165) bouquet, you can expect colours like pink, lilac, pastel blue, beige, ivory, champagne or white. Choose from three sizes and presentations, from wrapped bouquets to placing the bouquets in ceramic vases.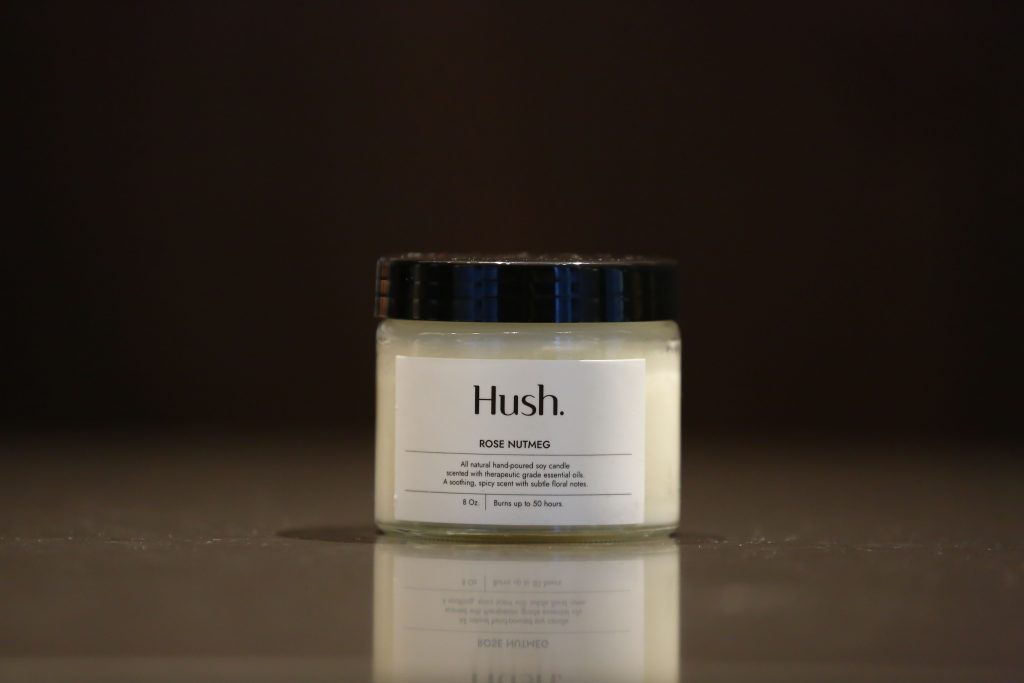 The Singapore-based, women-led boutique home fragrance studio has a host of lifestyle products to improve your mental and emotional wellness. Hush Candle aimed to provide cost-friendly, quality products that were simple and fuss-free, with minimal packaging. This helped the founders, Nicole and Chelsea to pass on the cost savings to their customers. Their hand-poured and handcrafted candles use soy wax and certified, therapeutic grade essential oils ethically sourced from around the world. For example, the Rose Nutmeg candle features the floral scents of roses, paired with the grounding earthy notes of nutmeg and spice.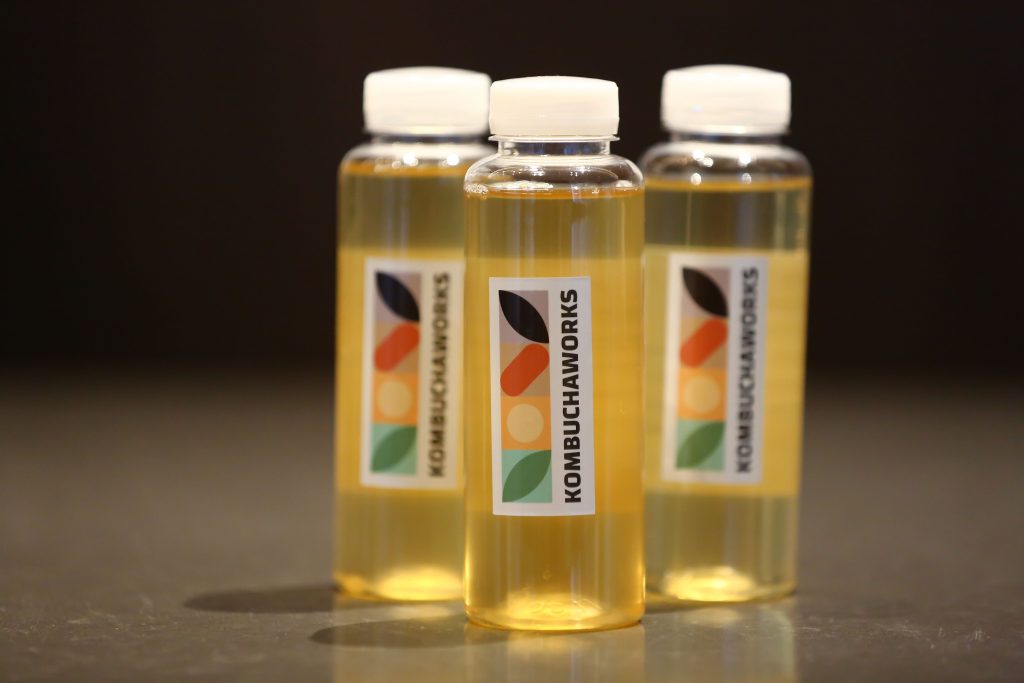 In 2017, after witnessing and discovering kombucha's positive effects, Katherine Sng started Kombucha Works. To date, it has sold more than 500 of its very popular kombucha brew kits ($60 to $62), and Katherine also regularly conducts kombucha brewing classes. Additionally, kombucha also has great benefits for your skin. Kombucha Works also has an overnight sleep mask ($39.90), which contains probiotics to stimulate cell renewal, while protecting and soothing the skin and reducing inflammation. Its ingredients include sodium PCA, aloe vera, kombucha and junbucha.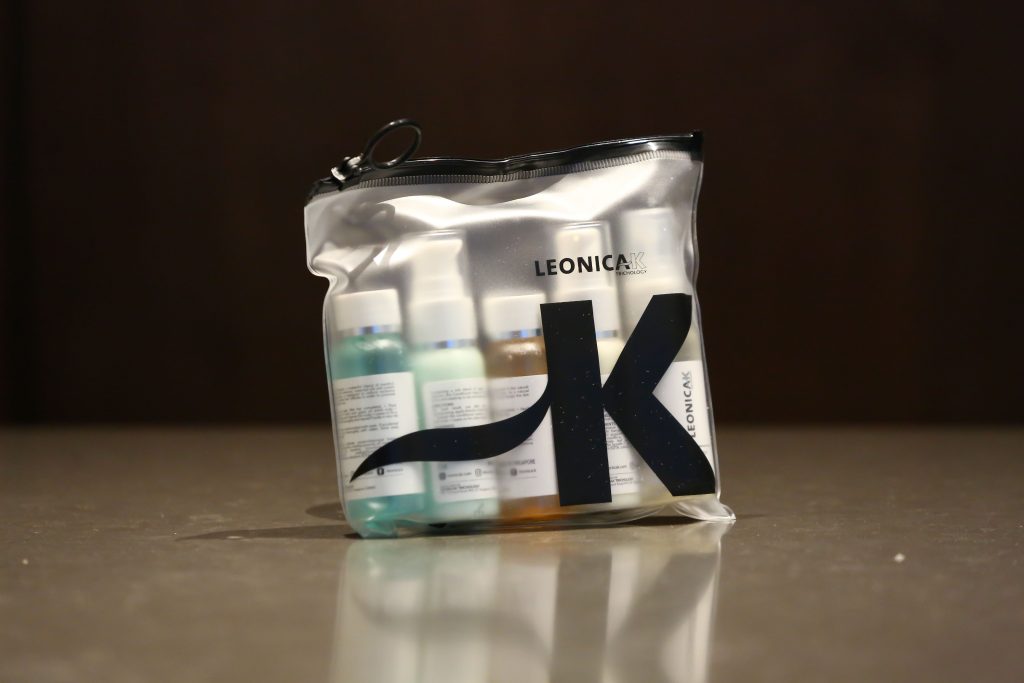 Personally tested by Dolores, she attested that "Leonica and her team of hair therapists and effective hair loss treatments" helped her regain her "lush tresses" after postpartum hair loss. Founder and principal trichologist, Leonica Kei is a graduate and an international affiliate member of the Institute of Trichologists (UK). Over her career, she has treated myriad clients from 8 to 70 years old. Leonica K Trichology treats conditions like female or male, postpartum or stress-induced hair loss. For at-home solutions, try the Peppermint Shampoo and Energise Tonic ($65 to $169) for anti hair loss.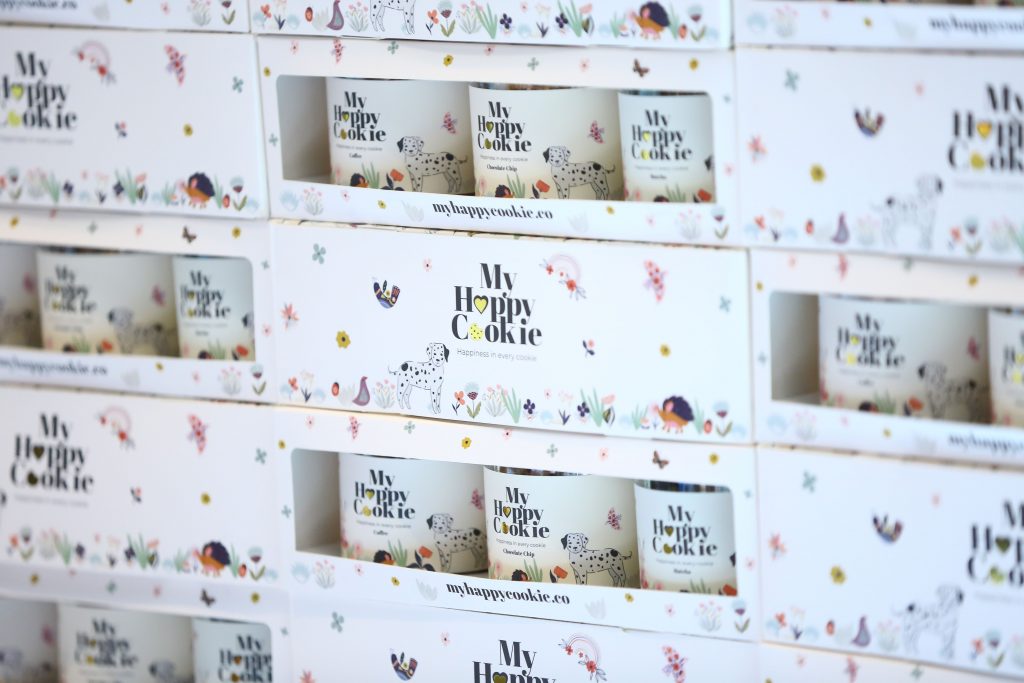 Created by mum Lorene for her children Lyra and Caelum, My Happy Cookie aims to bring joy through their cookies. Through this project, the kids will also learn the value of money and how to work for the things that they want in life and do their part for society. For every bottle they sell, $1 will be donated to the charities of their choice.
Options include the regular and grande sizes, as well as from three flavours. These include matcha, coffee and chocolate chip. Gifting options are also available with three bottles of cookies in each flavour ($30 to $35).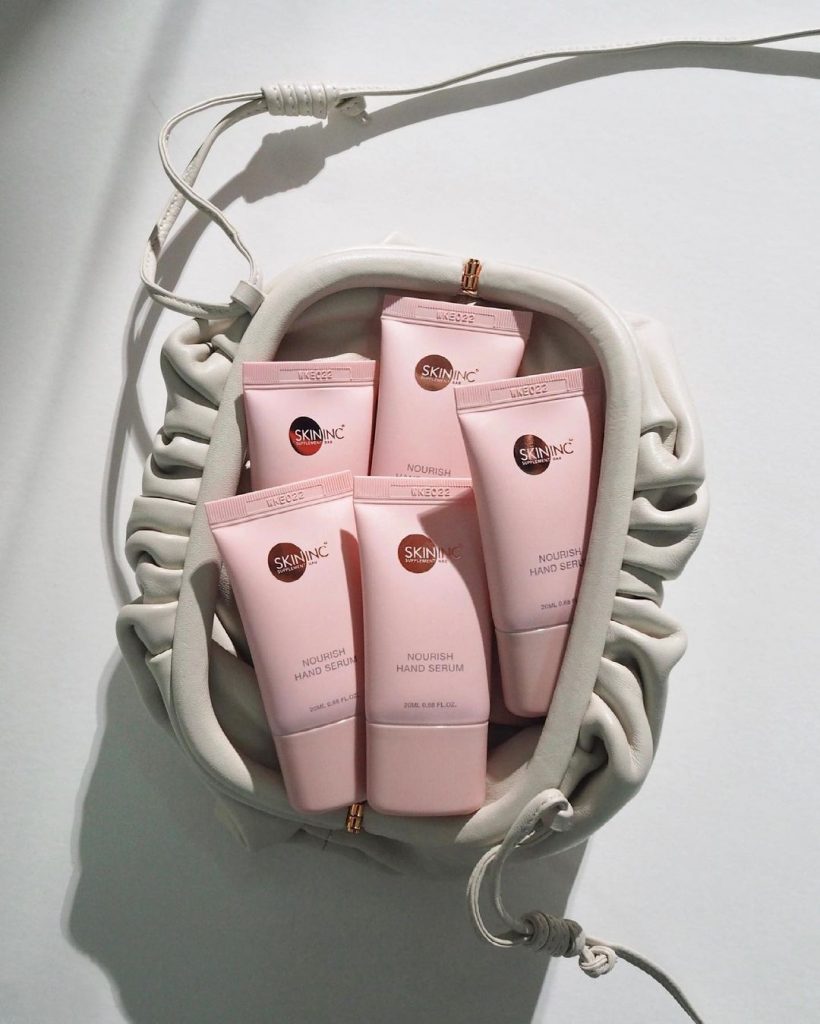 The award-winning beauty brand, Skin Inc, has won more than 150 beauty awards with their wide range of customisable skincare products. It infuses the latest technology, decades of skin-aging research and your environmental and lifestyle factors to determine your skin's needs. 
During the luncheon, each guest brought home a Nourish Hand Serum ($28). Its non-sticky, fast-absorbing formulation is rich in vitamin B3, ceramides, hyaluronic acid and licorice to nourish, soothe, smooth and strengthen the skin barrier. Within the formula also lies cica and polypeptides with antioxidants to build collagen and elastin, and it's also suitable for the most sensitive skin.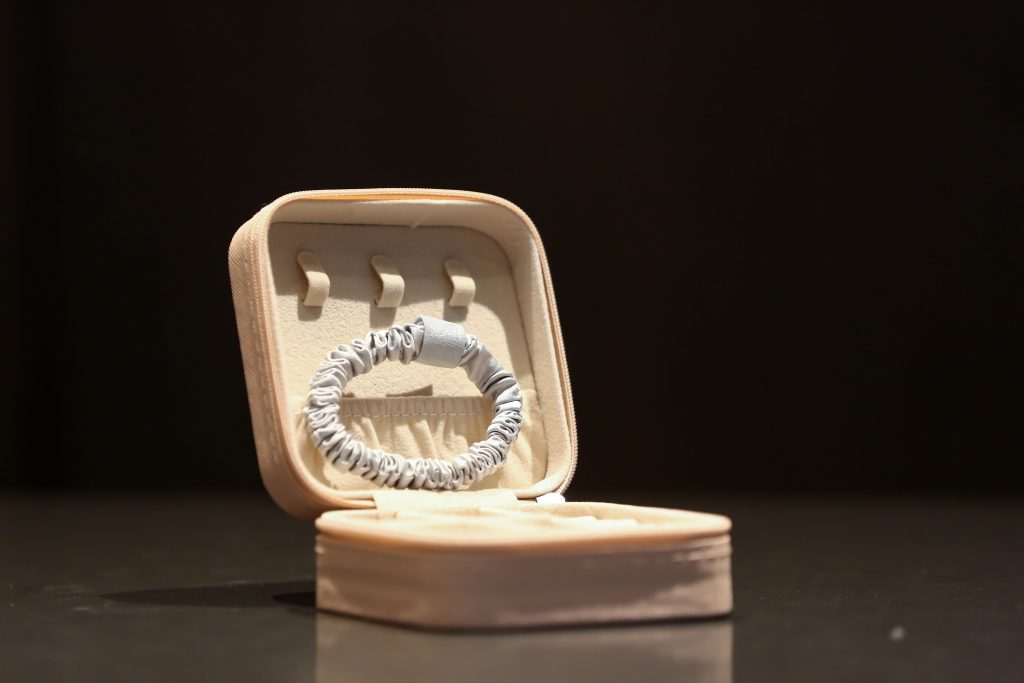 Guests also received a jewellery organiser with their names and a silk scrunchie from SOVA Silk. The Skinnies scrunchies are available in a wide variety of colours and made from 100 per cent pure mulberry silk. Some benefits of mulberry silk include holding your luscious locks and never leaving kinks. It also prevents hair creases and breakage. Other benefits of the highest grade mulberry silk are that the material is naturally hypoallergenic, and helps reduce signs of aging and sleep wrinkles. 
For more indulgent pampering and a restful night's sleep, SOVA also offers pyjamas, slip dresses, pillowcases and sleep masks($19 to $159), all from the same luxurious and silky soft mulberry silk. 
Relevant Reads: Mother's Day celebrations with Skin Inc and Lab Studios