When's the last time you spent one-on-one quality time with mum, away from the kids and families? We asked mums and daughters – most of them mums themselves – and they had a range of answers; from yesterday to years ago. Skin Inc and Mummyfique organised a two-day session on 4th and 5th May at Skin Inc's Facial Cabin at Tangs Plaza to celebrate Mother's Day. The mum-daughter pairs learned to customise their own Skin Inc serum, make a floral bouquet for each other and have a quick photoshoot. All these while enjoying a delectable high tea from L'Éclair Patisserie. We caught up with them and learned some of their favourite memories of each other.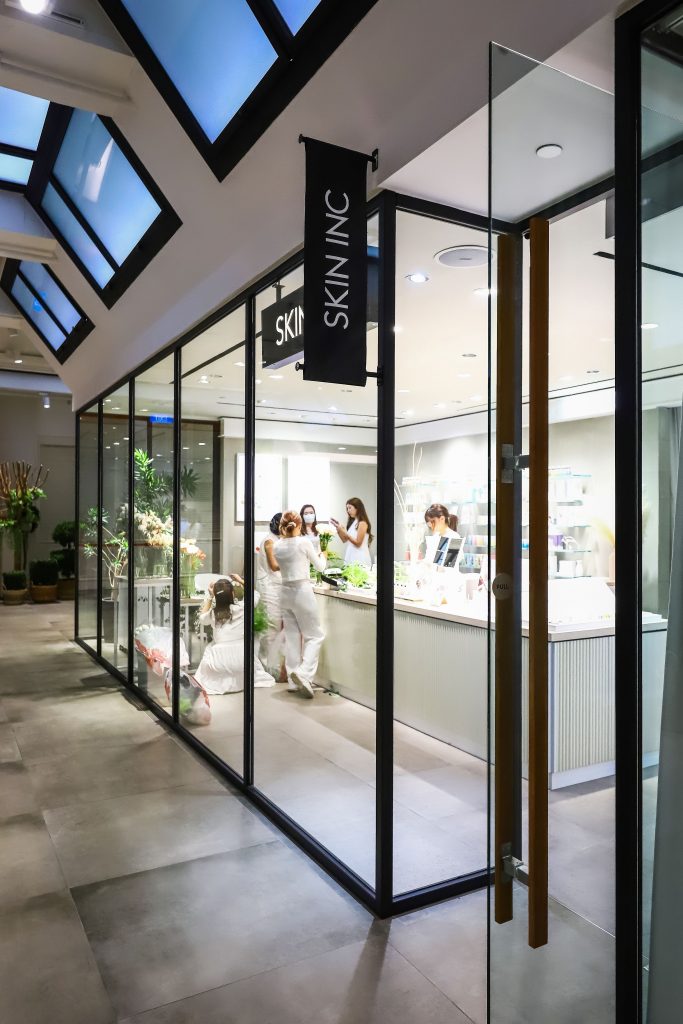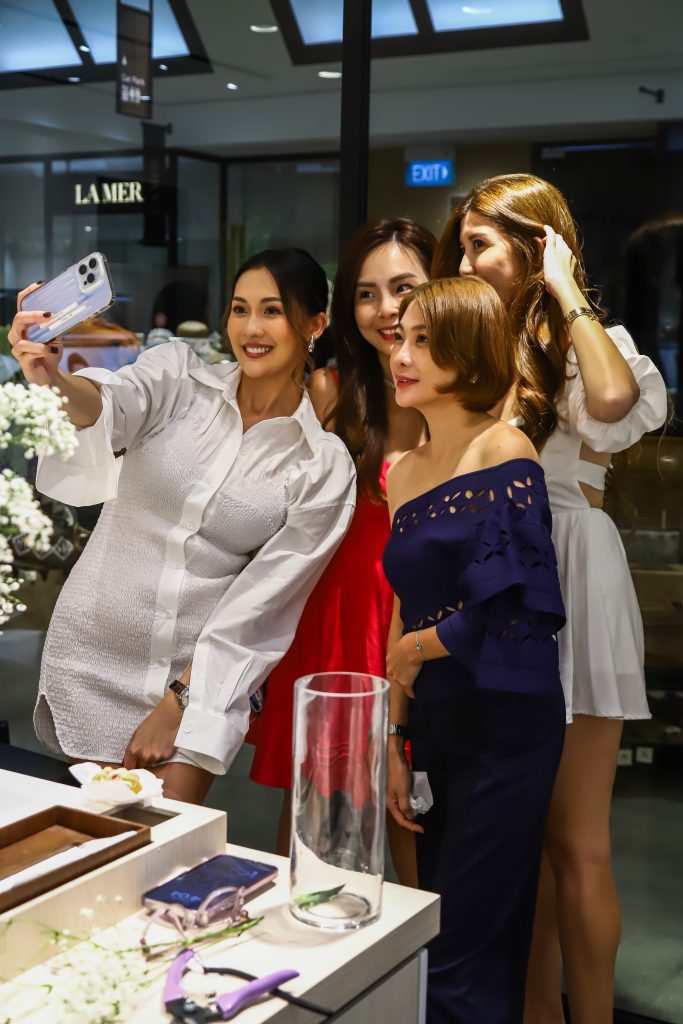 The mother-daughter pairs (and even godmother-daughter pair) cherished this invaluable opportunity to spend time together. Additionally, they also loved the various activities in store for them. In fact, Amanda Leong was eager to meet her mum after the session and share the Skin Inc goodies with her. 
Likewise, Wang Wanting said, "I shared with my mum that we're here to try out this brand that's relatively new to her." She also told her mum that they'd have a fun time together making floral bouquets and taking pictures. Charlotte Skelchy, Gidania Wong's mum, also shared that she was looking forward to spending time with her daughter, which they rarely do. She said, "this bonding time is actually very good. It may be short but it's fruitful."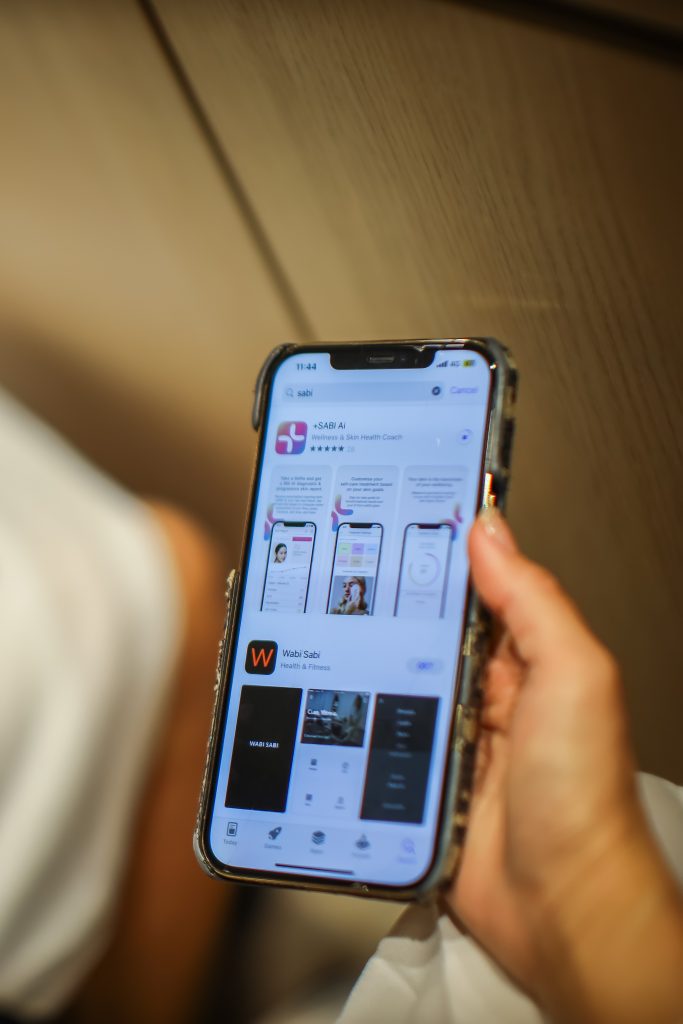 In order to customise their own serum, they had to fill up a quick questionnaire and take a selfie. Skin Inc combines the latest technology, decades of skin-ageing research and accounts for your environmental and lifestyle factors. Thus, they are able to determine which three serums are the most effective for your skin care needs.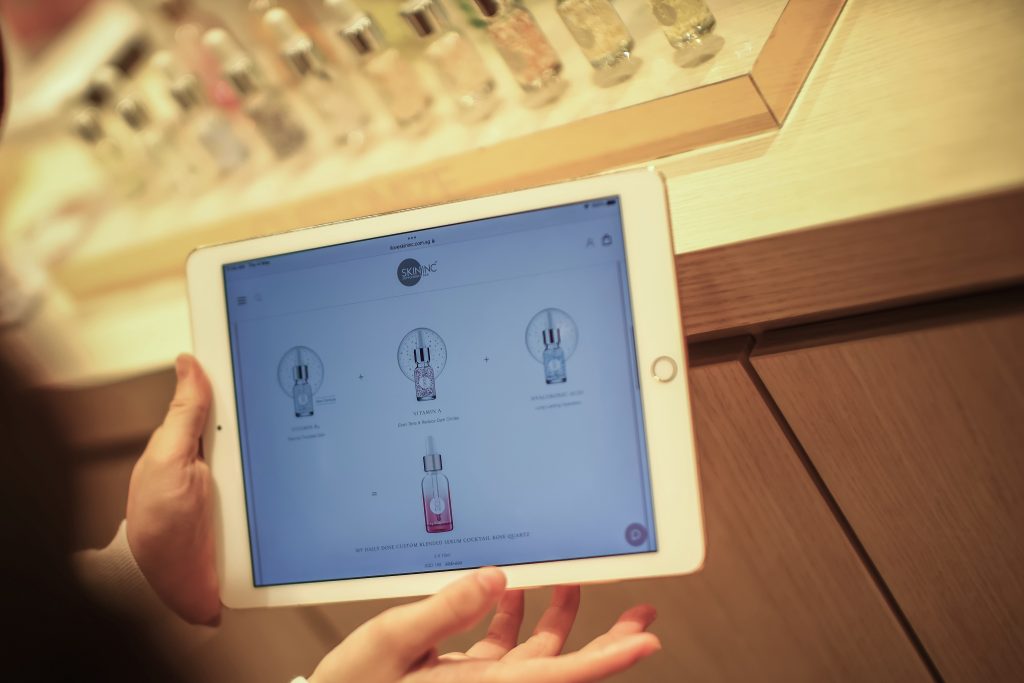 These will then be mixed into the My Daily Dose Custom Blended Serum Cocktail bottle. For example, the Hyaluronic Acid serum deeply hydrates and plumps your skin, while the Vitamin B3 formula can rescue troubled skin with blemishes and pigmentation. Meanwhile, ceramide can help strengthen the skin's barrier, and soothe its sensitivity or reactivity to environmental changes.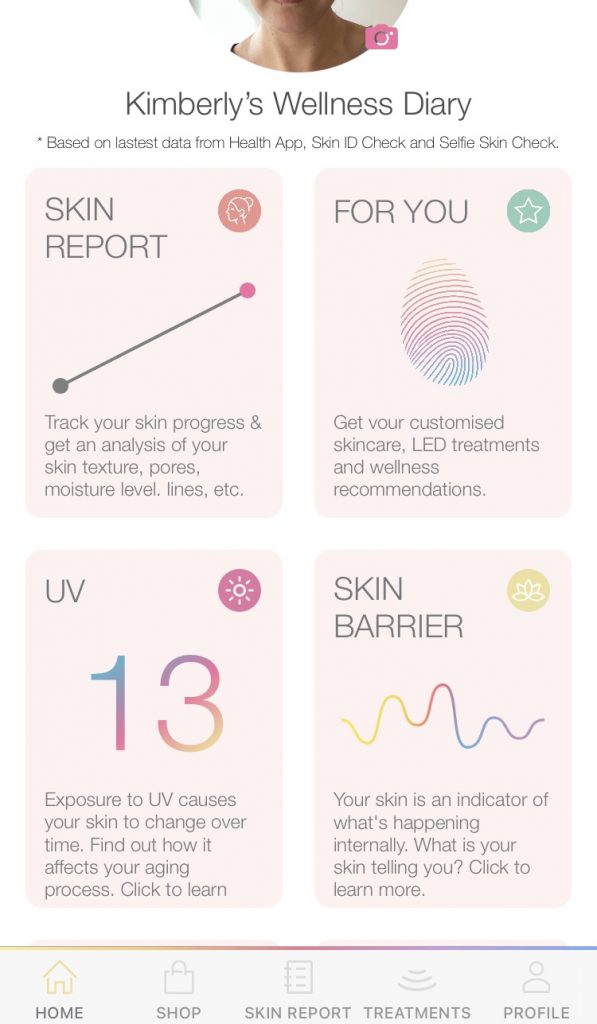 From the selfie, they are able to determine your overall skin health, as well as assess the puffiness of under eye bags, skin clarity and skin tone. To date, Skin Inc has 15 million LED home facials done with 1.5 million skin profiles via their AI. Moreover, they've also won 150 beauty awards. Thus, they can accurately assess your individual scores for Healthy Glowing Skin and your Lifestyle. For instance, non-drinkers would get a score of 100 per cent in the Alcohol section under the Lifestyle score.
Additionally, the app also has a personalised Wellness Diary, which gives you your customised skincare and wellness recommendations. +SABI can also be your coach for the body's biggest organ – the skin, by tracking your skin progress, fitness and sleep. It also gives suggestions like having a diet rich in fruits, vegetables and healthy fats found in fish to fight oxidative stress and keep your skin supple. Another useful feature is the UV Index, which tracks the UV index patterns of the locale you live in. Take Singapore, for instance: at midday, the UV index is 13, which is considered extreme. During these times,  take the necessary precautions. Wear protective clothing, UV blocking sunglasses and a wide-brimmed hat. Also, remember to reapply your SPF 30+ sunscreen every two hours. 
Pro Tip: For best results, take your selfie in the day with natural light.
Creating a Customised Serum
Audrey demonstrating how to use the serums together with the Tri-Light device. Video courtesy of audt.
Even though the daughters and mums share similar genes, their skin types and concerns are not the same. Hence the serum formulations and treatments will differ from mother to daughter. For example, older mums may need a Chlorella serum. Using the encapsulated peptide and growth-factor-rich Marine Algae Chlorella, this serum can help improve dullness and reduce the appearance of dark spots for more even skin. Meanwhile, daughters who spend a lot of time using screens like computers or their mobile phones may need a ceramide serum to offset the effects of exposure to HEV light or blue LED light.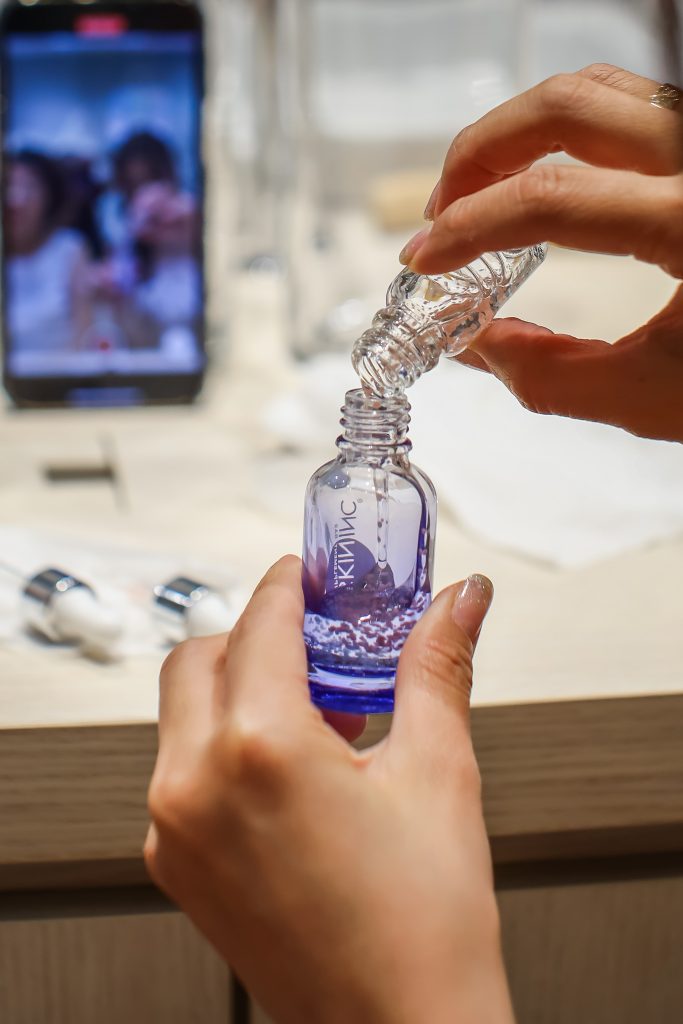 All of their serums use their proprietary encapsulation technology from Japan. Inspired by caviar, these capsules prevent these pure ingredients from being exposed to light and oxidation. Hence, these ingredients are fresh and potent till they are used on your skin. The serums are also suitable for all skin types, even sensitive skin.
The New Tri-Light™ +SABI AI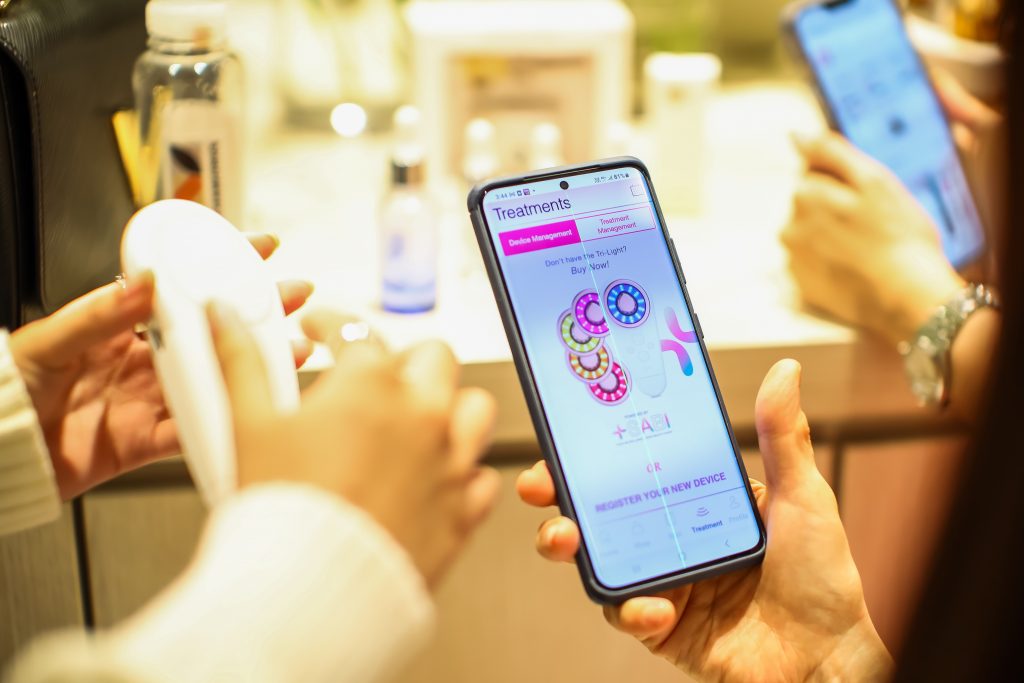 After mixing half of each of the three serums into the cocktail bottle, they also tried out the Tri-Light™ device. This combines 8-in-1 advanced technologies to customise a regime and tackle multiple skin concerns. One of its features is the Pulsed Electro-Magnetic Field, which uses low-level electromagnetic waves in order to promote healthy cell renewal. Another new feature is the hydro-sensor, which precisely measures your skin's hydration levels.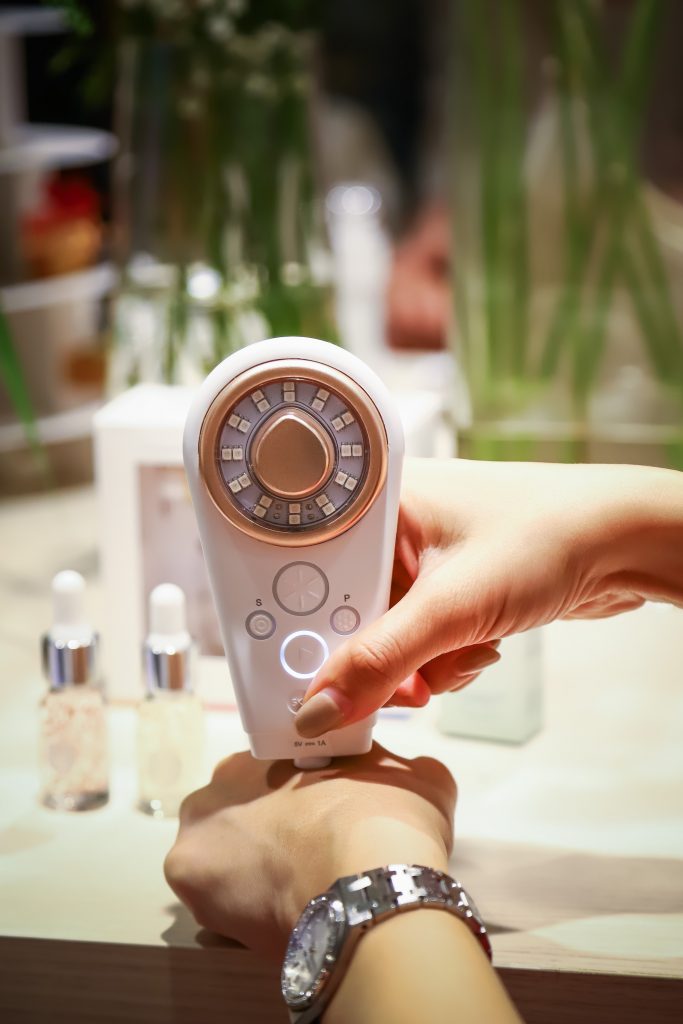 Once the ladies had received their custom serums, they used the Tri-Light device to determine their current hydration levels on the back of their hands. Next, the Skin Inc staff massaged the serum into the skin, and customised the treatment for the skin's needs.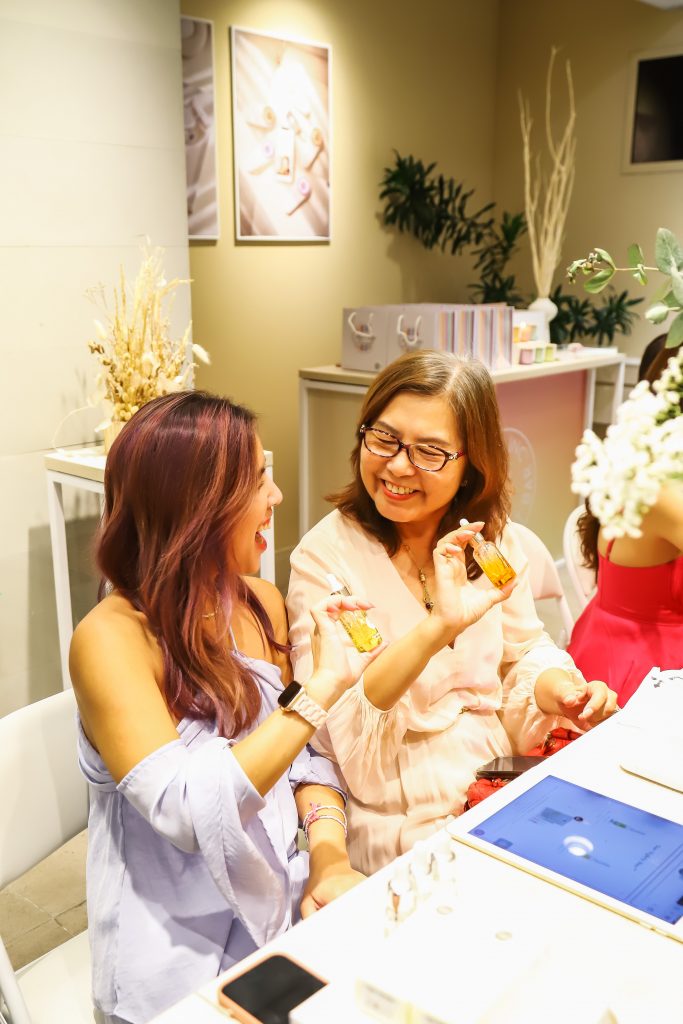 Denise Khoo, mum of three girls, said, "I'm so proud that we've (Singaporeans) come such a long way in terms of technology and skincare." She felt proud to learn about this homegrown company that's celebrating its 15th anniversary this year, and its products.
Bouquet Customisation and High Tea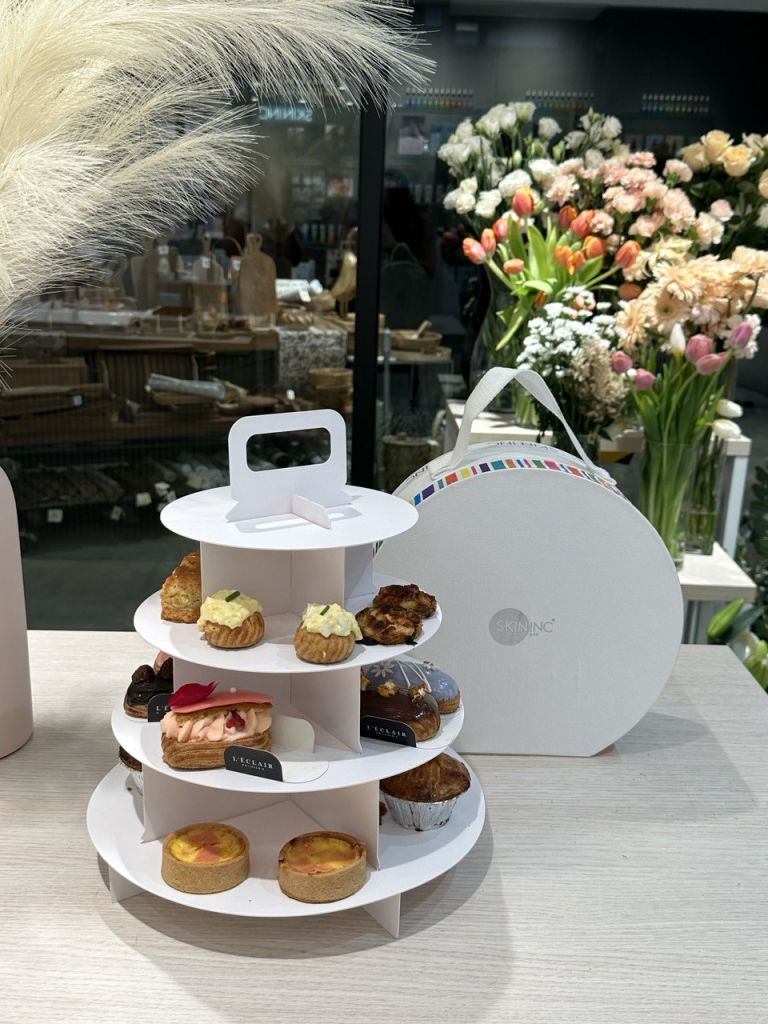 During the session, the mothers and daughters enjoyed a lovely high tea from L'Éclair. Their degustation high tea set included six assorted mini eclairs, two mini chicken and bacon pies, and two savoury scones.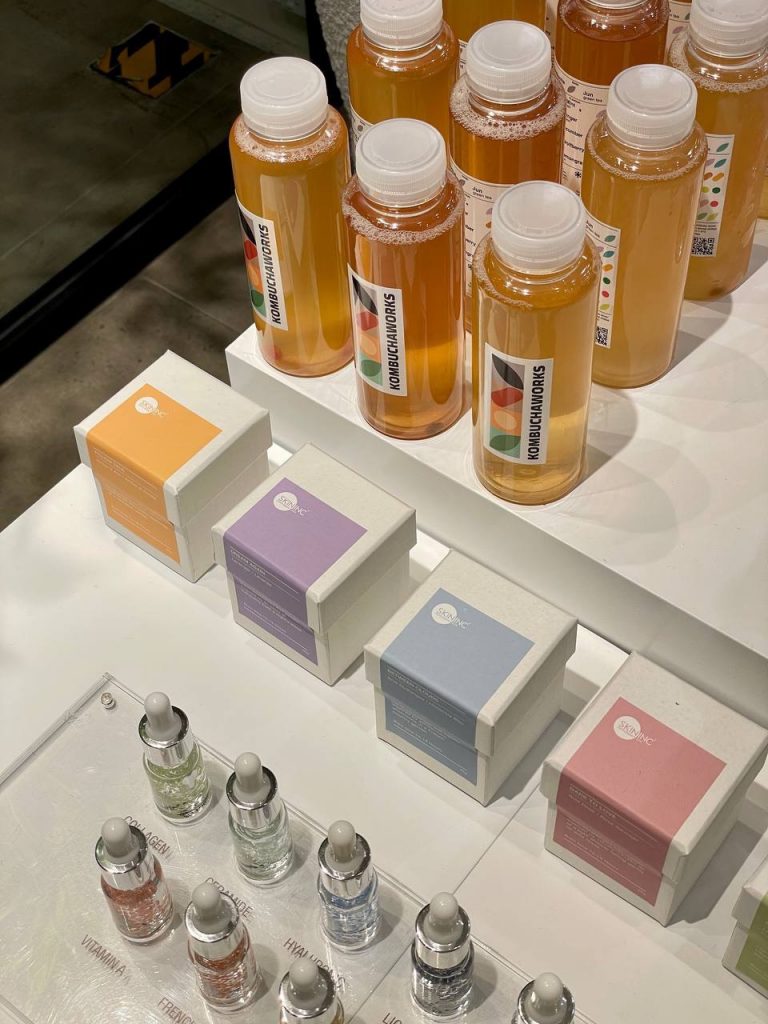 Kombucha has several benefits, including balancing  antioxidants, free radicals and probiotics in the body.  It can also help with conditions like gout, diabetes, rheumatism and haemorrhoids. Additionally, it's a great source of probiotics which improves the population of good bacteria in the digestive system.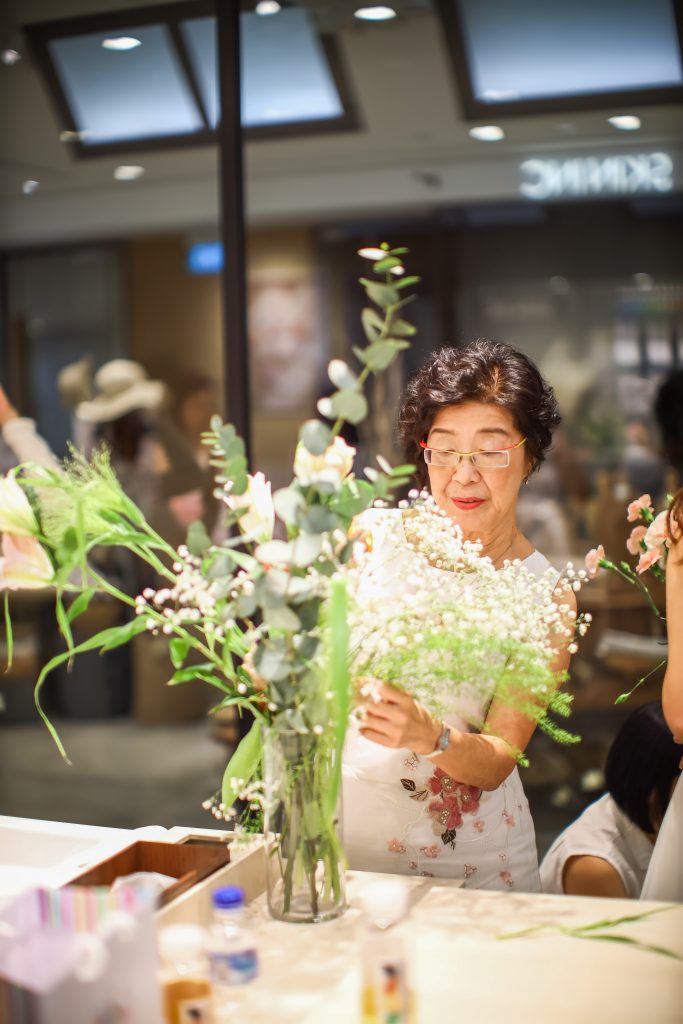 Another activity that day was to create a bouquet for each other. Starting by choosing from an array of flowers, the mums and daughters then arranged the flowers before the stems were trimmed and wrapped into a gorgeous bouquet. Together with their bouquets, the mother-daughter pairs had a memorable photoshoot to commemorate the special occasion.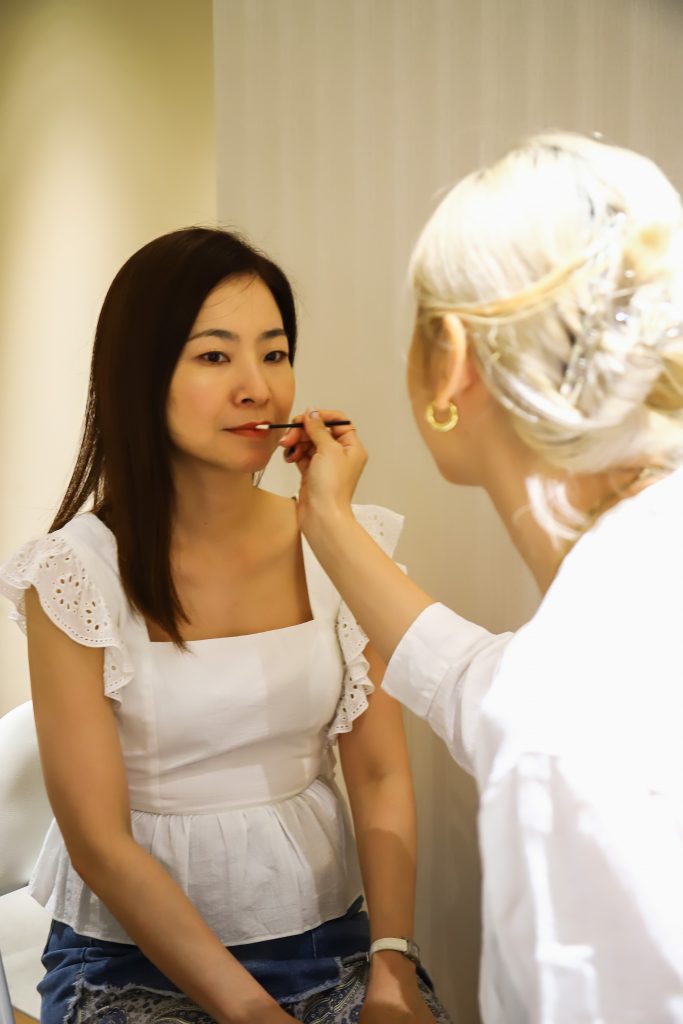 Charlotte Skelchy and Gidania Wong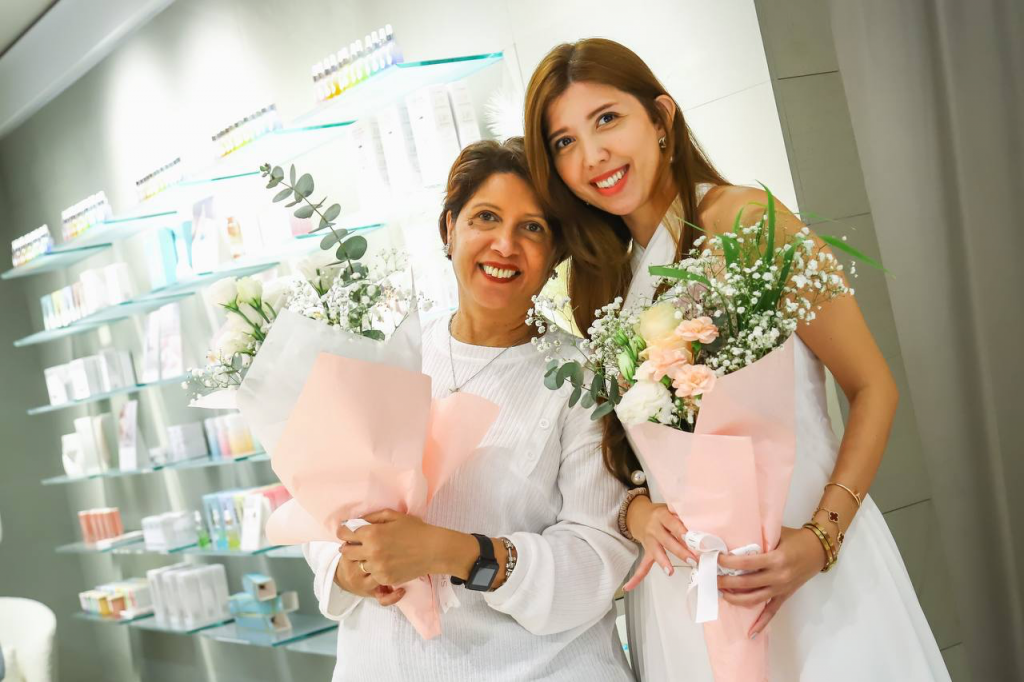 When Gidania was growing up, her mum Charlotte recalled she had to learn Mandarin to teach her two daughters when they were in kindergarten. As Charlotte was not Chinese, learning a new language to teach her children was hard. After Gidania grew more proficient in the language, she would correct her mum's pronunciation of the words, teaching her about the four high and low tones. Charlotte said, "So it was a one-of-a-kind experience. Till today, I will never forget how I taught them when they were young." Even today, she still helps her grandchildren with their Mandarin. While she still recognises some letters, she turns to Google when she gets stuck to translate the words. 
She also remembered how Gidania learned everything independently right up to university without needing any tuition and scored a Distinction for her Chinese oral and written papers. Gidania's prowess of the Mandarin language was so good that she acted as a translator for the participants from other countries in the Miss World pageant in Shenzhen. Because of this, Gidania was even featured in the news. Charlotte also shared that she still has Gidania's trophy with the jade ornament at home.

Improving Their Relationship After Motherhood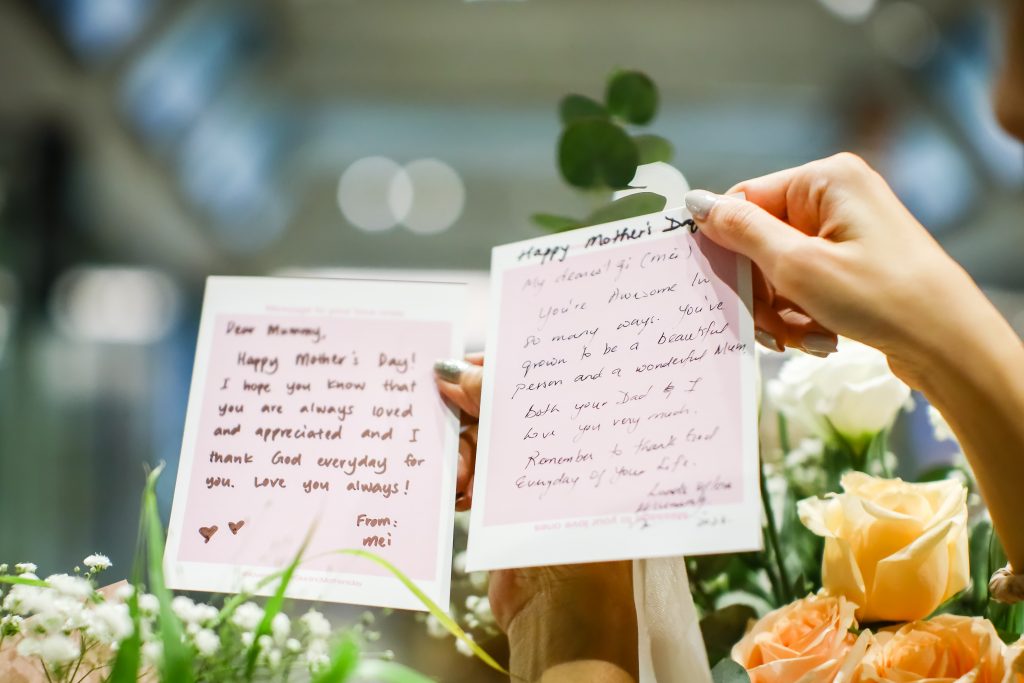 As a mum of two now, Gidania felt she could better understand her mother. Of the things that used to bother her, she said, "I understand that sort of unconditional love that you have for your child, and how you're willing to do everything for them or to ensure their greater good." She added that she now understood why her mum would prevent them from doing things that might hurt themselves and also the rationale behind why they got scolded. Additionally, they no longer have any more pointless or petty fights, because they both understand each other better. She said, "I think there's a greater understanding of parents and where they're coming from and how they just want the best for us."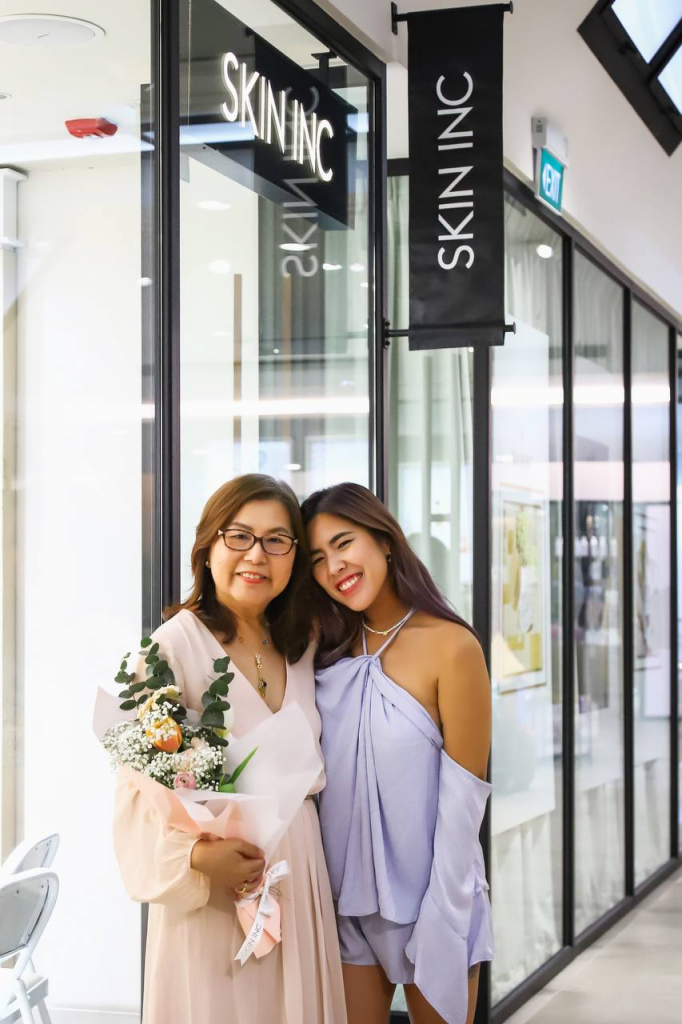 Denise Khoo said, "I'm always very happy that I have a close relationship with my girls, with very open communication. If we are not happy, we will voice out. We will sit down and talk about it instead of keeping it inside and bottling it up." She frequently prays for wisdom and that she'll be a godly mother to her children, and is grateful that she still has a very good relationship with her children and between the three sisters. Denise also appreciates that Daphne, her second daughter, will check in on her every few days, to ask how she's doing and coping.
Audrey Tan and Her Godmother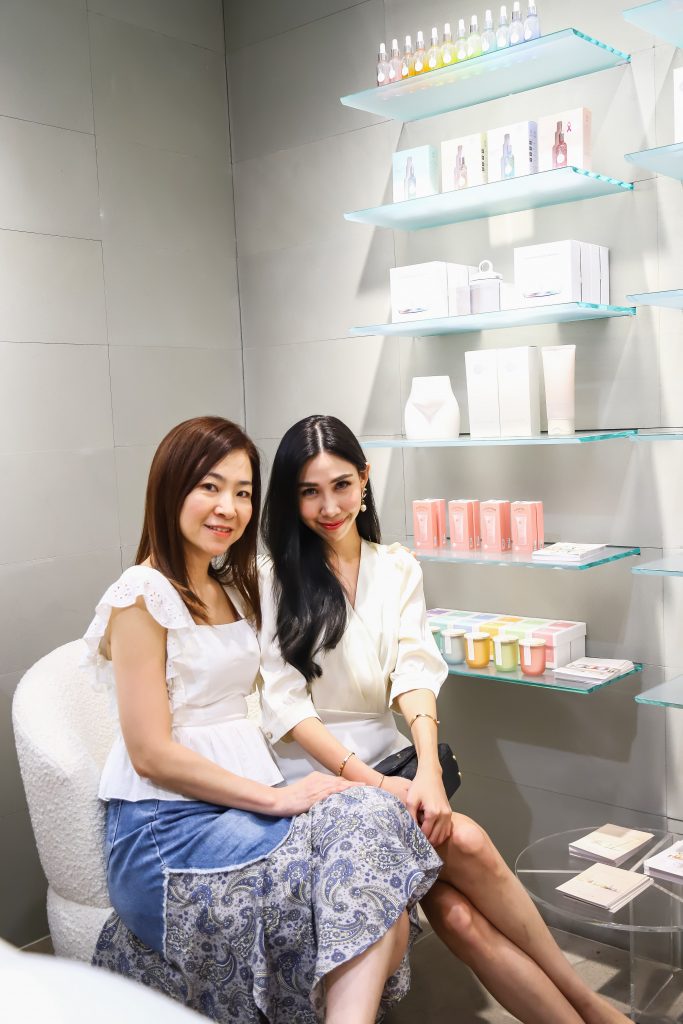 As Audrey Tan's mum lives in the US, she invited her godmother, whom she has known since she was little, to spend some time together. Her godmother, who's her mum's friend, "is really one of the nicest and most genuine people ever," she said. Recalling her childhood, she remembered the times her mum planned trips for the family, since travelling is something her mother greatly enjoyed. Now, as a mum of four, Audrey also prioritises making lots of memories with her kids. She said, "When they were younger, I would put a lot of emphasis on planning trips, or memorable activities so even when they grow up and adulting is tough, they can remember their good childhood."
After Audrey became a mum, she said she relies on her mum a lot more for help and advice. For instance, she'd ask her mum for help when her kids are having a fever. She also greatly appreciates her mum's visits back to Singapore, where they could spend time together. Additionally, her mum is very good at Mandarin, so she helps Audrey's kids with that, and frequently speaks to them in Mandarin.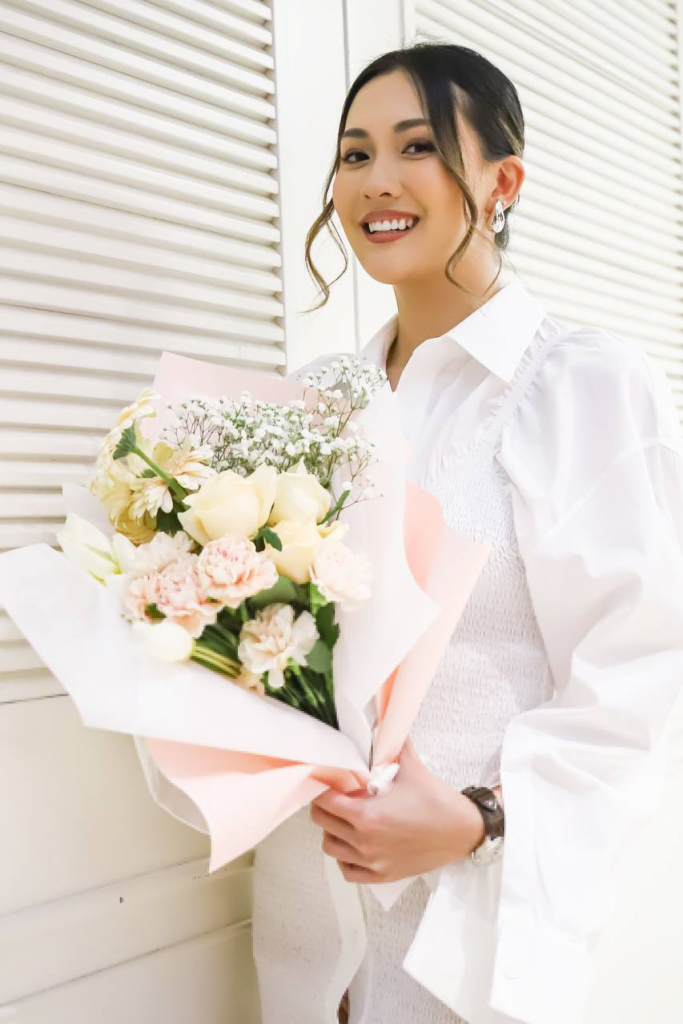 Even though her mum was a single mum, Amanda avidly recalled that her mum was always around. She said, "After work, she'd come home and make sure we did our homework." Her mum also devoted all her free time to her two girls – it was only when Amanda was 18 years old that her mum went out with her friends to the movies. Amanda's mum also inspired her by telling her that everyone is flesh and bone. Hence, she, too, could achieve what anyone else could, regardless of whatever privileges they might seem to have. After Amanda became a mum of three herself, she said her relationship with her mum continued to improve because her mum was around to help with the kids. She said that even through her feisty teenage years her relationship with her mum had always been good.
Wang Wanting and Her Mother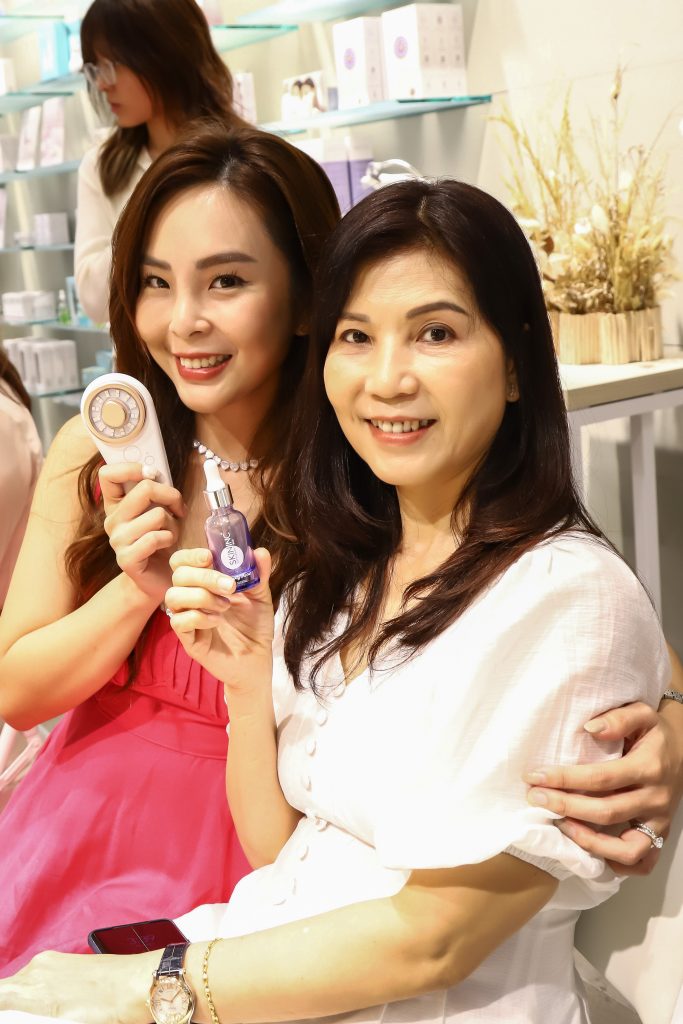 Growing up, Wanting's mother always tried to participate in what Wanting did. In fact, Wanting's mum and her friends even went clubbing with Wanting's friends. She added that her mum "made it a point to know my friends so she can be part of my circle." This helped them continue to be close over the years. Currently the mother of two boys, Wanting appreciated that her mum "always has my best interests at heart and just a simple call from her every day makes me happy." She admitted that in the past she used to wish her mother wouldn't call her quite so often. However, as she grows older, she said, "I really appreciate every call from her to make sure that we stay connected together." 
Another thing Wanting appreciates is her mum's love for her grandchildren, and her investment in taking care of Wanting's kids and teaching them. She also shared that her mum now comes over to her place very often because of the boys. Their family also visits their parents' place more often to have dinner and for the grandparents to play with their grandsons.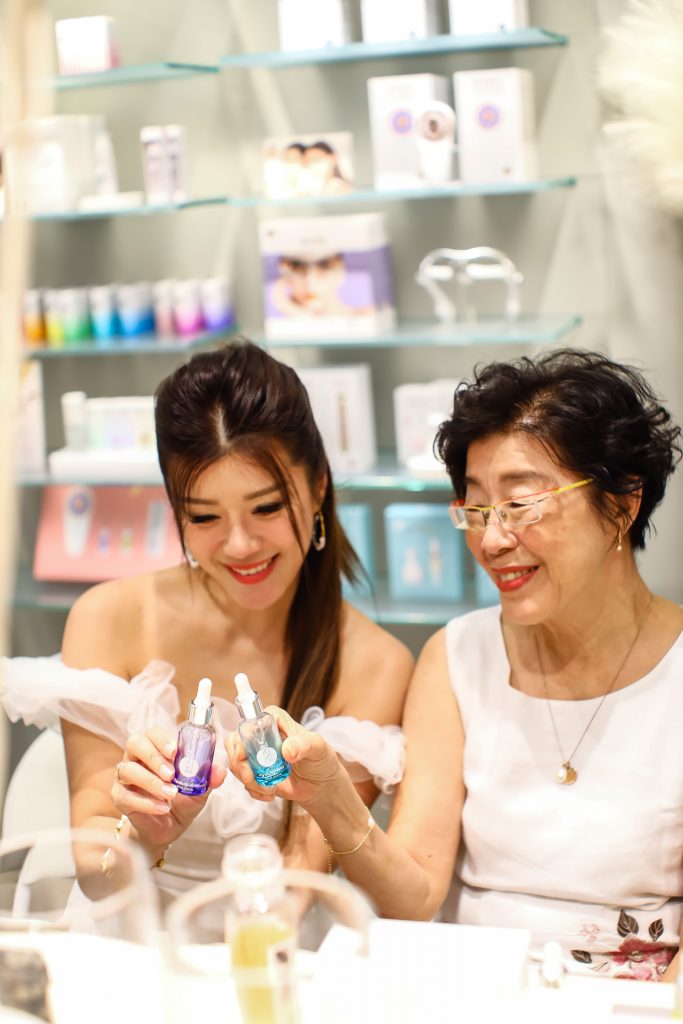 When they were kids, Cindy Tan and her two older siblings were actually very well-behaved. Julia, her mother, remembered that she'd go to work and leave them at home, and they would rarely fight. Her secret? She taught her kids to love each other. Also, if they fought, the children learned very quickly that they'd get disciplined. However, there was an instance where Cindy's older brother smacked her for cursing. After Julia returned home that day, her brother confessed what he'd done, and asked her not to hit him. She did forgive him after learning the details, but advised him not to repeat his action. 
More recently, in 2020, Julia had to undergo heart bypass surgery. She fondly remembered that Cindy took a month off to be with her. In fact, the two sisters took turns to look after her. Cindy added, "It was a very big operation, and our whole family was very affected." Initially, Julia cared for Cindy's daughter Chriselle when she was growing up. After the operation, Cindy split the caregiving duties between her in-laws and Julia so that the grandparents still had time for themselves. She said that she was even more appreciative that Julia could take time to help care for Chriselle while Cindy was at work.
Appreciating Her Parents and In-Laws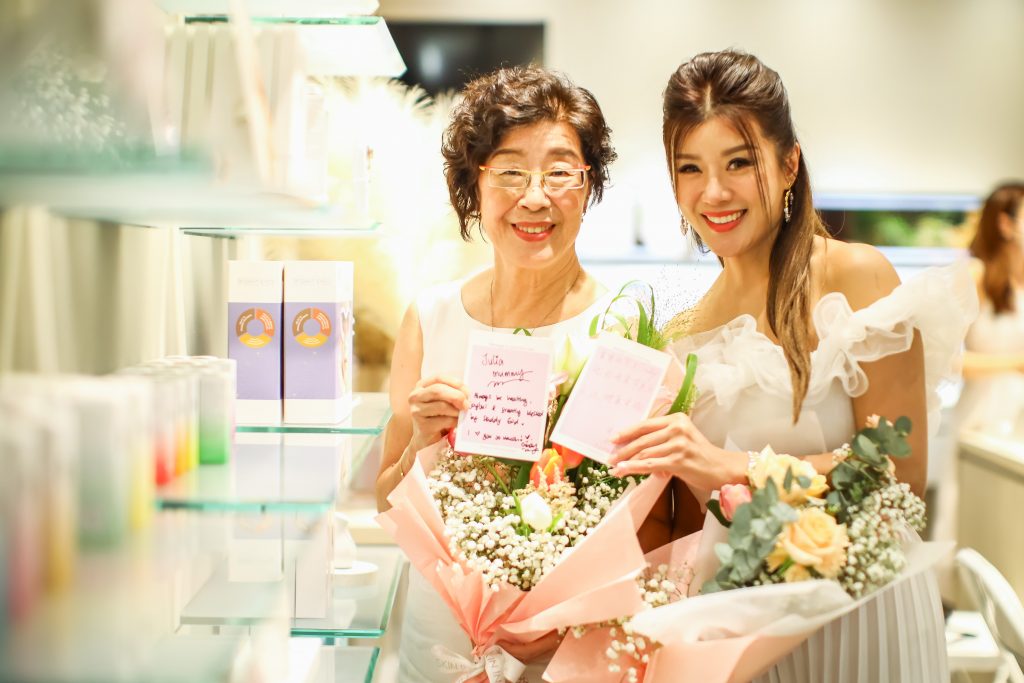 After having Chriselle, she has become more appreciative of her parents and in-laws, as they give up their time to nurture and spend time with Chriselle. Additionally, Julia also showed her that learning is a lifelong venture. Even though she's retired, Julia learned the ukulele and handicrafts like sewing and patchwork. Cindy said, "That's something I also want to do in future as well when I get even older." This learning journey is also something that she would like to instil in her daughter, to teach Chriselle to continue learning after school and even after retirement. 
Mother's Day Special: Between 11 to 14 May, Skin Inc invites mothers and daughters to celebrate Mother's Day with a 1-for-1 promotion on any facial treatment. Spend at least $280 at Skin Inc's Concept Store at ION Orchard, and receive a customised floral bouquet.
Relevant Reads: Mother's Day – Where to Go, and Pampering Your Mum