The season of hope, love and joy is upon us once again. Christmas was different this year, with restrictions to gatherings of not more than 5. Despite that, many still kept their spirits high and enjoyed celebrations at home. Here are some of them. 
Sheila Sim, local model and actress, celebrates her first Christmas as a family of three. She gave birth to baby Layla Woo a mere four months ago on 22nd September. The trio took an adorable picture in matching green outfits as Sheila and her husband, Deon Woo, kissed Layla, who has her eyes closed.
Ase Wang, Singaporean actress based in Thailand, celebrated Christmas with her husband Jon Lor, Managing Director of popular season-long village Thai festival, Wonderfruit Festival. Despite not being able to spend the festive season with her family members overseas, it was all smiles in the household as she and Jon wore adorable matching Christmas jumpsuits. Ase is in the third trimester of her pregnancy and recently shared a snap of her baby bump with the hashtag #28weekspregnant on Christmas Eve. We can't wait to see the birth of their little angel.
Founder of Cheryl W Wellness & Weight Management, actress and beauty queen Cheryl Wee shared intimate moments of her Christmas celebration with a video capturing precious moments amongst her family members during this festive season. Spending Christmas together as a family is definitely one of the best gifts that anyone could ask for.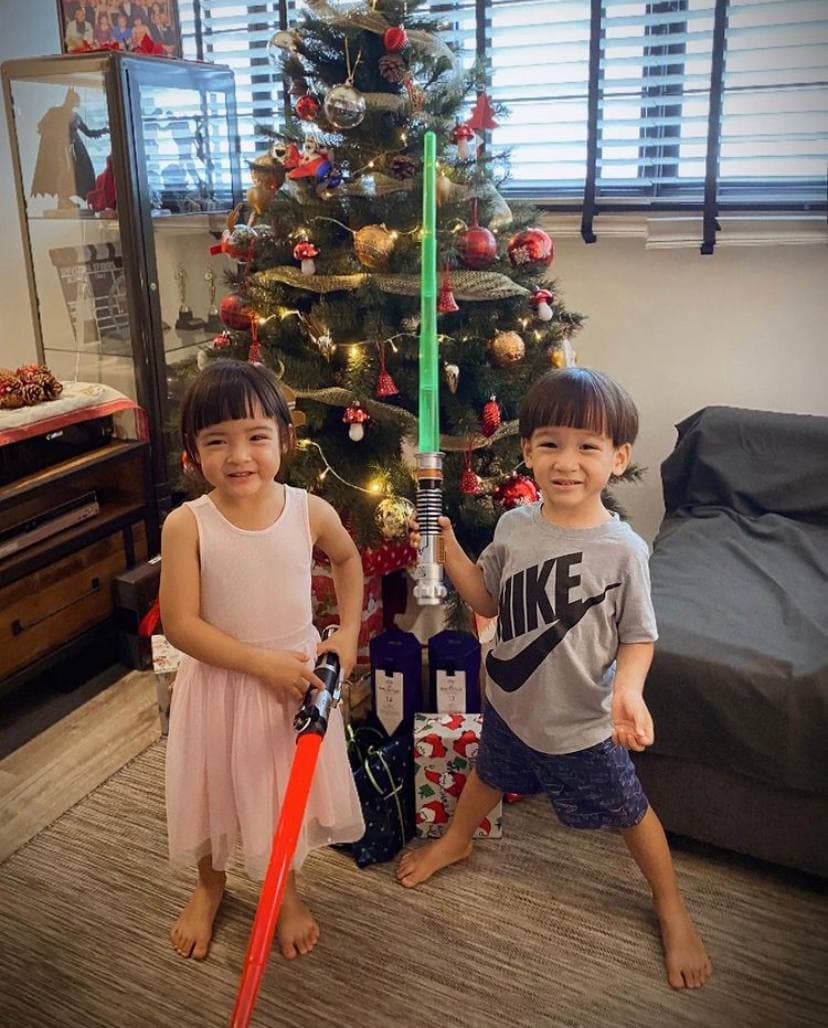 Actress and host Melody Chen shared an adorable shot of her 3-year-old twins, Reuben and Maegan, posing in front of their Christmas tree with Star Wars light sabers and another of them in their pyjamas, smiling with their unwrapped presents.
International Celebrities
Hong Kong actress and co-founder of beauty brand, Snow Queen, Grace Chan celebrated the festive season with husband, Hong Kong actor and singer Kevin Cheng and their newly minted family of four in Conrad Hong Kong Hotel. The photogenic couple's second son, 4 months old Yannick looks set to follow in the footsteps of his older brother Raphael and is blessed with good looks too.
Hong Kong actress Myolie Wu announced her pregnancy on Christmas! With a cute Christmas sweater on, she sat cross-legged in front of a Christmas tree and held her baby bump endearingly. Expecting her third child, she shared that her wish came true as she has expressed how she always felt that having three children would be a very beautiful and happy thing. Congratulations mama!
Victoria Beckham shared an adorable family photo, with everyone complete in matching navy blue silk pyjamas. Her beau, David Beckham, donned a Santa's hat, showing his Christmas spirit. In an earlier post, Victoria also shared a hilarious behind-the-scenes footage of the making of their Christmas card, it cracked us up!
American model and television personality Chrissy Teigen celebrated Christmas with a real Santa visiting her home! Her husband, singer John Legend, suited up in Santa's costume to lift their children's spirits and excite them during this magical season. Santa John surprised the couple's children, Luna and Miles, while they were placing cookies and milk out for Santa to enjoy. So cute!
Malaysian television host Marion Caunter shared a lovely Christmas picture of her family donning matching pyjamas. Their home was beautifully decorated with a Christmas tree, wired reindeer props and of course, tons of presents! The day after Christmas, Marion shared a fun TikTok video of her daughters and her dancing to Anna Kendrick's remix of Gene Aunty's "Here Comes Santa Claus."