From special food to in-flight entertainment to first boarding privileges, there are a host of special services that are available for families that are flying with young children.
Mummyfique takes a look at some of the best family-friendly services offered on various airlines flying out of Singapore.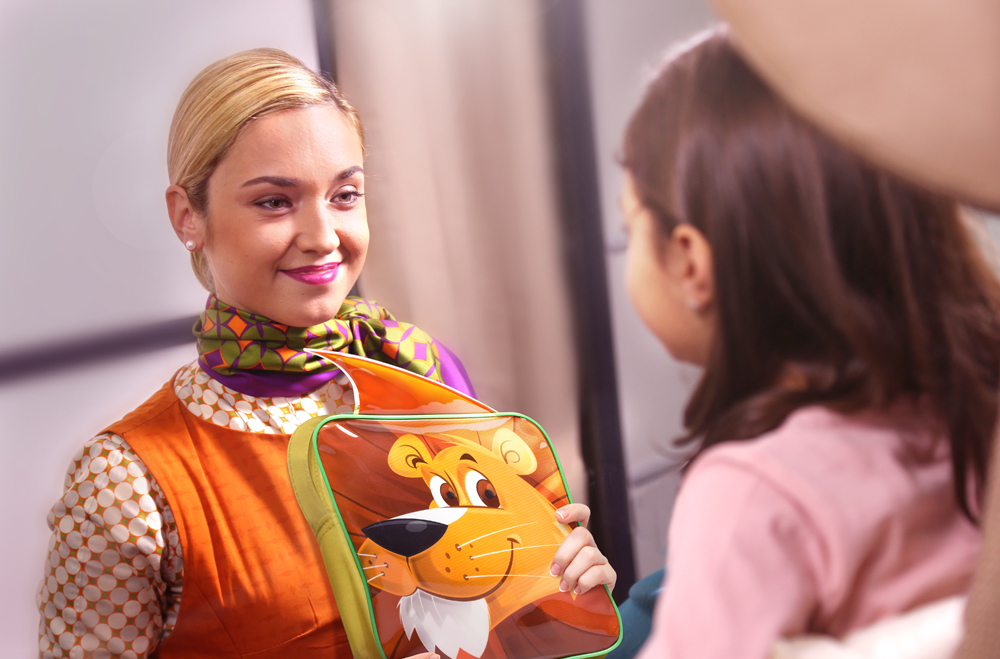 Family Assistance:
For families travelling with infants, a complimentary bassinet, subject to availability, can be requested when the flight booking is made.
All long-haul flights are staffed by a Flying Nanny, who has trained at UK's renowned Norland College (the same place that Prince George's nanny Mary Borrallo was trained). She is on board to offer parents a helping hand, entertain children with activity packs, simple arts & crafts and magic tricks.
Meals and amenities:
A limited supply of baby food from proprietary brands is available upon request from cabin crew. Passengers can bring their own milk or baby meals and it can be heated on board.
All children meals are halal, nutritious and fun. Special requests can be made at least 24 hours prior to departure.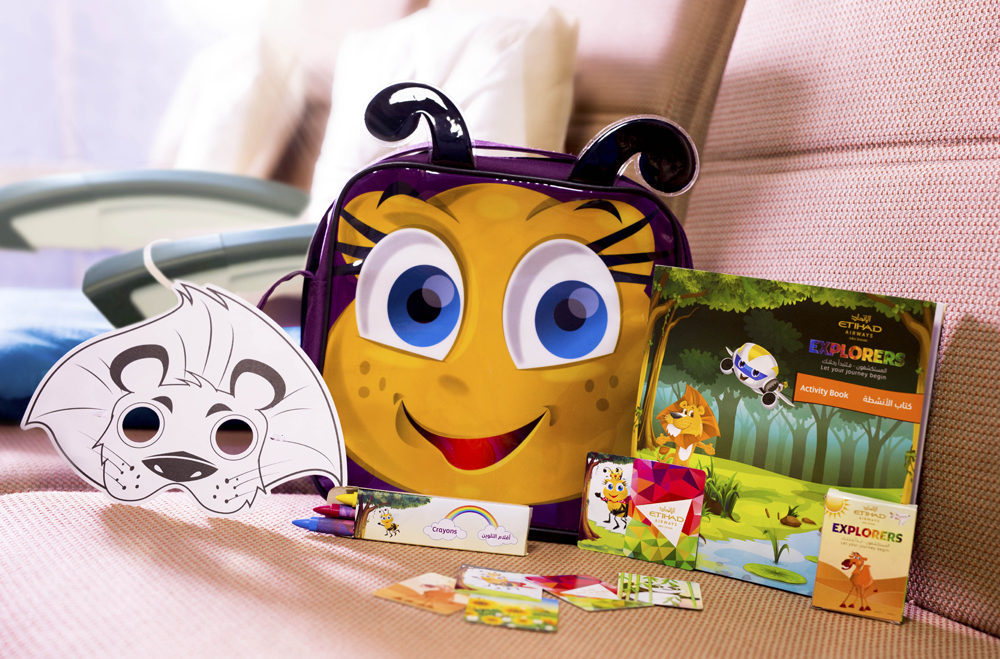 Specially for Kids:
For children aged three to eight on inbound flights to Abu Dhabi, kids get a pack that is filled with an activity booklet, crayons, card games and a colour-in mask. On outbound flights from Abu Dhabi, they are given a foam lion character, colour-in postcards, crayons, a handy waterproof wallet and a unique suitcase board game.
Older kids aged nine to 13 receive a pack containing Sudoku, mazes, lined notes and join-the-dot games, Abu Dhabi-themed pencil case, pencil, dual-function bookmark and ruler, and a notepad.
A range of films, television programmes, games, and child-friendly albums and CDs are available on the 'Just 4 Kids' section on Etihad Airways E-Box inflight entertainment system. A parental lock feature allows parents to block inappropriate content.
Click here for more information on the services available on Etihad Airways.
Click here to read our interview with a Flying Nanny.

Family assistance:
Families enjoy priority boarding, giving them more time to get settled onboard. When flying from Dubai to Singapore, families can use the dedicated separate family check-in counters.
Infants under the age of two can be carried on the lap and a special seat belt extension will be offered to parents. Families also enjoy an additional 10kg baggage allowance or one additional bag if they are travelling with infants or babies. An additional bag that does not exceed 5kg containing infant food and other necessities is also allowed on board.
Changing tables are available in the bathrooms and infant kits containing nappies, bibs and wipes, are given to parents.
Baby bassinets can be requested upon booking of flights, but families can also choose to bring their own baby seats if they have been approved for use on an aircraft and have instructions for use.
Meal and amenities:
Heinz Farley's infant food is served on Emirates and is available in two flavours — mixed and banana. There is also a range of baby meals, milk formula and baby bottles available on Emirates and families who prefer to use their own bottle and food can utilise the warming service on board.
Special kids meals are available and can be catered to the specific dietary needs of each child. They will also get a snack box filled with treats they can tuck into along the journey.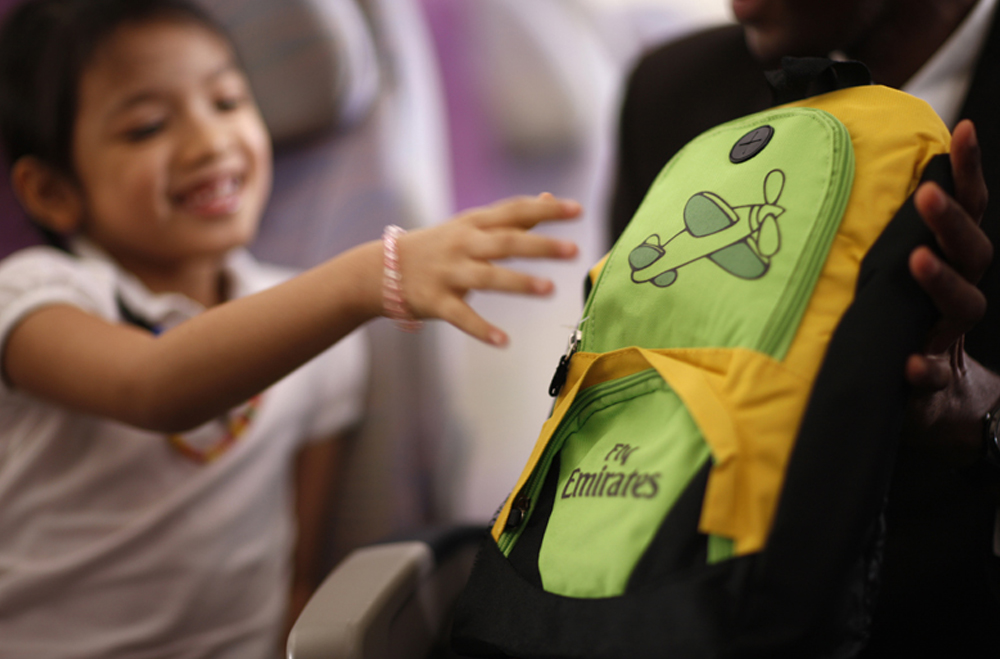 Specially for kids:
Curated in collaboration with Lonely Planet Kids, kids get to choose between a travel-themed bag and lunch cooler. Both are filled with educational books, creative crafts and a travel journal for children. Little ones also get to walk away with a Fly With Me Animal that has been exclusively designed for Emirates and Fly With Me magazine
There are 90 kids' channels available on ice Digital Widescreen, Emirates' inflight entertainment system, as well as up to 200 games. Each child also receives a set of specially designed kid's earphones.
Children aged two to 16 can become Skywards Skysurfers themselves and earn Miles on every flight. These can be used to redeem reward flights.
Click here for more information on the services available on Emirates.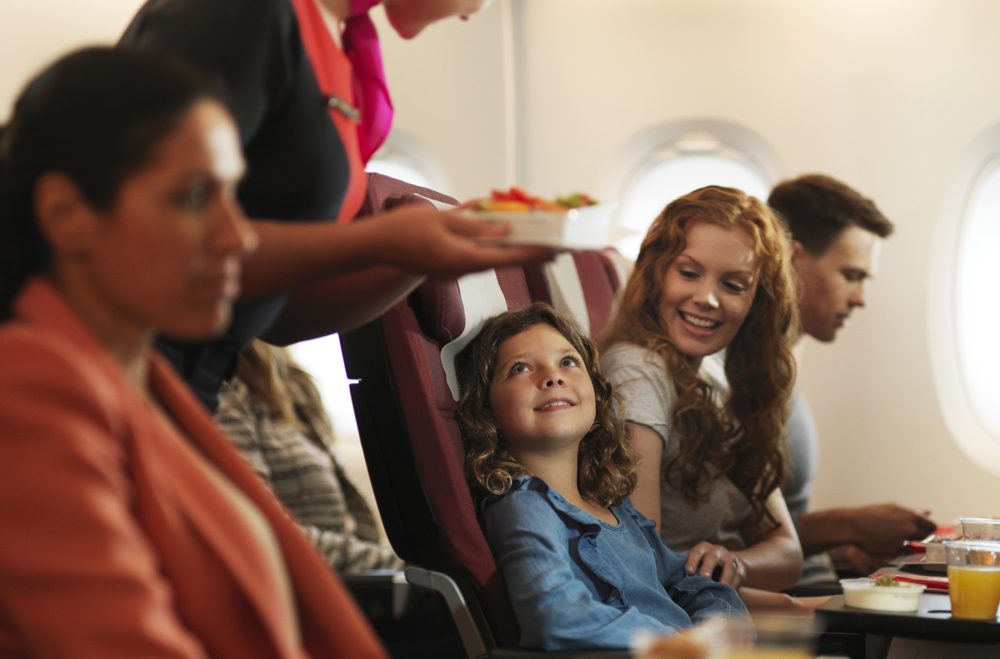 Family assistance:
Families are seated together whenever possible, and they can select their seats together upon booking with the Advance Seat Selection option, which is complimentary for selected travellers on international flights.
Pre-boarding is offered for families travelling with small children so that they can settle in before remaining passengers board. Bassinets can be requested upon booking. Additional baggage allowance for collapsible strollers, push-chairs and car seats are also given to families as required.
Meals and amenities:
Child, toddler and baby meals are available upon request when booking your flight.
There is a limited range of baby food, milk, baby bottles, cereals and rusks from well-known brands, but it is recommended for parents to bring items that their baby prefer on board.
Selected Qantas lounges within Australia have a Family Zone that provides fun and games prior to children boarding flight. There are Sony Playstations, children's furniture, toys and books, as well as child friendly refreshments.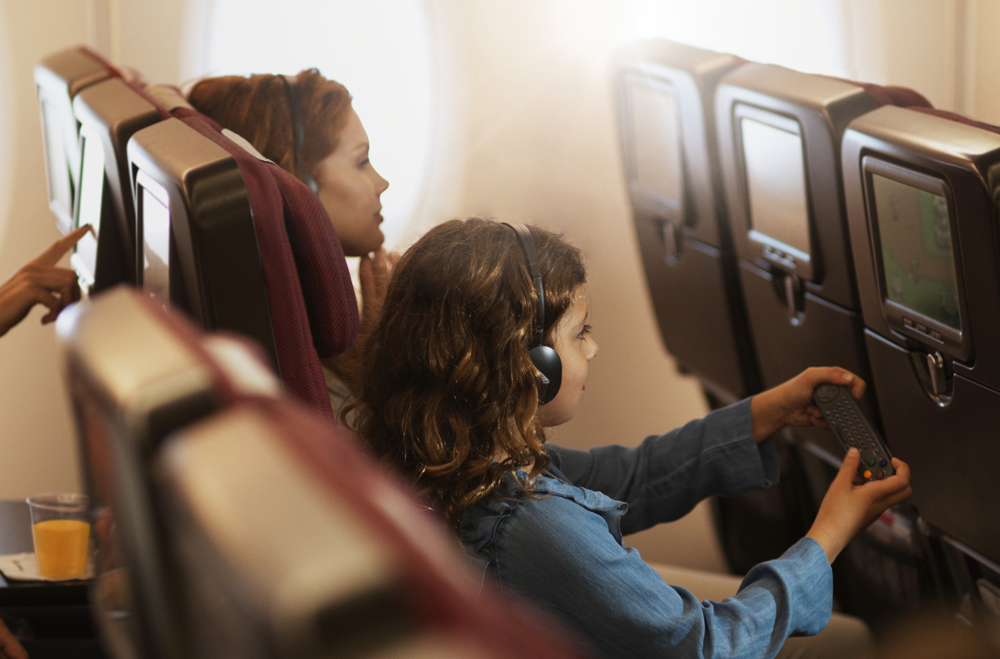 Specially for Kids:
All kids are given a Qantas adventure kit that is decorated with Nickelodeon characters and has colouring pencils and activity books suited for children aged three to six.
The Qantas inflight system has up to eight family movies at any one time and a range of children television programmes.
Click here for more information on the services available on Qantas Airways.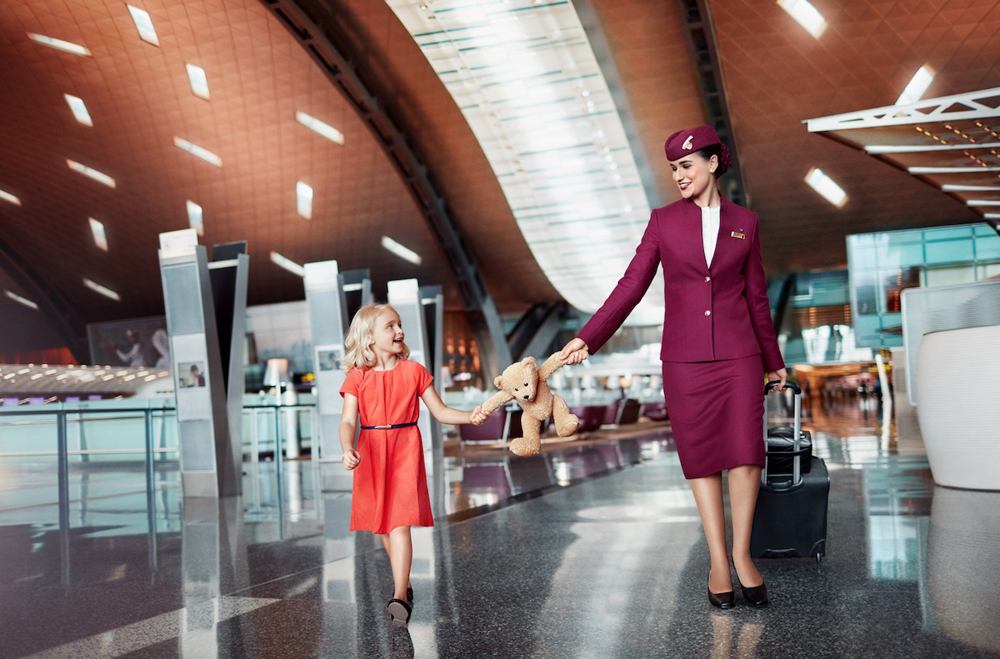 Family assistance:
Bassinets are available onboard and should be booked when payment for the flight is made. However, they are not available in the First Class cabin of A380 planes and infants will need to be seated on an adult's lap.
Families with infants enjoy priority check-in, a well as a specially prepared kit, which includes diapers, baby food jars, a bottle and soft toys.
Meals and amenities:
Baby meals consisting of pre-packaged baby food that may be non-vegetarian are available.
All children's meals are halal and served in a Monopoly or Mr Potato Head collectible meal boxes and among its contents are pancakes, pasta, breaded chicken, fish fillets, chips, sweets and fruit.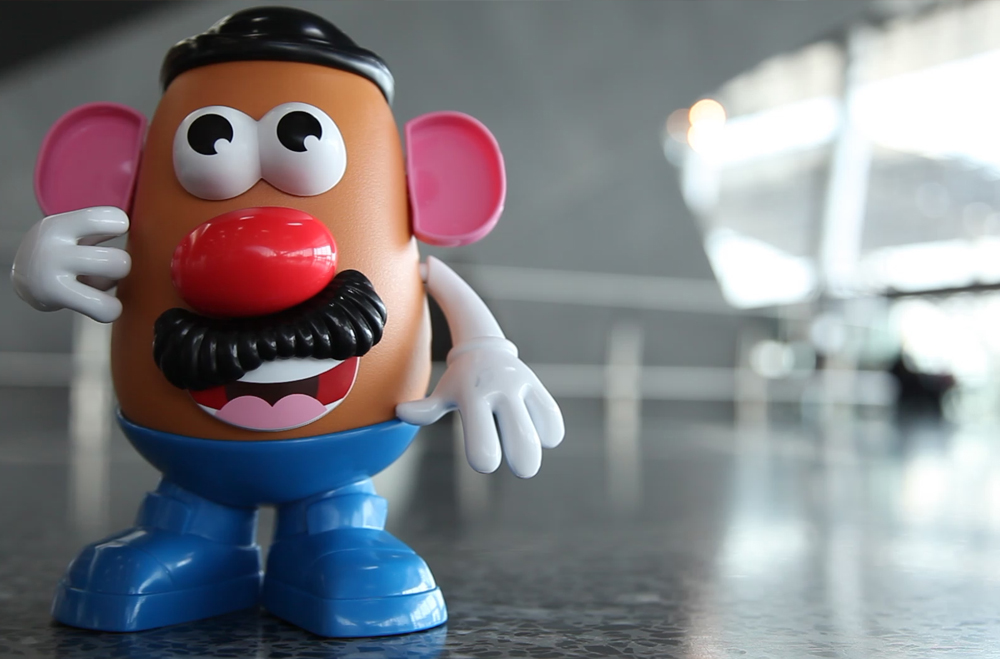 Specially for Kids:
The Qatar children's activity pack is produced in partnerships with Hasbro Gaming. They feature games such as Monopoly, Twister, Guess Who and Connect 4 for those 3-12 years. Infants will receive a sleep-time Mr Potato Head soft plush with interactive eye mask and a soft plush book.
The Qatar inflight entertainment system, Oryx One, has a dedicated baby and toddler channel that shows exclusive programmes for children as well as a wide variety of nursery rhymes, baby songs and learning games.
For the older ones, there is a 'Young Travellers' channel filled with the latest movies, programmes and interactive games.
Click here for more information on the services available on Qatar Airways.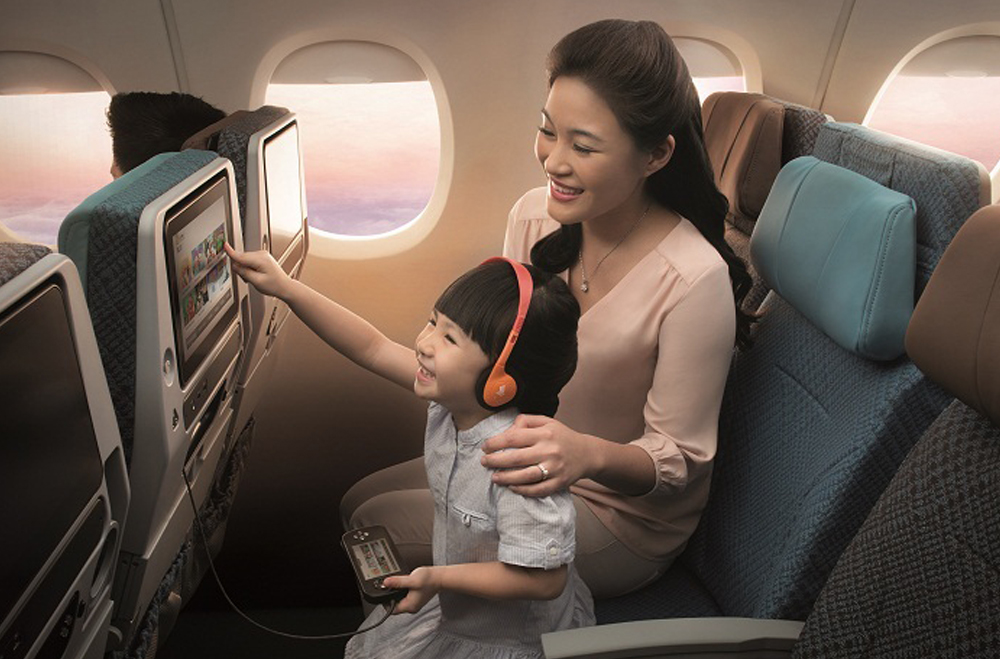 Family assistance:
Families travelling with young children are usually allowed on first and the crew will assist with luggage and settle them into their seats before other passengers board.
Crew are trained to help parents with their children by offering suitable amenities or attending to children, such as carrying infants, to give parents a break.
Bassinets should be also requested upon booking an infant ticket as there are a limited number of bassinets are available on board and they are given out on a first-come, first-served basis. Each one also comes with a comforter that can be used as a baby blanket.
Meal and amenities:
Singapore Airlines has four meal options for the minis. For infants that are less than a year old, there is a baby meal, which consists of three jars of baby — main course, vegetables and dessert. For those between one to two years of age, there is a post-weaning meal that has food items that are easy to bite, chew and digest. There is also a child meal for infants that is more substantial with easy to bite food items and lighter-based sauces.
For children meals, there are 12 options for little ones such as fried rice surprise, omelette alert and chicken and vegetable ragout. Singapore Airlines says is working to introduce healthier meal options for children with lower sugar content.
General baby amenities such as diapers, disposable bibs, feeding bottle and baby wipes are available on board in limited quantities.
During meals, children are served first. If the child needs to be fed, one parent will be served first and the other later.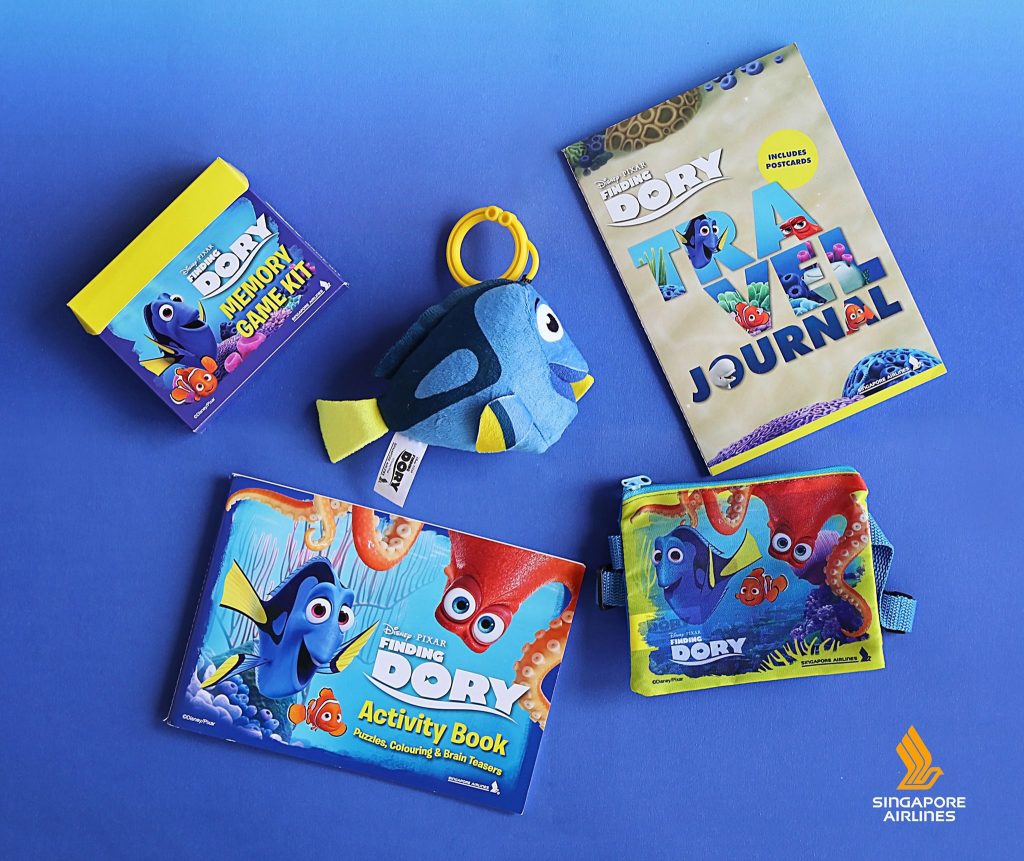 Specially for kids:
Activity packs are refreshed every few months and the current pack is filled with Disney/Pixar's Finding Dory items: a plush toy, waist pouch, memory game kit, activity book and travel journal book.
The KrisWorld Inflight Entertainment system has a 'The Young Ones' section that includes popular children television programmes, movies and music. There are also a number of games for children to play while in the air. Selected aircraft also come with Cupcake Digital, a children's reading application, and Berlitz® Word Traveler, an interactive language learning programme that children can learn 23 languages from.
Click here for more information on the services available on Singapore Airlines.
Travelling overseas with your young children? Click here for useful products to bring with you on your next trip and here for tips that mums have for travelling with children.