Look into any Singapore home on Chinese New Year's Eve and most people will be having steamboat with their family for reunion dinner. But have you ever wondered why steamboat is the meal of choice? Reunion dinner is known as 围炉 (weilu) in Mandarin, which means 'gathering around a stove'. It is a reference to how families in China would eat on Chinese New Year's Eve — huddling around a hotpot and eating out of it can be said to be the modern day version of this practice.
One of the best parts about hotpot is that you can have a wide variety of food (probably more than you would if dining at a Chinese restaurant) and hence it caters to a wide range of ages and tastebuds.
However, for this very same reason, preparing for steamboat can be a herculean task. So why not take it easy this year and order in your steamboat meal, soup stock and ingredients. Here are some places you can head to for your steamboat takeaway needs this 2017 Chinese New Year.
Happypot
If you like to have many options to choose from when ordering your steamboat takeaway, this is the one that you are looking for. Just in terms of soup base options alone, there are eight different ones to cohoose from — ABC tomato broth and peanut stew anyone? Choose from one of the package options or put together your own perfect feast with over 50 ingredients available for you to pick from.
Orders have to be made one day in advance. Click here to order and for more information.
Paradise Group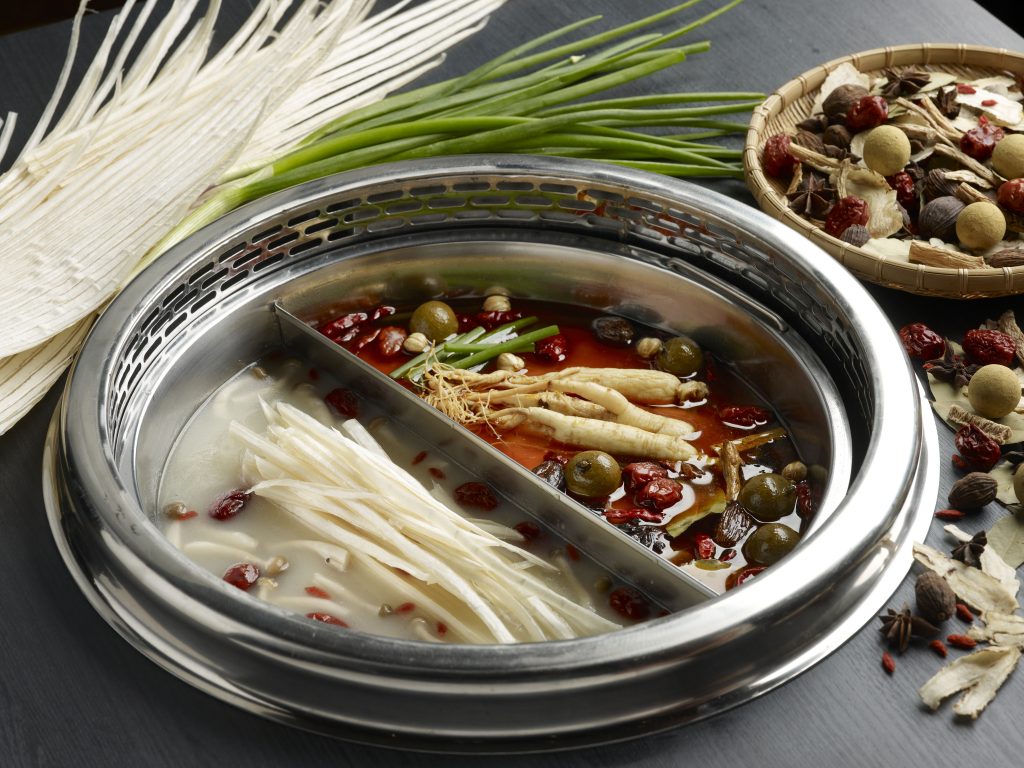 You can now replicate the collagen hotpot experience in the comfort of your own home with the steamboat sets offered by One Paradise, the the Paradise Group's catering arm. Each of the three sets come with five and 10 pax options, and feature two soups — beauty collagen broth (shark's cartilage soup) and spicy nourishing broth (pork bone soup), as well as ingredients like US wagyu ribeye, US kurobuta pork and ebiko prawn paste. Also included in the set is the use of a full set of crockery ware, steamboat pot and induction cooker, and if you feel that there's not enough food, ala carte dishes can be added.
Orders have to be made at least five working days in advance. Prices start from $230.05 with GST. Click here for more information. 
Peach Garden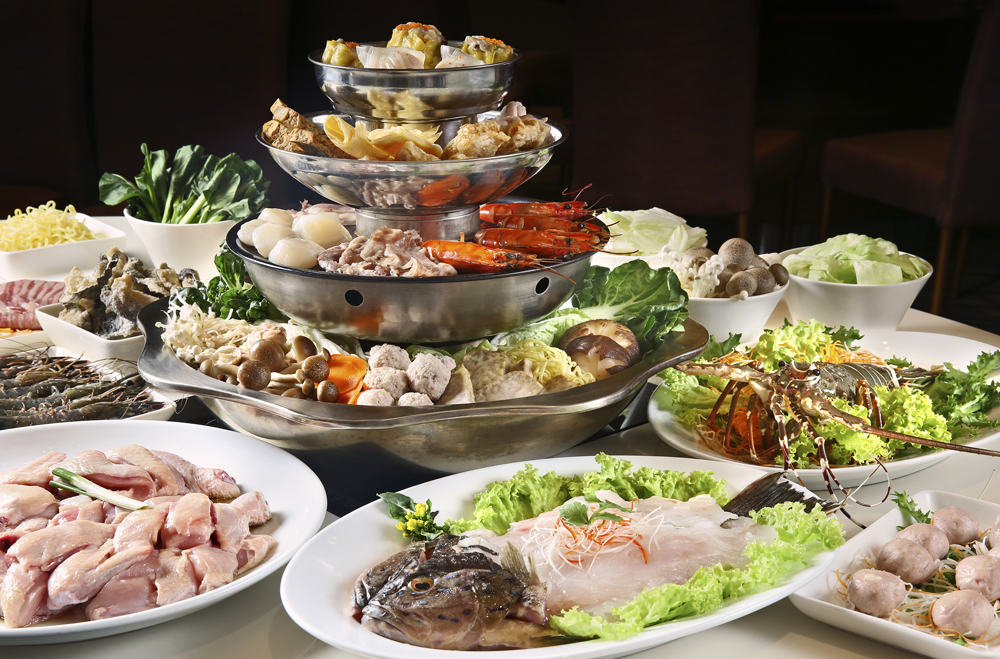 You don't just feast on steamboat goodies when you order Peach Garden's four-tier steamboat takeaway. The steamboat pot's different layers give you the choice of multiple methods of cooking your food — the bottommost layer is for steamboat stock, the second layer for barbecue, the third to keep food warm and the top is a steamer. The package includes 35 items, soup base, desserts, fried glutinous rice and a small salmon yu sheng for tossing to a year of good fortune. The steamboat pot and stove is included in the price, and packages come in six and ten people options.
Only available for self-collection at Peach Garden @ Thomson. Orders must be made two days in advance. Prices start from S$388+. Click here for more information.
Ryan's Grocery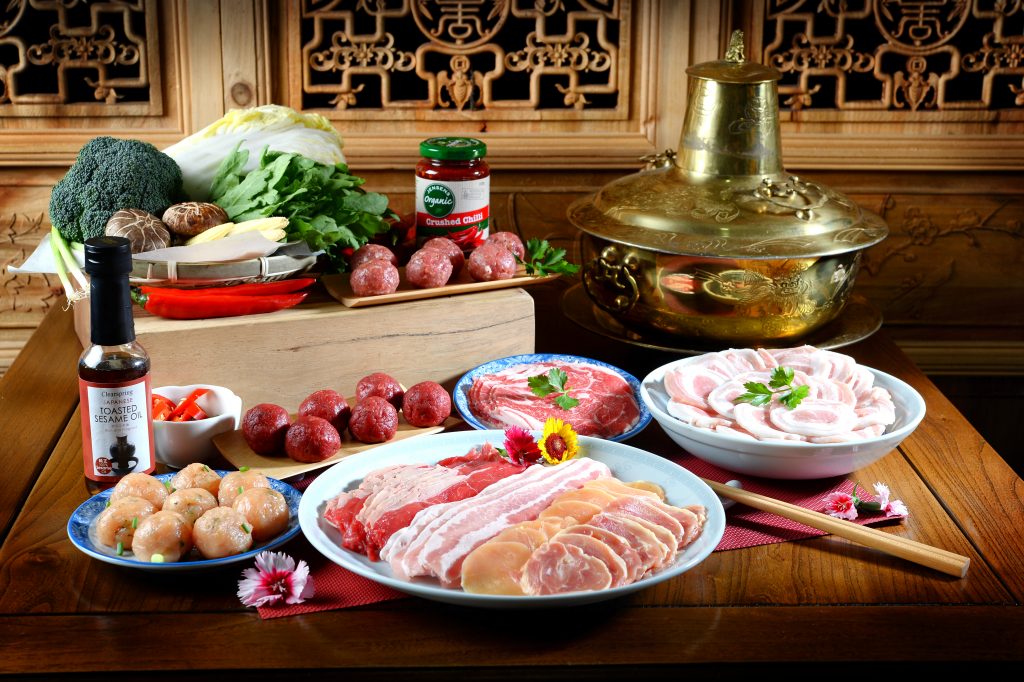 The health-conscious will rejoice at the steamboat takeaway options offered by Ryan's Grocery. Think free-range shabu shabu sets, organic meats and wild caught seafood. Pick one of two available sets that is filled with all types of quality meat cuts with add on options from an extensive a la carte menu. We recommend the beef, pork and chicken meatballs platters and the vegetable platters that are filled with organically grown greens and fungi.
Available from 3 January to 15 February. Place your order by 16 January for a 10% discount. Prices start from S$118. Click here to order and for more information. 
The Soup Spoon

A clean eating option is what The Soup Spoon seeks to offer with its hot pot options that have been created especially for Chinese New Year where hormone-free chickens are used to create the stock and no preservatives, artificial flavouring or colouring are added to it. Choose between two reunion sets that include seafood, such as salmon fillet, soup stock, condiments and homemade dishes. Each set can feed 12 people. Both come with clear chicken stock (1.5 litres) and a choice of either collagen chicken stock (1.5 litres) or spicy kimchi stock.
Available from 10 January to 8 February. Prices start from S$98. Click here to order and for more information. 
The Soup Spoon Special for Mummyfique readers: Enter the promo code CNY17MF during check out to get 20% off with a minimum of $80 spend.
Want to dine out this Chinese New Year instead? Read our story on where to have reunion dinner in Singapore here.