As if all that Christmas and New Year feasting wasn't enough. An early Chinese New Year this 2017 means that another round of festivities is just around the corner. The Lunar New Year, of course, is a time of abundance and plenty of food and there's no better way to enjoy that than a sumptuous reunion dinner with the family.
If you're looking at celebrating the Lunar New Year with a good meal, this list is just the thing you need.
Blue Lotus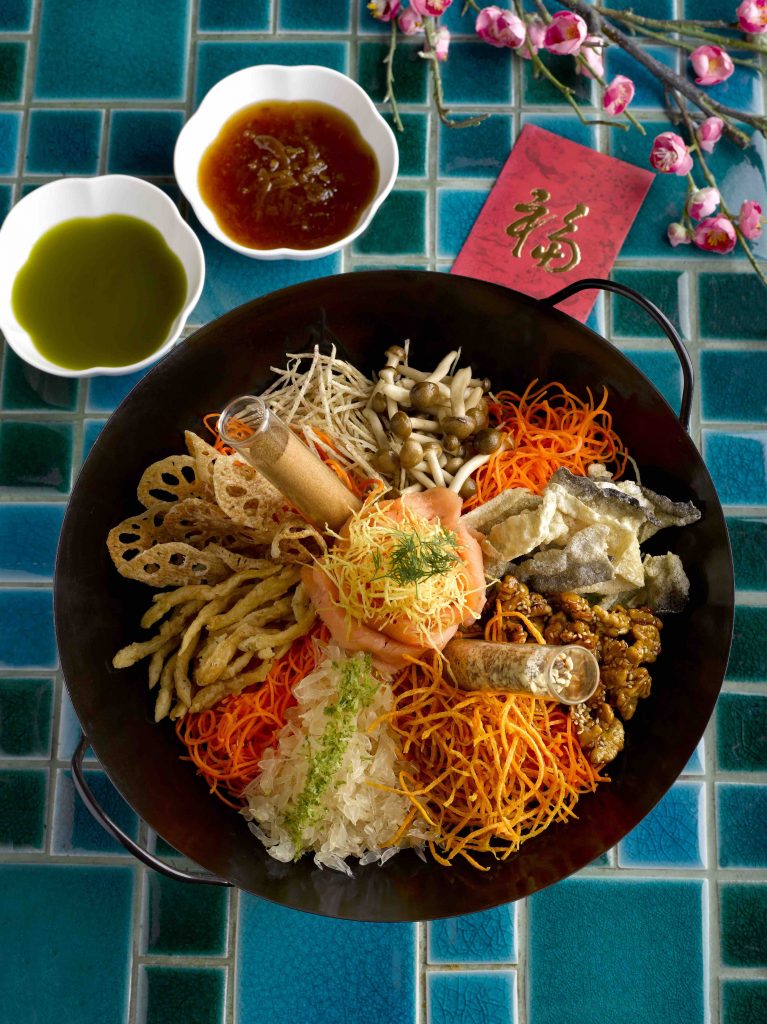 New age Chinese restaurant Blue Lotus has created its own unique and healthy version of the Yu Sheng filled with up to 20 fresh ingredients and named 十全十美 (Shi Quan Shi Mei), which literally translates to "completely perfect". Comprising of 10 herbs and vegetables, two aromatic spices, three types of nuts, tea-smoked salmon, salmon skin and silver bait, and finally, dressed in spring-onion-infused olive oil and wild honey yuzu dressing, the 十全十美 "Perfect" Yu Sheng will be available for dine-in and takeaway ($68 ++ for small and $88 ++ for large). Also available is a roast Ibérico Suckling Pig (S$238++) and a number of set menus including Harmony (S$68++ per person), Prosperity (S$88++ per person) and Longevity (S$108++ per person), each of which starts off with the Tea-Smoken Norwegian Salmon Yu Sheng. Bookings of 20 people and above for the Prosperity menu will receive one complimentary suckling pig.
For reservations and information, click here. 
Cassia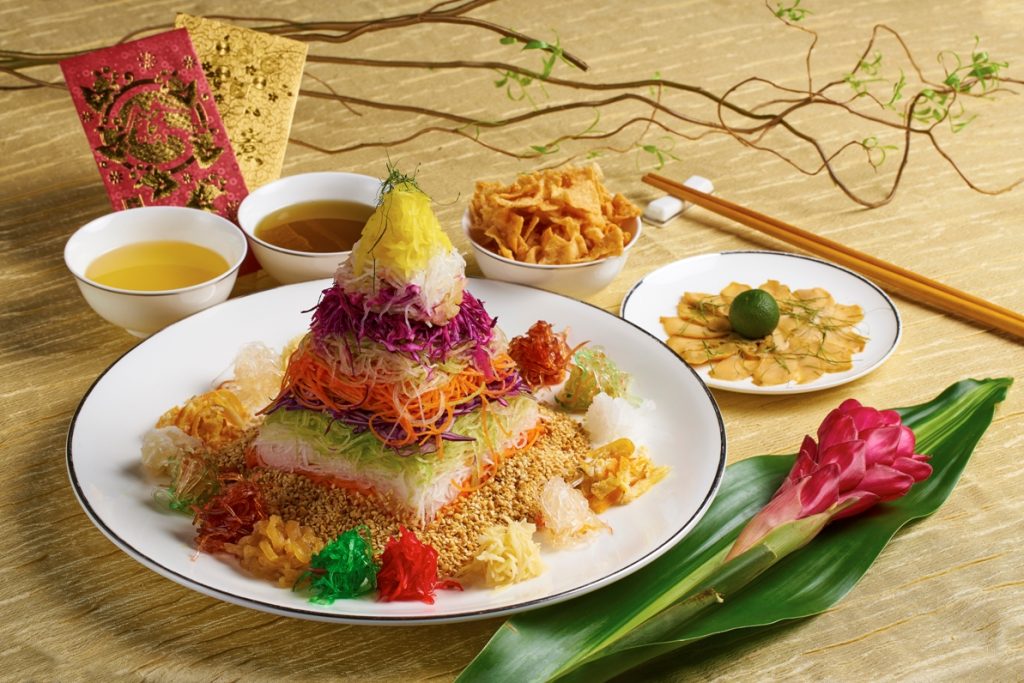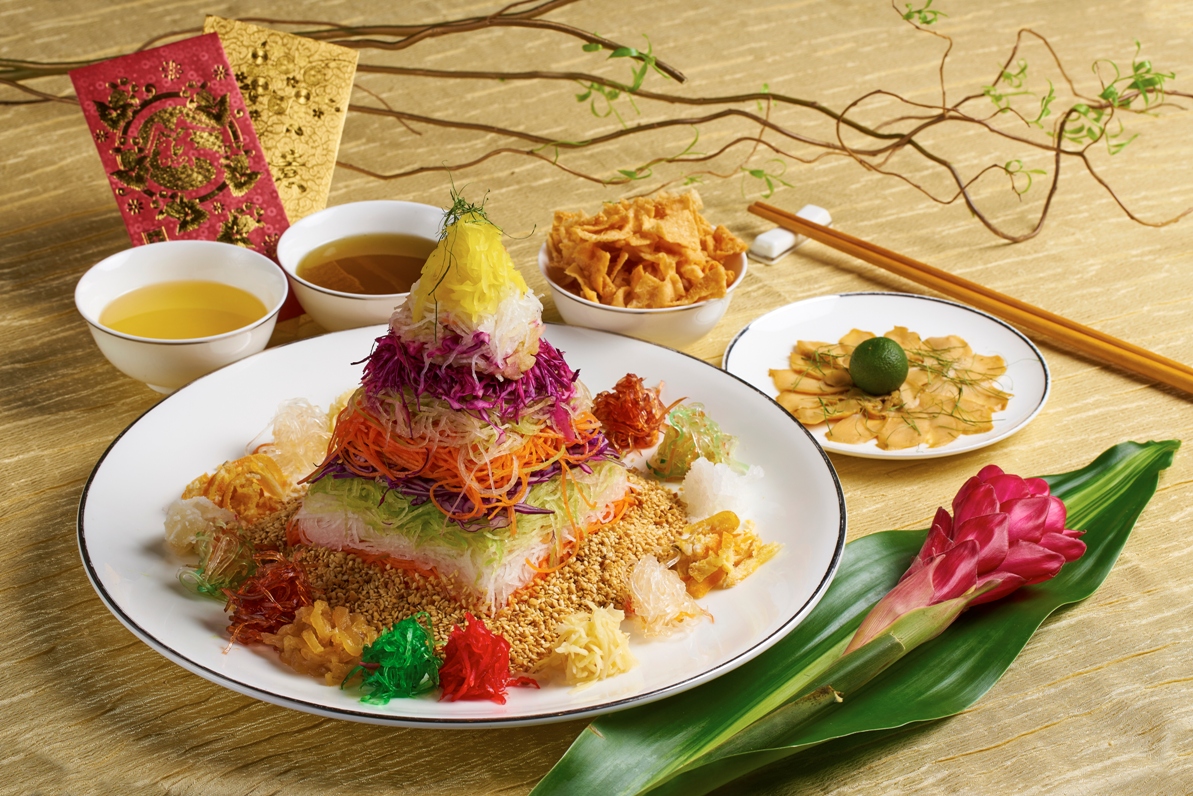 Cassia at Capella Singapore is a classic favourite for Cantonese fine-dining and on its new year special menu is Cassia's Prosperity Lou Hei (S$68++ per serving) where each ingredient (including fresh greens and salmon) in the dish has been meticulously handpicked by Cassia's executive chef Lee Hiu Ngai, as well as Cassia's Signature Lou Hei (S$38++ per person) served with fresh seafood like lobster and sea urchin. There are also a number of set menus available. The Prosperity Reunion Menu for instance is priced at S$128++ per person and comes with dishes such as the Signature Double-boiled Thick Chicken Browh with Fish Maw and Baked Chilean Sea Bass with Homemade Special Chilli sauce, while the Fortune Reunion Menu is priced at S$168++ per person and includes Bird's Nest with Sea Urchin and SUprior Sauce as well as Braised three-heads Australian Abalone.

For reservations and information, click here. 
Cherry Garden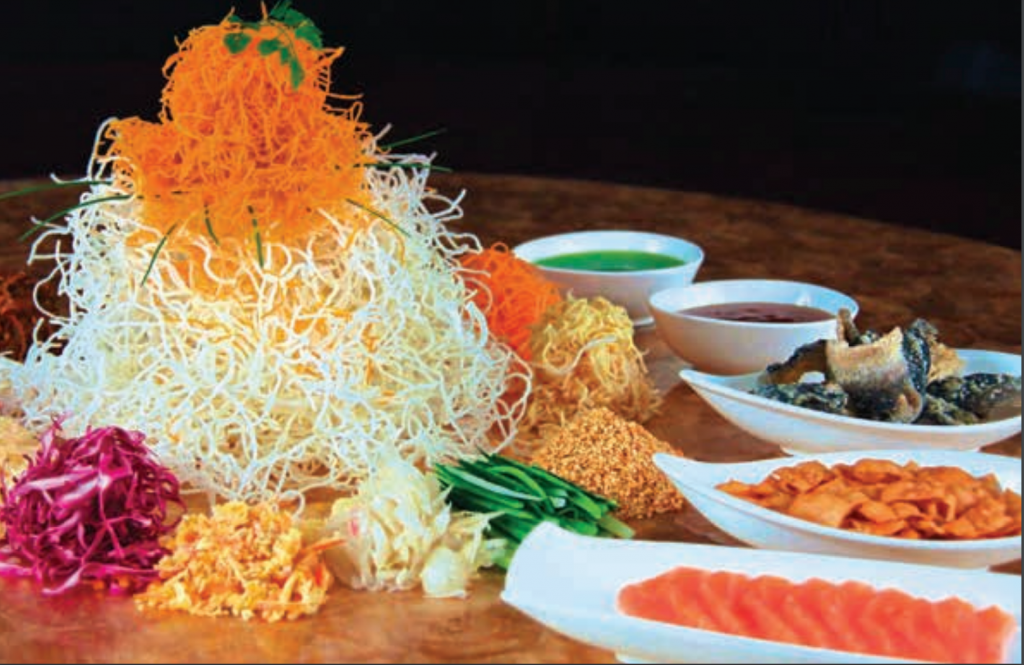 Cherry Garden at Mandarin Oriental has come up with a tantalising line-up of celebratory Chinese New Year dishes to ring in the year of the Rooster. Choose from a range of delectable dishes such as the Eight Treasures Yusheng (S$888) with ootoro, hamachi, lobster and caviar. There are set menus that start from S$128 per person (minimum two pax) but if you prefer to usher in the new year within the comforts of your own home, their takeaway menu includes the Chinese New Year Special Radish Cake (S$48), Cherry Wood Roasted Duck (S$88) and the festive-looking Red Dates Nian Gao (S$48).
Available from 5 January to 11 February 2017, for reservations, please call +65 6885 3500 or email [email protected]. For takeaway orders, please call +65 6885 3081 or email [email protected].
Man Fu Yuan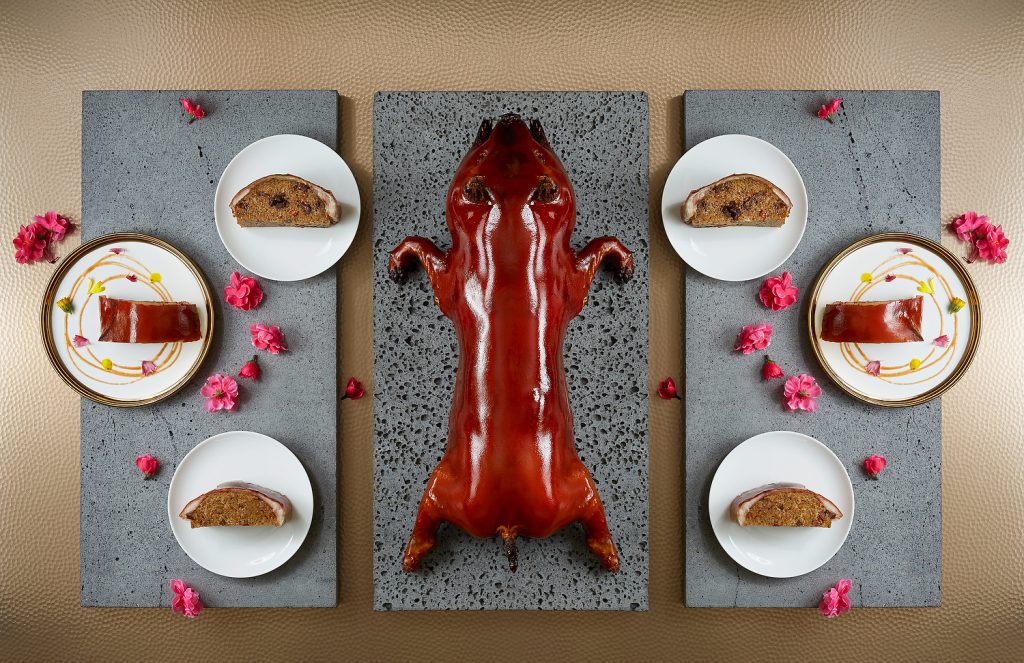 One of the best places to visit for an indulgent reunion dinner, executive Chinese chef Kwan Yiu Kan and his team have put together a bevy of dishes steeped in auspiciousness. Highlights include the Man Fu Yuan Supreme Treasures Pot (S$388, serves five) that comes with delights such as abalone, spring chicken, fish maw, Canadian lobster and goose web, and the ever popular Whole Suckling Pig Stuffed with Glutinous Rice (S$298) that both the young and old will enjoy. With a selection of eight different menus, there is a set menu to suit all group sizes. They start at S$128++ per person (minimum two pax) for a Deluxe set that comes with a Salmon Yu Sheng, nourishing Double-boiled Chicken Soup with Korean Ginseng and Braised 8-Head Abalone with Dried Oyster and Chinese Mushrooms in Superior sauce, and range all the way to S$2,088++ for a table of 10 that includes the signature Prosperity Yu Sheng, Barbecured Suckling Pig and Stewed Egg Noodle with Lobster and Egg White.
For reservations and enquiries, please contact Man Fu Yuan at +65 6825 1007 or email [email protected]. Click here for more information.
Min Jiang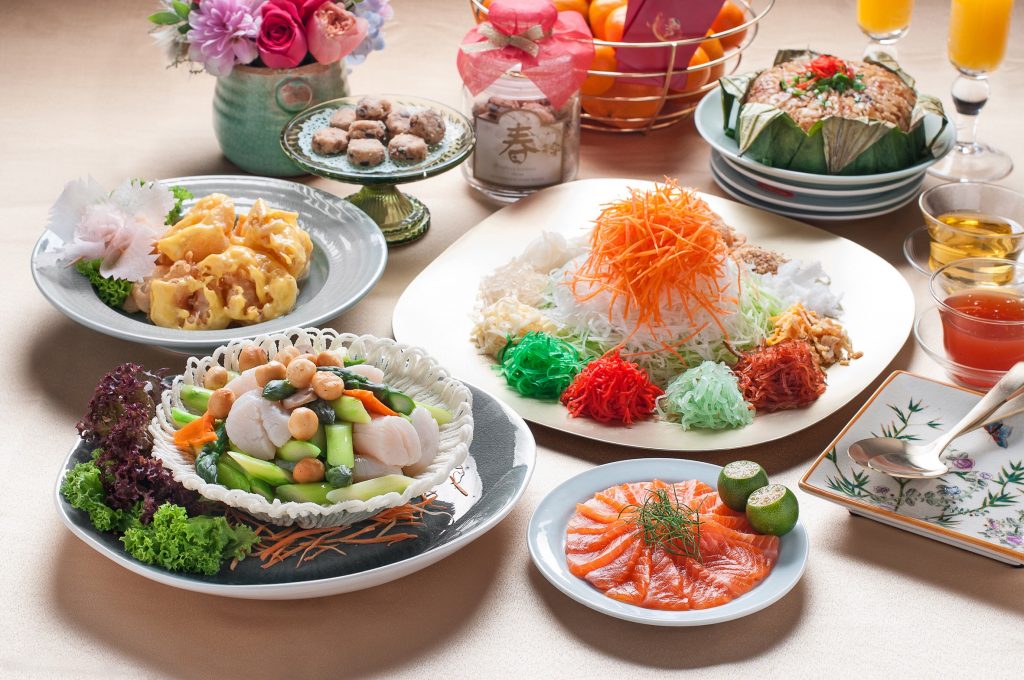 Choose from a lavish selection of delicacies at Min Jiang, Goodwood Park Hotel including the Prosperity Amberjack 'Lo Hei' (S$168++, dine-in only) featuring the delicate amberjack with a medley of Japanese picked turnips and crisp vegetables, and the Braised Whole Chicken with sea Treasures in Claypot (S$268++ for dine-in, S$286.75 for takeaway) featuring a whole spring chicken that has been flash-fried and then braised with goodies the likes of Australian 10-head abalones, dried oysters, and handmade shrimp and minced pork balls. For a unique experience, you can choose to celebrate reunion dinner at the grand Windsor Ballroom where there are two set menus priced from S$538++ for a table of six to S$988++ for a table of 10.
For reservations, call +65 6310 1804 or email [email protected]. Click here for more information.
Mitzo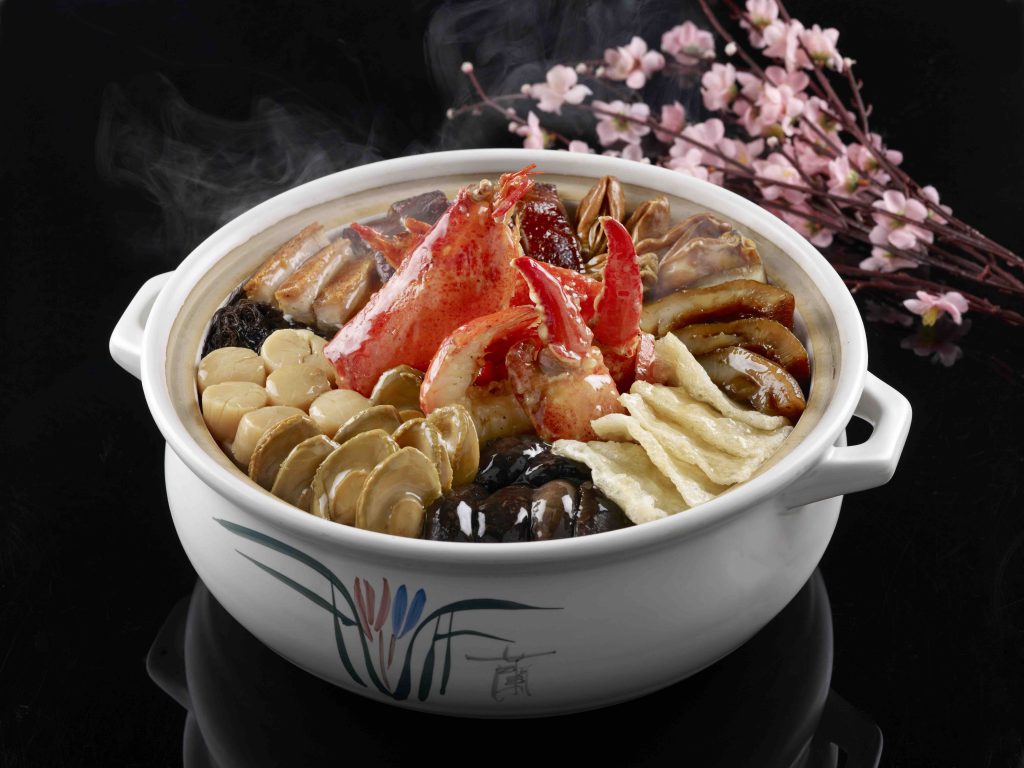 Known for its progressive Cantonese cuisine, Mitzo's Lunar New Year menu runs from 14 January to 11 February 2017 and includes festive dishes such as Pearls of Prosperity Kanpachi Kingfish Yu Sheng (S$68++ for regular, S$108++ for large) with a homemade sauce of soybeans, garlic, ginger, sesame seeds and spices, and the ubiquitous Pen Cai where there are three varieties — Prawn, Lobster and Grouper (from S$338++ to $988++). Set menus cater for pairs of two to groups of 10 ranging from S$128++ per person to S$1288++ per table with each ending on sweet notes with the Homemade Koi Fish Nian Gao. Their Yu Shengs and Pen Cais are also available for takeaway with the former thoughtfully packed with a mini cocktail shaker for a unique tossing experience.
Call +65 6603 8855 or email [email protected] for reservations or enquiries. Click here for more information.
Peach Blossoms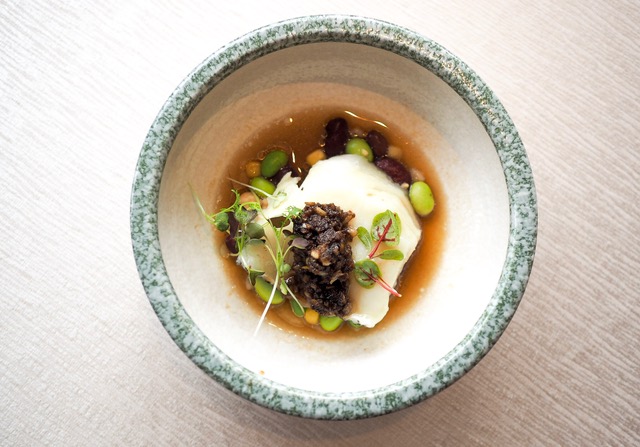 Chef Francis Chong and the culinary team at Peach Blossoms, Marina Mandarin Singapore have come up with a range of delectable set menus to whet your appetite this Chinese New Year. Choose from menus the likes of the Auspicious Set (S$148++ per person) that features kid favourites like Steamed Silver Cod with Black Garlic and Grains and Pan-fried Purple Sweet Potato Nian Gao with Chilled Coconut Jelly with Mango Puree and Coconut Ice-Cream, or the very indulgent Glorious Set (S$2688++ for 10 pax, three days advance order) that includes the Marina Mandarin Salmon Yu Sheng with Mixed Fruits, a crowd-pleasing Whole Suckling Pig and Steamed Grouper with Black Garlic.

For reservations, call +65 6845 1118. Click here for more information.
Shang Palace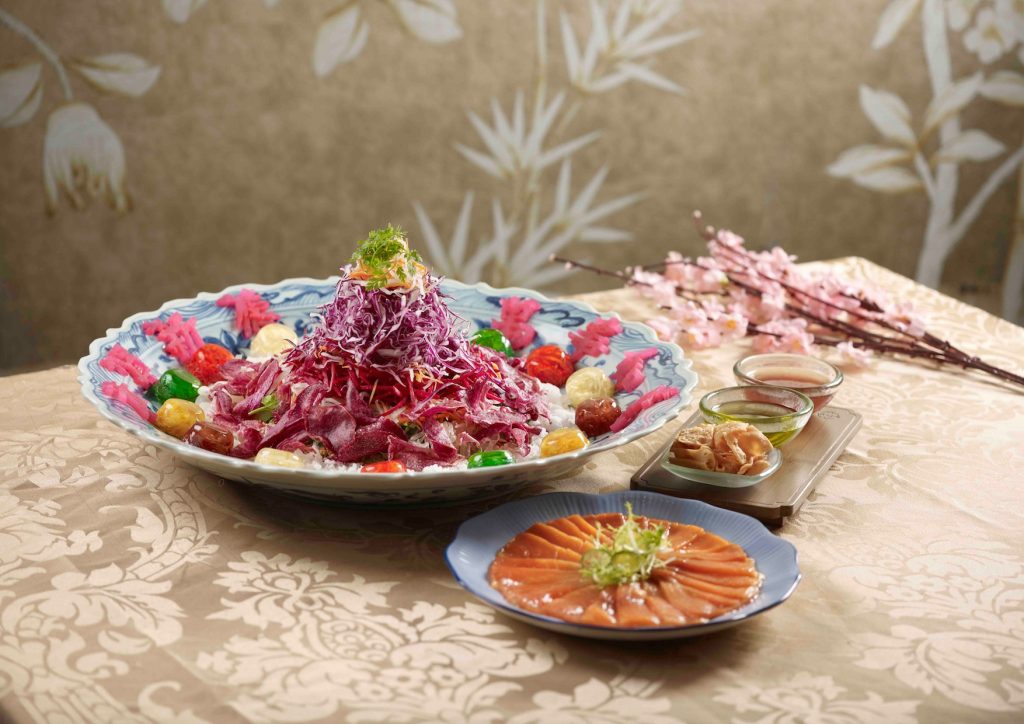 Shang Palace at Shangri-La Hotel, Singapore will herald the arrival of the Fire Rooster year with a menu of culinary delights including a range of delectable Yu Shengs such as the innovative and refreshing Prosperity Yu Sheng with Poached Lobster, Smoked Salmon and Grape Vinegar Dressing (S$328 for 10 pax, dine-in only) that symbolises prosperity and success. There's even a vegetarian Yu Sheng on offer. For a reunion feast, guests can choose from five festive eight-course menus where highlights include Braised Abalone with Winter Melon and Baked Kurobuta Ribs with Rose Wine and Garlic. As a sweet treat, remember to takeaway some of their festive goodies including the Honey Pineapple Tarts (S$8) and Cookies Trio Gift Box (S$38) that the little ones will definitely enjoy.
Available from 16 January to 11 February. For enquiries or to make a reservation, please call +65 6213 4473 / 4398 or email [email protected] / [email protected]. Click here for more information.
 StraitsKitchen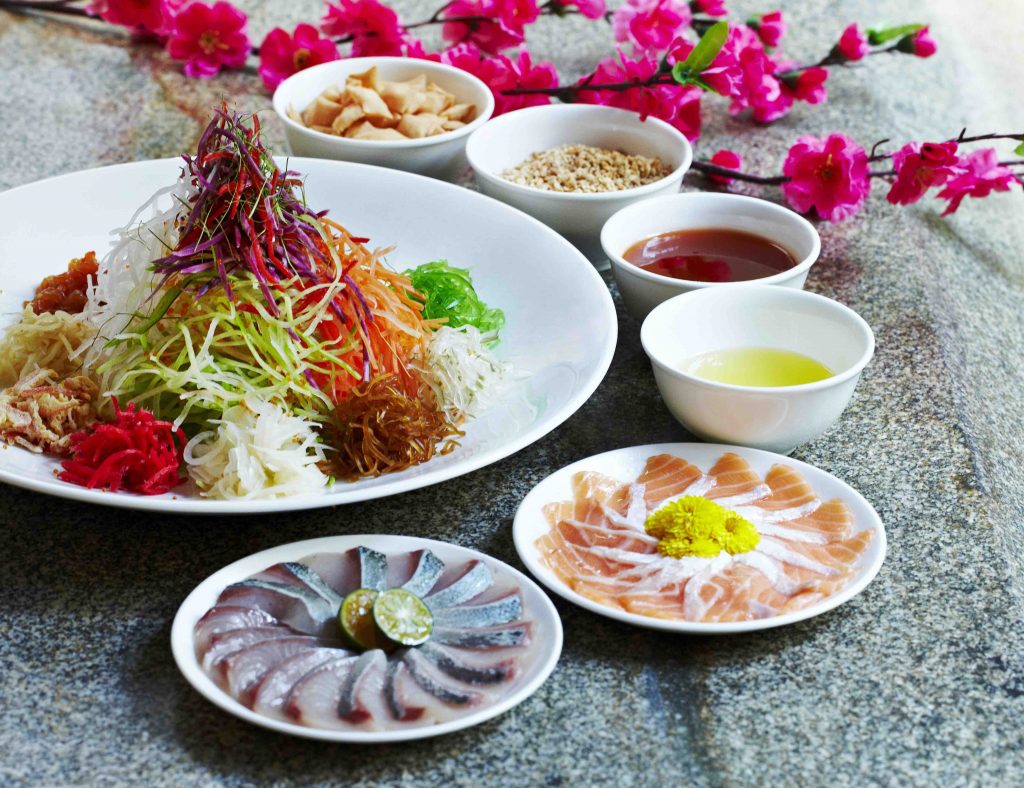 Gather up your friends and loved ones for a buffet spread complete with a whole host of local favourites. Dive into Lunar New Year favourites like Buddha Jumps Over the Wall and Crispy Duck as well as a platter of halal-certified Yu Sheng that is included as part of the Chinese New Year special and served at each table.
Priced at S$68++ for lunch and S$88++ for dinner per adult and S$48++ per child. Available from 27 to 29 January 2017. For more information, please call +65 6732 1234 or click here. 
Summer Pavilion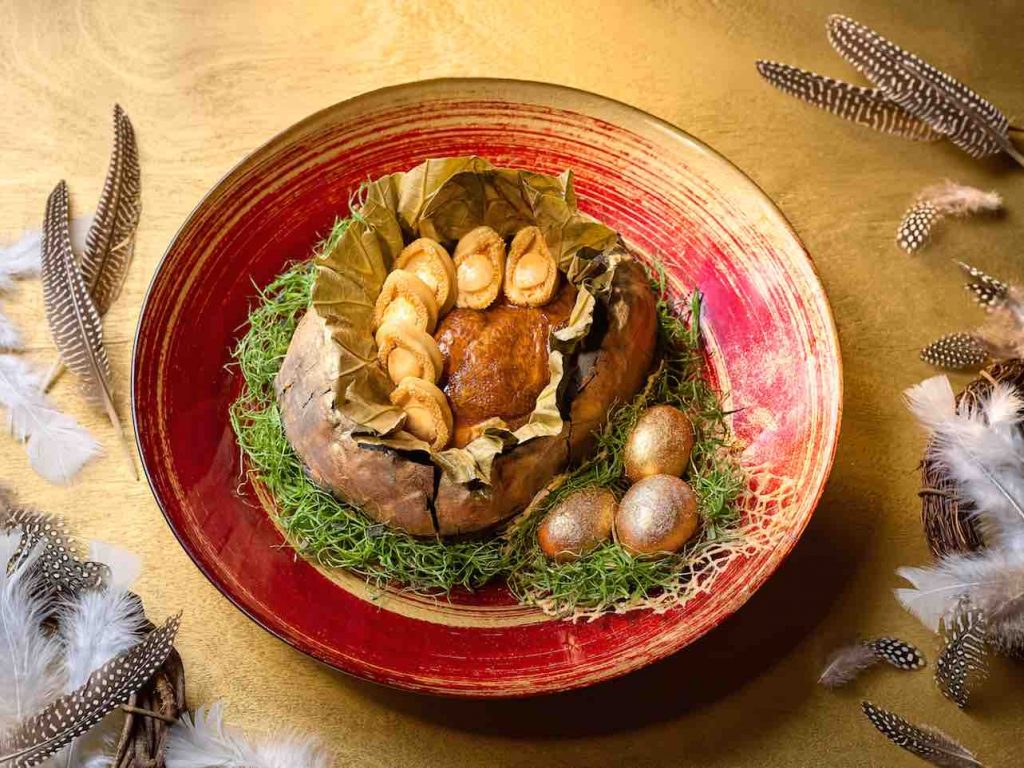 Executive Chinese Chef Cheung Siu Kong of the One Michelin Star Summer Pavilion has devised a range of Chinese New Year delicacies including the Summer Pavilion Japanese Sea urchin and Blue Fin Tuna Yu Sheng (S$138++ for small, S$276++ for large) as well as the Baked Fortune Chicken with Abalone, Shredded Mushrooms and Preserved Vegetables (S$180) that is served in a gold-dusted charcoal bun. Also taking place at The Ritz-Carlton, Millenia Singapore for the first time is "A Grand Reunion" Celebration where an eight-course set dinner is served in the hotel's Grand Ballroom on New Year's Eve (27 January 2017, S$138++ per guest, minimum eight guests per reservation). Culinary highlights include the Double-Boiled Superior Chicken Consommé and Prawn Roll with Shanghai Bean Sauce as guests enjoy the live entertainment from a two-piece Chinese instrument ensemble.
For dining reservations or enquiries, please call +65 6434-5288 or email [email protected], Click here for more information. 
Szechuan Court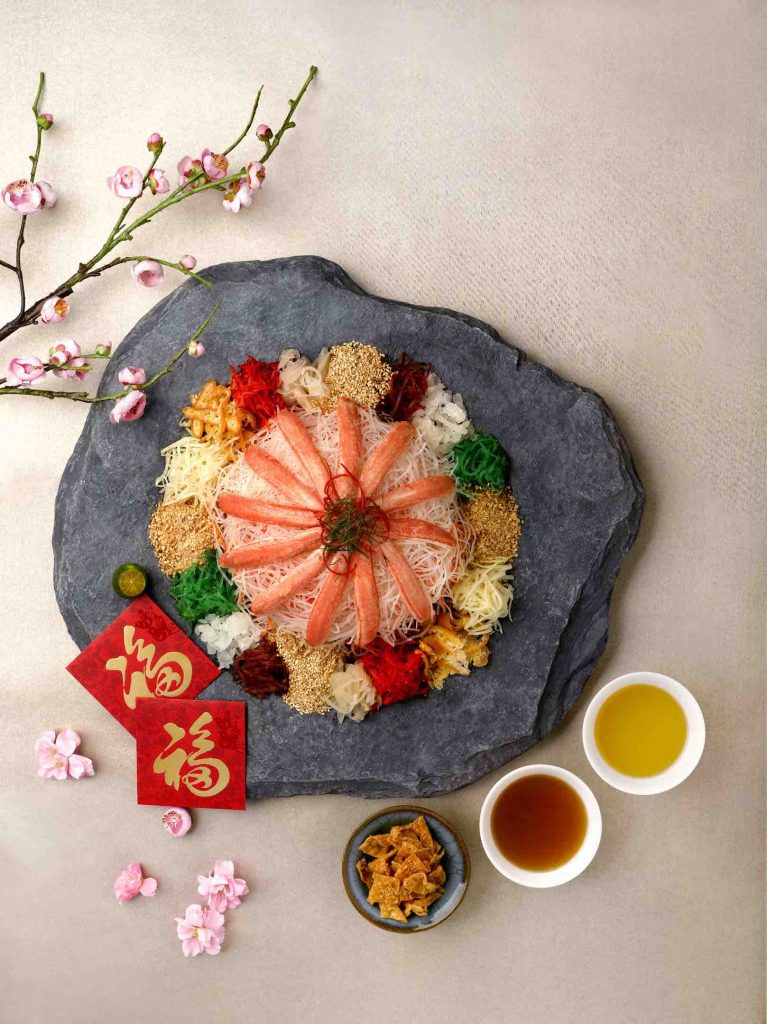 Chef Mok Wan Lok of Szechuan Court at Fairmont Singapore has come up with a line-up of sumptuous dishes available from 16 January to 11 February 2017. They include the Prosperity Yu Sheng (from S$58++ to S$98++), a stunning salad platter crowned with generous portions of premium seafood of your choice (choose from salmon, lobster, snow crab, abalone and young coconut pulp); the Szechuan Court Prosperity Pot of Gold (S$488 for medium, S$788 for large) that is a treasure trove of premium ingredients such as abalone, dried oysters and meats; and the very nutritious Double-Boiled Soup with Superior Fish Maw and Lobster (S$58++ per person). There are also a number of set menus available ranging from S$468++ for four persons to S$1,388++ for 10. They all include a yu sheng and end with a traditional nian gao.

For reservations, please call +65 6431 6156 or email [email protected]. Click here for more information.
VLV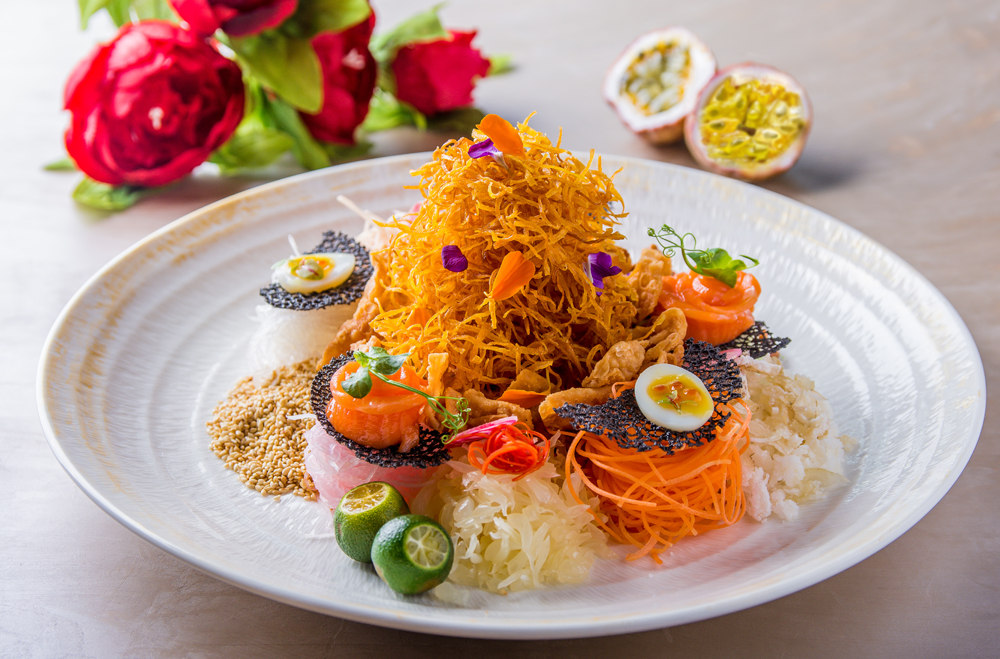 Named one of the best new restaurants by The Straits Times last year, executive chef Martin Foo is known for his authentically Chinese dishes and Chinese New Year is no exception. Choose from five auspiciously-named sets (S$98++ to S$268++ per person, minimum two to four persons) that feature a number of the restaurant's signature dishes such as Kagoshima Kurobuta Char Siew and Black Truffle Roasted Duck, as well as dishes that have been specially created for the festive season like Vermicelli with Hokkaido Scallop & Egg White and Coral Trout prepared Two Ways. There's also a special set for vegetarian guests, and all set menus come with a VLV 'Lo Hei' with fresh and finely julienned carrots, cucumber and radish, together with a house made passionfruit plum sauce. If you prefer ordering ala carte, five different Yu Sheng sets are available for dine in or takeaway and they are available in two sizes, small for three to six persons and large for seven to 10 people with prices staring at S$42++.
Available from 16 January to 11 February for both lunch and dinner. For reservations, please call +65 6661 0197 or email [email protected]. Click here for more information. 
Xperience Restaurant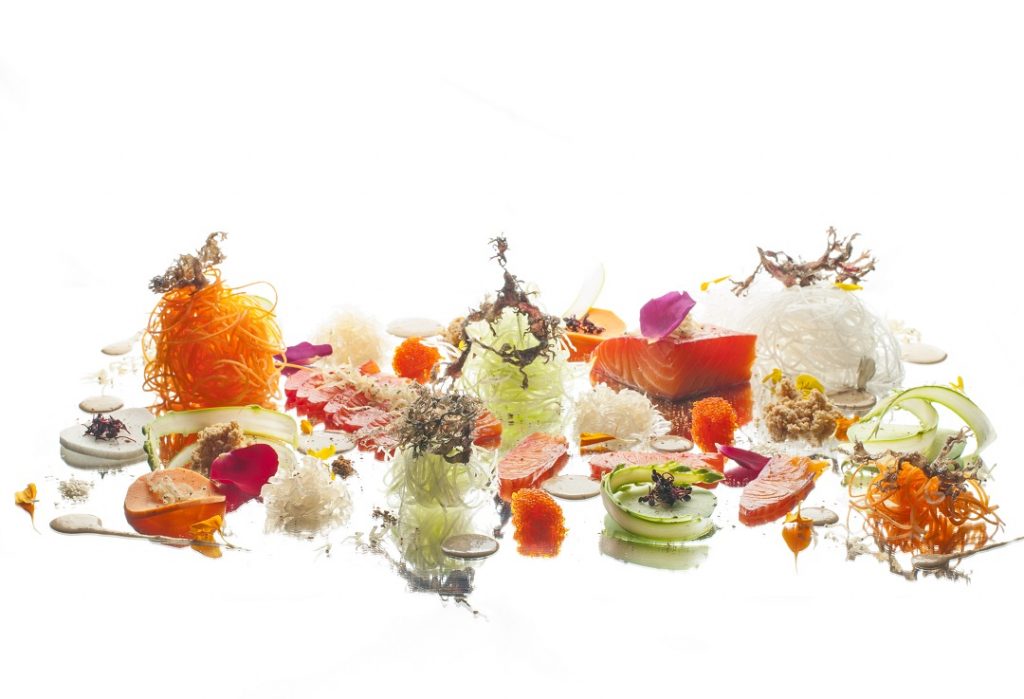 For a slightly different experience, head to Sofitel So's Xperience Restaurant for reunion dinner where head chef Phyo Phae has come up with a deconstructed Lo Hei with Cured Salmon and lightly torched Tuna (S$88 nett) that comes with refreshing daikon, pickled cucumber and pomelo as well as a succulent Suckling Pig that has been browned for three hours, marinated for 12 hours and then slow-roasted for four hours. It is priced at S$50 per kilograms, requires a tw0-day advance pre-order and is served with deep-fried mantou buns.
For reservations, please click here. 
Yàn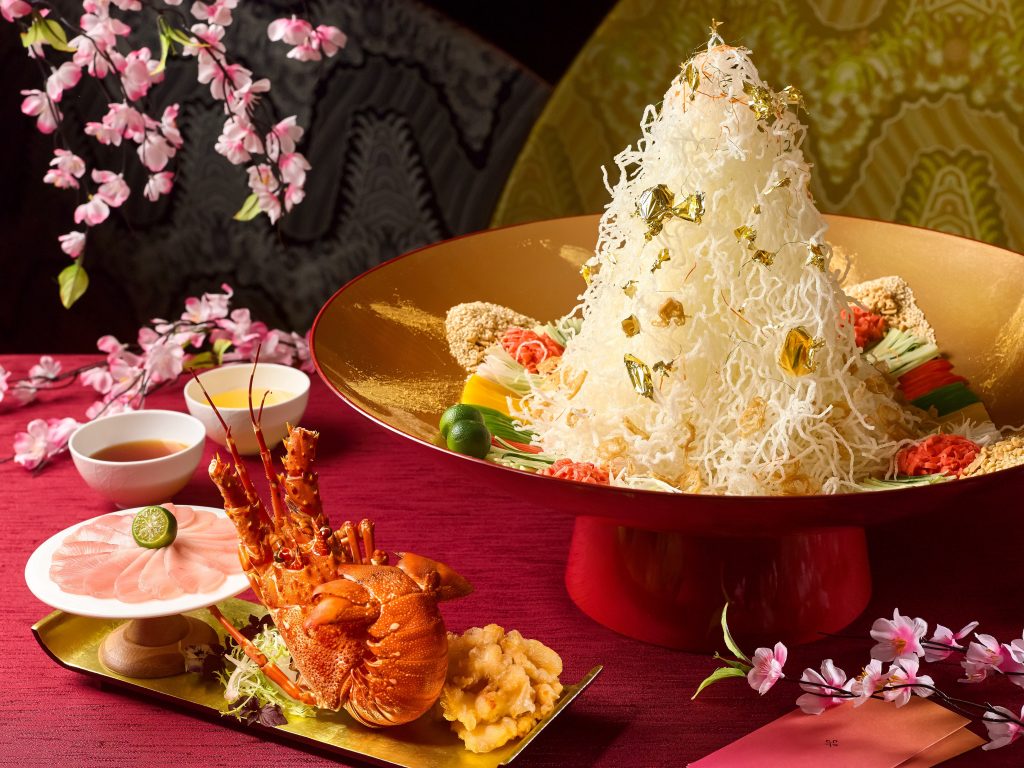 Toss your way to a great year of the rooster with Yàn's unique Signature Yellowtail Fish Yu Sheng with Golden Flake in Shun De Style. Instead of fresh vegetables, the base is a tower of fried crispy vermicelli that is topped with ginger, spring onion, capsicums, grounded peanut and fresh slices of yellow tail, and is completed with golden flakes for a prosperous new year. As it's the year of the rooster, the restaurant has introduced two new dishes, Duet Style Roasted & Sze Chuan 'Bon Bon' Chicken that features a whole spring chicken cooked in two styles, and Double-boiled Chicken Soup with Black Garlic Sea Whelk. A total of eight Chinese New Year set menus (S$118+ to S$268++ per person) are available and for those who prefer takeaway options, Yàn's Harvest Pen Cai features 20 ingredients in a treasure pot that include 4-head abalone, sea cucumber, sliced sea perch fillet and whole conpoy.
Available from 9 January to 11 February. Email [email protected] for reservations. Click here for more information. 
 Yan Ting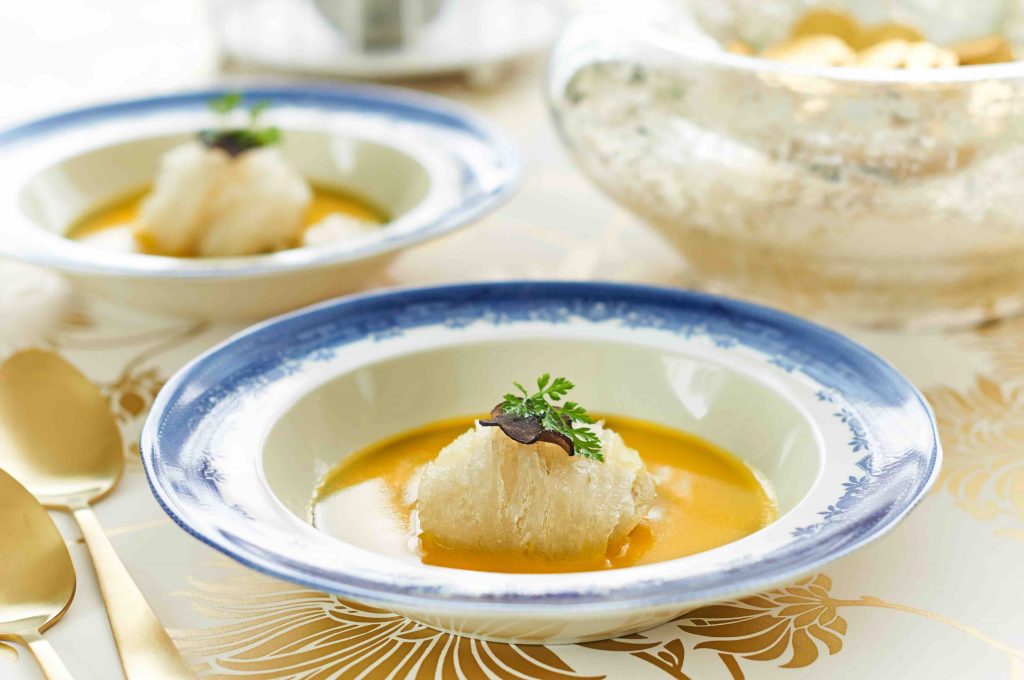 For a luxurious reunion dinner, head to Yan Ting at The St. Regis Singapore where festive CNY menus range from S$118++ per person (minimum two pax) to S$3888++ per table of 10. Highlights include kid-friendly dishes such as Braised Ee-Fu Noodles with Boston Lobster in XO Sauce, Oven-baked Sea Perch Fillet with Miso and the very nutritious Braised Superior Bird's Nest in Golden Sauce. An eight-course vegetarian menu priced at S$108++ per person is also available.
For reservations, please call +65 6506 6887 or email [email protected]. Click here for more information.