Mooncakes, lanterns and dragon dances — the Mid-Autumn festival is soon to be upon us again! Celebrate the festivities with your little ones and teach them the myths and legends of Chinese culture by visiting one of these five family-friendly places.
Mid-Autumn @ Gardens By The Bay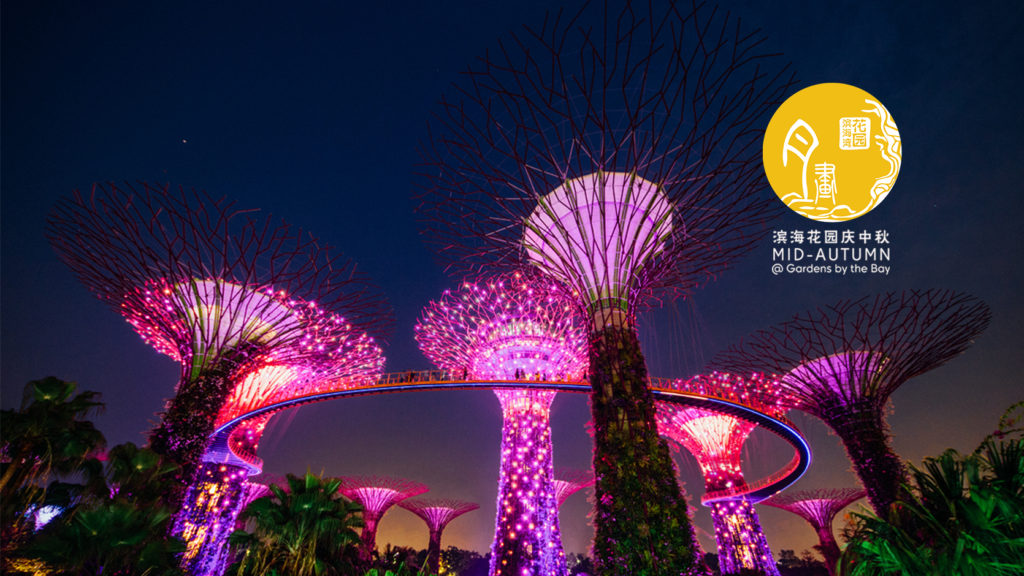 From 3 to 18 September, Gardens By The Bay will be lit up every evening with a dazzling display of elaborately handcrafted lantern sets. Highlights include:
Giant Lantern Display
Ever seen a 27 metre lantern? See well-loved traditional Chinese tales such as Chang Er and The Ten Suns brought to life through wonderfully enormous giant lantern sets!
Storytelling 
Brought to you by The Theatre Practice and the National Library Board, these storytelling sessions expose the little ones to the myths and legends of the moon, such as the lady who lives in a palace on the moon and why there are mysterious silhouettes on the moon's surface.
Food Street 
As with many festivals in Singapore, visitors can indulge in a hearty spread of Asian delights, including salted egg fries and chilli crab mantous.
For more information, please visit Gardens By The Bay's website here.
Chinese Gardens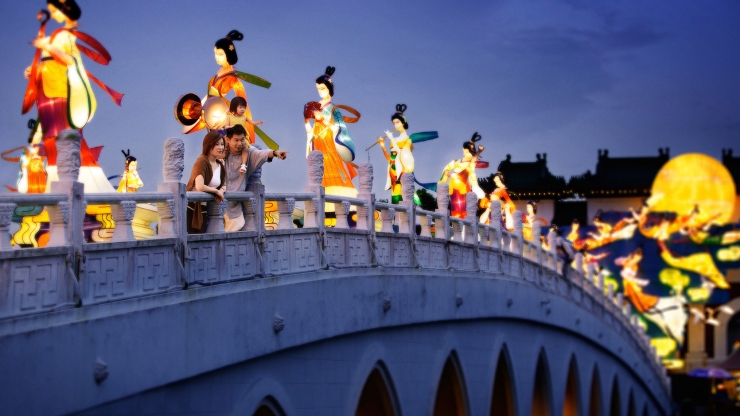 The Chinese Gardens is a place many of us frequented when we were children, and it is often associated with mooncakes and the Mid-Autumn Festival. Expect a complete transformation of the normally tranquil garden, and give the minis a taste of your childhood!
Moonfest at Esplanade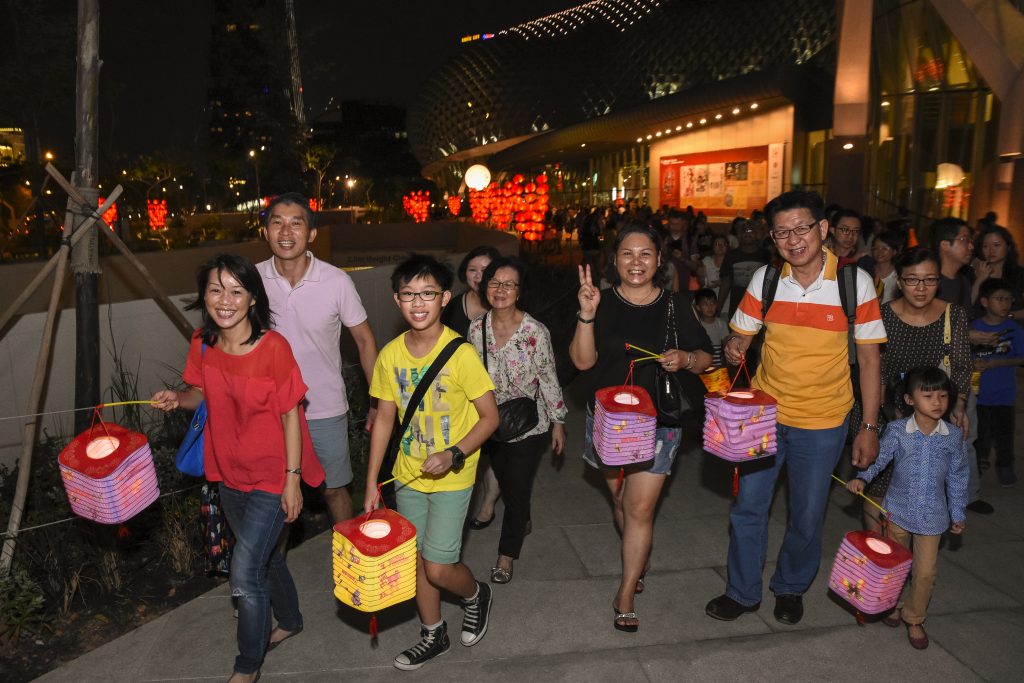 This Mid-Autumn festival, educate the little ones (and maybe have a refresher course for yourself) through a variety of traditional and folk Chinese programmes at Esplanade's Moonfest. Highlights include:
The Magic Lantern
A children's theatre production featuring exquisite rod and hand puppetry, performed in Mandarin with English subtitles (the perfect opportunity to brush up your Mandarin!).
Lantern Making Workshop
What is a Mid-Autumn festival without a lantern making workshop? Aimed at children aged five and over, the workshop will teach them traditional Chinese ink painting methods and stencils to make traditional translucent paper lanterns. If you'd like to try your hand at making a lantern yourself, read our story on how to DIY a lantern here.
Lantern Walkabout 
Take a leisurely stroll along the Esplanade Waterfront with the minis and their lanterns. A Dragon Dance by the Hong Jie Association will add to the festive mood!
For more information, please visit the Esplanade's Moonfest website here.
Chinatown

One must-go place during the Mid-Autumn Festival is Chinatown. With a whole month's worth of festivities planned, visitors are in for a treat! Starting from 28 August, highlights include:
Festive Bazaar and Carnival 
Get your wallet ready to visit the Festive Bazaar and Carnival, where visitors can enjoy festive goodies such as mooncakes, pomelos and tea at the over 300 festival stalls slated to be open.
Mass Lantern Walk 
Soak in the festive atmosphere with the annual Mass Lantern Walk, which starts from Kreta Ayer Square and goes all the way to Lucky Chinatown. Take your time to enjoy the dazzling displays and impressive acts of dragon dance troupes and cheerleaders, and don't forget to stay till the end for the amazing pyrotechnics display!
Street Light-Up
Don't miss this year's flower themed decorations along New Bridge Road, Eu Tong Sen Street, South Bridge Road and the inner streets of Chinatown!
For more information, please visit Chinatown's website here.
Wan Qing Weekend at Sun Yat Sen Nanyang Memorial Hall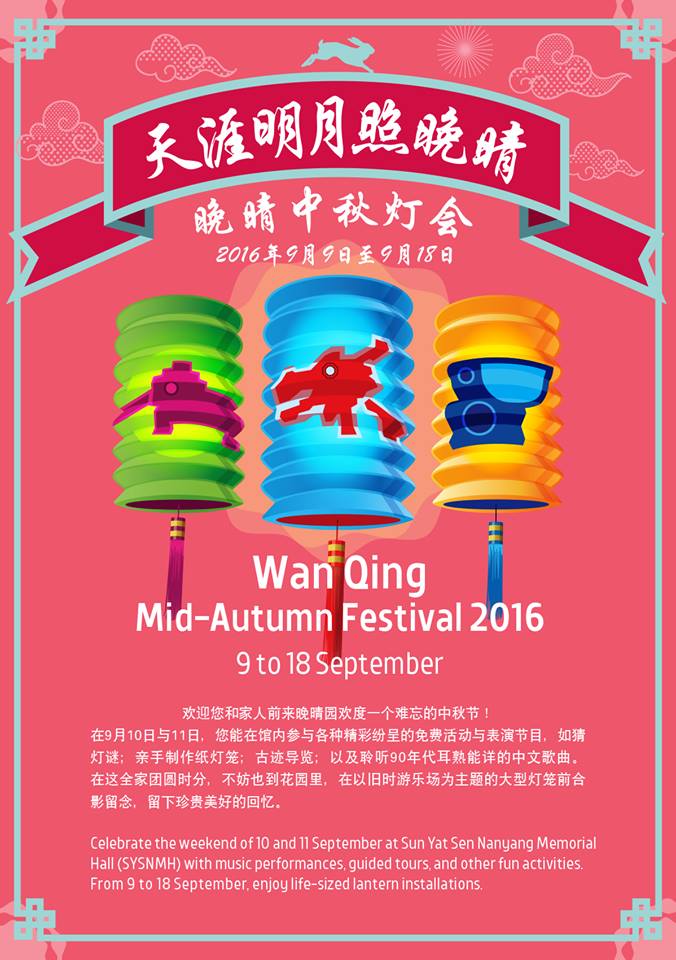 Look forward to a family-friendly weekend from 10 to 11 September with larger than life lanterns handmade by traditional craftsmen! Held at the historical Sun Yat Sen Nanyang Memorial Hall, families can enjoy guided tours on the monument's history, as well as storytelling sessions of popular Mid-Autumn tours, lantern making workshops and more!
For more information, please visit Sun Yat Sen's website here.