Get in some serious play and quality time with the kids
Its gonna be a long weekend and there are tons to do with the kids over Chinese New Year.
Get in some serious play and quality time with the kids. Bond over a scavenger hunt, adventure on a treetop walk, scale to new heights at Airzone or spend an entire day (or two) at Sentosa among the many exciting things to do right here in Singapore.
Here's a great list to keep handy as the festivities roll around.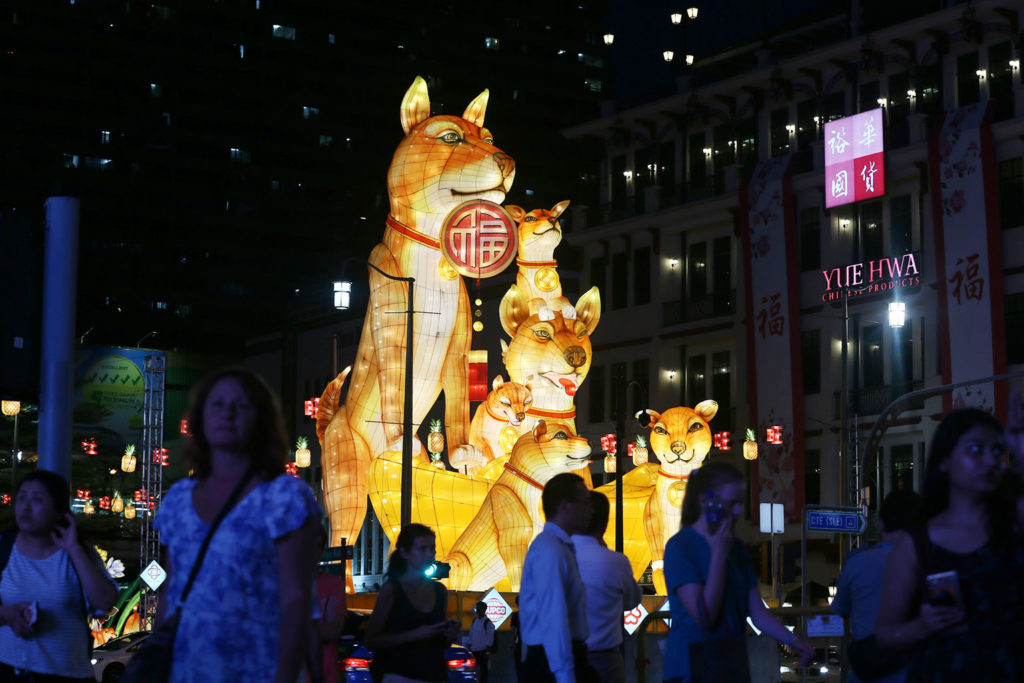 Immerse yourself in the Spirit of the Lunar New Year in Chinatown. The heart of Singapore's CNY festivities. Catch the Chinatown Street Light-Up or join in the Countdown Party. There's plenty to do at the Festive Street Bazaar and the Night Show. Snap some beautiful moments of the brightly lit Year of the Dog decorations that line the streets of Chinatown.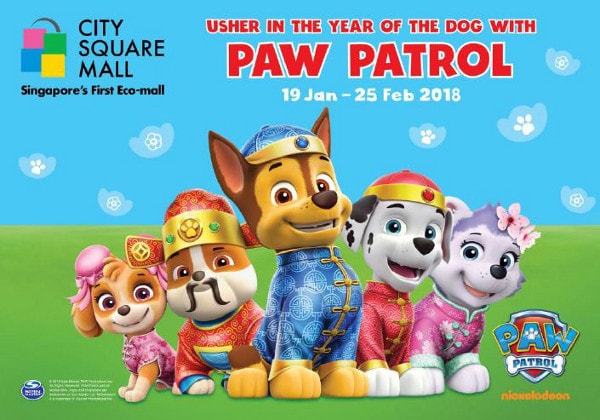 A shopping haven for mums needing to drop the kids off at an indoor playground and do a round of quick shopping – this eco-mall has so much to offer this CNY. Nevermind that it houses Decathalon, Toys R Us and great food.
The kids will have a blast at Airzone – the attraction boasts four levels of activities. Fall and bounce around on the net or lay down and experience the mall from a different perspective. Go an adventure navigating an obstacle course of small paths and slopes in the Maze or dive into the suspended ball pit.
Get into the festive mood and usher in the new year with Paw Patrol. There will be a variety of outdoor carnival rides, such as a dog-themed inflatable, pirate ship, carousel and more, families will be spoilt for choice! There is also an 'All-Star Pups Photo Station' for families to snap a photo with five life-sized PAW Patrol pups dressed in New Year costumes.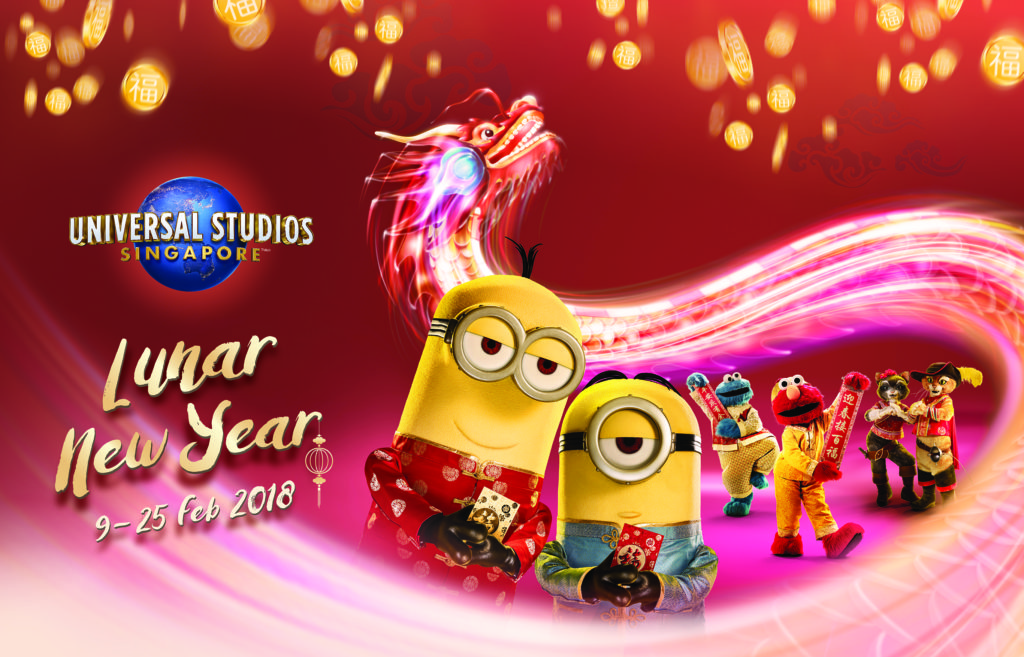 Spend the day at Universal and watch the Majestic Dragon Trail, a reimagined spectacle based on the traditional dragon dance. Guests can join in the pulsating beats of the drums as the auspicious dragon makes it way around the park, interacting with favourite characters such as the Minions, Sesame Street friends and Puss In Boots – all decked out in traditional Lunar New Year attire.
Catch Elmo the lovable red monster at Pantages Hollywood Theatre as he directs his own TV channel in this new resident show!
Step inside the super-adorable world of beloved pop icon Hello Kitty – at Hollywood China Arcade, revisit childhood memories with old school arcade machines, from racing games to classic claw crane machines.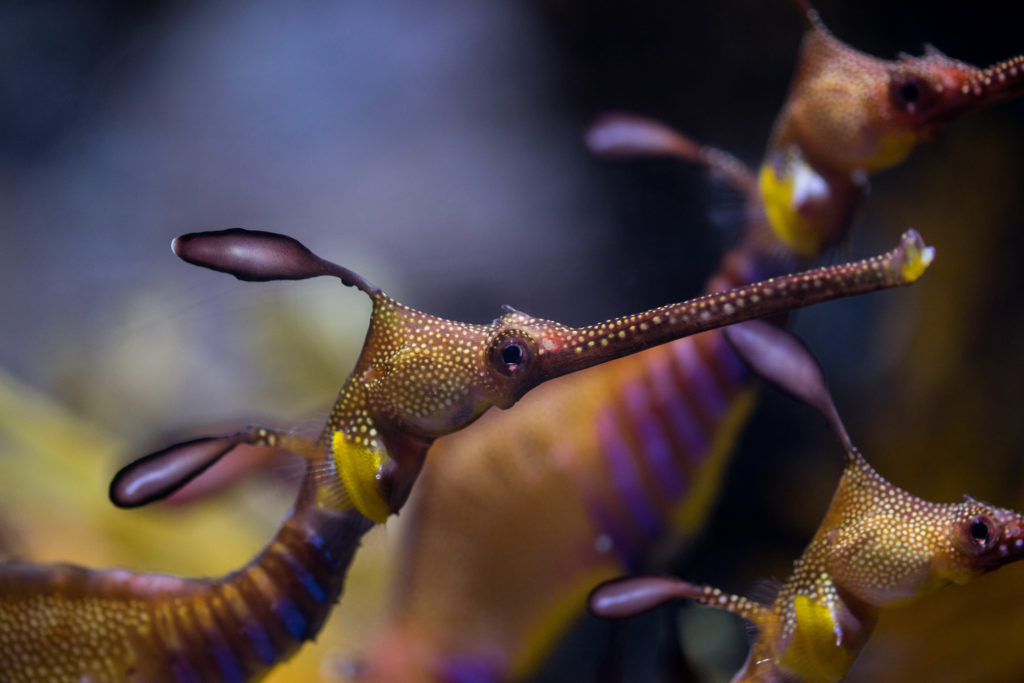 Catch Singapore's only underwater dragon dance at the iconic Open Ocean Habitat. Catch divers in festive costumes performing traditional dragon dances alongside 40,000 marine residents such as majestic manta rays and zebra sharks. Embark on a trail of discovery at six areas that will showcase popular Lunar New Year traditions and beliefs – uncover fun facts about marine life considered auspicious in Chinese culture.
Learn about one of the world's most misunderstood animals at the shark exhibition. Get an up-close look at the biology of a shark, its anatomy, discover the various fascinating species as well as the conservation efforts to protect these marine animals.
Kids can look forward to meeting the aquarium's adorable mascots – Mai the manta ray and Sam the hammerhead shark – all decked out in Chinese-inspired garb.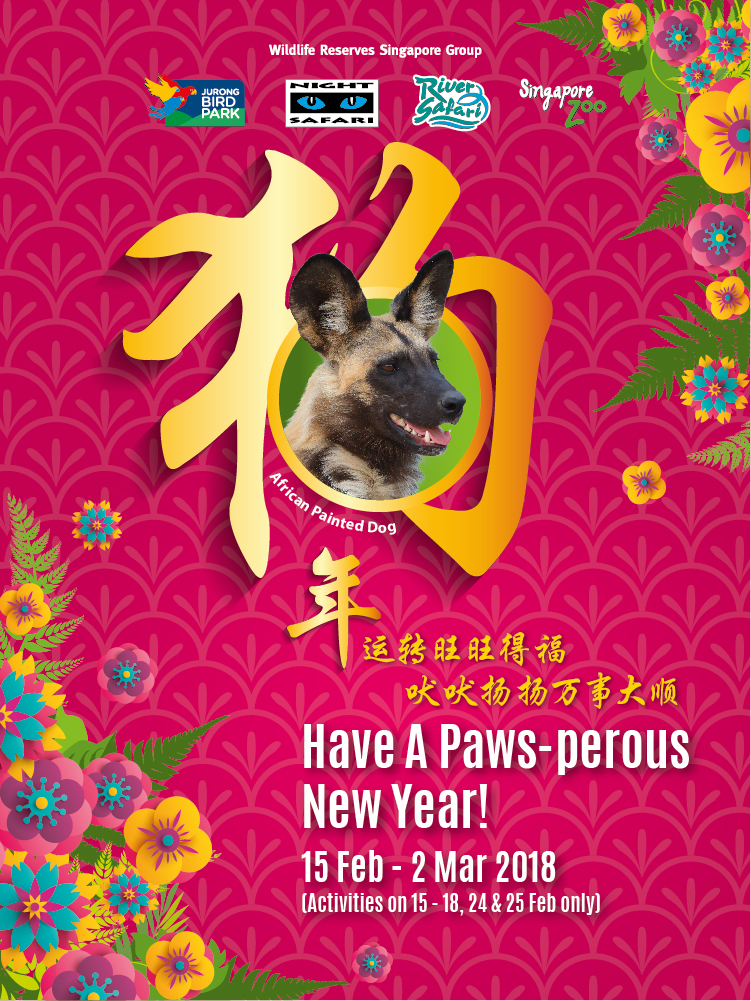 Catch the majestic lion dance, meet the auspicious mascots for luck and go on a Zoo-diac trail – be wowed by Baobao, the yellow-naped Amazon parrot, as she mimics a dog's bark. And say 'Hello' to her friend, Amigo, as he wishes everyone 'Gong Xi Fa Cai' at the Jurong Birdpark. Catch the New Year, New Animal Friends Show and Woof Booth and join in the Dog Radical Challenge at the zoo.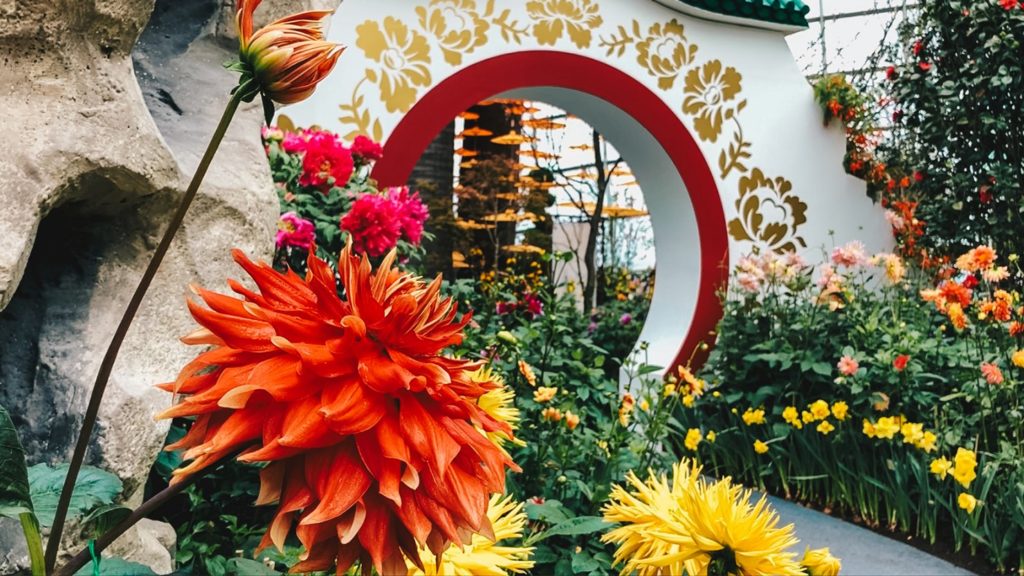 Try your hands at making your own handicrafts to welcome Spring into your home at the Flower Dome and if you're lucky, you might just bump into the God of Fortune. Don't miss "Dahlia Dreams" floral display, featuring a delightful array of dahlias blooming amidst the oriental setting of a Chinese courtyard garden.
Head to the Supertree Grove and catch a Lion Dance performance or enjoy a refreshing morning yoga session with your furry-pawed doggie buddy. Later in the evening; sit back, relax and enjoy A Dog's Purpose at the Gardens' lush lawn.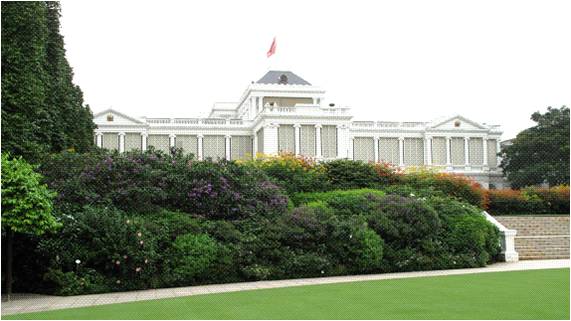 Sign up for the Nature Guided Walk during the Istana Chinese New Year Open House on 17 February. This guided walk is a collaboration between the President's Office and the National Parks Board (NParks), which will showcase the Istana's flora, fauna and biodiversity.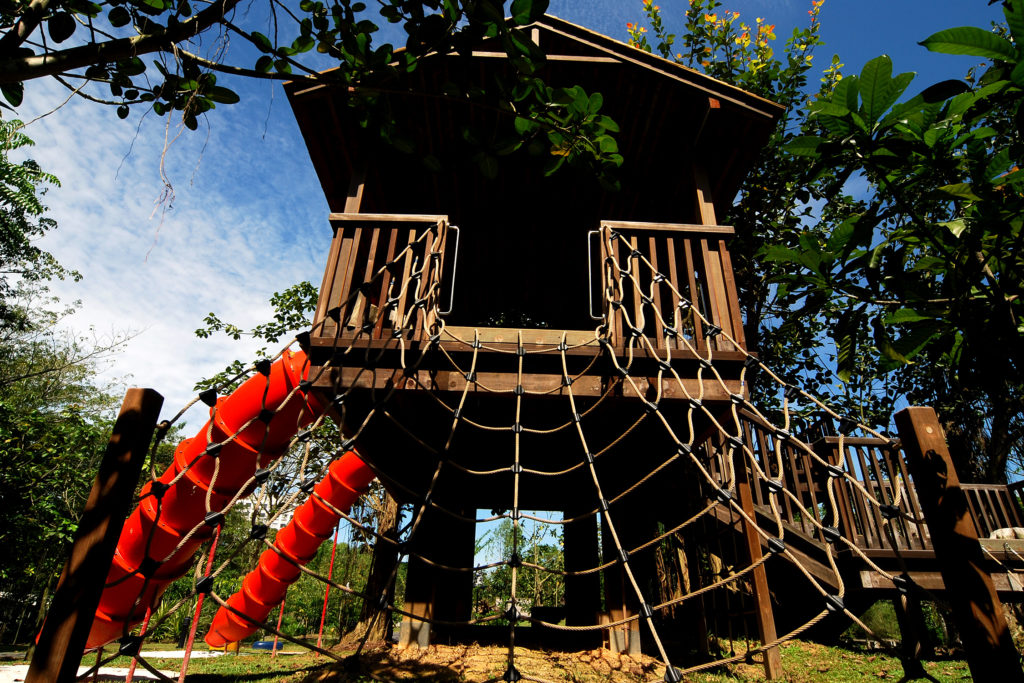 Jacob Ballas Children's Garden – Located within the Singapore Botanic Gardens, Jacob Ballas Children's Garden is Asia's first children's garden, and is dedicated to all the children in Singapore. Children love crossing the swaying suspension bridge, climbing up to the tree house, exploring the Melting Maze, and playing with water at the water play area.
Pasir Ris Park – One of the largest playgrounds in Singapore, Pasir Ris Park offers a rich variety of play equipment suited for a wide range of ages. Highlights at this playground include suspension bridges, rope pyramids, and flying fox installations. Set amidst lush greenery, the myriad of play structures promises many hours of play and exploration for your child.
Tiong Bahru Park –  Do toy trains evoke a sense of play and adventure in your kids? Take them to Tiong Bahru Park, where they can play in a life-sized train! Your children can climb on board the train and make their way through the tilted carriages. There are slides leading out of the train too. Other attractions at this playground include a merry-go-round and flying fox.
Other super fun activities you can do this weekend:
Longkang fishing, visit a nearby island, pitch a tent at home and have a movie night, go for a picnic, fly a kite, head to a water park, have a bake-off, go shopping, spend the day at the beach, go on a boat, SLEEP, walk a heritage trail, bring your doggy to a dog run… the list is endless.
Most importantly, enjoy yourself – let go of all your stresses and be present 100%, your kids may not remember all the details but there will be many unforgettable moments.
Have a great Chinese New Year
Damelza Harris-Olsen is your multi-tasking, on-the-go mum to two active little boys. When not stuck on writing, you'll find her on adventures with her husband and sons, on a photoshoot somewhere painting faces or on a home (re)decorating binge.