Double trouble – it's the perfect phrase to describe the feisty Lee twins who have won the hearts of viewers on The Return of Superman. Appearing on the show together with their father, soccer player Lee Dong Wook, their older sisters (who also happen to be twins) Jae Si and Jae Ah, as well as their little brother, Shi Ahn, who is usually addressed by his nickname, Daebak.
On every episode of the show, we see Seol Ah and Soo Ah get up to lots of mischief, but more importantly they show their unbreakable bond and love for their family as they spend quality time with their dad.
For those who are unfamiliar, Seol Ah is the older of the two. At first glance, they look very similar but one easy way to tell them apart is by their hair. Seol Ah's hair falls straight, while younger sister Soo Ah has curly, sometimes unruly hair, hence it is usually tied up.
Of course that is unless Soo Ah has been to a salon, where her unruly locks are tamed. Doesn't she look rather different with and without curls?
Mostly left alone together with their brother in the care of their father on The Return of Superman (fathers are tasked to spend 48 hours with their children while their wives get to take a break from child rearing), they are quite the mischief makers, especially when out of the watchful eyes of their father when they were smaller.
Last year, while decorating a cake for their father's birthday, the playful duo end up decorating their chairs and table instead.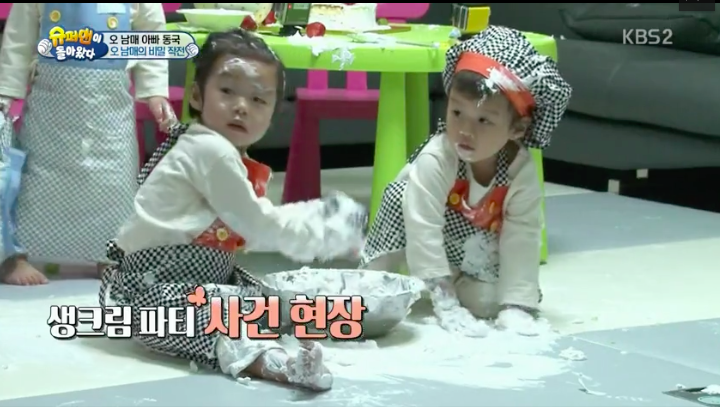 Their mischievous streak was obvious from the start. Even as their father was trying to introduce them to the audience when they first joined the TV programme, the little ones managed to run away halfway through the introduction. And when they come back, they have cotton buds stuffed up their nose.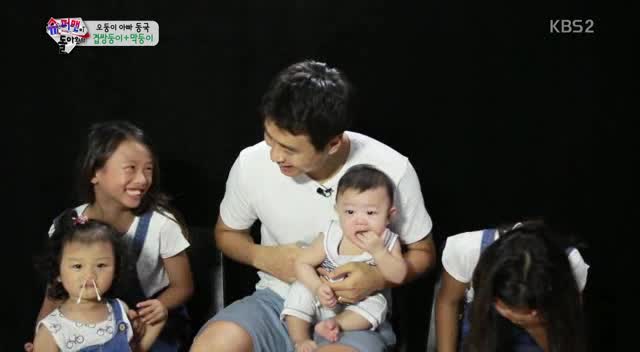 It's not only when they are alone with dad do they get in trouble. Mum's lipsticks are not spared when it comes to their quest to have fun.
The pair are affectionately known as the beagle sisters, so named after their fearless spirit and eagerness to try all things new to them. jumping off from high heights isn't a problem for these two.
That said, like any young girls, they do get scared once in a while, such as when watching scary movies. Luckily they have one another to seek comfort from in times like this.
The sisters are known for their voracious appetites, always heartily wolfing down their food.
Don't you think that they are the perfect candidates for hosting a mukbang (food broadcasting show)?
With twinning styles being popular in South Korea, it's no surprise to see that the beagle sisters have their fair share of matching outfits.
They are totally comfortable in front of the camera. Just look at the numerous poses that they can come up with from cute and sassy, to ones that are full of swag.
They seem to always be camera ready, with the ability to turn out their smiles at anytime.
Just look at how expertly they wield a selfie stick.
They also know the key to keeping their skin looking good and have started their sunscreen regime from a young age.
The beagle sisters are quite the dancers too. It's hard for us to judge who's the better dancer, but they sure know how to shake to the beat.
Though the beagle sisters have one another for company, they never leave their younger brother out and have an overwhelming amount of affection for little Shi Ahn, sometimes bombarding him with "Who do you like better" questions. Their little brother is a smart one though, and often alternates between the two when giving his answer.
Being the daughters of a famous soccer star comes with its perks. Like hanging out with the top stars in South Korea's entertainment industry. One frequent visitor to their home is actor Lee Dong Wook who acted in last year's hit drama, Goblin.
We're sure that many ladies out there would love to have the opportunity to sit on the lap of Lee Dong Wook, hold his hand and be hugged by him.
They are also chums with K-pop star Minho from Shinee, and were given an exclusive tour of one of Korean's top entertainment companies, SM Entertainment, where they got to show off their singing and dancing skills.
This pair of sisters sure have a bright future ahead. And no matter what they do in the future, we're sure they will succeed, especially they'll always have one another's support.
For now, we're content to just watch their silly and adorable antics on the show.
Click here for more Trendy Tots.