One of the biggest milestones of a woman's life is having a child, and a pregnancy provides the perfect excuse to make a huge hoo-ha about what could be the most exciting time of your life. Some couples would want to share their joy with the world, and those on this list have some of the sweetest, most creative ways we've seen so far.
This is Mummyfique's list of Top 10 Celebrity Pregnancy Reveals, the ones that caught our eyes and captured our hearts:
Blake Lively
Before baby James graced the world with her birth, Blake Lively announced her pregnancy by keeping true to her style – understated and classy. She showed off her baby bump on a Tumblr-esque photo taken by her brother, Eric, on her website, accompanied by a family-themed post.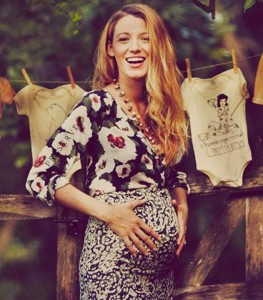 What we love:
The post on families and the creation of families, topped off with the gorgeous photo of Blake taken by her brother – a look of love and wonder on her face, cradling her belly. There's just something so real and relatable for us, that her brother took the photo instead of a professional photographer. Blake Lively is one of those women who have everything, but it's great to know that when it comes to motherhood, all women feel the same.
Doutzen Kroes
Announcing her pregnancy with a tasteful nude shot, Doutzen's pregnancy announcement is the only nude one on the list so far. She posted the photo on Instagram with the caption This is not a #throwbackthursday this is now! So happy to share with you that we are expecting.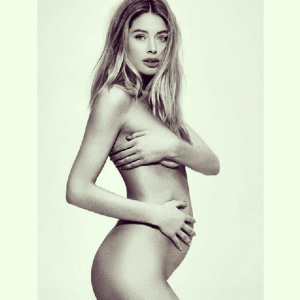 What we love:
Instead of believing in someone else's cookie cutter thoughts on how a model should be, Doutzen rather be fit and healthy than sample size thin. In the photo, she looks healthy and happy, and her confidence shines through the photo – an inspiration and role-model for mums-to-be all over.
3. Gwen Stefani
When she found out she was having another boy, Gwen Stefani posted a picture of her wearing a crown on Instagram, with the caption I was ready to hand over the crown. But I guess I am still queen of the house. #itsaboy #surroundedbyboys .
What we love:
Gwen looked stunning, with her platinum hair, alabaster skin and white tee blending into the white background. The only pops of colour were from her shirt, oversized crown, eyeliner and lippie. She definitely looked like the reigning queen of the house, as all mums are.
4. Sonya Davison
Currently based in Singapore, the mother-to-be of twins announced her pregnancy through a homemade stop-action video. A Christmas themed video, Sonya presented her baby bump as a present, with not one but TWO ribbons tied around her belly.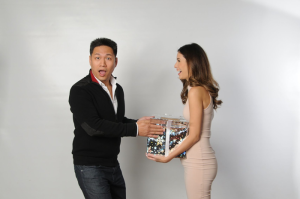 What we love:
This unique, creative idea provides a fresh breath of air. In line with its Christmas theme, the idea of expanding the family with not one but two babies, can be linked to what Christmas is about – giving, and family.
5. Anne Hathaway
While others plan, prep, and try pose after pose for their pregnancy announcements, Anne Hathaway went the unconventional way for hers. She noticed she was being photographed, so Anne used simple photo of her in a bikini on the beach, baby bump on show, and posted the photo before the paparazzi could run loose with it.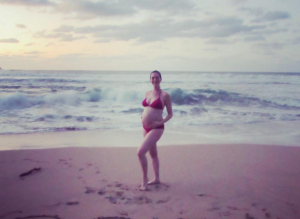 What we love:
Some might say it's not befitting of a celebrity, but we beg to differ. The raw, unplanned, unedited (except for the Instagram filter) feel it gives, is something mums-to-be can relate to. Anne just looks like any other (hot) mother-to-be on the beach.
6. Eva Chen
Back in 2014, Instagram's current Head of Fashion Partnerships' Eva Chen announced her pregnancy with her signature #evachenpose in the back of a cab, complete with matching baby New Balances and Chanel bags.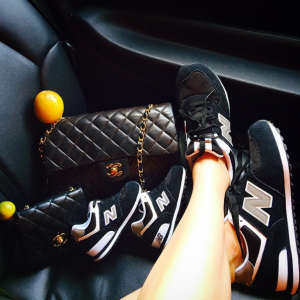 What we love:
A great way to show off your sense of style and announce the arrival of your bub, if you're feeling camera shy. Even better if you have a signature pose, like Eva! She showcases the perfect blend of street and classy, we're sure this lil' one is going to grow up with awesome taste.
7. Kelly Rowland
Taking parents and babies shoes next to each other seem to be a trend as of late, and Kelly Rowland hopped onto that train, with baby Jordans next to husband Tim Witherspoon's adult sized Jordans.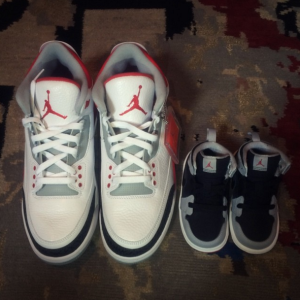 What we love: it reminds us of just how small and fragile babies are, with the baby shoes being only about a third of Tim's kicks. Despite being so small and fragile, they are born capable of unconditional love for their parents, now doesn't that tug on your heartstrings.
8. Fergie
Back in 2013, Fergie and Josh Duhamel announced they were expecting on Instagram, with a photo of Fergie and Josh as toddlers Photoshopped together and the caption Josh & Me & BABY makes three!!! #mylovelybabybump.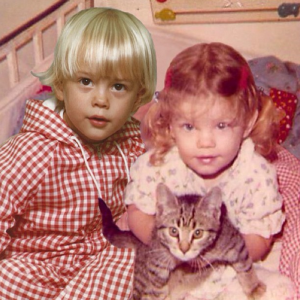 What we love:
Bring on the nostalgia, especially for the couple's parents! This fun way provides an opportunity to see whom the baby looks like, and, hey, when their child is all grown up, he won't have to look far to see if he looks like Mum or Dad.
9. Carrie Underwood
To Carrie Underwood, her dogs are like her children. Thus, not to leave her "kids" out, she included them in her pregnancy announcement. Both Ace and Penny wore doggy tees with "I'm going to be a BIG BROTHER" and "I'm going to be a BIG SISTER" written on the backs.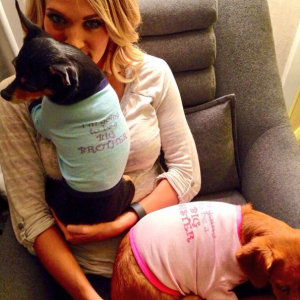 What we love:
Carrie let her pups reveal the news. Known as her first "children", its nice to know that Carrie wouldn't be neglecting her pups when her bub is here. A sure hit with all the dog lovers out there!
10. Jessica Simpson
To announce her first pregnancy, Jessica Simpson used Halloween as an excuse to dress up as a mummy. Get it? She dressed up as an Egyptian mummy to let her followers know she was going to be a mummy. Given that she wasn't really showing then, who would've thought of that!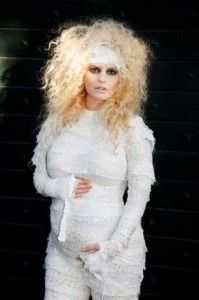 What we love:
Combining the only time of the year where it's appropriate for adults to play dress up with such a joyous announcement, makes for a day you'd never forget.
11. Olivia Wilde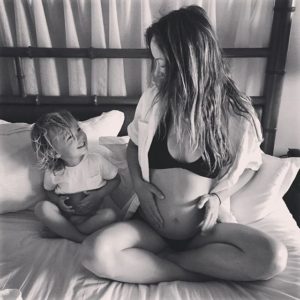 Olivia announced her pregnancy with the cutest photo of her and son Otis showing off their "matching baby bumps". The hot mama-to-be totally tugged on our heart strings with that one!