This Ramadan, we've included some recipe inspiration for breaking your fast, with quick recipe ideas and classic Malay dishes.
With the smoothies, these are ideal for ending fasts or as breakfast ideas. Meanwhile, the other recipes are popular Malay dishes eaten around the region. Recreate these dishes at home with the recipes below. 
20 dates, stoned
500ml milk
1 cup ice cubes
Place the dates and milk in a blender or food processor and blend until smooth.

Add the ice cubes and blend again.

Pour into glasses and serve.
Mixed Berries and Banana Smoothie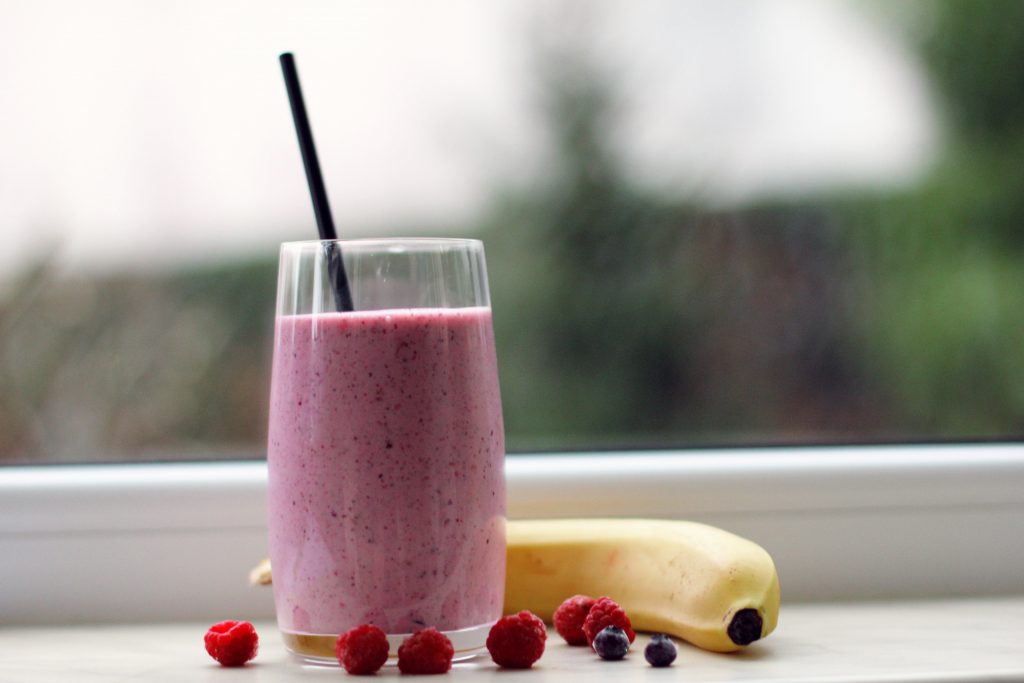 1 cup frozen mixed berries
1 frozen ripe banana
1/2 cup each of vanilla yoghurt and orange juice
1 tablespoon honey
Combine all ingredients together in a blender and puree until smooth. Recipe serves one.
1 large sliced avocado
1 1/4 cup cold skimmed milk (other options include fresh or low fat milk)
1/2 cup ice
2 – 3 tablespoons honey
Add all ingredients into a blender until smooth. Serve in two tall glasses. Recipe serves three.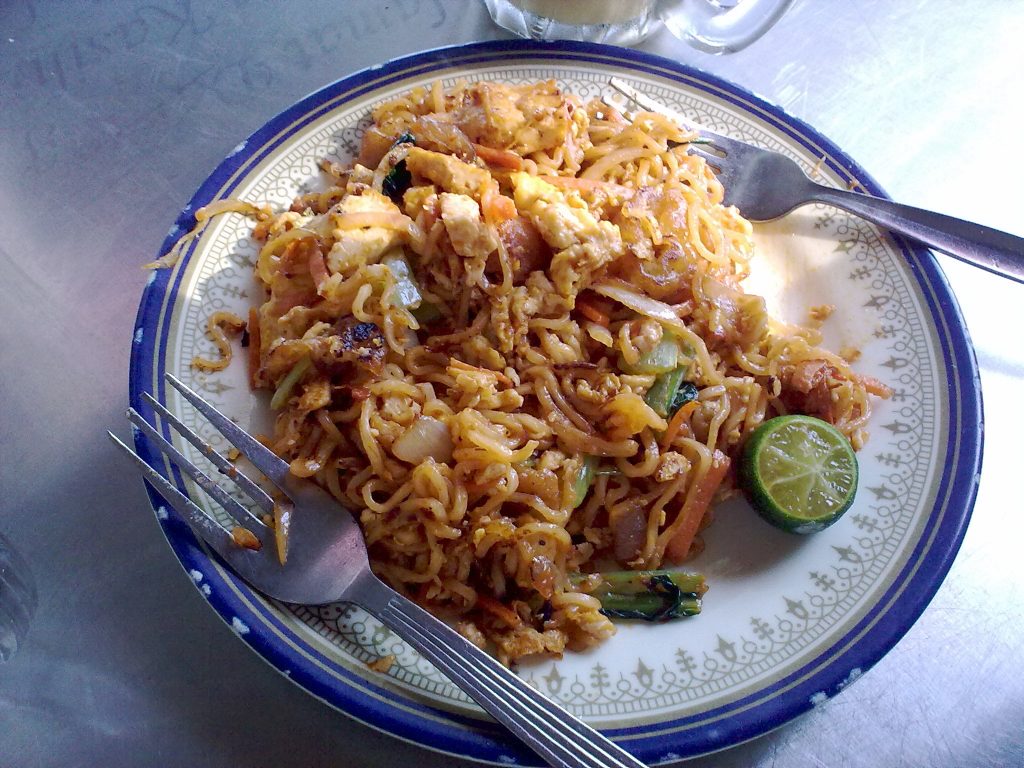 1 curry flavoured Maggi noodles
1/4 cup fried tofu
1/2 tablespoon dark soy sauce 
1/2 onion, minced
1 cup green leafy vegetables, e.g., bok choy
1 egg
1/2 packet of the Maggi curry seasoning
Bring water to a boil and add in the packet of Maggi noodles.

Cook noodles until soft, then drain the water and set aside.

Heat oil in a wok and fry the onions till they're golden brown.

Next, add the tofu and vegetables and stir-fry until the vegetables soften.

Following this, stir in the cooked noodles, Maggi seasoning and dark soya sauce

Finally mix well with a spatula and stir continuously for a few minutes before serving.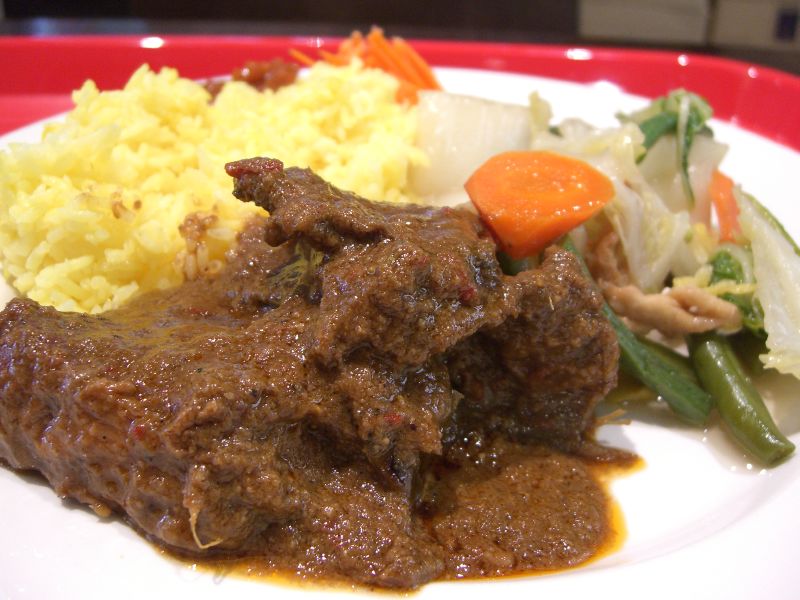 0.7kg boneless beef short ribs, cubed
5 tablespoons cooking oil
1 stick cinnamon, 5cm long
3 cloves, star anise and cardamom pods each
1 lemongrass, 10cm long and pounded
1 cup thick coconut milk and equal amount of water
2 teaspoons tamarind pulp, soaked in warm water for the juice. Discard the seeds.
6 kaffir lime leaves, sliced very finely
6 tablespoons kerisik or toasted coconut
1 tablespoon sugar or palm sugar to taste
Salt, to taste
5 shallots
2.5 cm galangal and ginger each
3 lemongrass (use the white part only)
5 cloves garlic
10-12 dried chillies, soaked in warm water, seeded. 
First, chop the spice paste ingredients. Next, blend these in a food processor until fine.

After this, heat the oil in a stew pot. Add the spice paste, cinnamon, cloves, star anise and cardamom and stir-fry until aromatic.

Now, add in the beef and lemongrass and stir for one minute.

Next, put in the coconut milk, tamarind juice and water. Simmer on medium heat, then stir frequently until the meat is almost cooked.

Following this, add in the kaffir lime leaves, kerisik, sugar, and stir to blend well with the meat.

Lower the heat to low, then cover, and simmer for one to 1 1/2 hours or until the meat is tender and the gravy has been absorbed.

Next, add more salt and sugar to taste, then serve with steamed rice and save some overnight.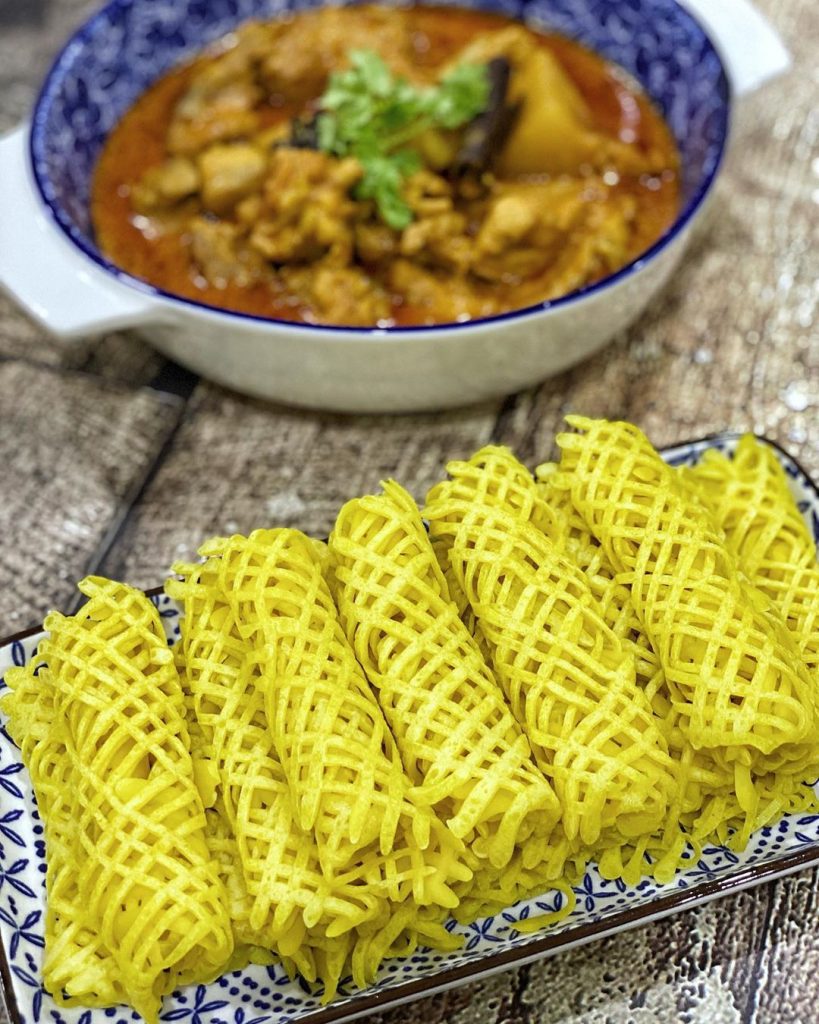 150g or 1 cup all-purpose flour
1/4 teaspoon of ground turmeric and salt each
1 egg, beaten
3/4 cup coconut milk and 3/4 cup or 180 ml water, mixed together
Vegetable oil to grease the pan
Sift both the flour and ground turmeric into a large bowl. Next, add salt, and stir in beaten egg and coconut milk until a smooth batter forms.
Strain the batter to remove any lumps.
In a non-stick pan on medium heat, brush a little oil. Start pouring a little batter into the roti jala cup (or a squeeze bottle punctured with holes).
Next, move the cup in a circular motion around the pan to form a lacy pattern, then cook until set, which should be around two minutes.
Afterwards, slide the crepe out of the pan onto a plate and then repeat steps three and four till all batter is used up.
Once cool, stack two crepes, fold in the sides and then roll to form a parcel/package.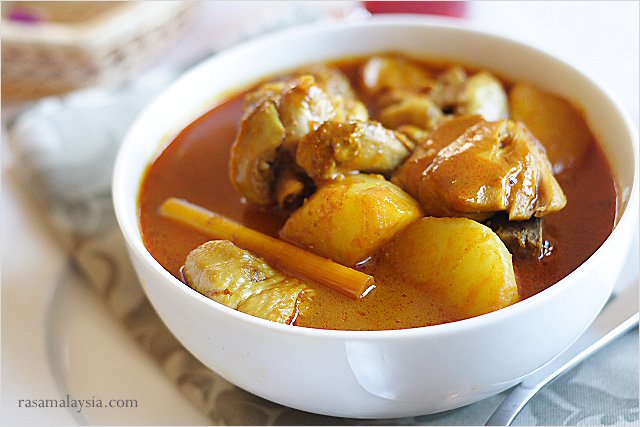 2 tablespoons of oil
1/2 onion, diced
28g curry powder for meat
680g chicken chopped into pieces
3 cups water
1 big tomato, cut into wedges
2 small potatoes, peeled and cut into wedges
4 hard-boiled eggs
1/2 cup coconut milk or 3/4 cup milk
Salt to taste
Heat up the oil in a big pot. Next, add the onions and stir-fry until aromatic, then add in the curry powder.

Stir until you smell the aroma, then add the chicken, and stir to combine well for a minute.

After this, add the water into the pot and bring it to a boil.

Next, lower the heat and add the tomatoes, potatoes and eggs.

Once done, cover the pot and let it simmer for around 30 to 45 minutes, or until chicken is tender.

Now, add the coconut milk and salt to taste, then simmer for another five minutes or so.

Finally, dish out and serve with steamed rice or the above roti jala.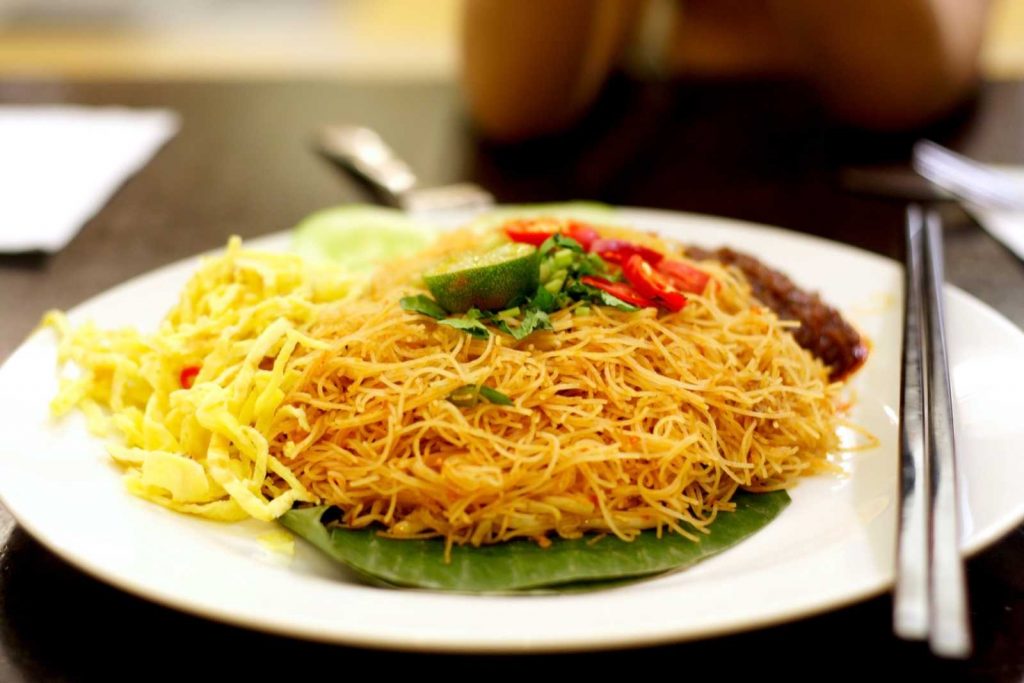 40 dried chillies, seeded, soaked in hot water for 10 minutes then drained
3 large onions, peeled and sliced
12 cloves of garlic, peeled
1 portion of the above spice paste
1 packet of rice vermicelli. These should be soaked in warm water for 20-30 minutes and then drained.
2 tablespoons fermented or salted soybeans, washed well to get rid of excess salt, then drained
300g fresh shrimps, peeled and deveined
2 cups of bean sprouts
Salt to taste
1 portion of the spice paste
3 tablespoons fermented or salted soybeans. As above, wash well to get rid of excess salt, then drain. 
1 stalk of lemongrass, bruised
1/2 inch of galangal, peeled and bruised
2/3 cup of roasted peanuts, where the skin is removed and grounded until semi-fine. 
50g of tamarind paste mixed with 1.5 litres of water
1/3 to 1/2 cup of sugar, according to your personal preference
Salt to taste
8 hard-boiled eggs
Puffed tofu squares, cut into cubes
Chinese chives, washed and cut about 1.5cm long
8 calamansi limes. Halve these crosswise and then discard the seeds. 
First blend all the ingredients for the spice paste together, then divide it into two portions. 

Next, cook the vermicelli. Start by heating a few tablespoons of cooking oil in a pan or wok. 

Fry the spice paste until fragrant for about 10 minutes. 

Now, add in the fresh shrimps and salted soybeans, and stir well. 

Next, add in the rice vermicelli and cook till the noodles are soft. 

Throw in the bean sprouts, then season with salt and continue cooking for two more minutes, before turning off the fire. 

For the gravy, heat a few tablespoons of cooking oil in a pot, and fry the spice paste, lemongrass and galangal until it's fragrant. This process will take about 10 minutes. 

After adding the salted soybeans, cook for another two minutes. 

Next, add in the tamarind juice, and then season with salt and sugar. 

Bring to a boil and then add the grounded peanuts. Next, let it simmer for about two to three minutes on low heat and then turn off the flame. 

Place a serving of rice vermicelli each in a bowl. Next, add some gravy over the vermicelli, then garnish with a hard-boiled egg, beancurd, chives and squeeze the lime half over the mee siam.
1 shallot, 1 clove of garlic and 1 red chilli, seeded
1/2 teaspoon toasted belacan, palm sugar and kecap manis each
1 fried egg
2 tablespoons oil
1 cup of overnight rice
First, break up the overnight rice with the back of a spoon.

Next, toast the belacan on low heat in a wok until it becomes dry and aromatic.

Fry an egg till well done and then set aside.

Using a mortar and pestle or mini food processor, blend the shallot, garlic, red chilli and toasted belacan. If using the Beaba Babycook, make sure to wash well after so that the smell doesn't linger. You may also consider descaling it.

Next, transfer the blended flavouring paste into a small saucer.

Now, heat up a wok and add oil. Afterwards, add the flavouring paste and stir-fry until fragrant or when you see the oil separating.

Next, add the rice into the work and stir well with the flavouring paste. Add the kecap manis and palm sugar into the rice, and continue to stir fry till they're well combined with the rice.

Dish out, top the nasi goreng with the fried egg and serve immediately. 
Spice Levels For Children
While toddlers aged two to three years old can start trying a range of spices, it's best to avoid giving them chilli until they're older, so leave out the chilli for their portions and modify the amounts of chilli to your taste preferences. 
To help with all the cooking, try the Béaba Babycook Starter Kit ($309), which blends, cooks food, steams and reheats all in one device. This can easily help blend up spices and ingredients for milkshakes and smoothies – just be sure to clean the Babycook thoroughly so no trace of the spices and its smells is left. In order to do this, mix equal parts water and white distilled vinegar or the Universal Descaler, and let the mixture sit in the reservoir overnight. Afterwards, rinse with fresh water and do a steam cycle to eliminate the vinegar taste. 
Recipes for smoothies, milkshake and mee siam from Maya Kitchenette, while nasi goreng, curry chicken and beef rendang recipes are from Rasa Malaysia. Next, the roti jala recipe is from RotinRice while the maggi goreng recipe is from New Malaysian Kitchen.
Relevant Reads: Baking with kids, and baby food cooking hacks.
This article was originally published on Motherswork.