When you're a busy mum, home-cooked meals are a luxury but with Dine Inn, a community-based website that allows you to enjoy home-made meals — whether it be dining at the home of one of Dine Inn's hosts, through delivery, self-collection, or a private chef session, all that is now an easy reality with just a click of a button.
That said, if you're feeling like rolling your sleeves up and getting into the kitchen yourself, here are two recipes from Dine Inn Host, 27-year-old mum-of-two Nur Khairunnisa, who shares her family's recipe for Chicken Rendang and Mutton Satay Goreng.
Chicken Rendang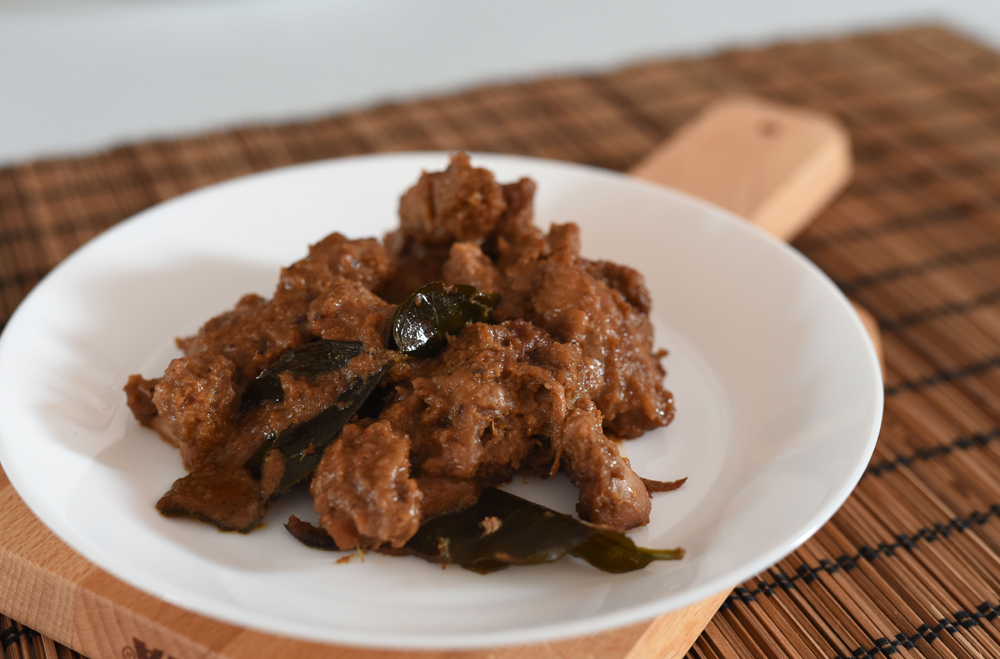 Ingredients

(A) To marinate
1 kg of chicken cut into 8 pieces
1/2 tablespoon of turmeric powder
Salt
(B) To blend together
6 tablespoons of dried chilli paste
7 pieces of shallots
5 cloves of garlic
1 piece of large onion
1 inch of ginger
5 stalks of lemongrass
2 pieces of candlenuts
1/2 inch of fresh turmeric
2 inches of galangal
Sufficient water to form a paste
(C) To cook
200ml of coconut milk
2 pieces of tamarind pulps
2 stalks of lemongrass, slightly bruised
5 pieces of kaffir lime leaves or 2 pieces of turmeric leaves, thinly sliced
2 tablespoons of kerisik (toasted and pounded coconut)
Salt to taste
Cooking oil
Directions
1. Marinate the chicken using seasonings in (A)
2. Blend ingredients (B) until smooth
3. Heat oil in wok and fry the chicken pieces until 3/4 cooked. Set aside.
4. Use same oil to sauté the blended ingredients together with the bruised lemongrass
5. Stir the gravy and cook covered for 25 to 30 minutes. Stir occasionally to avoid burnt bottom.
6. Once you the oil is separated from the gravy, add coconut milk, tamarind pulps, and salt
7. Stir and allow to boil a few times. Add chicken pieces and kaffir lime leaves.
8. Mix well and cover the lid for another 10 minutes. Stir.
9. Add toasted coconut, mix evenly. Check for salt. Dish out.
Mutton Satay Goreng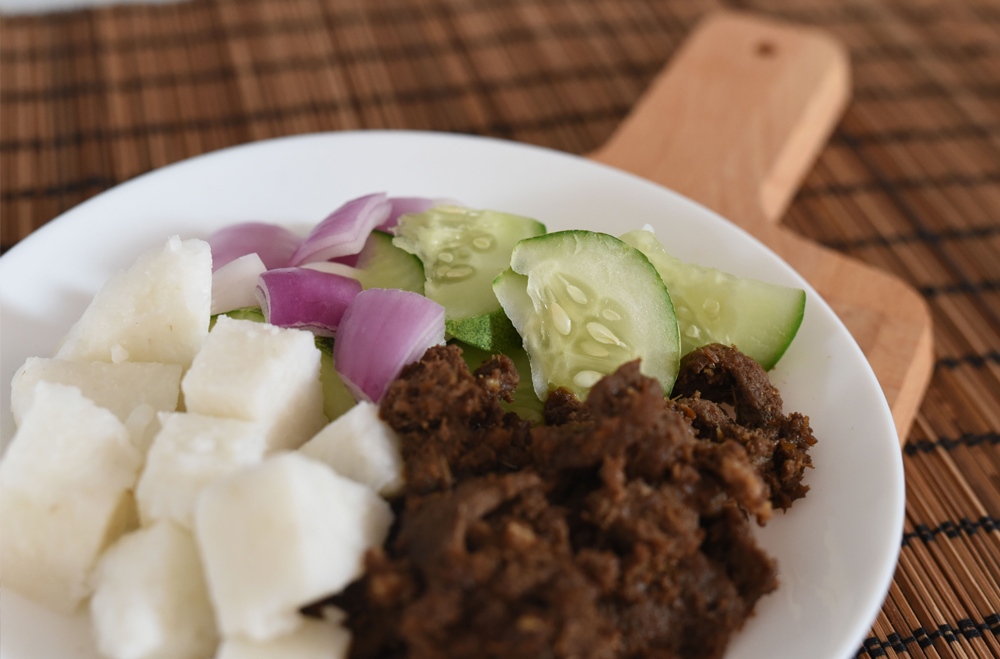 Ingredients
1kg mutton, sliced into bite-sized
1 teaspoon curry powder
2 tablespoons coriander powder
2 teaspoons turmeric powder
2 tablespoons cumin
2 tablespoons fennel
10 shallots, peeled, cut and halved
3 cloves of garlic, peeled
4 stalks of lemongrass (white part only), cut into 1-inch length
4 tablespoons sugar
1 teaspoon salt
4 tablespoons oil
1/2 cup of water
1 tablespoon tamarind paste
Directions
1. Mix water and tamarind paste and strain seeds away
2. Blend all the ingredients together except the mutton
3. Marinade mutton with the blended ingredients for at least 24 hours
4. With low fire and enough oil to cover the meat, put in half a portion and let it cook for 20 minutes
5. Strain oil and serve with peanut sauce, cucumbers, onions, and rice cakes.
If you'll like to try how it tastes without having to cook it yourself, go to Dine Inn where Nur Khairunnisa will be happy to cook it for you.
Looking for more recipes from the home cooks of Dine Inn? Click here to find the recipes for Chinese Red Wine Chicken (a popular confinement dish) and Steamed Glutinous Rice.