It might seem a little incredulous, but the fact is: I had given birth four times and have never completed a single massage session until baby number five came along last year at the height of the Covid pandemic.   
You see, I engaged a freelance masseur once right after giving birth to baby number two, but I had to gently ask her to leave half an hour into the session as I felt she was too pushy and aggressive. She ignored my repeated requests to be gentler while riding roughshod over me. That experience was so unpleasant that it turned me off any form of pre-and-post-pregnancy massage after.
So why was it different this time?
The Background:  A High-Risk Pregnancy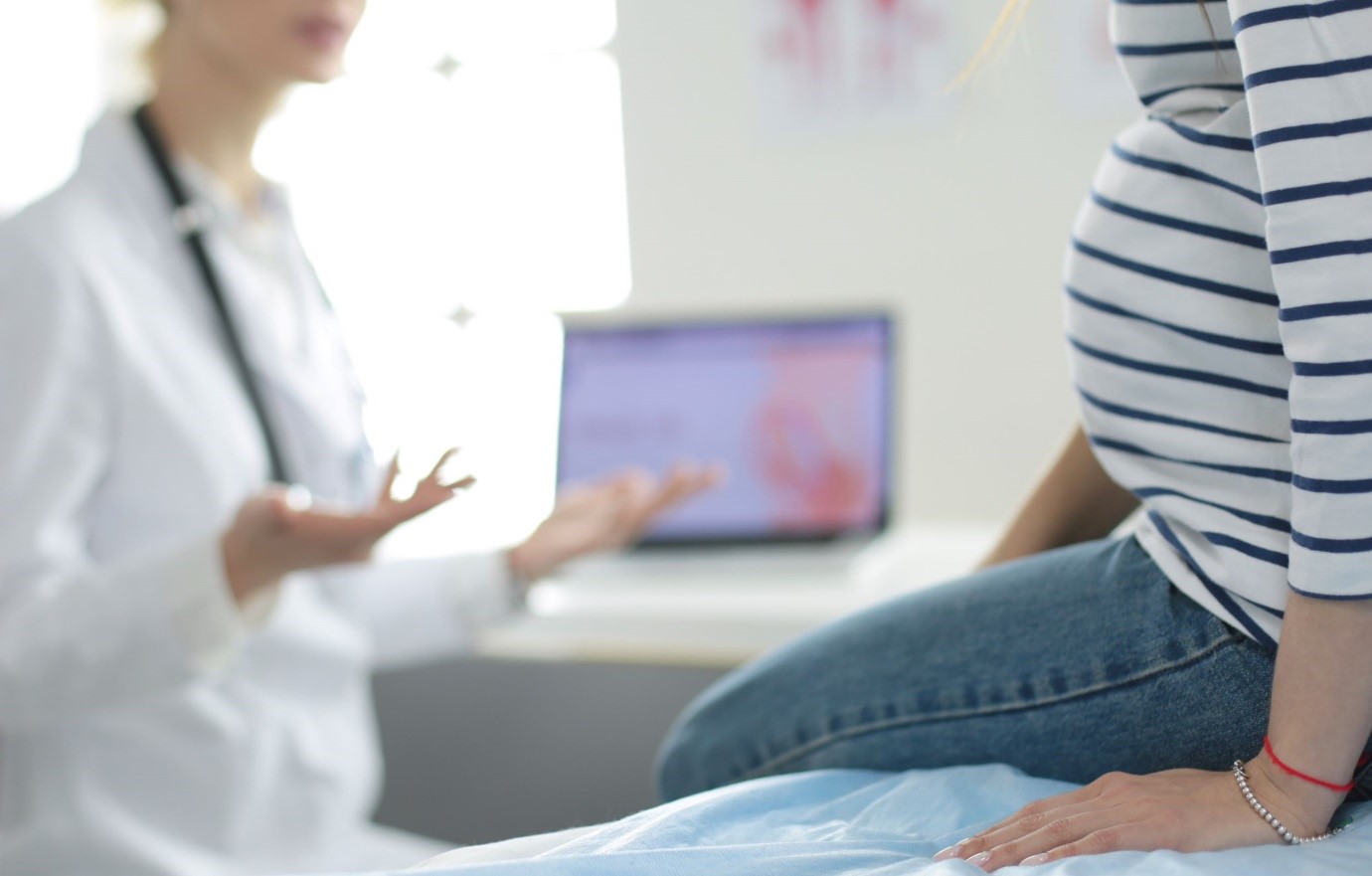 Firstly, I was in a high-risk pregnancy. But wait – wouldn't that mean that you couldn't do any prenatal massage? Well, yes and no. Certain medical conditions such as pre-eclampsia, placenta previa and general conditions that might cause preterm labour is a strict no-no. However, I was considered high-risk because I've had six incisions (five c-sections and a Myomectomy the year before) on the same spot, and there is the fear of uterine rupture this time.  Hence, I was put on bed rest and instructed not to move around too much as the activity could cause contractions that might lead to a rupture. After weeks of inactivity, holed up in my room on the second level of my house, my shoulders and neck were aching, my legs were swelling, and I had hip and back pain from prolonged bed rest, plus I could not sleep at night. I felt the mental strain from being cooped up at home in my condition, resulting in insomnia and mood swings. After consulting my gynaecologist, she gave the green light for a gentle prenatal massage. I felt hopeful that a massage would help alleviate some of my aches and relax me, perhaps even cure my insomnia.
Secondly, I had a pre-existing stiff neck issue caused by a fall two months before discovering I was pregnant. The tension on my neck and shoulders was so bad that I would get debilitating migraines. Unfortunately, these manifestations did not abate during my pregnancy. The bed rest made it worse. I was averse to taking too many painkillers to deal with the headaches, so I decided to try out prenatal massage instead after getting clearance from the doctor.
Next up was the monumental task of picking the right pregnancy massage service provider.  That one bad experience I had was still fresh in my mind, and I would do all I can to ensure I don't leave my selection to chance. These were my thoughts about which type of service provider to use, and it boils down to one primary consideration:  freelancer vs company.
With a freelancer, coordination is less rigid; perhaps some feel, more personable as you deal directly with the masseuse personally. You can also try negotiating the fees or get her to provide an additional session.  With a company, rates are fixed, and each of them has their process protocols to adhere to when managing customers. But then is it worth the price difference to risk the poor service and possible lack of accountability?  I have heard of customers being "ghosted" by the masseuse after handing over a downpayment.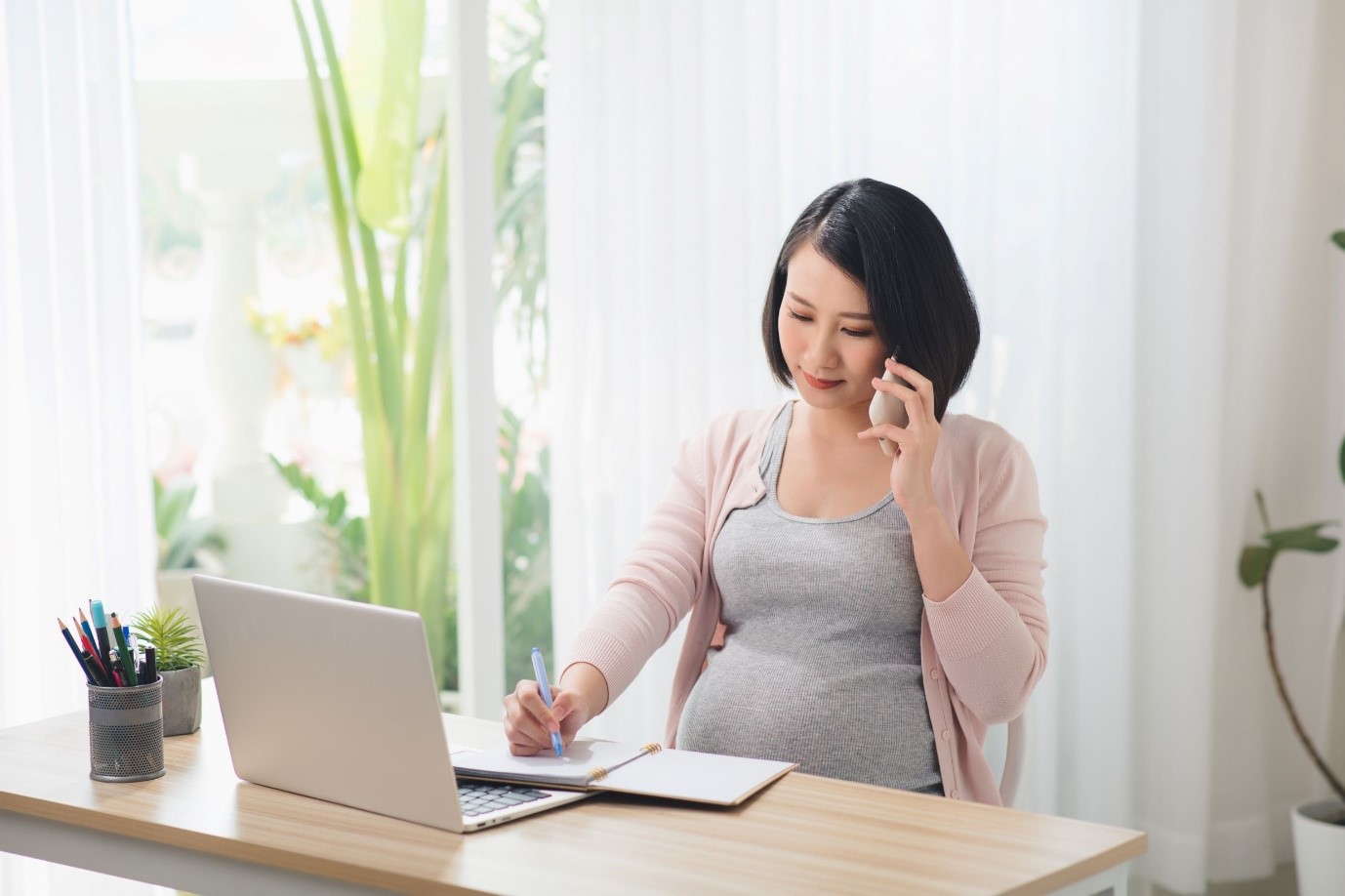 On the other hand, companies with a solid provenance thrive on maintaining a good reputation.   This usually means they would spare no effort in maintaining an excellent service team with a healthy network of well-trained massage therapists. Ultimately, do your research when assessing the choices available. Ask as many questions as you can think of, leave no stone unturned. If you have the patience, call each one of them and put them all through the 100-questions litmus test. After all, if the customer service personnel can't hack being polite and professional to a potential customer, you can bet that this is probably how they will treat paying customers too.
Working in the baby and mummy sector meant that I could ask mummy friends for their opinion on the different options. I compared at least five other companies and spoke to friends who have used them in the past.  I wanted one that:
could accommodate my last-minute change of plans,
have a stellar reputation among my network of trusted mummy friends and business associates,
have a large pool of professional massage therapists to tap on at any time if I want a replacement.
But most importantly, because of my high-risk status, I needed an agency that understood my medical condition and is willing to work with me to create a pre- and-postnatal massage program that is responsive to my needs.
Why Postnatal Massage Singapore?
Started in 2011, PNSG has become one of Singapore's most popular companies for pre-and-postnatal massage and confinement services. 
PNSG has an estimated number of 90 massage therapists on call at any one time. Known for its high standards and attentiveness to details, PNSG has invested in training programs to upgrade their therapists' knowledge and skills regularly. Coupled with a robust, world-class customer service team to support the therapists and attend to customers,  it is little wonder that they have become the premier pre-and-postnatal massage agency in Singapore.
They checked all my boxes, and I was confident that I would be in good hands.
I decided on PNSG when I was 20 weeks pregnant.  I was given a thorough brief on the phone regarding the coordination process and what to expect.  True to form, I received a call from them on my 24th week to set a date for my first session. My gynaecologist did not clear me to have a prenatal massage then, so I had to apologise and postpone the first session. The customer service personnel was warm, professional and empathetic – she even wished me well and told me to take good care assuring me that I can text or call them up anytime to schedule a later date.  I finally had the go-ahead from the doctor, and 22 August 2020 was set for the first session.
A few days before the date, I received two detailed messages from them: one was a description of how and what to prepare for the session, and the other message was detailed advice on Covid-compliant protocols.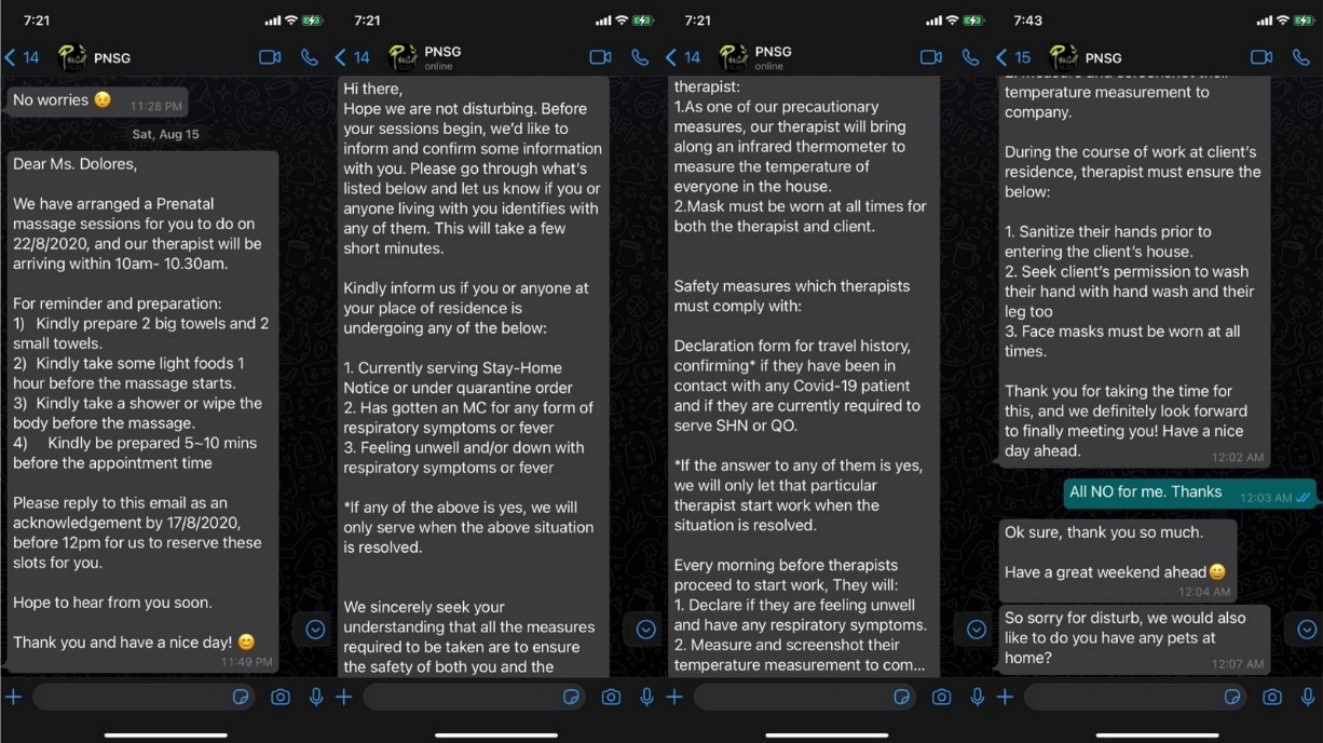 By the time I started my first session, I was into my 28th week of pregnancy.  All in, I had a total of five sessions, with the final one on 1 October 2020, before my delivery date of 20 October 2020. And because of my irregular schedules due to familial commitments, I had to cancel and arrange new sessions at least three times in between. This frequent change of dates meant that I could not get the same therapists for all the sessions.
They provided me with three different therapists who each had their unique massage styles, but they all followed the strict Covid safety protocols to the tee, such as:
– having their masks on at all times
– requesting for the wifi password, so their phone's location tracking is turned on and synced
– temperature checks to eliminate the possibility of fever
– washing hands and sanitising before and after the session
They were all respectful, friendly and treated me with a lot of care, asking questions to ensure that I felt comfortable and relaxed. The sessions were 60 minutes long, and all of them started massaging from the feet up, finishing off with a facial and head massage that I didn't want to stop. They were all careful to avoid my stomach area, lower back and anywhere that might inadvertently cause contractions.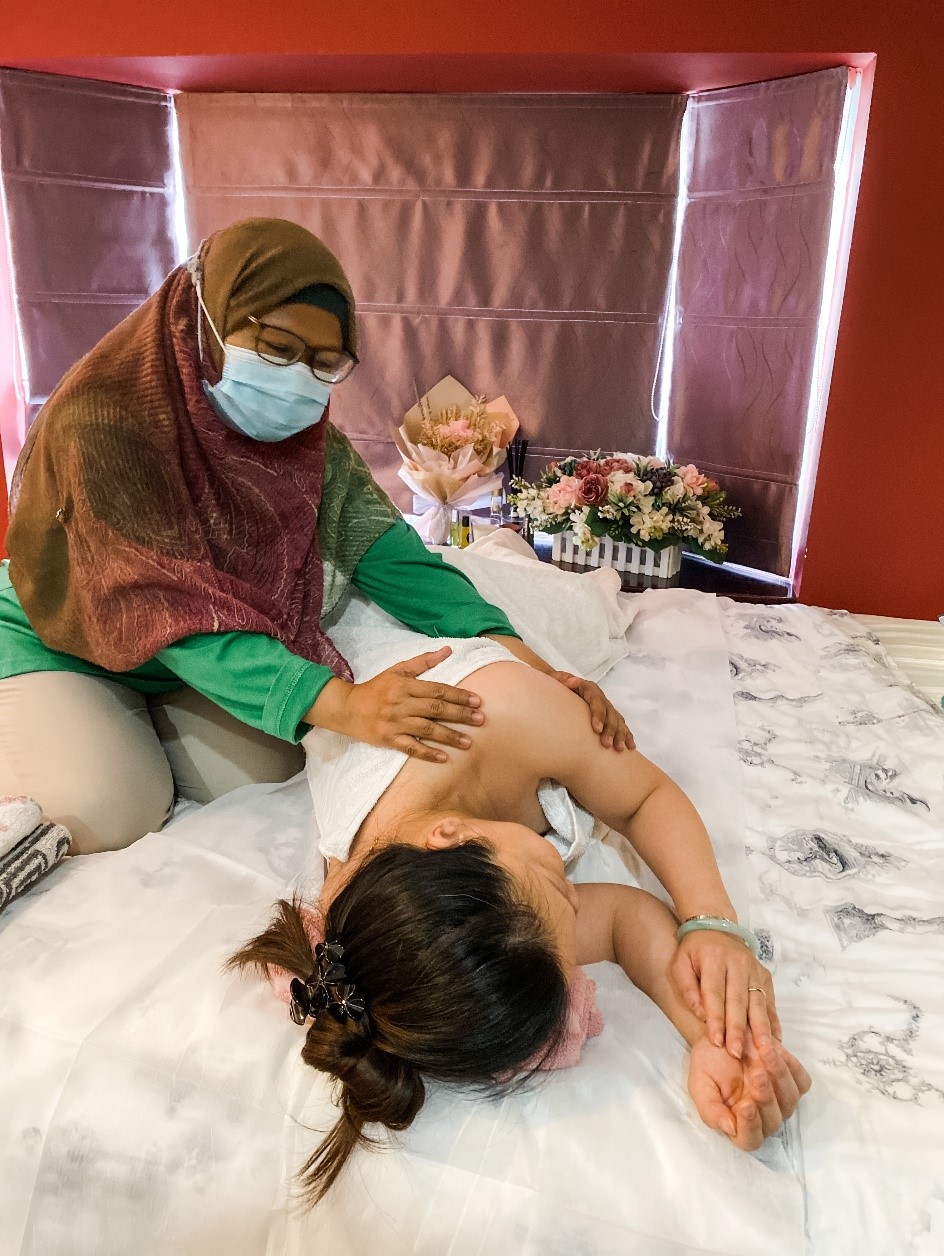 Postnatal massage is a common practice among mothers in Singapore. The release of Oxytocin during massage is meant to provide physical and mental relief for postpartum mums, alleviate water retention symptoms, promote better sleep and improve breastfeeding.
A few weeks after the baby was born on 20 October 2020, the customer service staff at PNSG texted me on 2 November to follow up on my recovery and promptly arranged another session when I informed them that my wound was still hurting. I told them I would like to arrange a later date.
Check out my conversation below.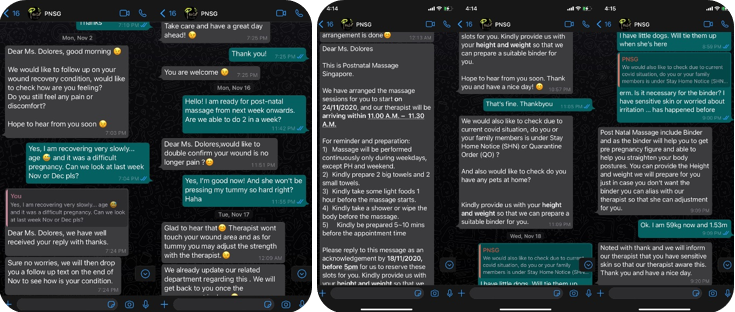 My therapist was auntie Eileen, and she had me at "Good morning!".  I have never met a massage therapist that radiated so much motherly energy; her genuine warmth combined with her knowledge culled from years of pre-and-postnatal massage experience, and comforting massages helped me tremendously with the physical and mental healing.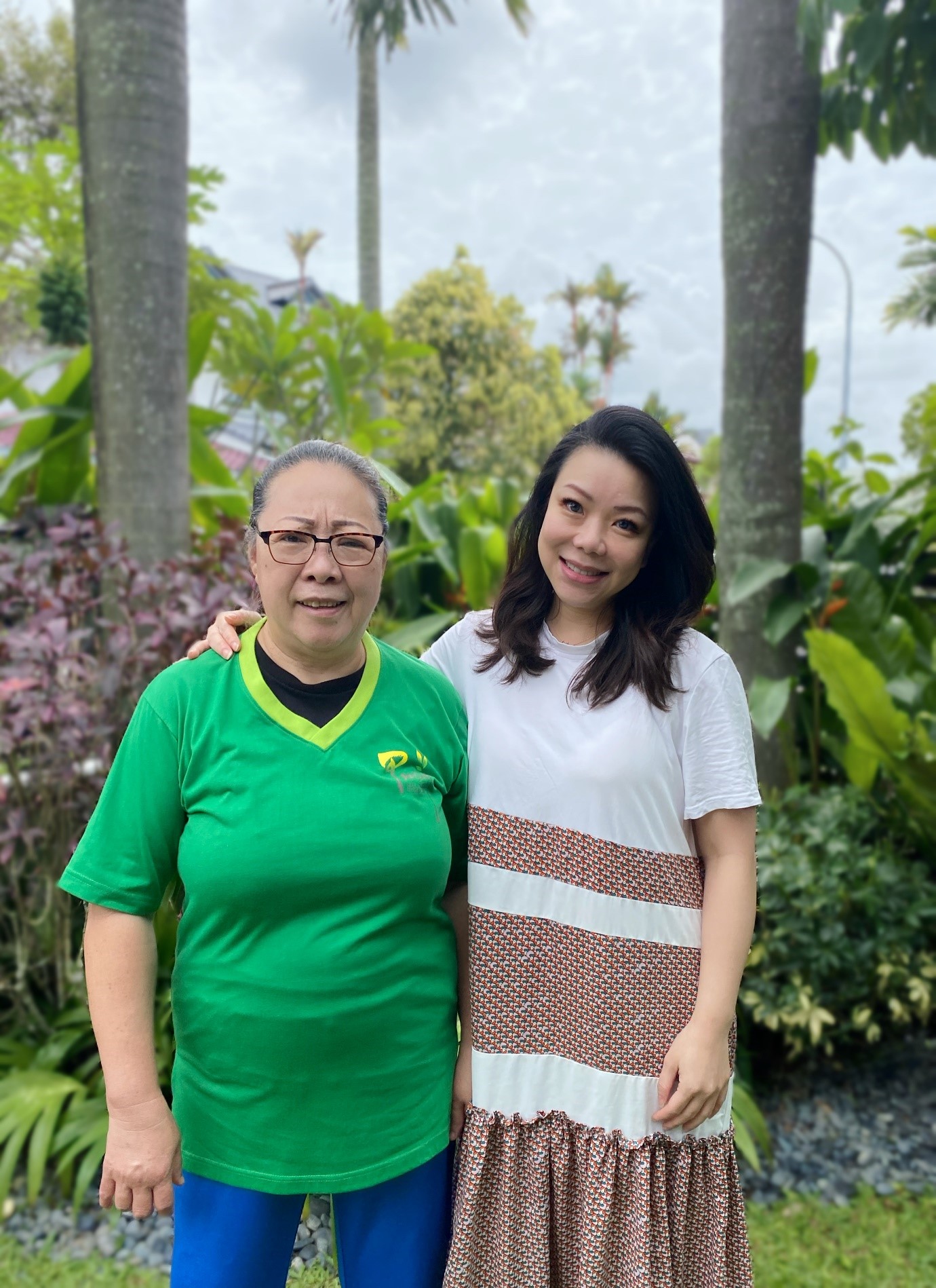 After every session, I would feel like a huge weight was lifted from my exhausted, battered postpartum body.  I knew the recovery of a fifth caesarean surgery would be tough; I didn't expect it to be so brutal.  I was wrecked with pain from the first day after surgery, and on the fourth day, my legs grew to the size of a baby elephant's trunk. Even though the size reduced over time, my water retention was so bad that my legs were still swollen when auntie Eileen arrived, five weeks postpartum. I still could not squeeze my pudgy feet into my size 37 heels.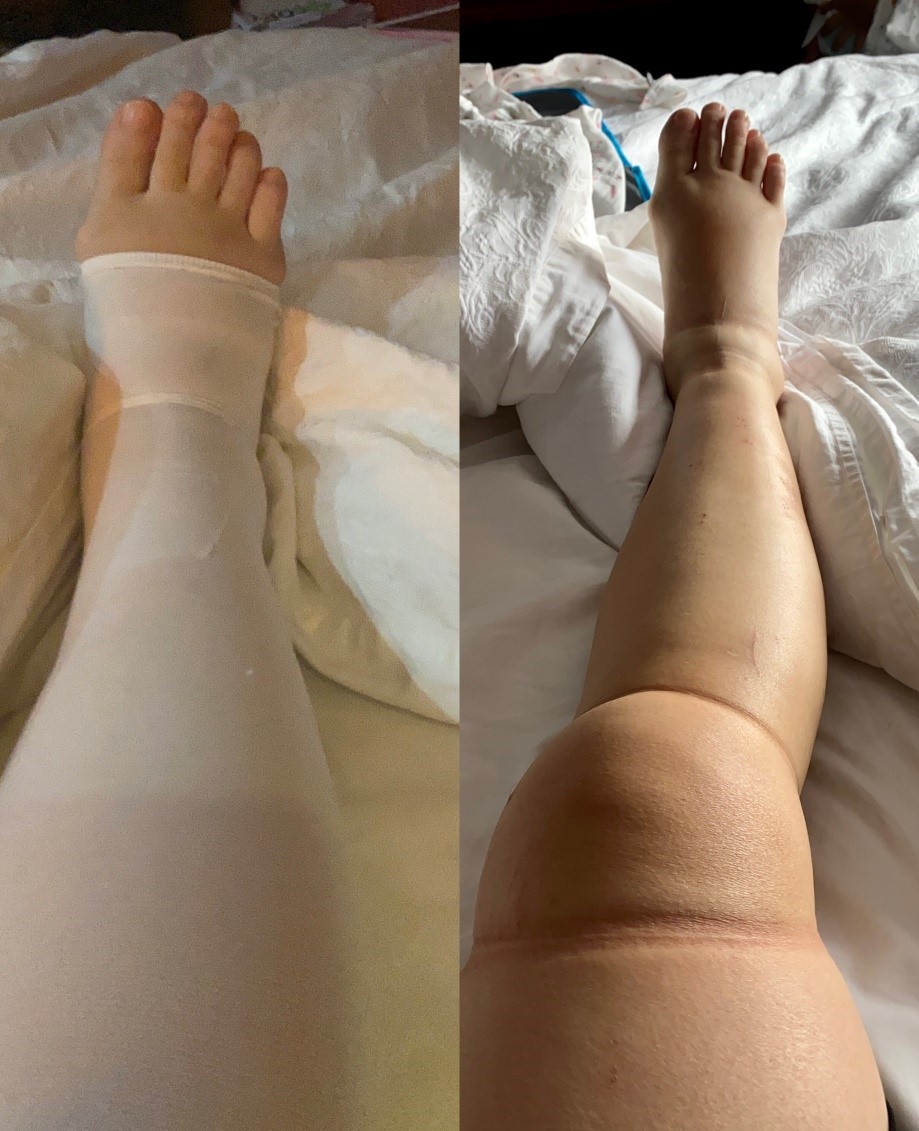 With the deftness of an expert and the firm gentleness of a motherly touch, she could tell where all the pain points were. I have never truly believed in massage's healing properties, but auntie Eileen showed me just how effective a postnatal massage session could be.  Every part of my legs that were still swollen and tender ached from the kneading pressure for the first two days. But on the third day, I fell asleep during the session. I no longer felt the dull aching soreness when she pressed on those parts. Additionally, the constant headaches I felt from the lack of sleep, postpartum stress and a cranium injury from December 2019, did not recur as often during the eight days she attended to me.

Unlike other mother's postnatal massages, I did not go for the binding service to flatten my tummy as my sensitive skin would make it quite impossible to do that without me breaking out in angry, red rashes all over.  Naturally, I was disappointed as who wouldn't want to jump back into pre-pregnancy size as quickly as we can? 

Nevertheless, I did not feel like I was getting any less attention or the best that PNSG had to offer because of my high-risk status and demanding requests.  Knowing my unique conditions, they worked with the massage therapist to create an eight-session postnatal plan that dealt with my most pressing concern. I was not treated as a "package deal"; I was given respect as an individual with unique pregnancy experiences and issues – after all, no two mothers are alike.  The ability to listen, accommodate, and make a mum feel special is where PNSG trumps all other similar services in Singapore.