I ga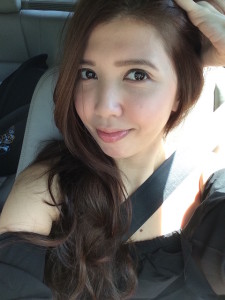 ve up on making resolutions a long time ago for the simple reason that I never seem to be able to stick to them and year after year, the same resolutions appear. You know the ones that scream 'I will lose weight/I will keep fit/ I will start a new hobby' — not.
2015 was a major year for me! My waistline increased like never before and then shrunk back to its original size over the course of the year. In that time, of course, I had given birth to a cheeky little fella that I love with all my heart. My husband and I went from newlyweds to new parents and our apartment that seemed so right for two, suddenly became too tiny for three. 2015 also marked the year where I went from hectic business owner of a public relations firm, to joining forces with two other amazing ladies to form an additional business. Quite a year, indeed!
Nobody tells you that being a new mum makes you pensive, objective and hopeful. Suddenly the world is bright again or you want to believe it is, wishing that it is a place where your little bub can grow up happy and fun, So, in the hopes that my tiny tot will grow up with goals, objectives and resolutions, I think it's only fair that I give those resolutions a shot again. Who knows, 2016 might surprise me even more!
1.Try something new every month with my son
You knew this was coming. Every mother would love to spend time with their child. I'm no exception. Even while juggling two businesses, a tiny apartment, a husband, family time with my folks and the in-laws, my baby will and should still get the part of me that is always exploring, always excited and always learning. Be it courses, activities or sightseeing, I want do it all with him this year and the years to come.
2.Keep on going on those monthly dates with my husband
It's important not to neglect the spouse just because we have our minis now. Hands up those of you who still bother to have date nights with your husband after having a baby! You'll be surprised that the number is surprisingly low and that the root cause of many arguments between new parents is not enough alone time spent between couples.
Showering my other half with more TLC and attention is what I hope to do this year. I'll be sticking to our monthly date night where we dress up and explore a new restaurant or activity.
3.Use my phone a whole lot less
We are all guilty of this. Remaining constantly plugged in is the only way many of us know how to live. Yet, this 'always on' behaviour is also fast taking over our lives. I'll be putting aside my phone during meals and outings because the conversations shared between friends and family are far more important than replying to yet another WhatsApp text. But I'm sure I'm still allowed to take photos right?
4.Accept that when a work day is over, its over.
I was a workaholic who truly enjoyed what I do for a living. Like many of my fellow time-starved working mums, I was working till the very day my baby was born! That all changed however, once I saw my son. The birth of my son taught me to slow down. Being on maternity leave was tough, trying not to check emails or pop in for meetings. I snuck out two weeks after Zyah's birth to attend a work event and quickly found that I missed my crying, tiny, less than five kilograms tot! I ended up leaving after two and a half hours and dashing home to his shrieky cries. At the risk of sounding like I've gone all 'soft,' I will readily admit that we work hard and often times, too much and sometimes wonder if it's all worthwhile…
It's ok to stop and smell the roses once in awhile. There will always be work to do and unless its an emergency, I'll be letting work stay in the office this year. No working after 10pm in 2016. (Fingers crossed, let's see how long I can keep this up!)
5.Reignite passion for reading
My sweet as cotton candy husband bought me 20 books in December for me to sink my teeth into and slowly read them in 2016. He said he remembers fondly how I enjoyed reading and would be so engrossed in my book of choice on lazy days yet since we got married, I hardly read anything except my usual stash of fashion magazines. His words reminded me of my old self that had so much more time for myself. So for this year, I would like to reignite my passion for reading and get down to those 20 books from the husband.
6.Cook more
I'm not the best cook around. In fact, my kitchen is highly underused. While I won't proclaim to make healthier meals, I would gladly settle for just cooking more. More of anything really. Look out 2016, you just might have a budding home cook coming your way.
7.Its ok to say no
I've a hard time saying no, especially to offers to meet up with friends, family and even clients and when asked for my assistance. The result is I often feel rushed, going from one appointment to another and sometimes, taking on more than I can reasonably manage. While I would love to be everyone's Aunt Agony, Handy Manny and Ms Social Butterfly at the same time, it's time to realise I've just 24 hours in a day.
8.Get fit
Going through bodily transformations may be part and parcel of being a mummy but hell, we can still look good! While fitness is more of a lifestyle than just aesthetics, I will aim to start slow by doing more yoga and pilates and drinking at least eight glasses of water daily! It's amazing how small changes to one's lifestyle can amount to huge results.
Now that you've read my resolutions, how about sharing yours? @Mummyfique on your posts!