Host and vocal talent Kelly Latimer is a well-known fitness fanatic, practicing everything from Pilates to weights training multiple times a week. And even though she is currently expecting her first child, the mother-to-be has not let her pregnancy keep her from exercising and keeping fit.
Mummyfique sits down with Kelly Latimer to find out more on how pregnancy has changed her fitness routine as well as the tips she has for other pregnant mummies and those aspiring to be.
Mummyfique: Why do you think it's important for ladies to prepare their bodies for pregnancy?
Kelly Latimer: Pregnancy is like a marathon, a nine-month marathon. Just as you wouldn't attempt to run 42 kilometres without first preparing your body, the sample applies to pregnancy. Most women are not familiar with carrying the extra weight of 12kg to 15kg, which is the healthy recommended amount of weight gain for a pregnant woman. Imagine having to lug around that weight for months. And when you've finally given birth, you need to carry the baby, feed him or her, and go about your daily life. As mums-to-be, if we're willing to invest in maintaining a fit body before pregnancy, it makes it so much easier to get back to shape after delivery.
Please share with us your pre-pregnancy exercise regime.
My pre-pregnancy regime consisted of a variety of exercises. From resistance and high-intensity workouts that helped to keep me lean and build up my stamina, to heavy lifting that helped to build muscle. The muscle building was so important because even now into my third trimester, I barely have back aches aside from some residual pain from previous injuries.
I enjoyed heavy lifting and was doing it about two to three times a week. The regime would include some serious lifting to start (to get the most of out the body), then we'd scale it back and work on plyometric training (jumps and explosive movements) and full-body exercises that would challenge balance and endurance. In my own time, I'd implement high-intensity interval training (HIIT) workouts at home, or interval sprints on a treadmill — these were especially useful when I was on the road and travelling for work.
Please share with us the exercise regime that you undertook while you were preparing yourself for pregnancy.
My regime was crafted by Declan Halpin, the head physiotherapist at the UFIT Clinic. We assessed my concerns and limitations due to prior injuries and devised a plan to help me strengthen certain key areas. It involved resistance, strength and interval training. A few examples of the exercises we did regularly included:
1. Resistance Sprints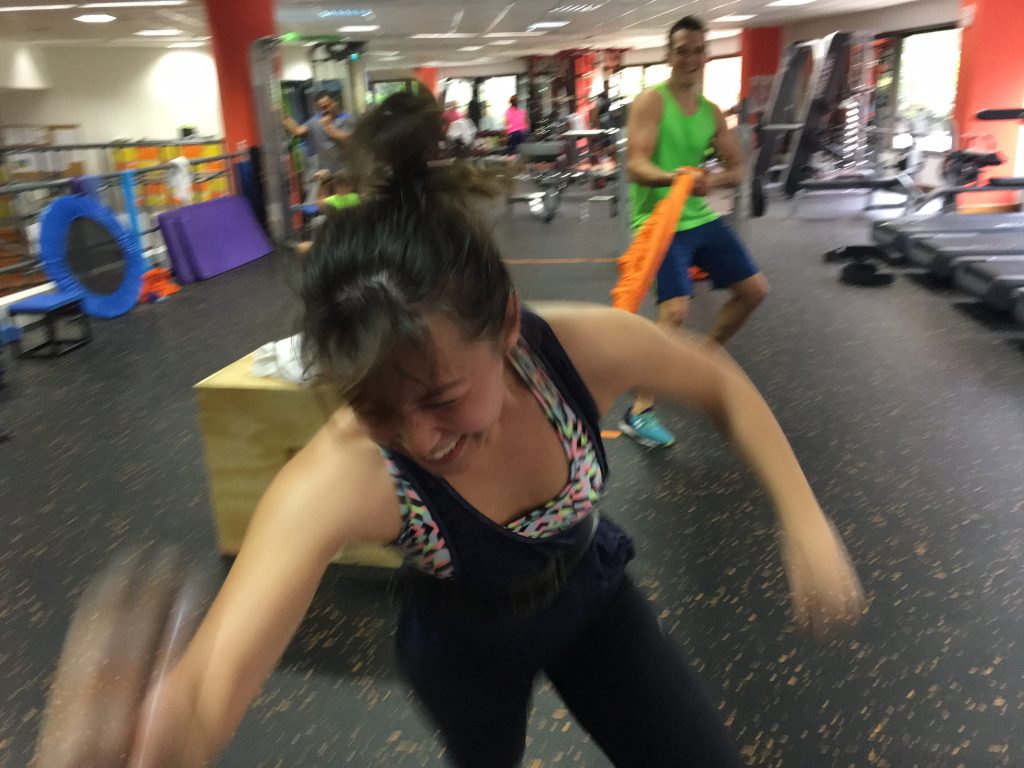 For cardio 
2. Interval Sprints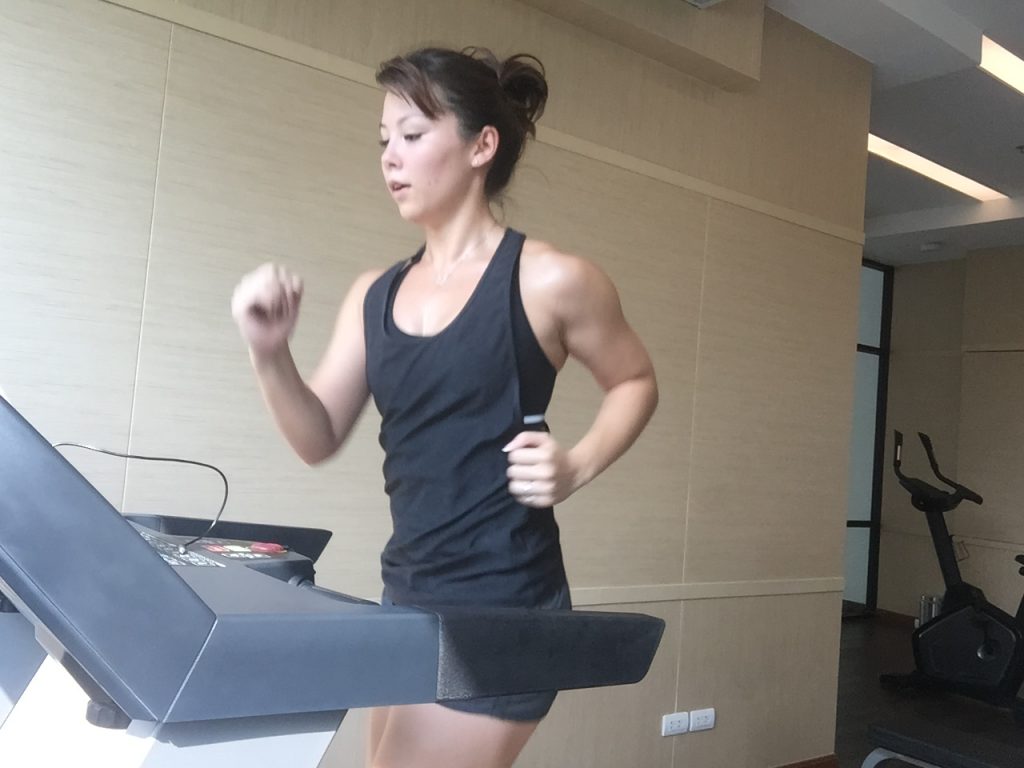 For cardio
3. Split Squats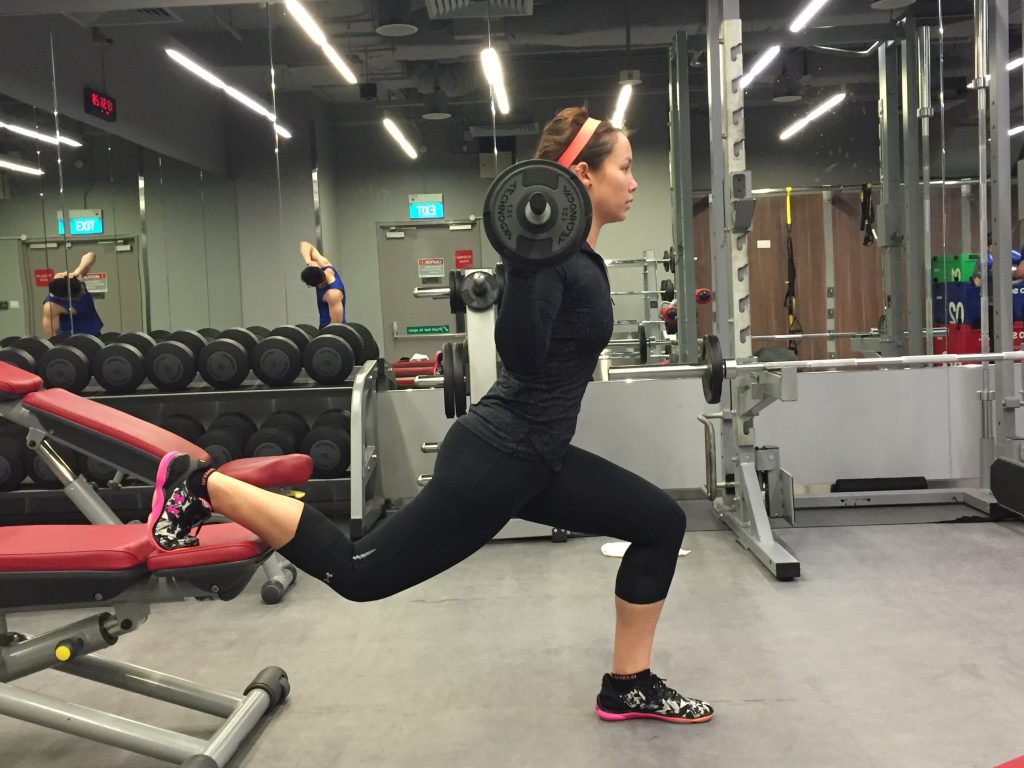 For individual leg work and glutes 
4. Squats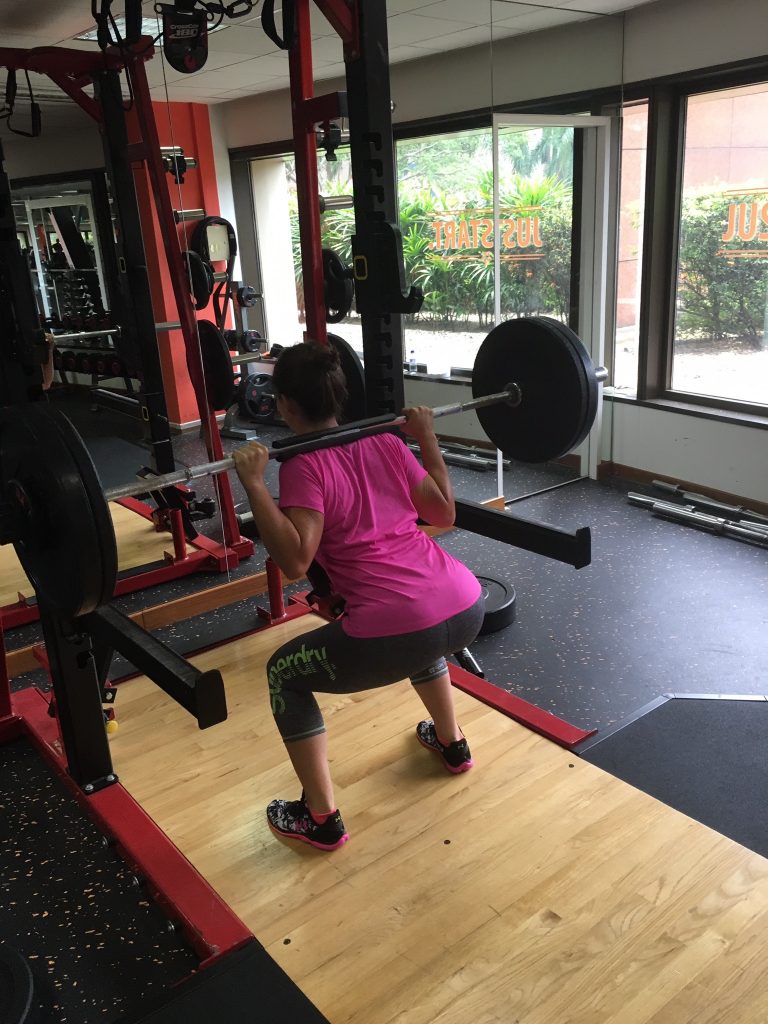 Trains the glutes
5. Turkish Get Ups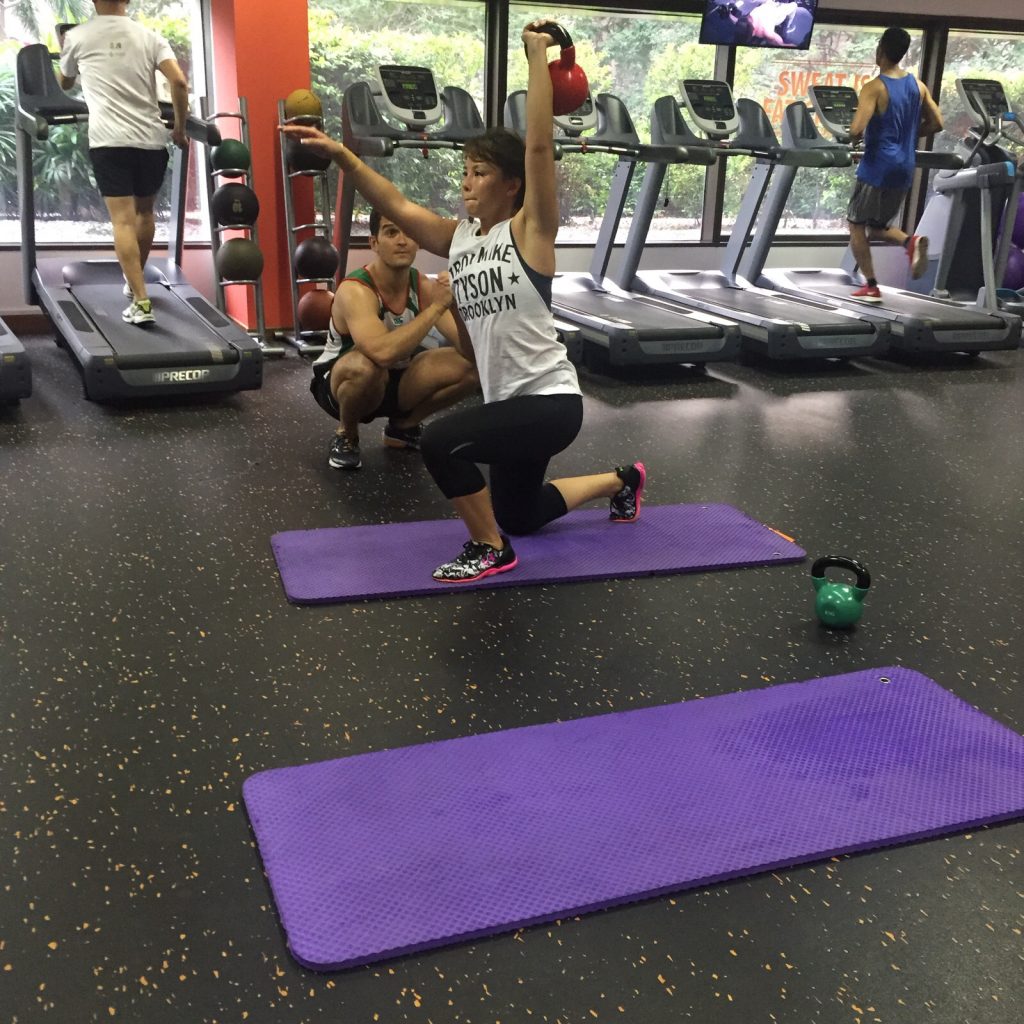 Trains the full body
Let's talk more about your pregnancy. Doctors advise pregnant women against undertaking new exercise regimes, especially in the first trimester. Do you agree with this? 
As I'm not medically trained, I would have to agree with that. Personally, I did very little to no exercise at all during my first trimester. If you are worried about weight gain during pregnancy only after you get pregnant, then this is definitely not the time to start hustling yourself into an intense workout. That said, there are gentler exercises that can be done. Although many exercise classes will turn you away if you're in your first trimester, the pre-natal Barre classes at WeBarre accept women even at that early stage. Aqua jogging and walking are also options. Plus, there are Pilates instructors who can guide you through exercises that will keep you and your unborn baby safe.
Can you share some ways you adapted your diet nutrition-wise during your pregnancy? 
When I found out I was pregnant, I was just about to embark on UFIT's Clean and Lean programme. I told them of my pregnancy, they congratulated me, and then gave me some modifications to ensure I was getting all the right nutrition for my baby's development. With their help, I was able to maintain my weight during my first trimester despite travelling a lot for work and not being able to stick to my usual workout routine.
It's important to remember that you are not just eating for yourself. The number of extra calories that you need to consume during pregnancy hits a maximum of about 400 to 500 a day, and that's in your third trimester. You don't need anything more in your first trimester, and you'll need only a couple of hundred more in your second. I haven't really limited or restricted my diet in any way but have been very cautious and wary of conditions like gestational diabetes.
To reduce the risk, I try to consume less sugar (goodbye cakes!) and carbonated drinks (hello water!) I also try to limit my intake of unprocessed foods. Whole foods are a great way to ensure that you're getting the right vitamins and minerals to help with your baby's development. This was so important for me because my prenatal vitamins were making me throw up (the smell killed me) so I had to make sure I was getting sufficient levels of folic acid, DHA, omega-3s and protein from good food sources.
What are some of your favourite workout options during your pregnancy?
As I've always been a little gung-ho with my workouts, I was gutted at how much I had to scale back with my exercise regime. I still continue with my squats and deadlifts, but my overhead exercises have been limited. HIIT exercises are also out of the question as they would get my heart rate soaring beyond 160 beats per minute (BPM). But I make sure that I work up a sweat by giving whatever I do a 110%. Swimming has really helped me a lot as I suffer from a fair bit of water retention in my lower body, so swimming or walking in the pool at waist depth has been a godsend. Walking out and about resulted in my toes looking like little sausages, so I confine my distance walks to when I'm in the water, trying to keep a heart rate of about 120bpm for 30 minutes each time. It's a lot harder than you think! I have continued with my Pilates training as well, which has helped with building up my pelvic floor and strengthening my core. And as much as I don't like yoga (largely because I'm terrible at it), I have taken up pre-natal yoga lessons at The Yoga Mandala. 
Please share five easy workout tips for pregnant women. 
Once I got pregnant, Declan immediately changed my routine to ensure that we were building on the base that I had built up prior, while making sure not to harm the baby. Weights were scaled back by as much as 50% in some cases and the intensity was taken down significantly. Resistance training and all the high-intensity exercises had to go as well. What we were left with were exercises that would continue to strengthen my core, back, and glutes to help me carry the extra weight.
1. Bird Dog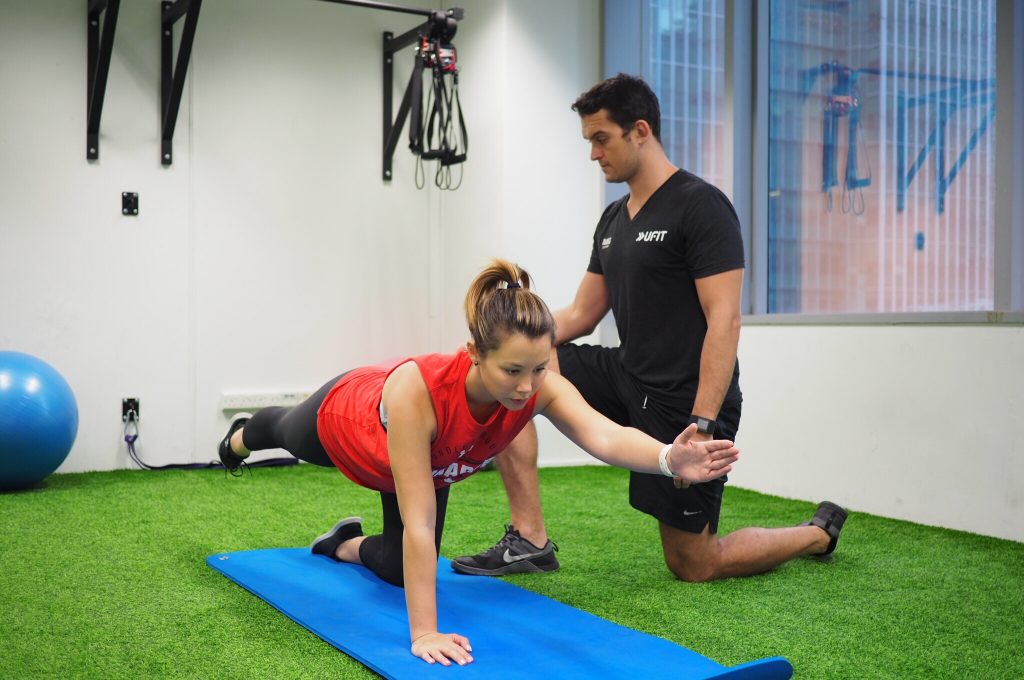 Works the core 
2. Glute Bridge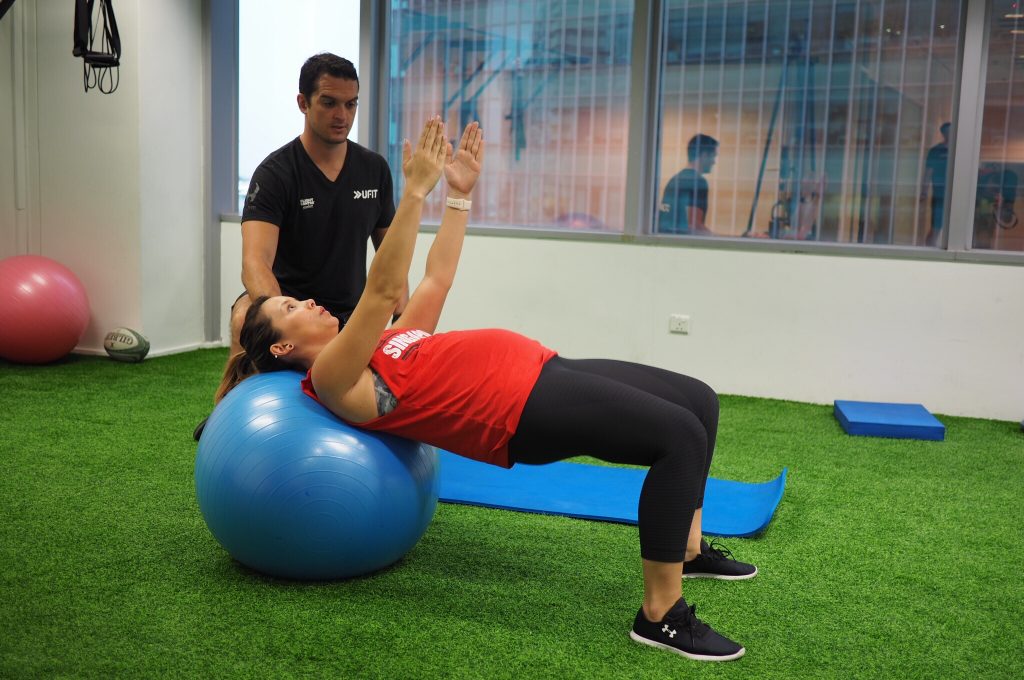 Works the glutes and core 
3. Squats. (This had a lot of people worried, but I was working on light weights with guided supervision at all times. I would not recommend this unless you've previously done heavy squats or even normal body weight squats.)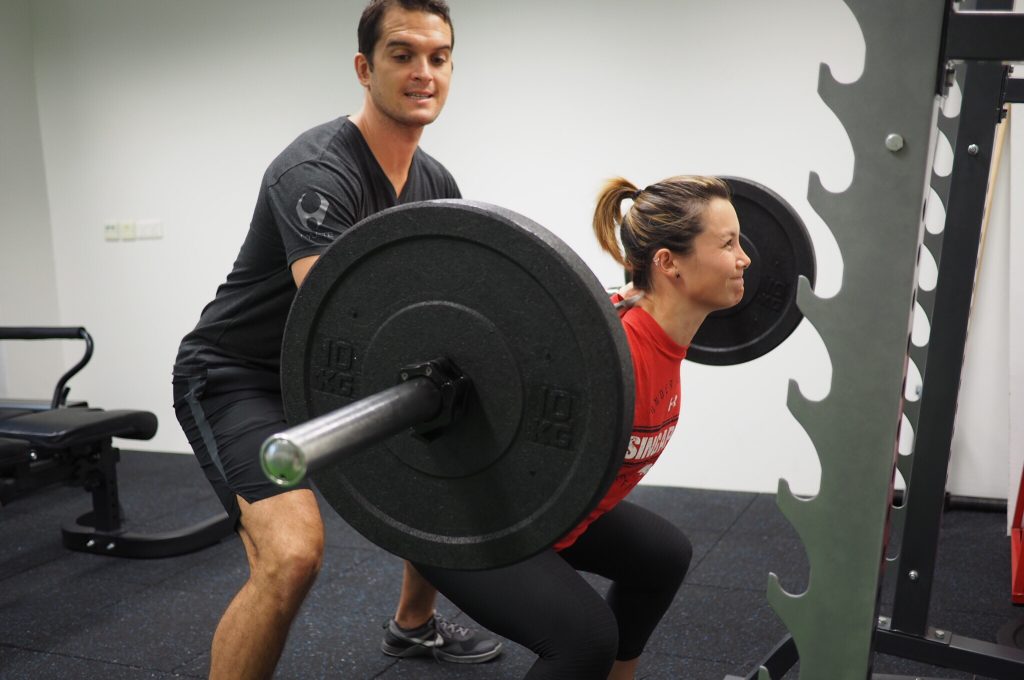 Works the legs and glutes 
4. Wall Sit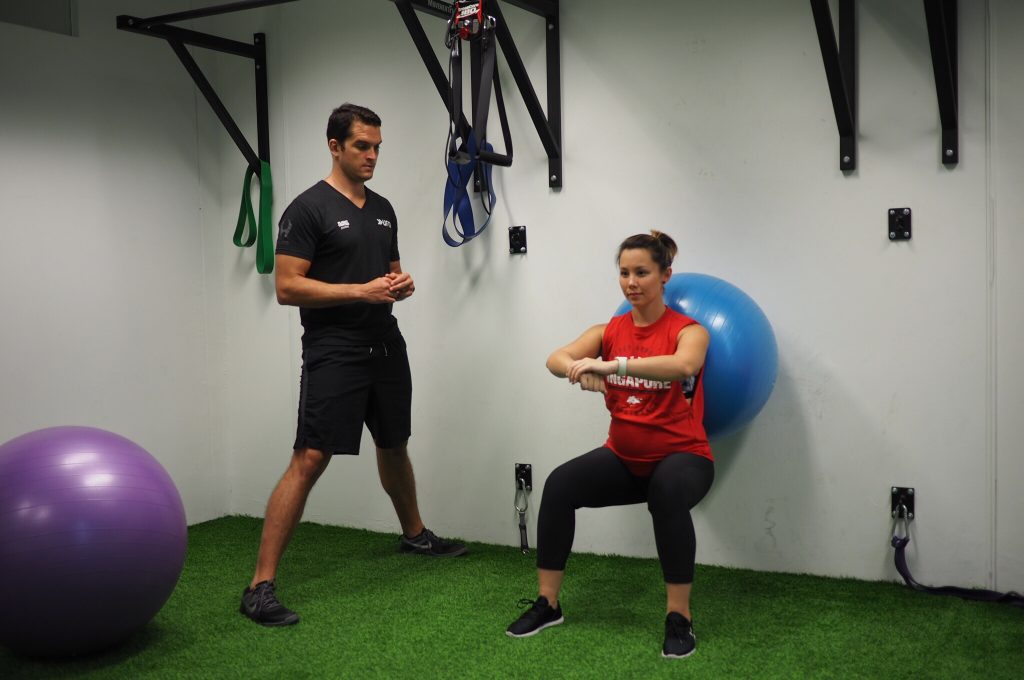 Works the core and legs 
5. Rows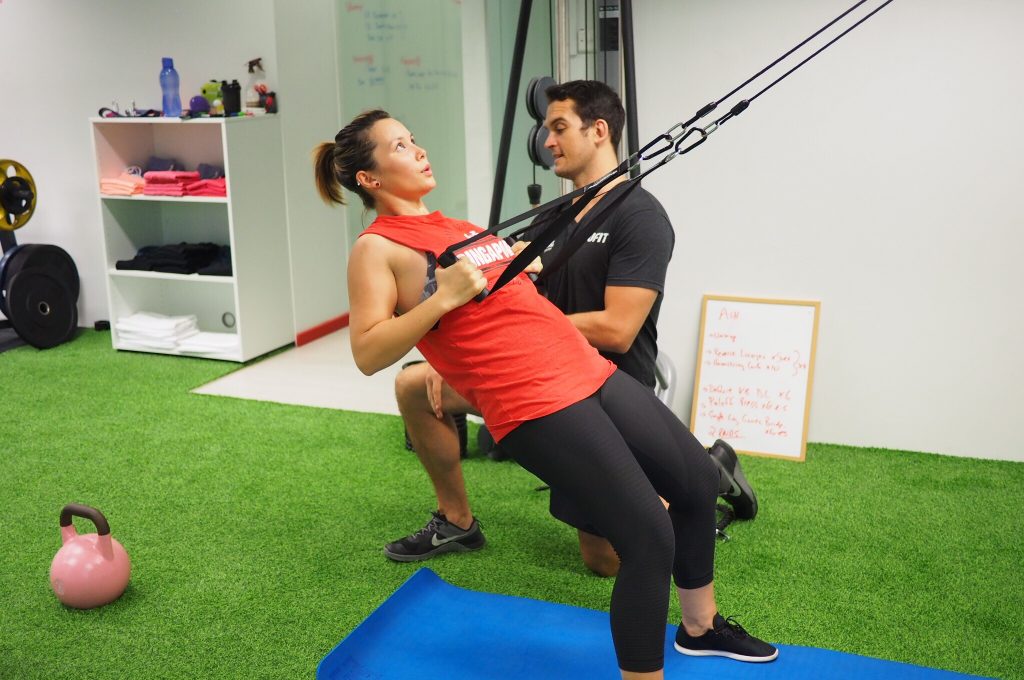 Works the back, arms and core 
For those with no prior training, I would highly recommend that you take up gentler exercises the likes of yoga or aqua walking. If in doubt, always seek a trained physiotherapist or a personal trainer who specialises in pre-natal programmes. Not every trainer out there will know what to do with a pregnant woman, so screen who you work with and ALWAYS listen to your body.
For last week's Fitspo Friday, please click here.