Capoeira is a Brazilian martial art form that incorporates elements of dance, self-defence, acrobatics and music. Said to have been developed by African slaves in Brazil around the 16th Century, it was a form of self-defence masked as a dance so as not to arouse the suspicions of the landowners. Here in Singapore, the sport has been gaining in popularity with both adults and children alike, inspiring long-term practitioners and teachers Christopher Langner and Kasia Poleszak to start the Music and Movement Class For Toddlers — a parent-child class that combines the basics of capoeira with quality bonding time.
We speak to Christopher to find out more about the class and why it's a great activity for parents and children to enjoy together.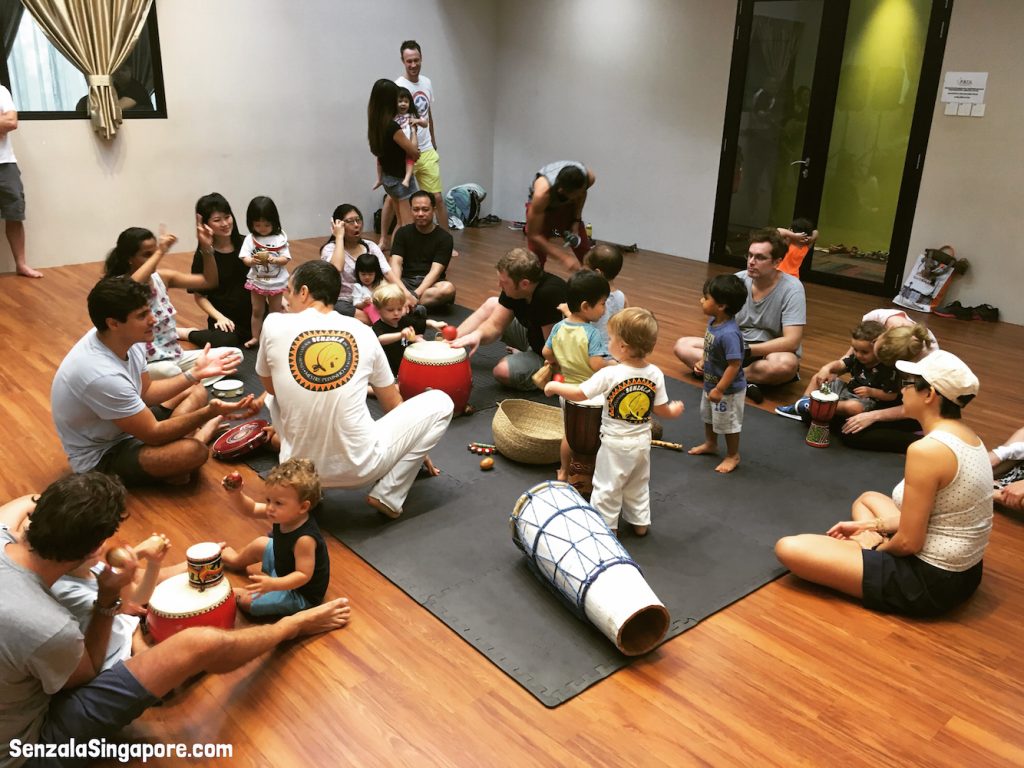 Mummyfique: Can you share more about the Music and Movement Class for Toddlers?
Christopher Langner: My wife Kasia (whom I met because she too practices capoeira) and I started this class in our house more as a way to share the experience we were having with our own toddler, who showed a keen interest in capoeira from seeing me practice. However, as it evolved we changed the name to music and movement because that better encompasses what we're trying to achieve with the children.
The class is parent-accompanied because it gives daddy/mummy and toddler an opportunity to do a guided physical activity together. Also, as toddlers tend to follow their parents or other kids, it's easier to lead them through several movement patterns if the parents are doing them too. This means that parents are in for a workout as well!
The idea is that we guide the class but it is based on the principles of child-oriented learning. So while we suggest a certain movement pattern, if the children themselves take it in a different direction, we're willing to explore it.
We do, however, try to work on various movement patterns that will help them discover their physical abilities and control their bodies. Movement patterns we work on go from rolling, to jumping with two feet, kicking and crawling, and bear crawling.
While it may seem like some of these patterns are a regression for children that are now walking confidently (a requirement to participate in the program), by 'reviewing' basic motor skills, we help them rediscover their full body control and hopefully fine tune their motor skills.
Some of these motor skills, such as opposing arms and legs while walking — a pattern that starts while the child is crawling — are known to be part of the language development process in the brain.
Then about half the class is dedicated to playing drums. And while some kids can bang along with some rhythm,  the idea is that by using the drums while adults play to a rhythm they get acquainted with beats and tempo.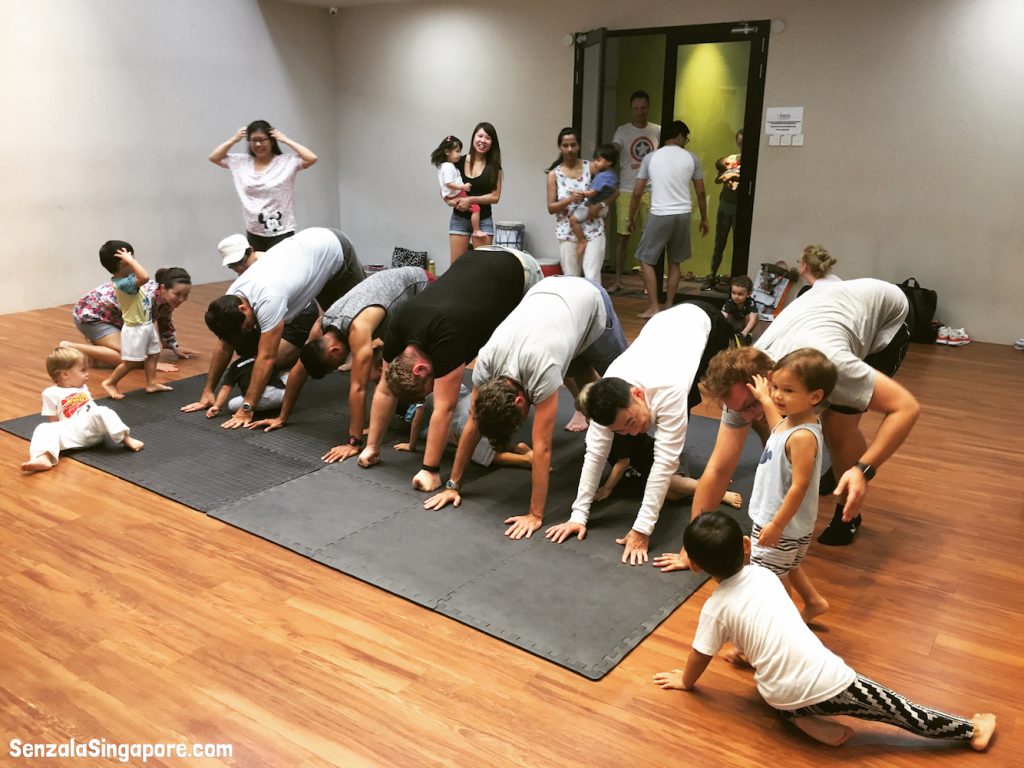 What is the idea age range for the toddlers in the class and why?
18 to 36 months but we require kids to be walking confidently before they join the class. Most children prior to 18 months aren't at that stage and some of the patterns can be too simple for children over three.
What are some of the benefits of parents and children doing the class together?
A parent recently told me: "I really need to do more physical activity with my child." I think that really sums it up. Physical activity together with your toddler helps parents to understand their children's physical abilities and limitations.
Which specific areas will be worked on during the class and how will it improve the fitness of both parent and child?
As I said, we go over a number of movement patterns. Rolling, skipping, kicking, jumping with both feet, and various forms of crawling are among my favourite (and the children's as well).
Rolling is a perfect example. It's the first way of moving that a child learns, and nature probably intended it that way since rolling is great for developing core strength. Babies use their core strength when they learn how to sit, stand and walk. We return to that for that little core kick and to remind children of their head control, which are both important skills that they need to protect themselves when they fall. It's also the first step in developing the skills that are needed to do a cartwheel (as they progress with their practice).
Similarly, various crawling motions build upper body strength and space awareness. Jumping and skipping help with motor coordination skills and jumping with two feet is a key milestone for toddlers.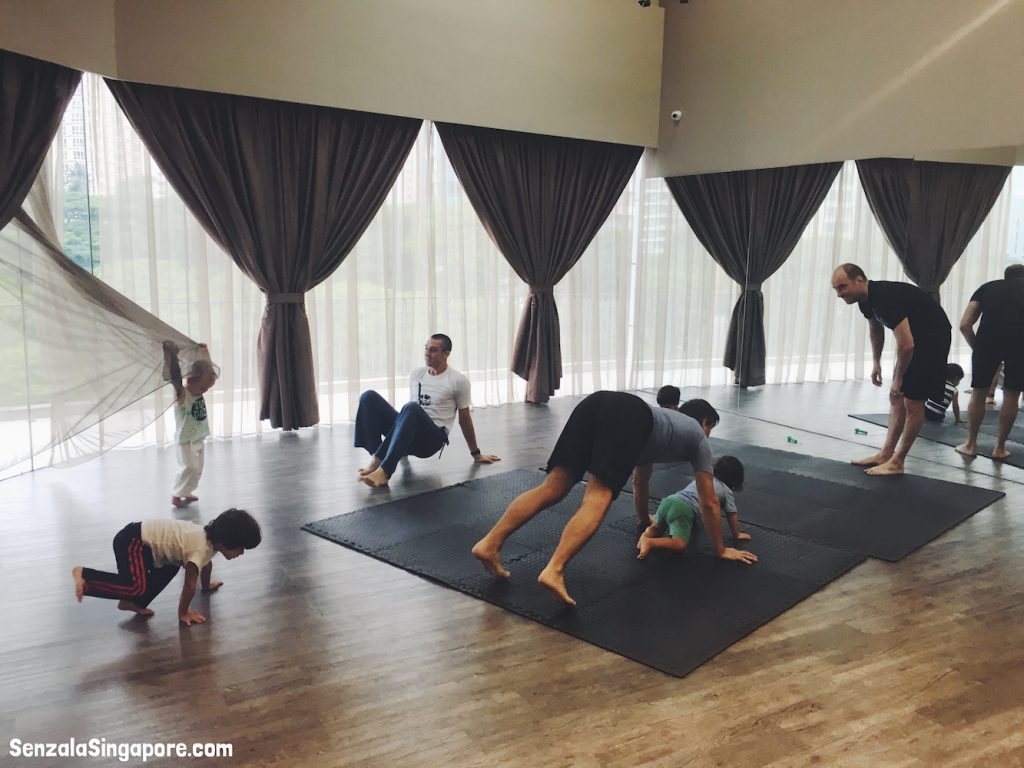 What are some things parents need to take note of before joining this class with the child?
The hardest thing for parents to understand is that we designed this class to be interactive. Therefore, while we're guiding the class, we also take input from the children. This means that sometimes, we change the activities very quickly which for adults can be unnerving but keeps things interesting for toddlers. It also means that sometimes individual children will only participate in the exercise that they find interesting but not all of the exercises. When that happens, we always urge parents to just go with the flow instead of trying to prod the child to perform the action because they eventually will, sometimes even hours later when they get home.
Why is capoeira a great choice for both adults and children?
Capoeira is a full body workout that works on your sense of rhythm, body control, strength, agility and flexibility, all without weights, and while challenging your limits. It's awesome, but I'm biased.
 Classes are held on Saturday mornings at P.A.T.H. ACME Academy at *SCAPE (2 Orchard Link). Classes run on a term basis and cost $240 for a eight week term. The next term starts in early October 2016. For more information, please email senzalasingapore@gmail.com.