By Vanessa Birch, Momentum Bootcamps 
As mums, keeping up with our active kids can often be a challenge. In my family, we've made it a point to be active outdoors as much as we can. Sure, the heat and humidity can often derail us, but since we have two little alarm clocks that wake up religiously at 6am, we're usually out the door by 6.45am and you'll spot us either scooting, riding, running, swimming or completing 'bootcamp' challenges.
I know time is a precious resource and many mums find it hard to fit in play time with their active kids, let alone keep up with their energy, while still making time to keep themselves fit and healthy. So why not kill two birds with one stone by achieving both goals at the same time? I've found that the more I involve my kids in my fitness routine, the easier it becomes for me.
Here are some things I do with my family that can hopefully inspire you:
• Turn fitness into a game
We have a great front yard that is prime for kids with a trampoline, tunnels, hula-hoops, witches hats and more. I often set up little challenges where they have to jump through hula hoops, get onto their scooters, race down and around the witches hats and scoot back to the trampoline as fast as they can.
At two and three years of age, Ella and Tomas love these little 'bootcamp' obstacles I set up and I try to keep up with them by participating and cheering them on. It's a lot of fun and Tomas always asks what the next challenge is.
Yes, not everyone has a yard, but in Singapore, there are many beautiful parks and green spaces that you can do this, so make use of it.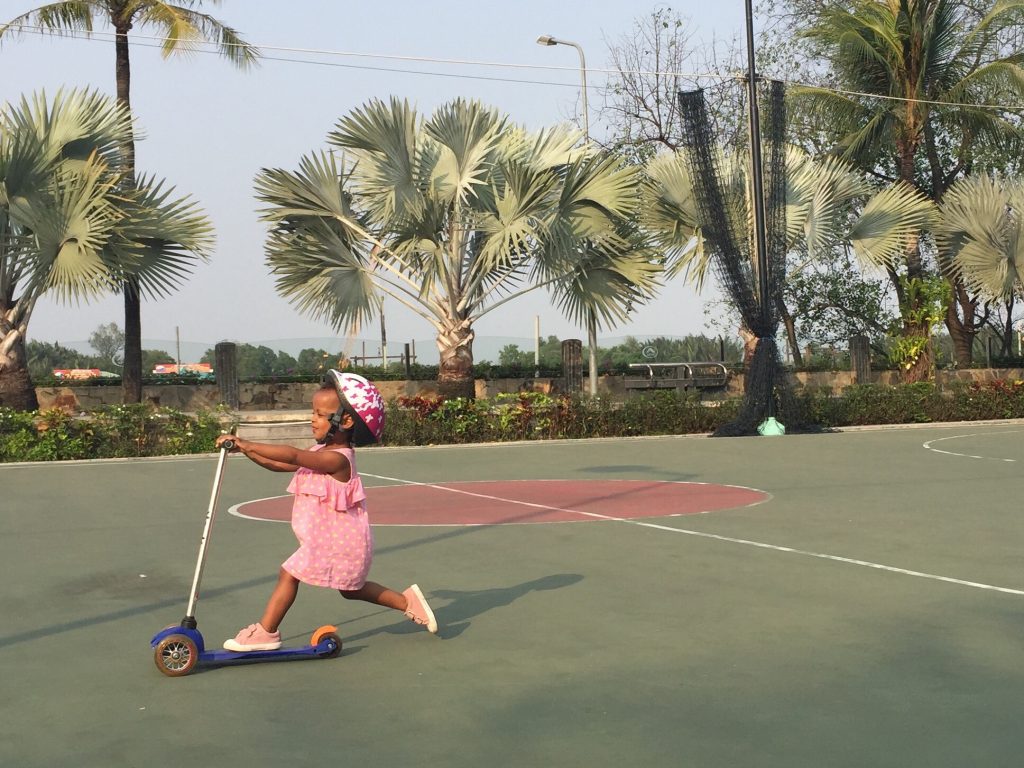 • Explore the great outdoors
As a family we ride bikes and scooters everywhere. There's a skate park in our compound and our kids love it, racing up and down the ramps. It sometimes makes me nervous but I do love watching them grow as they get more confident each week.
We also frequently head to the local playground where Tomas will scale up a rock climbing wall while Ella races after birds. I'm usually getting a good sweat from chasing after one or both of them at the same time. It may feel like herding cats, but I'm getting a great workout in the process.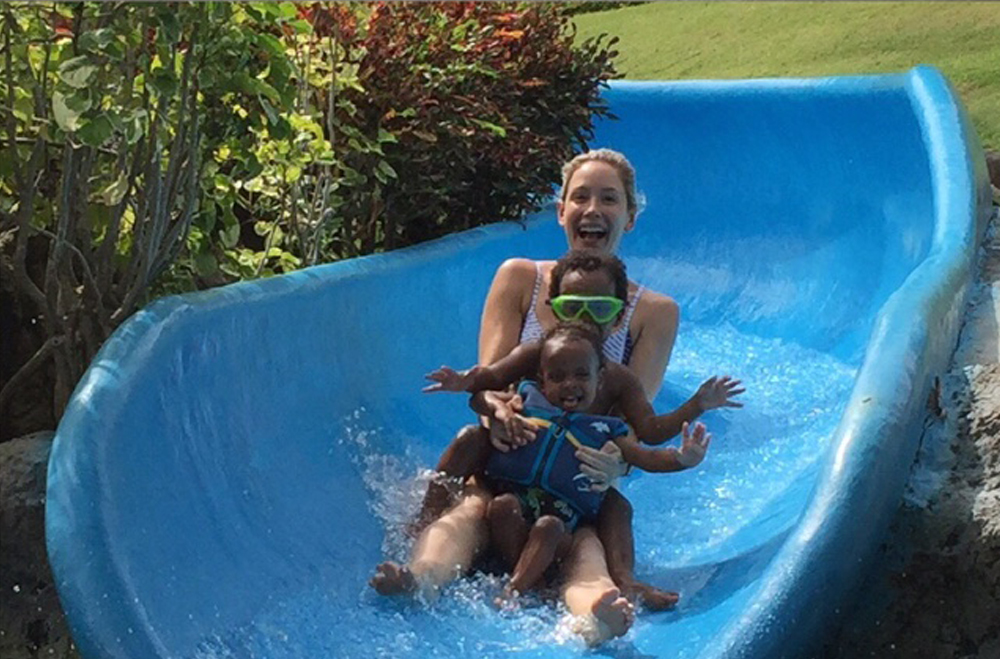 • Get your entire family involved
Being active shouldn't be something you do separately from your family. Instead, incorporate it into everyday life. The more your children see you enjoying exercise, the more they will want to mimic you and participate in what you are doing. This can a great timesaver as you get to spend time with your kids while still getting your exercise. My daughter Ella really loves getting involved with my workouts. She's got a lot of energy and makes us laugh all the time. She may only be two but can already punch out four solid push-ups.
I am now in the seventh month of my pregnancy, so the exercises I do have changed accordingly. These days, I always take five minutes to stretch when I wake up. The kids call it "yoga time" and perform planks or downward facing dog beside me. Basically, your energy and enthusiasm on keeping active is contagious, and if you encourage and support your kids to participate and enjoy it too, it will naturally become a part of your family's lifestyle and I believe it's one of the best gifts you can give your children – encouraging their love for playing and being active together as a family.
Vanessa Birch is the mother of two very active toddlers, as well as the founder and co-director of Momentum Bootcamps Pte Ltd. They organise regular classes where the numbers are small and they specialise in strength training. Click here to read more about them and here to sign up for a trial of Momentum's classes.