Being a mum means that you wear many hats and play many roles to both your husband and children. This also means that stress levels can run high, and exercise is the perfect way to lower anxiety levels while finding balance, and inner and outer strength, shares Momentum Bootcamps owner Vanessa Birch.
Mummyfique speaks to her and her business partner Amanda Clement, who are both mums, about their fitness journey and their dedication toward helping other mothers get fit and stay healthy.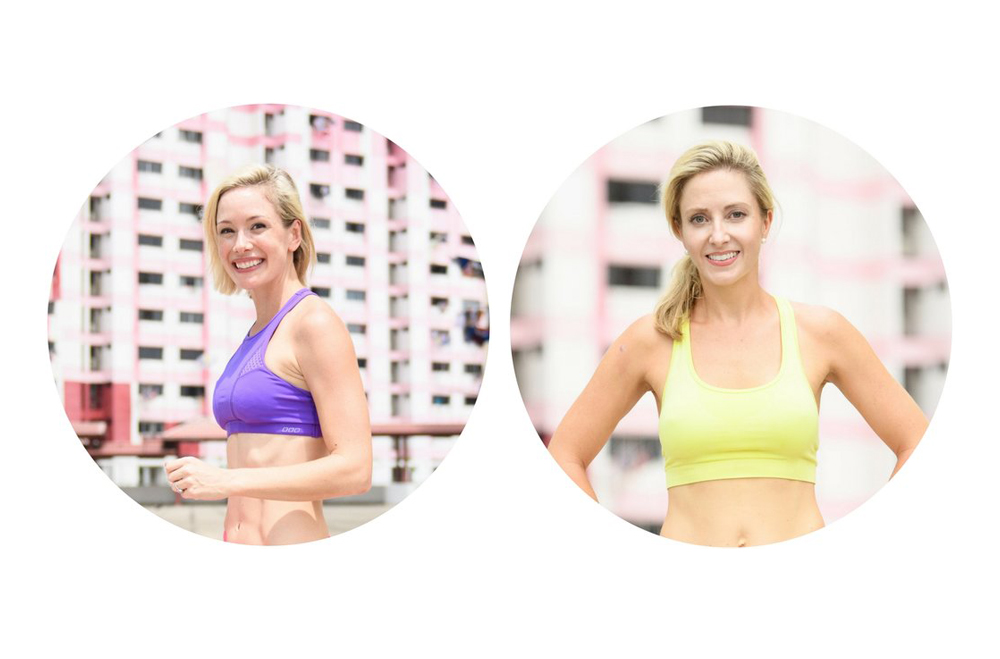 Mummyfique: First off, can we get you to share about your journey towards fitness and encouraging others to do the same?
Vanessa: I was always an active child and enjoyed gymnastics and dancing until my mid teens. I continued going to the gym in my 20s, but it was just a routine. When I was about to hit 30 and I decided that one of the 30 things on my then bucket list was to complete a half marathon. I had never been a great runner and this pushed me out of my comfort zone. It ended up changing my life trajectory completely. I loved the sense of achievement, empowerment and training that I put in towards making this goal happen and wanted to inspire others to be able to do the same and achieve what they thought was impossible. So I quit my job in marketing and events to become a personal trainer and group fitness instructor – there's not better job!
Amanda: I've always been conscious about keeping fit, but my passion for fitness was birthed after I had my first child. It is not simply about doing a certain exercise, but adapting how you exercise based on the condition of your body. When I first got pregnant I would run and gym regularly, but by 32 weeks, this was not possible and instead I began to practice yoga and walked a lot instead. This walking continued even after giving birth went everywhere by foot with a pram.
For my second child, the reverse was true. I was unable to really do anything high intensity during my first trimester, but after that and all the way until I gave birth, I was attending bootcamp two to three times a week. Every woman and every pregnancy is different. There's no right or wrong exercise and intensity level, what's most important is to ensure that you are able to cope.
Pregnancy is hard on the body and recovery doesn't happen overnight, even though there is pressure to bounce back to your pre-pregnancy weight. However, you have to put the needs of your baby first by eating well and not overdo it on the exercise front. It is a fine line to tread between both.
What led to the both of you working on Momentum Bootcamps together?
A: During my second pregnancy, I studied to become a personal trainer as I wanted to become a group fitness coach. It was also motivation for me to get in shape. Towards the final stages, my then personal trainer, now business partner, Vanessa was going to start Momentum Bootcamps. After chatting further, we decided to do it together and the rest is history.
V: I love being a group fitness instructor and wanted to create and be a part of an inclusive and supportive fitness community. There was also a gap in the market then for a more boutique bootcamp experience, where the numbers were capped so clients would always feel looked after, and to have a specialisation in strength training, where there would be lots of equipment such as ropes and kettle bells at the sessions. Hence Momentum Bootcamps was born.
We cap our sessions at 16 clients so we can know everyone's strengths and weaknesses and are able to challenge them to be their very best.
Are there any focus areas/exercises that you will recommend for mums?
V: We have modifications, progressions and regressions to cater to pre and post natal clients. For mums who are looking to tighten and tone, they can attend the Abs, Butts and Thighs class or our signature bootcamps that will help them shed unwanted kilos with high intensity internal training and strength training, which helps to develop long lean muscle.
The key thing is to exercise as its important for your mental, emotional and physical health. Exercise can lower anxiety levels, increase endorphins, build self-confidence, increase energy levels, improve memory, lower body fat percentage and build lean muscle mass.
Find out more about the classes that Momentum Bootcamps offer at www.momentumbootcamps.com.