For this special Valentine's Day edition of Fitspo Friday, Mummyfique sits down with couple, Natasha and Eugene, who participated in and completed their first Spartan Race last November. It's quite a feat considering that they were "unable to run more than two kilometres" just nine months before that.
The two love birds met through work (Eugene was Natasha's client), and though it wasn't love at first sight, through subsequent encounters they found out that they had much in common, including a love for golf and good food. The rest, as they say, was history. They started a family together and now have two boys they have lovingly nicknamed the Onglets. Fitness became a priority for the couple last year and mum Natasha shares with Mummyfique on how they motivate one another and involve their little ones in their fitness journey.
Mummyfique: Can you share your fitness regimes and how you work out together? 
Natasha: We run together about two to three times a week. We both also take High-Intensity Interval Training (HIIT) classes, but do this separately as we have memberships at different gyms. Eugene does BodyPump, BodyCombat and HIIT classes three times  a week, while I do Personal Training, HIIT and pole dancing.
What got you started on your current fitness journey and how did Eugene get involved? 
I was interested in pole dancing and this got me started on training with a personal trainer to increase my strength levels. As I started working out more, I decided to try out HIIT classes at a friend's gym and dragged Eugene along. In the end, it was Eugene who signed up for a package with them. We decided to then challenge one another to see who would make the most fitness improvements within a stipulated time — his goal was to lose weight, while mine was to gain lean muscle.
We both ended up improving our body fat percentages by four to five per cent. Our commitment towards fitness became more serious when we signed up for a Spartan race with a big group of friends and trained together on the weekends.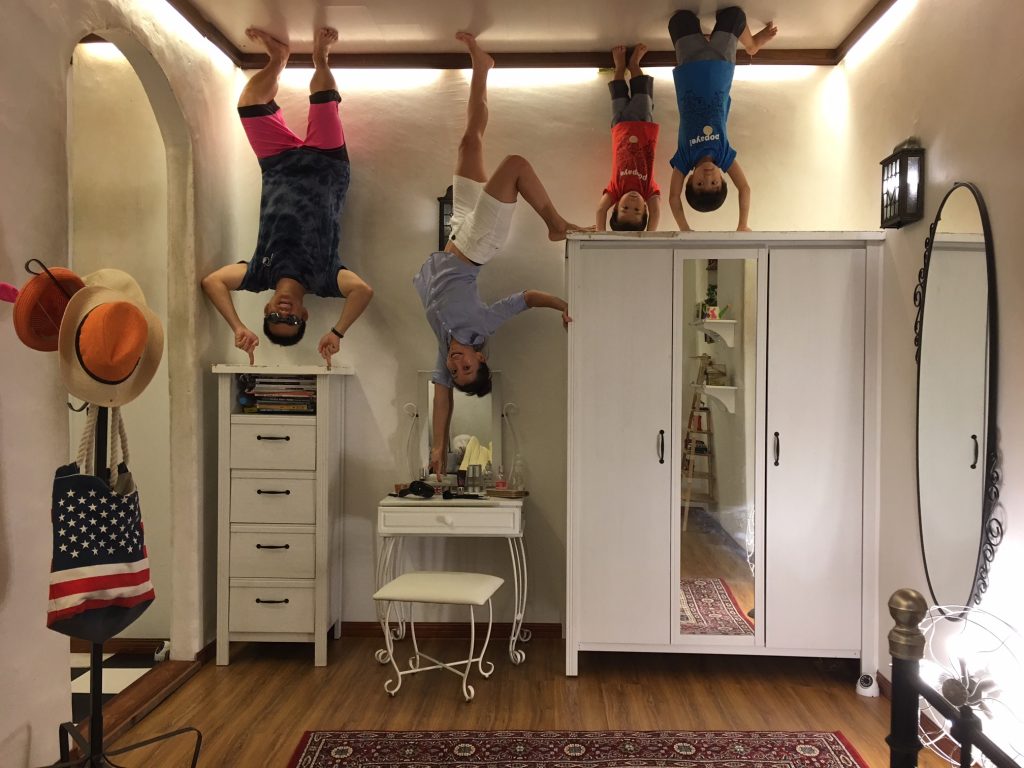 Are there any particular workouts both of you like to do together? If so, why? 
HIIT, as it really gets the heart pumping and you feel great from the post-workout endorphins! Training for obstacle course races are fun too, and very motivating as those are like massive playgrounds for grown-ups!
Was there any point in your life when you or Eugene weren't fit? 
Up until February of 2016, we could barely run two kilometres without stopping to catch our breaths. Personally, I have never been particularly fit. I was even exempted from Physical Education lessons in Junior College due to back and hip joint issues.
Is there a special diet the both of you stick to? 
Not at all. We do try to start our weekday mornings healthy with smoothie bowls that are filled with lots of fruit, tofu, chia seeds and oatmeal.
What are your guilty indulgences? 
A good steak, molten chocolate cake, pretty much everything! We usually end our Thursday night runs at Satay by the Bay.
What do you do to relax as a couple? 
We take trips overseas. Japan and Australia are family favourites. Going for a good meal is also our way of pampering ourselves, and we do that on a weekly basis.
How have you introduced leading a healthy lifestyle and keeping fit to the Onglets? 
Sometimes we do bodyweight workouts at home and get the kids involved as added weights. For example, we walk in lunges while piggybacking one child, or do planks while reading stories to them. We also got the kids excited about the Spartan obstacle course race. As a result they 'train' too by choosing to climb the stairs or practice their grip strength on our pull-up bar.
What advice do you have for couples who want to start working out together? 
Find something that caters to different fitness levels and strengths so both of you can enjoy working out together, no matter how fit you are. It could be anything from yoga to HIIT, as long as you have fun! It's also great to rope in other friends to create a 'sweat squad vibe' and keep each other motivated!
Inspired and thinking of working out together with your other half? Click here for sports that you can pick up together as a couple.