As most of us parents know, our little ones can be really picky eaters at times, and in those situations, food art is one of the most effective ways to get them to eat a balanced meal. If you're thinking of trying your hand at being creative with your culinary endeavours, why not embark on some racing-themed food art this Singapore Grand Prix weekend?
In this story, we've hunted down some amazing motoring-inspired culinary creations that we hope will inspire you to get busy in the kitchen.
Ming Lee of Bento Monsters 
These little racing bears from the mummy behind Bento Monsters, Ming Lee, are super cute.
Using bread for the cars, slices of sausage to create the bears' ears and wheels, and tuna filling as a base, this creation is stunning yet easy to recreate.
Alternatively, Ming has created a girl/boy version as well.
We think the best part about these bear cars is that they are versatile enough to be eaten alone as a snack, or plated as a meal.
For a more substantial version, Ming has one where she uses just sausages to create cars which she put together in a set with meat, vegetables and fruits. Now doesn't that look scrumptious?
Lee Samantha
No story about food art would be complete without featuring the creations of one of our favourite food artists — Lee Samantha. Her use of fresh ingredients and vibrant, clean plating always manages to whet our appetites. The following car-inspired creations are perfect examples of why we love her work.
Turning a simple omelette into a car with cucumber wheels.
Fruits are great ingredient choices as well!
See more of her creative creations here.
Jean of Bento Days
Mum of three Jean's works have been inspiring all of us here at Mummyfique as well.
Her following creation features an easy tip that we can all replicate at home. Inspired by some toy helmets that she found on a blog shop, Jean used them in a racing creation where the race car drivers are made using hard boiled egg (for the faces), ham (for the features), and carrots (for the arms). The steering wheel is made out of wholemeal bread and the car seat, of chocolate bread.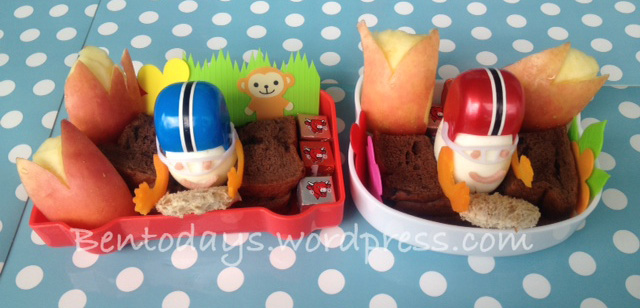 Feeling inspired? Why not try out your own version in the kitchen! Don't forget to snap a picture and tag #MummyfiqueEats if you do so. Happy cooking!