"Wow! He's really efficient!"
Mummyfique catches up with the ever stylish Jenny Tay – Managing Director of Direct Funeral Services, co-founder of Direct Life Foundation and Flower Story, a floral design business.
The first thing that struck me was how incredibly friendly Jenny was and her smile; infectious to say the least. Expecting her little one any day now, we managed to sneak in a lovely afternoon with the radiant mum-to-be and got her talking about her pregnancy journey.
How did you find out you were pregnant and what was your first reaction?
My husband and I had planned to be pregnant and we were really surprised that within a month of trying, we conceived!
We felt really blessed that things turned out so smoothly according to plan! My initial thoughts were "Wow! He's really efficient! Haha!"
…and baby daddy's reaction?
I had a feeling I was pregnant three days after I missed my period – I was so excited I used a pregnancy kit while my husband was at work. When I realised I was pregnant, I sent him a picture of the results while he was having a meeting with our staff. He replied with the crying emoticon and stepped out of the meeting to call me to share the joy!
He was really happy to be a dad finally and rushed home to celebrate with me! I'm thankful that through my pregnancy, my husband has been very understanding and doting towards my needs.
Adrianna Papell Beaded Halter Backless Gown in Gold | Style Lease
What went into your big announcement?
I didn't have a big announcement, but I've shared the good news with my closest friends and many of them celebrated with baby showers and gifts to commemorate the happy occasion!
Did you have a gender reveal?
I had a private gender reveal with my husband – we opened the sealed envelope of the baby's gender together 🙂
What's the first thing you bought for baby and why?
We're very practical people and the first thing we bought for the baby was the crib, chest of drawers and stroller. These items had to be pre-ordered three months in advance as they were not readily available in store.
Your favourite baby store?
Motherswork.
Adrianna Papell Jersey Mermaid Dress with Cold Shoulder | Style Lease
Tell me about your favourite trimester.
The second trimester was my favourite – I felt so energetic and had no symptoms of pregnancy at all. I was active at work, did a bit of traveling and exercised throughout. Sometimes I forgot  I was pregnant since my baby bump wasn't that big! I've been pretty blessed throughout my pregnancy, I didn't vomit at all and the nine months were quite a breeze for me .
What's the one thing you will NOT miss about pregnancy?
Definitely the restricted food intake. I missed my medium rare beef and spread of sashimi!
What is your typical maternity outfit?
I usually wear baby doll maternity dresses on my lazy days, and slim fit dresses when I want to be a bit more dressy .
 A belly oil/balm you swear by?
I've been using Clarins tonic oil and Mustela stretch mark cream twice a day . I think I'm a bit kiasu about stretchmark prevention – I practically use one bottle of each every month!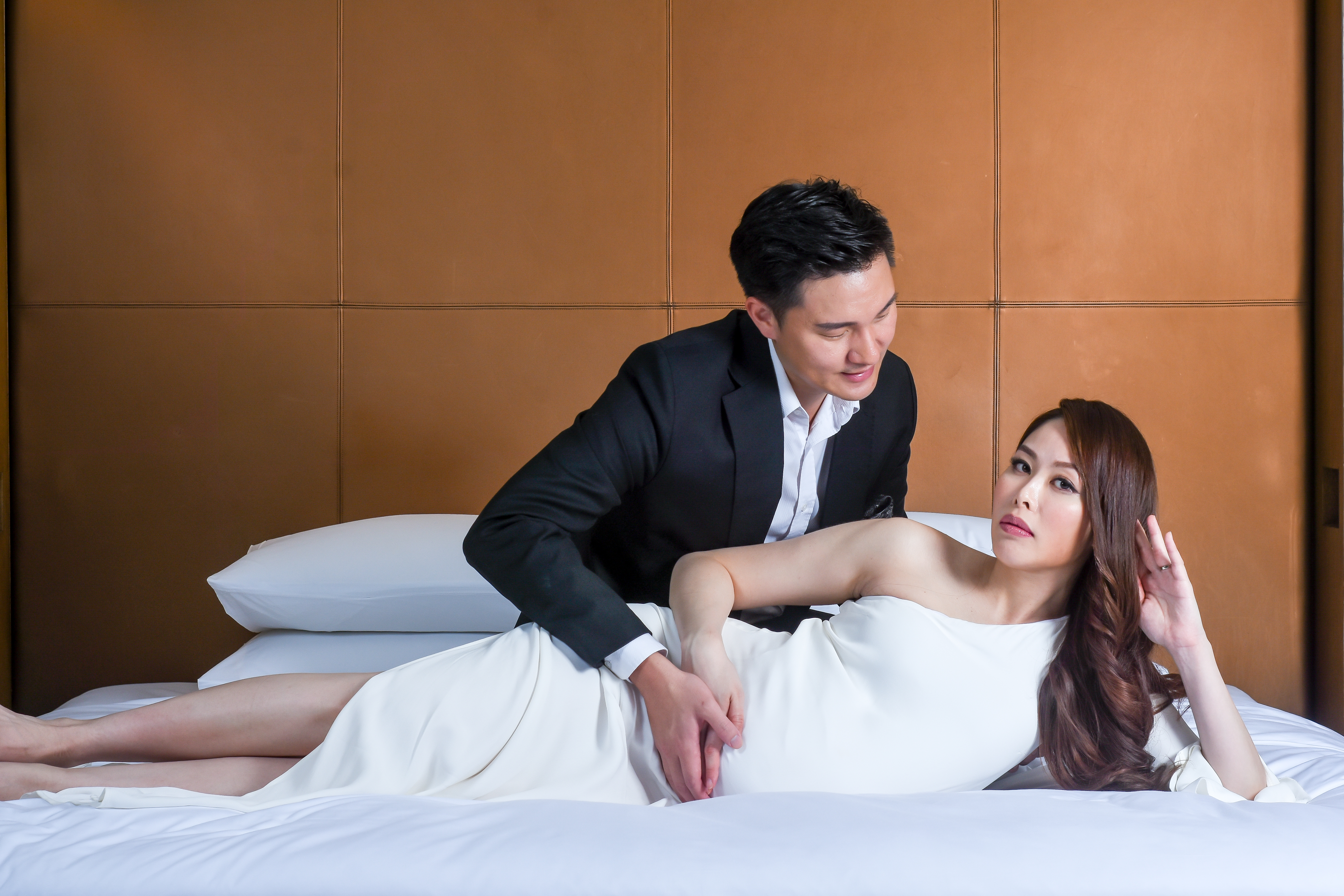 Bec & Bridge Lunetta Maxi Dress
Inspiring pregnant celebrity/influencer and why?
Velda – it wasn't easy for her to conceive and after she conceived, she was still able to manage work and life in a well-balanced manner. It was nice to constantly share tips on our pregnancy journey as we were only about four weeks apart .
Your pregnancy journey in three words.
Smooth, loved and contented
What's the one thing you wish someone told you about pregnancy?
I didn't know it would be so difficult to sleep. On not so good nights, I only manage to clock four hours of sleep but most of the time, I get about six to seven hours. It really isn't easy to fall asleep, especially during the second and third trimesters.
Basix Black Label Beaded Silver Scalloped Gown | Style Lease
If you could do two things differently during your pregnancy, what would it be?
I would definitely exercise more. I went to the gym during the first and second trimesters and started prenatal pilates in the second trimester right up to the third trimester. Exercise keeps me feeling fresh and energetic and I would loved to have incorporated swimming into my routine.
I would definitely want to sleep better by incorporating a better sleeping routine. Not being distracted by my mobile for example or TV at nigh, instead I would have forced myself to get into bed by 10pm.
Your two cents to expecting mamas?
Enjoy the pregnancy process as much as you can. Though sometimes it may be tough , surround yourself with positive people, get great support from your husband, family and friends and nine months will be a breeze! Definitely worthwhile when you see your baby in your arms!
Jenny, we wish you all the best on your beautiful motherhood journey
and can't wait to meet the little one! Stay blessed.
Damelza Harris-Olsen is your multi-tasking, on-the-go mum to two active little boys. When not stuck on writing, you'll find her on adventures with her husband and sons, on a photoshoot somewhere painting faces or on a home (re)decorating binge.