Our dad crush this week has had a great start to the year, welcoming triplets with his model wife Helen Lasichanh. Pharrell is one of the more passionate, down-to-earth celebrities out there and that, coupled with his funky dress sense, is why he's our dad crush of the week.
The pair are parents to eight-year-old Rocket, whose name was inspired by Stevie Wonder, Elton John and Herbie Hancock, who all have songs with the 'rocket' in the title.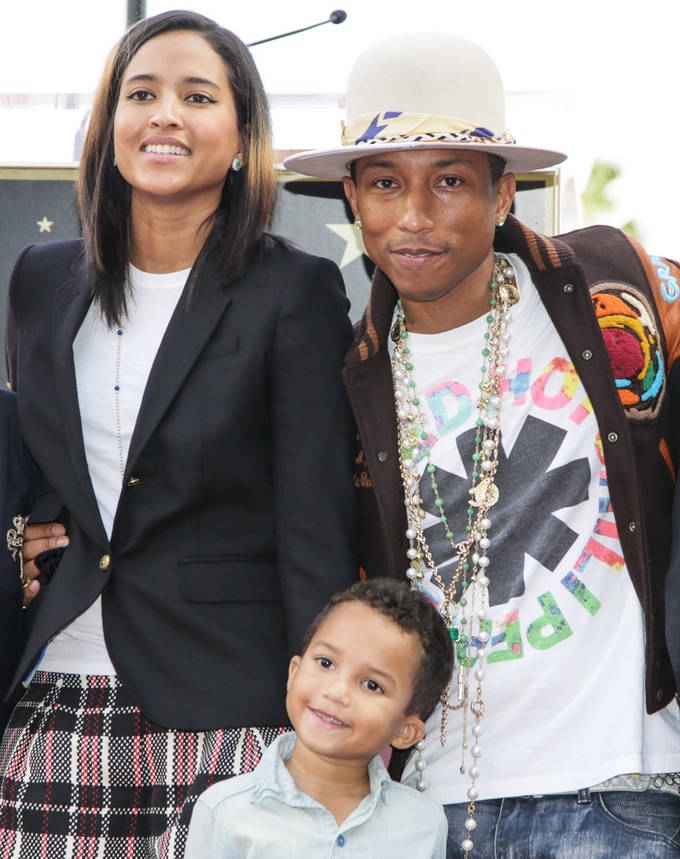 The multi-award winning singer-songwriter and producer has worked with some big names in the industry, the most recent being Hans Zimmer for Hidden Figures.
He has also co-produced numerous chart-topping hits for artists as well, such as Hollaback Girl for Gwen Stefani and Robin Thicke's Blurred Lines. Even the Queen of Pop, Madonna, has worked on music with him – his vocals were featured on her Hard Candy album.
He's not just in demand in the music industry, his presence can be found in the fashion industry too. He starred in the Chanel short film Reincarnation that was produced by none other than the brand's main honcho Karl Lagerfeld, starring alongside fashion darling Cara Delevigne.
It's all thanks to his unique sense of fashion that he possess and shares with his wife. Just check out the couple pics that they have posted on social media.
His one-of-a-kind aesthetic has led to the establishment of fashion label Billionaire Boys Club, founded with Japanese streetwear designer NIGO. He's also collaborated with well-known brands like Moncler and Louis Vuitton.
Perhaps one of the most prolific collaborations has been with Adidas, where he has come up with multiple special designs for their shoe lines.
He even hand-painted several pairs of Adidas Stan Smiths to raise funds for his charitable organisation, From One Hand To AnOTHER (FOHTA). He's passionate about making a difference in the world and FHOTA provides science, technology, engineering, arts, mathematics and motivation (STEAMM) tools for kids to meet their full unique potential.
His belief that the next generation can make a difference has led to an appearance on Sesame Street, where he taught Elmo and Cookie Monster (and children, of course) that reading could open their minds to a limitless world.
When he believes in something, he goes all out, even to the extent of showing it off with his grills.
You just have to listen to his hit song Happy, to get a taste of the kind of person he is. We think everyone can learn quite a bit from his peace-loving personality.
For last week's dad crush, click here.