Speed up your postpartum recovery by eating nourishing confinement food, suitable for a range of dietary preferences.
Strengthen your body after giving birth with these delicious confinement food options. These follow the traditional confinement beliefs of removing "wind", regulating bodily functions and also boosting your breast milk supply. While we were unable to find any Indian confinement food catering, mums can choose between the options below, whether that's Chinese, Muslim or vegetarian options. Mums can also specify their dietary restrictions, e.g., no beef, or no alcohol in the dishes.  
Chilli Padi Confinement Catering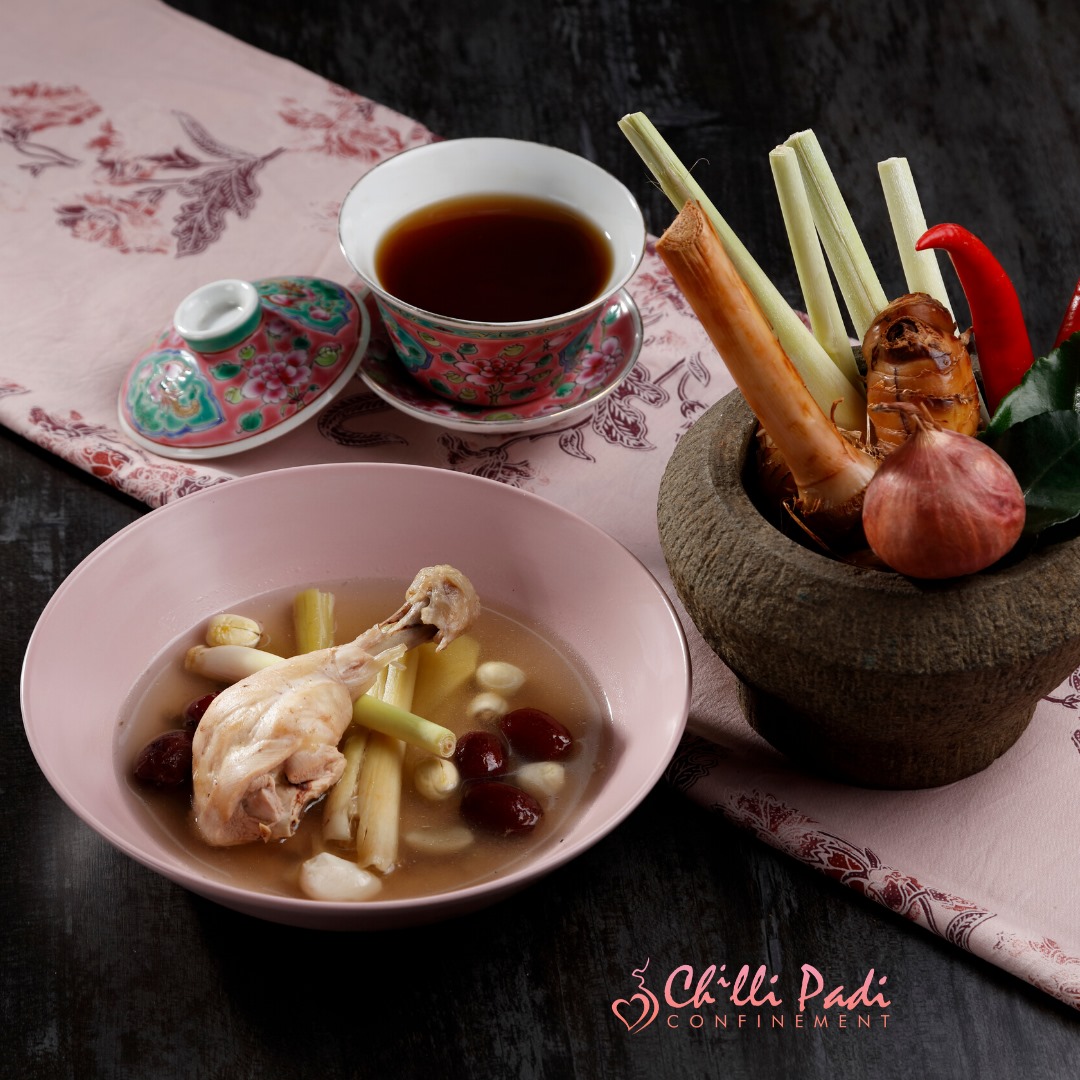 Beginning as a restaurant in 1997, Chilli Padi is synonymous with authentic Peranakan cuisine and rich heritage. The award-winning Chilli Padi then branched out to offer a confinement meal catering service. Through their wide range of confinement dishes, they aim to help mummies regain their hormonal balance, improve their immunity and promote lactation so babies can also get enough nutrition. All the meals are prepared with the finest and freshest ingredients every day, and are low in sodium and MSG-free. 
Every meal comes with rice and longan tea with red dates. Each week, the menu changes to aid the body in recovery. For example, Week 1's meals help to expel the "wind" in the body, and also detoxes, so stale blood can be expelled from the body. Following this, Week 2's meals help replenish your Qi, while the next two weeks' meals regulate and balance bodily functions. The last two weeks also help boost the immune system for postnatal recovery.
Some of their signature dishes include the ever-popular Vinegar Trotter, and herbal chicken with Dom. While certain food may have alcohol in it, you can request to have it prepared without the alcohol.
For lunch, they'll deliver your food between 10.30am to 1pm, and dinner between 4.30 to 7pm. Accounting for weather and traffic conditions, they are unable to guarantee meal delivery at a specific time. Additionally, there is no confinement meal delivery for Christmas Day, New Year Day, and on the 1st and 2nd day of Chinese New Year. Meals will be replaced. 
Prices start from $468 for a single meal package for 14 days, up to $1,688 for both meals for 28 days. Some packages, such as the 14-day dual meal, 21-day and 28-day packages also come with complimentary bottles of lactation cookies freshly baked by Chilli Padi.
Umehara Rei says, "Ever since my confinement nanny left, I have been tending to the needs of my little milk monster without any time left for myself. Therefore, I'm so thankful for Chilli Padi Confinement making these 21 days a breeze as I get pampered with hot nutritious meals delivered in vacuum sealed containers everyday for lunch and dinner. The best part is I do not have to wreck my brains to think of what to order and focus totally on my little one."
Tian Wei Signature Confinement Food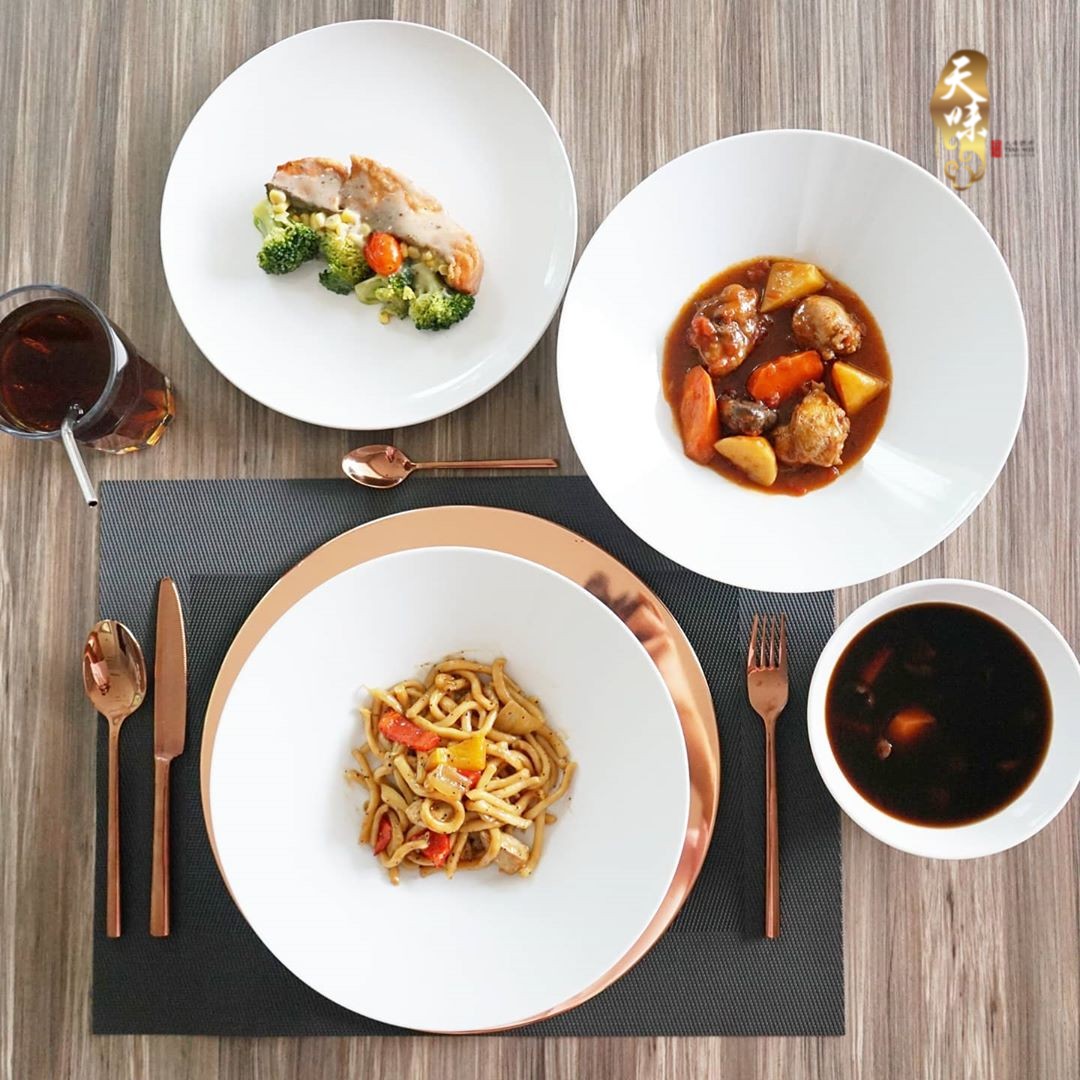 Designed to create delicious meals for confinement mothers, without missing out on essential ingredients for their recovery, Tian Wei Signature brings the best confinement food with Mediterranean fusion. With 16 years of experience, their head chef Eugne is skilled in preparing healthy and tasty meals. Their kitchen uses only the freshest and healthiest ingredients without artificial flavouring or MSG, and offers mums a new diversified confinement menu. Better yet, their menus are created to support your breastfeeding journey.
Each customer's delivery will be in a thermal bag ($5 charge for misplacing or damaging), and should be returned on a daily basis.
Offering a variety of both fusion and traditional cuisine, Tian Wei's signature favourites include seared salmon with cauliflower cream and tricolour grains. Other dishes mums love are Tian Wei Signature Coq Au Vin and Goma Ae Grilled Chicken. Do let them know if you have any dietary restrictions or ingredients you don't want to eat, and they can tailor the meals to your preferences.
Next, lunch will be delivered from 10am to 1pm, and 4 – 7pm for dinner. Additionally, they do not deliver to Tuas and Sentosa, while there will be a surcharge of $4 per trip for those living in the Central Business District. Moreover, do note that they do not deliver on Christmas, New Year's Day, the eve and first two days of Chinese New Year. If you wish to get confinement food on Chinese New Year, you'll have to purchase their CNY package.
Packages start from $478, for a 14-day single meal plan or a 7-day double meal plan, up to $1,688 for a 28-day package for lunch and dinner. Early bird prices apply if you book a month before your EDD. Each package will require a deposit ranging from $88 to $288. Trials are available at $35 and $40 for the normal and the signature meals. Additionally, you can add on a Bird's Nest Dessert (additional $20), a Bento ($10) and bathing herbs ($75 for 30 days).
Joyce Lee says, "Thanks Tian Wei for the amazing confinement meals. Their food is delicious and very generous, enough for two people. Well packaging and delivery is on time. I love their soup. Overall their service is great. Will recommend it to other mummies!"
Yue Zi Le Confinement Catering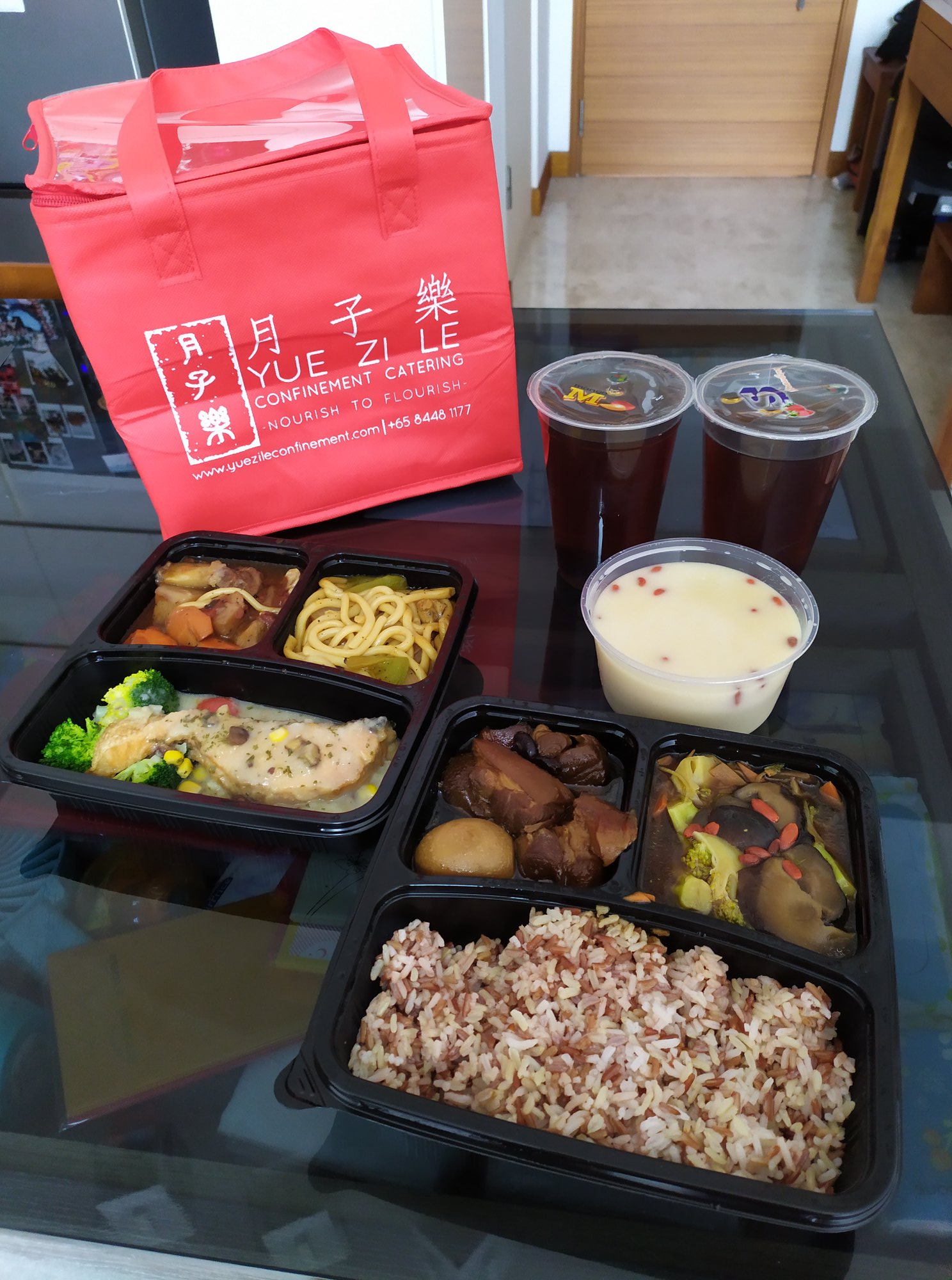 One of Singapore's confinement-only caterers, Yue Zi Le Confinement Catering intends to improve mums' recovery process and their lactation for breastfeeding mums. Similar to Tian Wei, their confinement menu also features western and international recipes as well as traditional dishes, so you have a great variety to choose from.
Each customer will get a thermal bag that has to be returned to the delivery personnel on a daily basis. Misplacing or damaging the bag will cost $5 per thermal bag. Accompanying every meal is 1 litre of red date dang shen tea, and two doses of shen hua tang. 
The confinement menus will include dishes like YZL Signature Pork Trotter Vinegar and Ginger Sesame Oil Chicken. Each meal will include a carb, meat, vegetables and soup. 
The delivery time for lunch will be 10am – 1pm and dinner from 4 – 7pm. However, they do not deliver to Tuas and Sentosa, and an additional delivery surcharge of $5 per meal will apply for addresses in the Central Business District.  
Packages start from $488 for a seven-day package for both meals, and 14 days for a single meal, up to $2,388 for a premium package with daily bird's nest soup. Book the package one calendar month before your EDD to get the early bird discount. Additional servings will cost $18, while the trial meal costs $38. 
Jesline says, "As we did not engage a confinement nanny, having Yue Zi Le is a godsend. It really saves us the hassle of planning for daily confinement meals. Furthermore, the meals delivered are really tasty and nutritious. We really appreciate all the careful thought and consideration that goes into the preparation. For my second pregnancy, I have also taken up the 28 days double meal package with Yue Zi Le. I really have confidence that they will take good care of my confinement needs this time around."
Breastfeeding Essentials: Nursing Bras, Breast Pumps and Breastmilk Storage
Thomson Medical - Resepi Ibunda Confinement Food Home Delivery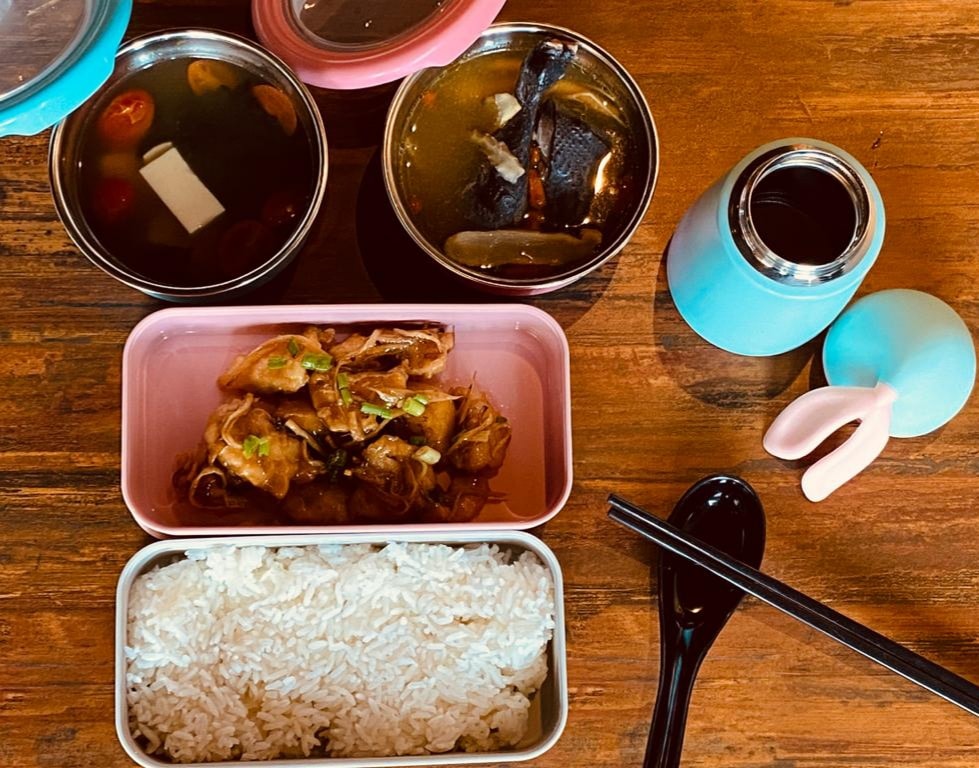 The food will be delivered in a meal bag, inside food warmer containers. Additionally, you'll need to rinse the containers after your meal. Do note that the containers are not microwavable.  
A typical day's menu might include a milk-boosting red snapper fish with papaya soup, with traditional beef rendang, and telur dadar (omelette). These will be paired with white or brown rice, and red dates longan tea. Both chicken and nuts are part of the recipes, so mums who are allergic to either should avoid this menu. For mums under medication, do consult with your doctor to ensure that these meals are suitable. 
Their delivery is island wide, except for Sentosa. Lunch will arrive from 10am – 1pm, and dinner from 4 – 7pm. Aside from Christmas Day, New Year Day, first and second day of Chinese New Year, they will deliver daily including weekends and most public holidays. A seven-day single meal will cost $490, while a 28-day package for both lunch and dinner will cost $1,658.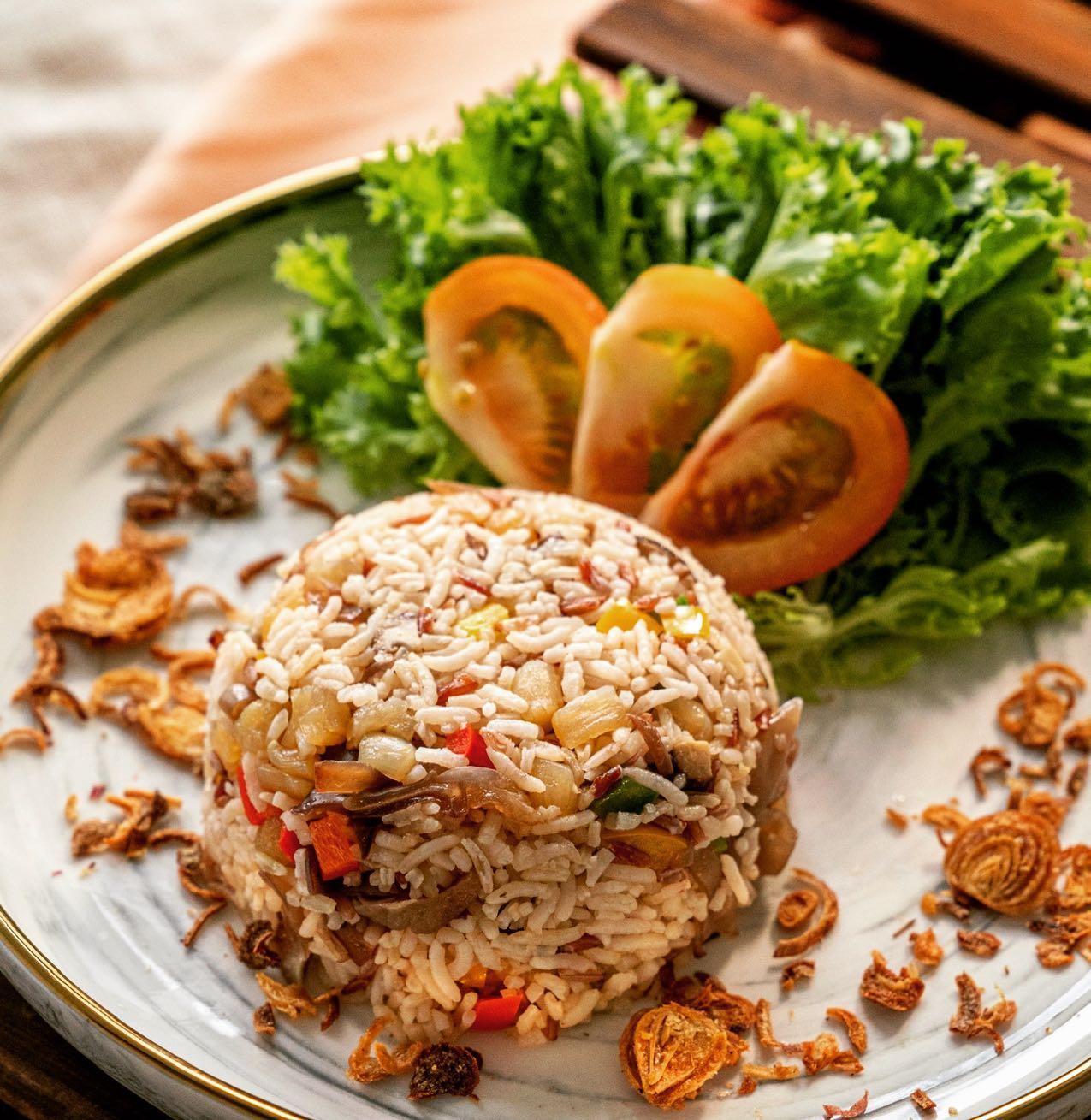 Using the highest quality ingredients, the team at Ummu Fazwill curate their menus to cater to modern-day mums, so everyday superfoods can become nourishing halal confinement meals. These are great not just for Malays but also for those looking for halal Chinese confinement food. The 100 per cent Muslim-owned company runs the delivery service at lunch and dinner. 
Each meal consists of carbs, protein, vegetables, desserts, red date tea and a daily brew. For example, the carbs might be brown rice, pasta or porridge, while the protein fish, beef or chicken. Additionally, meals are packed in thermal bags to be delivered and eaten fresh.  
Dishes include milky cashew milk with lemongrass fish and green papaya, galangal ikan kurau with basil leaves and stir-fried asparagus with baby corn, vermicelli and shiitake. One of the desserts might be a confinement-friendly version of Bobo Chacha with bananas and virgin coconut oil. You can also request for meals with no beef. 
Lunch will be served from 10am – 1pm, while dinner will be delivered from 3 – 7pm. While they serve on weekends and public holidays, the exceptions to this are the eve, first and second day of Aidilfitri and Aidiladha (or Hari Raya Puasa and Hari Raya Haji).  
Ranging from $500 to $2,100 for both lunch and dinner, the price depends on the length, from 10 to 44 days. Charges include delivery but they are unable to deliver to hospitals and other non-residential addresses. 
Huda Ali says, "Yummy yet nutritious. They change their menu every single day for both lunch & dinner. I'm always looking forward to their freshly brewed drinks and their desserts (especially their cakes!)"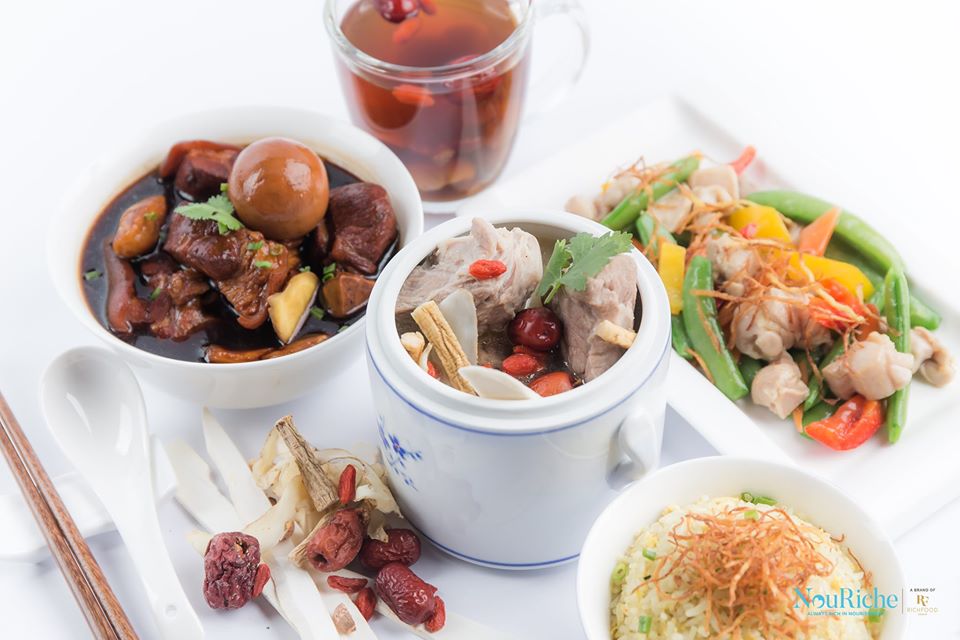 Specialising in delicious, healthy and nourishing confinement meals for new mothers, NouRiche, a brand from RichFood, has nourished thousands of postpartum mums for more than a decade. Additionally, they offer both vegetarian and non-vegetarian options.
All vegetarian meals will include one serving of rice, dessert and daily tea each. They're served in microwavable disposable containers, and customers will also be given a complimentary thermal bag to keep food warm. 
A typical menu may include steamed mock fish cutlet, stir fried spinach with beancurd, and a dessert of white fungus, lotus seed and red date soup. Paired with this are red bean tea and five-grain rice. Additionally, you can add any special requests such as replacing spaghetti with rice, and brown rice with white rice. Moreover, you may also add on normal meals ($65 to $476) for your family members, cooked without MSG.
You'll receive your lunch between 10.30 am to 1.30pm, and 4 to 7pm for dinner. They'll deliver on weekends, and public holidays, except for the eve and first three days of Lunar New Year. They deliver to most places except in the Central Business District and certain parts of Central Singapore. See the full list here. 
As for the pricing, these range from $580 to $2,158 for a twin meal package for seven up to 28 days. Book 30 days before your due date, with a 15 per cent deposit to get an early bird discount of $56 and $40 off the 28-day and 21-day twin meal package. First, send a cheque for the deposit, then for the remainder, you can pay via bank transfer, PayNow, credit card, debit card and PayPal. Trial meals are available at $45 and can be paid via all the methods above.
Cynthia Lau says, "I have been having the confinement food for five days and the food is really tasty! Even my husband who tasted the dishes said that the food is delicious. Worth every penny! The portions of dishes are generous!"