Keeping active is key to a healthy lifestyle, and it's more fun if you do it together as a family and start your kids on keeping fit from a young age. Sign up for one of these kid-friendly runs that are taking place in second half of 2017 and work towards completing the race together as a family.
POSB Passion Run 2017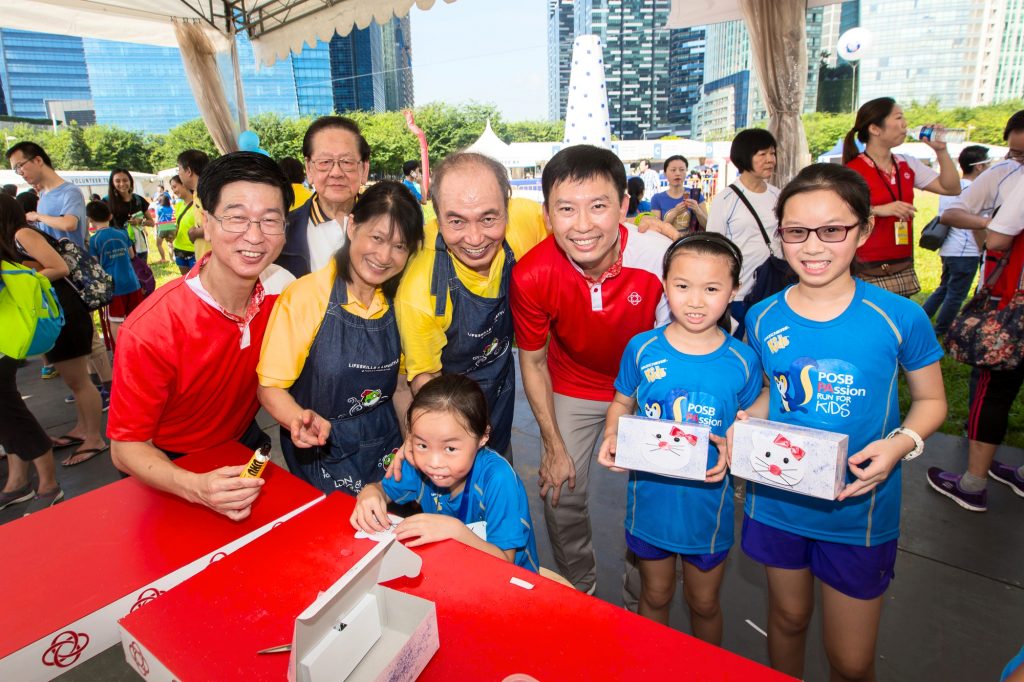 Back for its 9th year, this year's POSB Passion Run also marks the bank's 140th anniversary. Sign up for the 3.5km non-competitive Family Walk together with your little ones or get your older children to take part in the competitive categories. You'll also be supporting a good cause as the money raised from the run goes to the People's Association Community Development Fund, which benefits children through various programmes and events. Don't forget to explore the Workout zone, where there will be a mega inflatable obstacle course and the Digital Zone that will have lots of games and fun for everyone after you have completed your run. 
Sign up by 13 August 2017
When: 10 September 2017, 7am onwards
Where: Marina Promontory
Price: From S$25
Click here to sign up and for more information.
The Color Run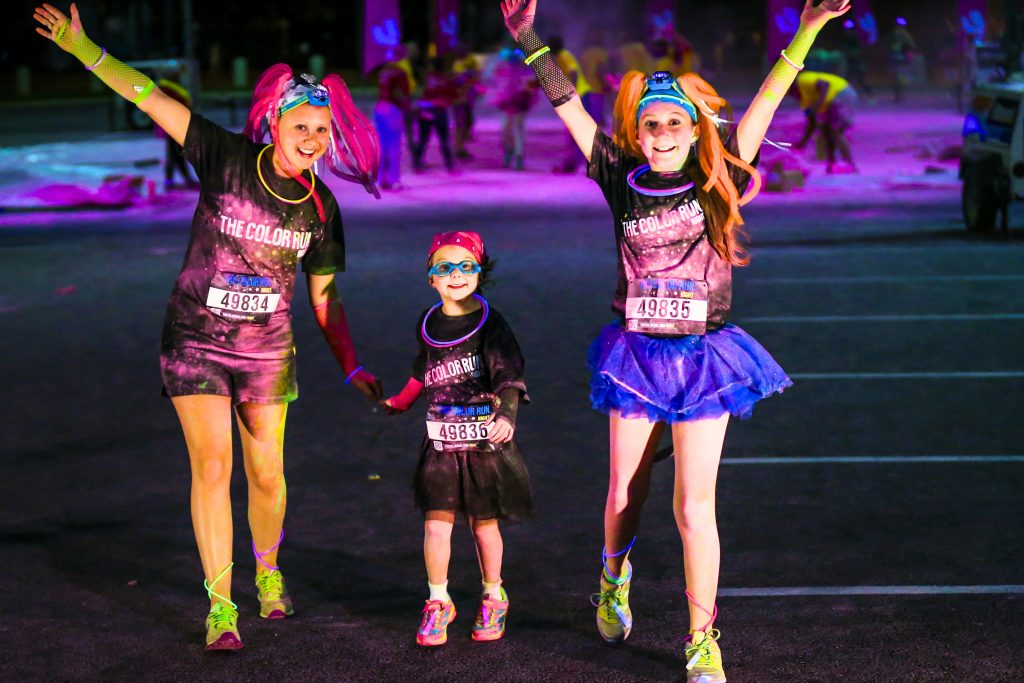 Little ones will enjoy the splashes of colour that they encounter through this 5km fun run. This year marks the first time that The Color Run in Singapore has been held at night and it promises to allow runners experience an explosion of colour in a brand new manner. All runners will be issued a black light headlamp that illuminates the colour powder that will be thrown on them, making it glow in the night. Sign up as a family with the family promotion package and for those who want to bring your toddlers, you'll be pleased to know that kids aged three and younger run for free. End off the night at The Finish Festival where there'll be music, dancing and activities for everyone of all ages.
Sign up by 11 September 2017
When: 23 September 2017, 7pm onwards
Where: Palawan Green, Sentosa Beach Station
Price: From S$35
Click here to sign up and for more information.
Run & Raisin 2017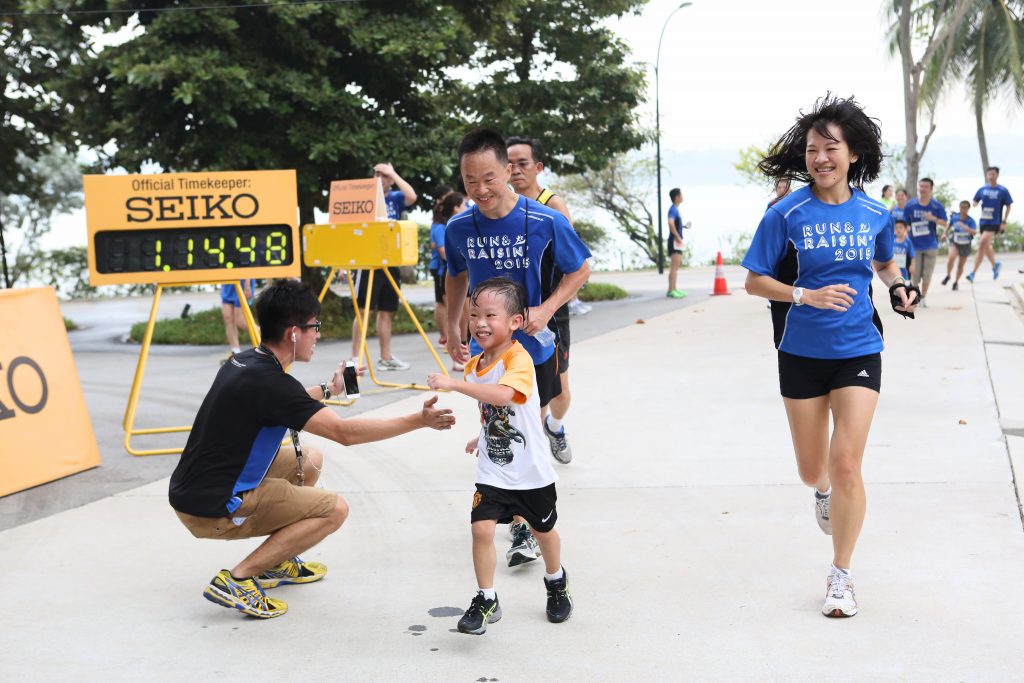 In celebration of TOUCH Community Services' 25th Anniversary, the organisation is holding Run and Raisin 2017, as part of their The Giving Family Festival. Take part in the 500m Family Run together with your children and navigate a simple obstacle course as a family while taking in views of Singapore's cityscape. The run support TOUCH's efforts to run programmes and weekly activities for children from less well-to-do families.
Sign up by 8 October 2017
When: 5 November 2017, 7.30am onwards
Where: Singapore Sports Hub, OCBC Square
Price: From S$35
Click here to sign up and for more information.
Skechers Blacklight Run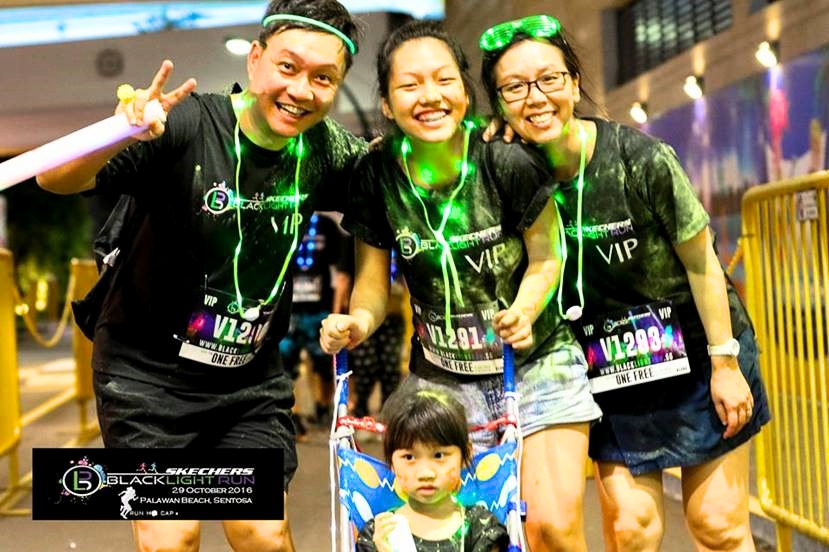 Wagons and strollers alike are welcome at the Skechers Blacklight Run where you can push your little one while getting a workout – children five and under run for free with an accompanying adult. Be prepared to be showered by UV glow powder that will emit light every time you enter the blacklight zones. The night ends with a huge party that will have a 'celebration glow throw' every 15 minutes, so you can be sure that you'll leave covered from head to toe in glowing colour.
Sign up by 8 October 2017
When: 28 October 2017, 4.30pm onwards
Where: Palawan Green, Sentosa 
Price: From S$54
Click here to sign up and for more information.
Santa Run For Wishes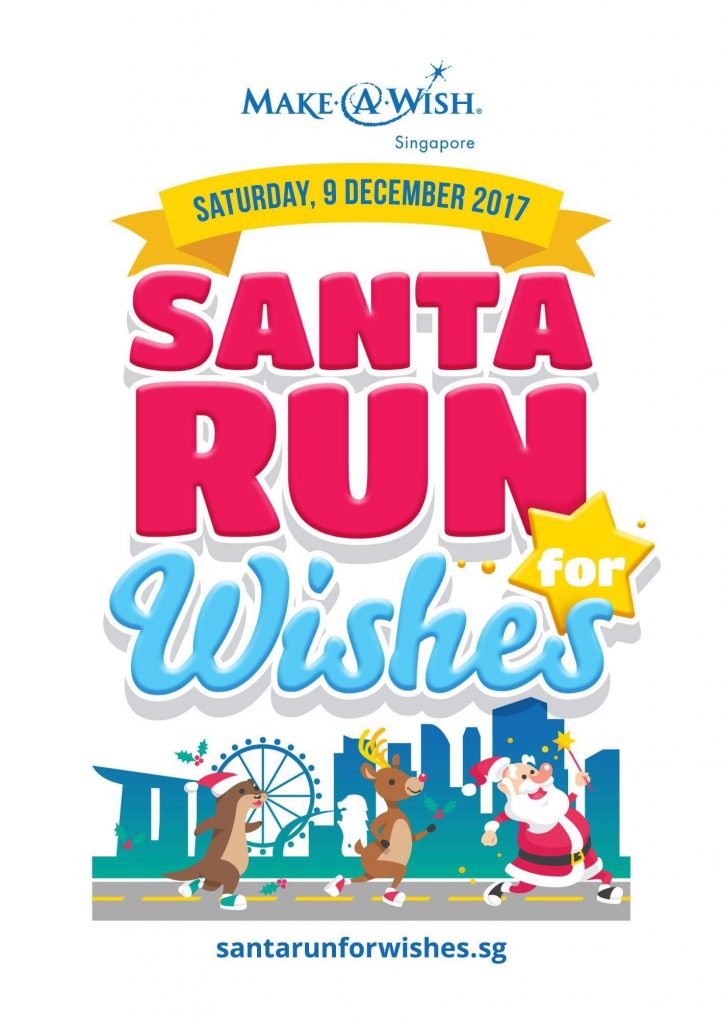 Help make a child's wish come true when your family participates in the Santa Run For Wishes. Pick either the 2km or 5km route and end the day at the Christmas Carnival, where there will be game booths, kiddy rides and the opportunity to take a photo with Santa.
When: 9 December 2017, 7.30am onwards
Where: Marina Promontory

Registration details have not been released yet. Follow them on Facebook for the latest updates. 
Standard Chartered Singapore Marathon 2017 – Kids Dash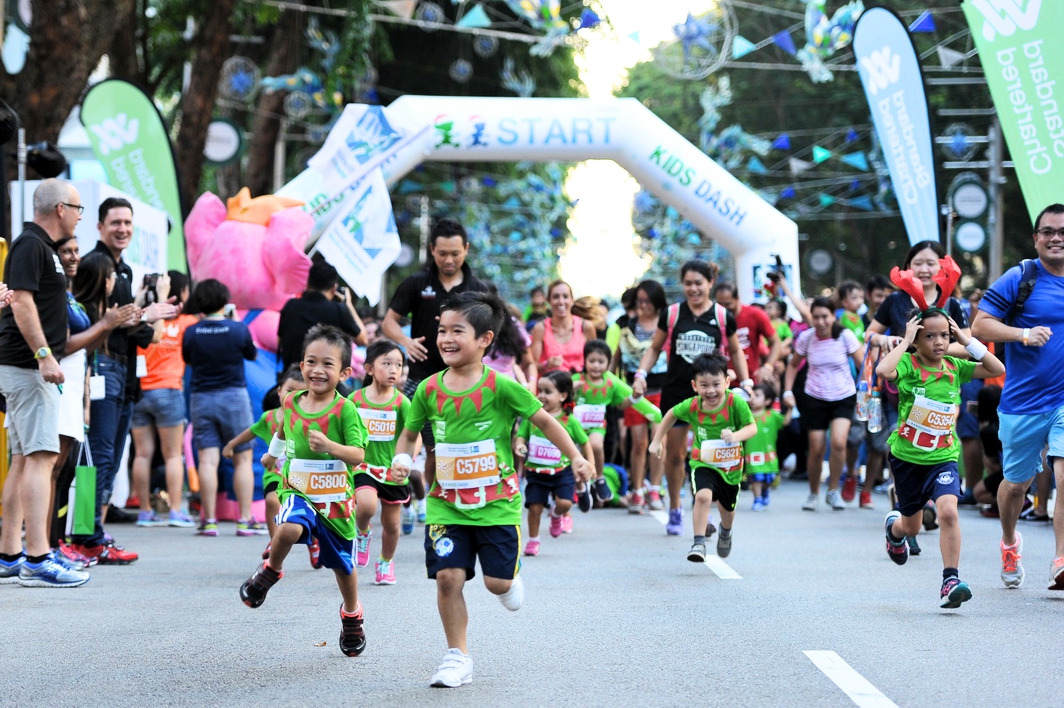 Organised by the Singapore Sports Council, this is the run event of the year – they haven't left out the little ones and have created a special standalone event just for minis. Children can participate in the Kids Dash to get a taste of running a marathon, and it's also open to those under six if accompanied by an adult. Make it a point to join in the festivities at the kid's carnival where there'll be lots of fun activities for everyone in the family.
Sign up by 15 November 2017
When: 2 December 2017 (for Kids Dash), 6pm onwards
Where: Orchard Road
Price: From S$25
Click here to sign up and for more information.
Looking for ways to keep your kids active? Visit one of the trampoline parks in Singapore or sign them up for a fun water activity.