By Tan Su-Lyn
While fresh is always best, as a full-time working mum, frankly, it is hard for me to fulfil the idealised image of the apron-clad mum who pulls freshly baked cupcakes out of the oven as the kids rush through the front door. So, these are some of the kid-friendly baked and frozen goodies I'm stocking my freezer up with each weeknight, after the kids have gone to bed, in anticipation of the September school holidays.
I make cookie dough and banana cakes in larger portions, stashing unbaked dough in small portions that I can roll out as each jar of baked cookies gets depleted, and refreshing frozen banana cupcakes when the kids have friends over. And homemade ice cream is a staple in our house. Mini frozen fruit pops are ideal because it gives me the opportunity to exercise some portion control even when I'm not home with the kids.
Let me first clarify that these aren't healthy treats per se but I've snuck in whole wheat flour and fruit where I can to make them just a wee bit more wholesome.
Whole Wheat Sugar Cookies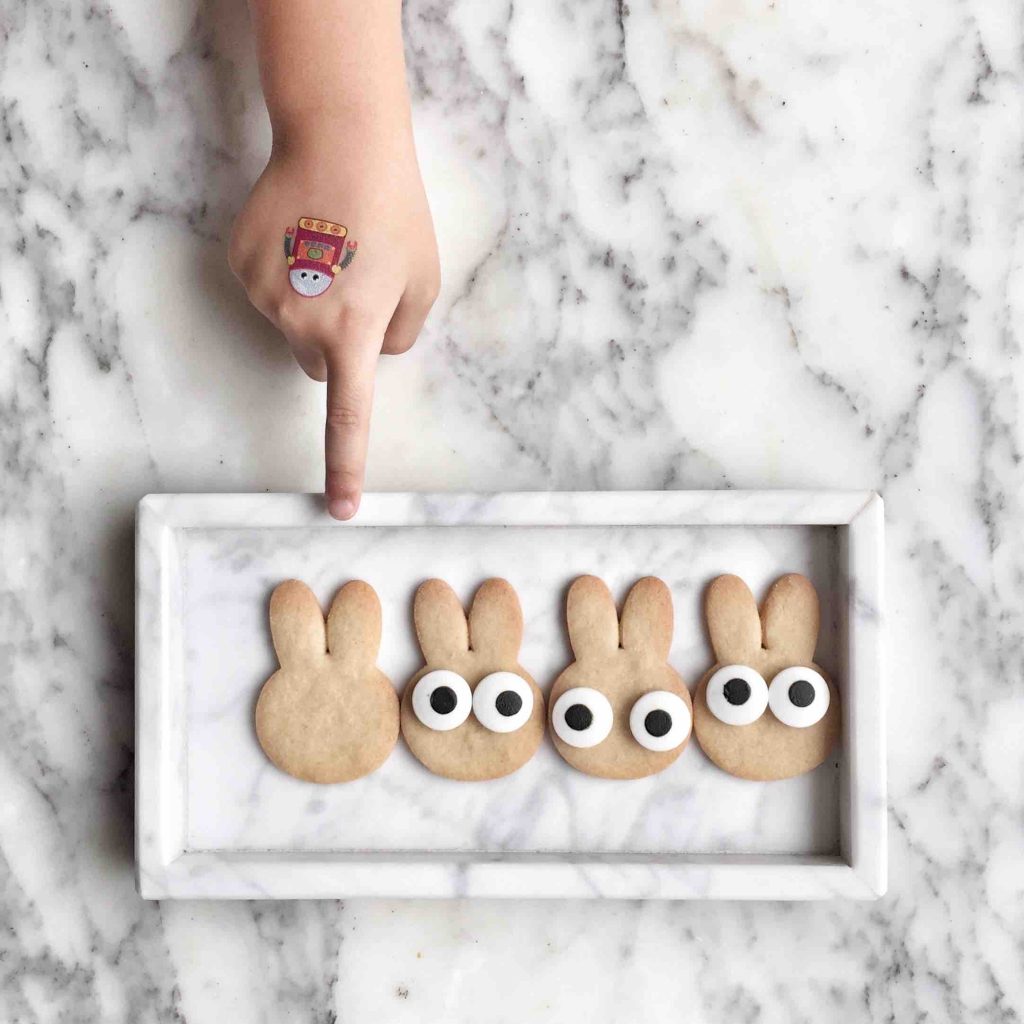 I had previously shared another whole wheat sugar cookie recipe on the ChubbyHubby blog. But this one is easier to shape and holds its shape well. I often roll out one to two portions of this dough and store the remaining portions tightly wrapped (and vacuum packed if you have the tools to do so) in the freezer. Simply defrost overnight and roll out as you would freshly-made dough.
For my just under two-year-old, I make small 3cm cookies that fit easily into her hand. For my five-year-old, I make fun shapes like these bunny faces that he can then help decorate. I've also managed to find a tangram cookie cutter on Etsy. So, this school holidays, we'll be baking cookie shapes that he can combine to create various other shapes.
Whole Wheat sugar cookies
Makes about 180 3cm cookies
400g all purpose flour, plus more for dusting
170g superfine whole wheat flour or whole wheat pastry flour
1 tsp baking powder
1/2 tsp fine sea salt
230g unsalted butter, cubed and softened
100g light brown sugar
300g castor sugar
2 large eggs
2 tsp pure vanilla extract
1. Place both types of flour, baking powder and salt in a bowl. Whisk to combine.
2.Place butter and sugars in the bowl of an electric mixer fitted with a paddle attachment. Mix on medium speed until pale and fluffy. Add eggs and vanilla.
3. Reduce speed to low and gradually mix in flour in three to four additions. Divide dough into four, flatten each into a disc. Wrap in cling wrap and refrigerate overnight.
4. Remove a disc of dough from the fridge. Stand at room temperature until soft enough to roll. Dust generously with flour (the dough will be quite sticky). Roll out to 1/4 inch thick on a lightly floured surface (I usually roll it out on a large sheet of baking paper), lifting and rotating the dough with quarter turns regularly. Place on a tray and freeze for about 20mins. Repeat with every disc of dough.
5. Cut cookies and transfer them to baking paper-lined trays and freeze for another 20min. Scraps can be rolled out again, placed in the freezer, cut and placed in the freezer before baking.
6. Preheat convection oven to 160 degrees Celsius. Place cookies 1.5 cm apart on baking paper lined trays. Bake for 10 to 15 minutes depending on how large to cookies are. Only the edges should turn golden brown. Remove and cool on wire racks. Store in an airtight container.
Strawberry Ice Pops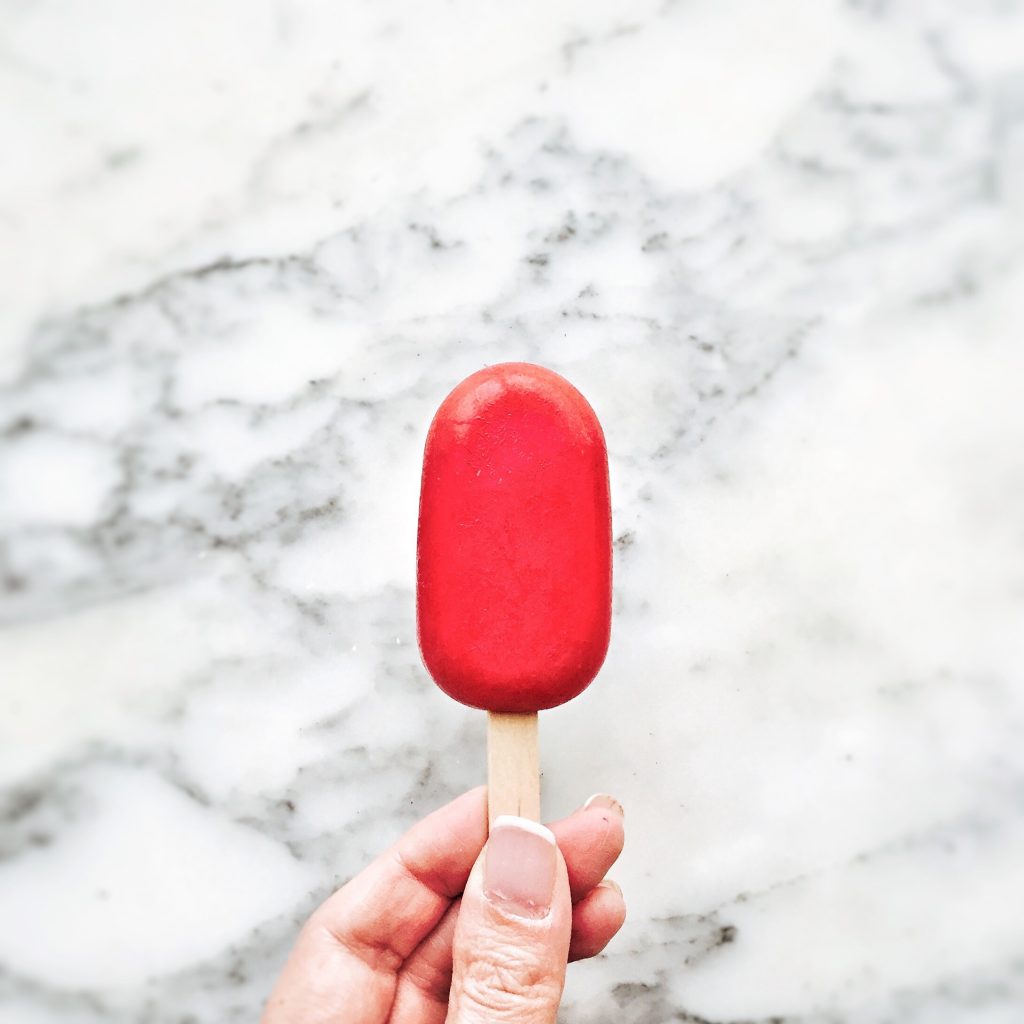 These are super easy to make and are great for encouraging your little one to help out in the kitchen. I love that they call for really basic ingredients. Sometimes, my son and I make spur of the moment decisions to whip up a batch of these on quiet weekend afternoons.
I nearly always have a bag of frozen strawberries in the freezer because they often taste better than the fresh ones we get. This way I always have strawberries on hand for a dish requiring roasted, cooked or puréed strawberries. In our home, they most frequently go into strawberry ice cream. I like the 1kg bags from that come in a handy zip bag.
For this recipe, we ended up with so much purée that I froze half in 16 mini ice pop moulds and filled a bunch if ice cube trays with the rest (for preparing strawberry iced milk and strawberry yoghurt smoothies). Finally, I set a small pitcher of it aside to stir into sparkling wine, a cocktail or just soda water with fresh peppermint.
Alternatively, halve the recipe quantities for a smaller yield.
Strawberry Ice Pops
1kg frozen strawberries
150g castor sugar (you can try using substitutes)
120ml water
2tbs freshly squeezed lemon juice
1. Rinse the strawberries in a sieve. Thaw them a little, drain, then place them in a deep saucepan with the sugar. Stir and set aside for 10min.
2. Add water and bring to a simmer. Ensure that the sugar has dissolved and that the strawberries have softened. Then remove from heat.
3. Process in a blender, add lemon juice and cool to room temperature. Remember that blending hot liquids can be dangerous. If you prefer, cool the liquid before blending. I'm just impatient.
4. Pour into moulds and freeze overnight.
Whole Wheat Banana Cupcakes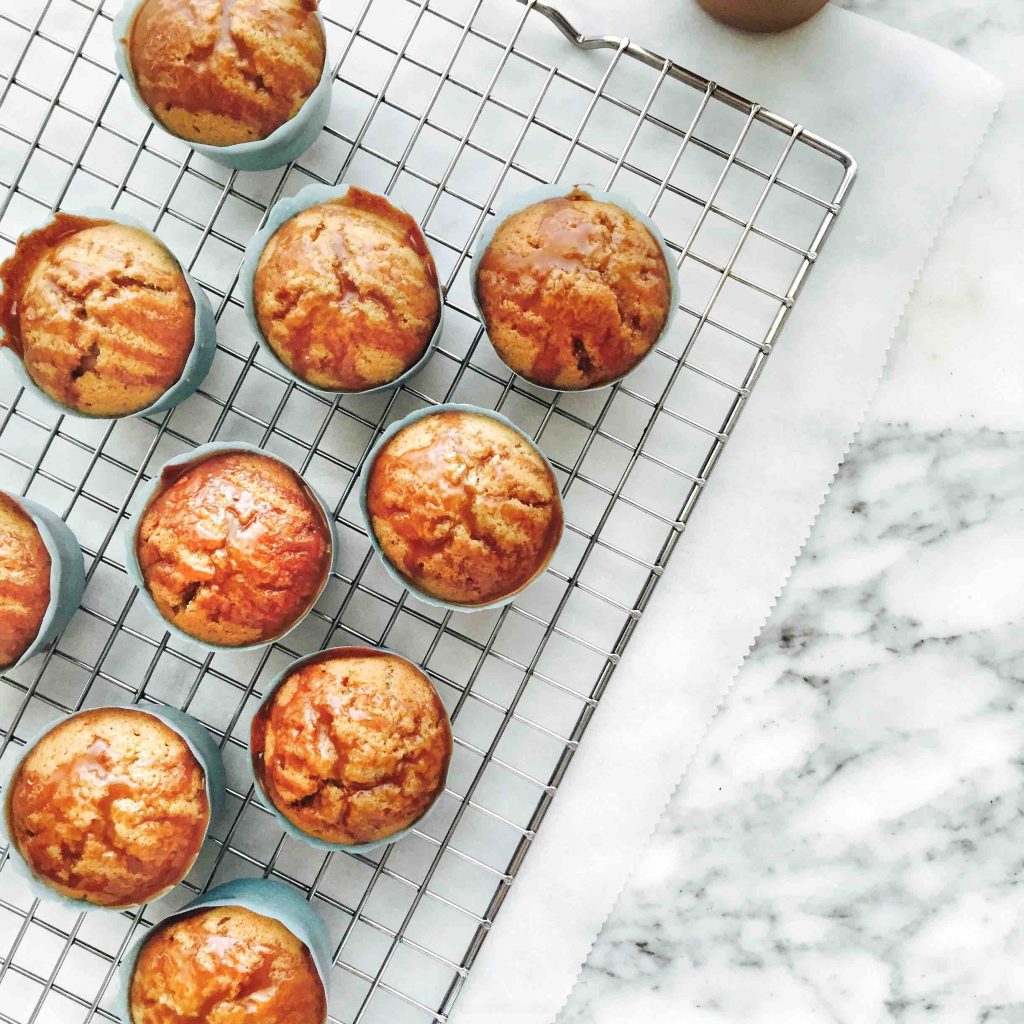 This is one of my many riffs on my mother-in-law's banana cake recipe. We always have bananas in the kitchen. So, when some head into the overripe zone, I use them in cakes or cupcakes (I actually think that they taste better in baked goods than perfectly ripe ones).
For the kids, mini cupcakes are a great option because I don't really want them to make a meal out of a sweet treat. But regular-sized cupcakes drizzled with salted caramel or packaged with a jar of gianduja make for great gifts when my child visits a friend.
Whole Wheat Banana Cupcakes
Makes 32-34 cupcakes using a No.30 ice cream scoop
200g all purpose flour
95g superfine whole wheat flour or whole wheat pastry flour
1 tsp baking powder
1 tsp baking soda
1/2 tsp salt
4 peeled ripe bananas, pureed or mash (about 375g)
5 tbs milk/buttermilk
1 tbs pure vanilla extract
240g unsalted butter, cut into 2.5cm cubes and softened
210g castor sugar
4 large eggs
1. Set two racks in the lower two-thirds of the oven. Pre-heat to 170 degrees Celsius/340 degrees Fahrenheit using the convection setting (raise to 180 degrees Celsius/360 degrees Fahrenheit if your oven does not have a convection option). Line cupcake pans with paper liners (you will need approximately 34 liners).
2. Combine the flours, baking powder, baking soda and salt in a bowl and whisk to combine. Combine the banana, milk/buttermilk and vanilla extract in a jug. Stir to combine and set aside.
3. In the bowl of an electric mixer fitted with a paddle attachment, cream the butter at medium speed. Scrape down the sides of the bowl and gradually add the sugar, increasing the speed to medium-high. Beat until light and fluffy, about 4 minutes.
4. Reduce the speed to low and add the eggs one at a time. Beat well after each addition and scrape down the sides of the bowl occasionally. Keeping the speed low, incorporate the flour mixture in three additions, alternating it with the banana mixture in two additions. Scrape down the sides of the bowl occasionally.
5. Using a No.30 ice cream scoop, place a level portion of cake batter in each cupcake liner. Bake for 20 to 30 minutes or until golden brown and a cake tester inserted into the cupcake centre comes out clean. Serve warm.
6. These cupcakes freeze well and just need to be defrosted in the refrigerator. Warm gently in the oven before serving.
7, Also makes one 25cm Bundt cake. Grease pan and dust with flour before pouring in the cake batter. Bake for 50 to 60 minutes or until golden brown and a cake tester inserted into the cupcake centre comes out clean.
Tan Su-Lyn is the CEO and Co-founder of The Ate Group. These recipes and images have previously appeared either on www.chubbyhubby.net or on her Instagram account @sulyntan.