Having luscious locks and an all-natural shine is the mark of a healthy head of hair and not only is this crucial for our appearance, it reflects our overall hygiene. With healthy hair, it enables us to look our best and ensures that our scalp health is also in check. It is also important to have a reputable go-to salon and use good quality hair care products to ensure your hair is looked after well. Why is hair so important? It has a signification impact on our self-esteem which also relates to self-confidence. Your hair is also important to your overall well-being because it is one of the first things that people notice about you. Just by viewing someone's hair, you will know how healthy and vibrant he/she is and what kind of lifestyle he/she leads. Healthy hair allows others to view you in a positive light.
Boosts Self-esteem and Confidence
The condition of your hair not only has significant impact on how others view you, but also how you feel about yourself. Booking an appointment at a reputable salon can revive your self-confidence as you spruce up your appearance. These salons are equipped with the latest tech and experiences hair stylists will be able to advise you on which style and cut suits you best. Getting your hair done can also be a refreshing experience and allows you to exude confidence for any occasion. We all know that confidence is key to success, and your new look contributes to your confidence greatly.
Prevents Pre-Mature Hair Loss
Maintaining the health of your hair promotes its longevity as proper maintenance can decrease the chance of premature hair loss. Premature hair loss can occur for various reasons and while some cannot be prevented like hereditary hair loss or infections and diseases, others like a change in haircare products, stressors, lifestyles can be. Investing in a good haircare regime and also visiting a renowned salon will ensure that your tresses are well-taken care of and inhibits further hair loss if any.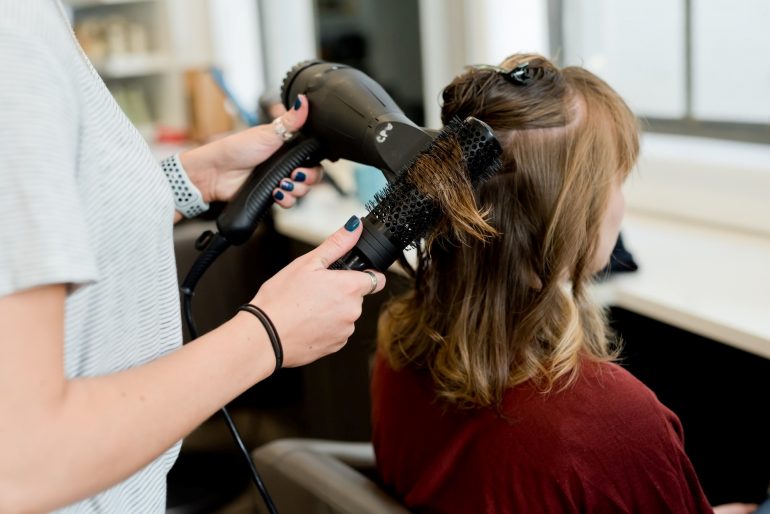 Reflects your Overall Health and Well-Being
How does your healthy hair reflect your overall health? The bounce and vibrance in your hair means that your body is producing sufficient vitamins and nutrients. On the contrary, if your hair fall has been increasing and you're faced with dry, frizzy hair, then it may be sign that you need a significant change in your diet or haircare regime. A diet low in zinc, iron, and/or protein could also play a role in thinning hair. Other causes for brittle hair may include a lack of biotin or even excessive heat exposure (be it being too much in the sun or using heat tools).
Healthy hair is critical to both your physical and mental well-being and should be taken seriously. With the proper maintenance and care, it is possible to have healthy, vibrant hair at all times. Additionally, healthy tresses bolsters our self-confidence. It can also tell us a great deal about what's happening inside of our bodies, thus teaching us some valuable lessons about how we can take better take care of ourselves.
TK TrichoKare is the first leading Trichological Centre with customised European Herbal Hair Remedies validated by certified Trichologists. At TrichoKare, Trichology (the scientific study relating to scalp and hair health) is combined with Technology (the science of the structure, function, diseases and care of the human hair and scalp). Treatments are customised using premium European herbs to cater to all kinds of hair and scalp conditions.
Being a pretty low-maintenance self, and after having two kids, needless to say, hair thinning seems to be inevitable and the re-growth rate after post-partum, was non-existent. I have always had a sensitive scalp and ever so often, my scalp gets itchy. I always just glossed over it, think that perhaps this is just one of those things and never bothered to seek treatment. When I was invited to for a treatment session at TrichoKare, I was intrigued to see how they can assist with my hair and scalp condition.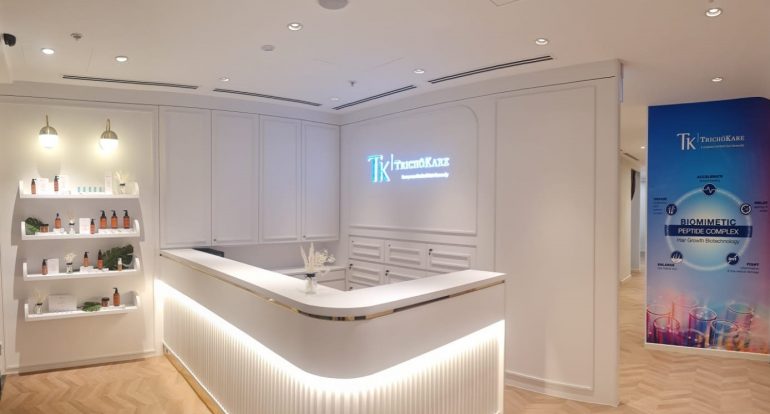 When I arrived at the centre, I was ushered into a room where my hair & scalp was analysed using lenses that magnifies up to 200 times. It not only helps to analyse the scalp condition, but also works as a visual proof of the improved scalp condition after treatment is administered. It was quite an eye-opener and albeit worrying to see your scalp up-close and hair follicles spaced apart! After being assessed as having a sensitive scalp, I was also told that my scalp needed more hydration and TrichoKare proceeded to customise a treatment plan for me.
First, I was treated to their customised premium European Herbal Scalp Masque. The masque helps to detox my scalp and remove impurities and excess sebum. 15 minutes later when the masque's magic was done, my scalp was left with a tingling cooling sensation. A Revitalising Hair Bath was up next to wash off the masque and restore the scalp's sebum balance. My scalp felt squeaky clean and my hair was so light and rejuvenated after the relaxing wash and much-needed massage. Just when I thought all that was left was a blow-dry, I was wrong!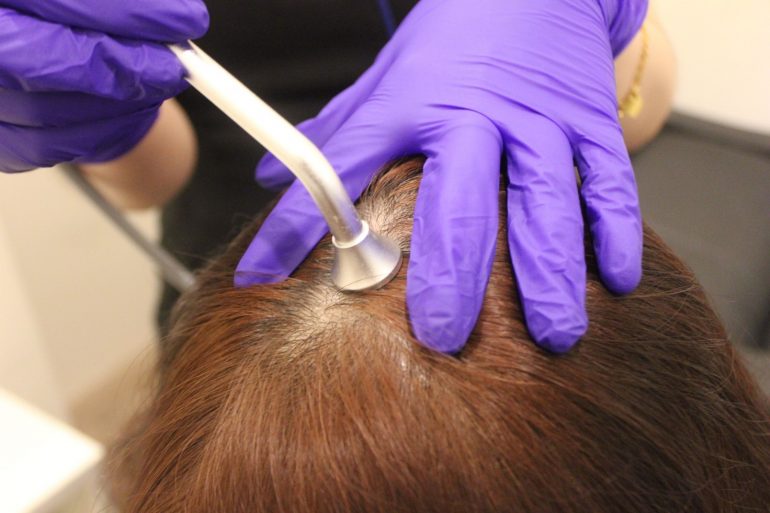 TrichoKare sets itself apart with its herbal and natural hair remedies, but it is certainly not behind in terms of advanced tech. After applying the OxyNutrient, a customised ampoule on my scalp, an OxyJet machine was used to accelerate the absorption of nutrients. This genius contraption helps to increase hair growth and thickness, reduce inflammation and damage as well as delay scalp ageing. By dispensing the ampoule through targeted pressure, the device not only helps to improve blood circulation, but boosts scalp cell metabolism as well.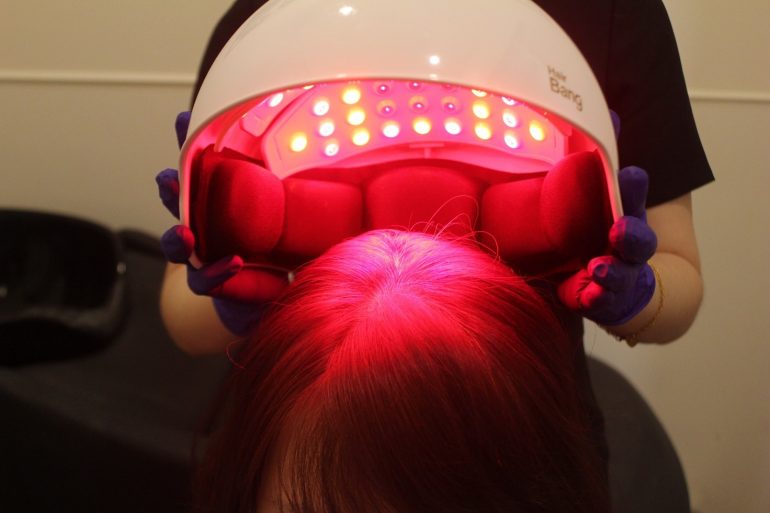 Then came the finale as a space-age headgear was wheeled towards me and fitted around my head. This Photodynamic Therapy is a laser light technology that supports hair regeneration and helps accelerate healing.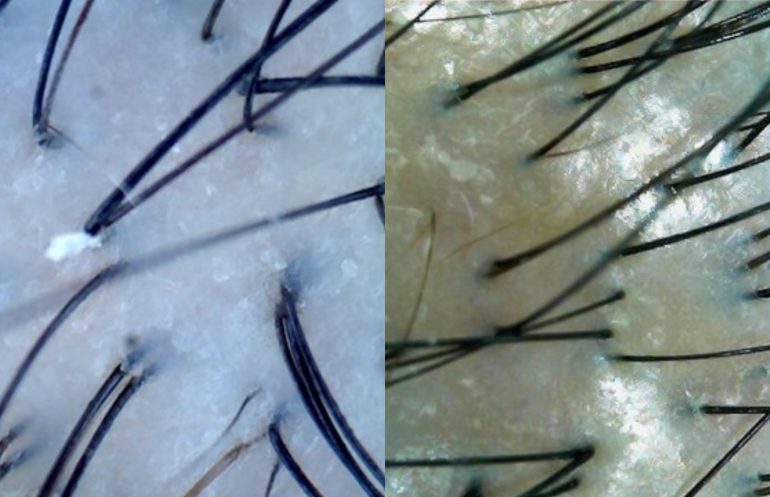 After the whole treatment, I was led back to the consultation room where my scalp was analysed once again. The hair & scalp specialist hooked up the scanner and showed me the results – no more clogged pores at the end of hair follicles and my scalp no longer itch! I was convinced then that I should be taking better care of my scalp and focus on washing my hair thoroughly each and every time – no more rush jobs just because I've to tend with the kids. Whatever your hair concerns may be, TrichoKare is able to tackle them from greasy, itchy scalps to dandruff, significant hair loss as well as greying hair.
Ready to try out TrichoKare's Award-Winning Advanced Scalp Detox and Care Treatment? Book your appointment HERE for just S$40 nett* and receive a free Hair Care Kit plus the HairGRO Ampoule (Usual Price: S$745)!
*Terms and Conditions: Valid for new customers only. Strictly by appointment and booking is on a first-come-first-serve basis. Parent accompaniment is required for those aged 20 years and below.
Reviewed by Seraphina Khoo, writer, Mummyfique