There's no better way to get into the spirit of Chinese New Year than by going to a place that has been decked out in auspicious decorations, with familiar CNY songs blasting over the speakers while everyone around you is in a celebratory mood and soaking up the festive atmosphere.
If that sounds good to you, then here's a list of places in Singapore that the whole family can go to do precisely that.
Chinatown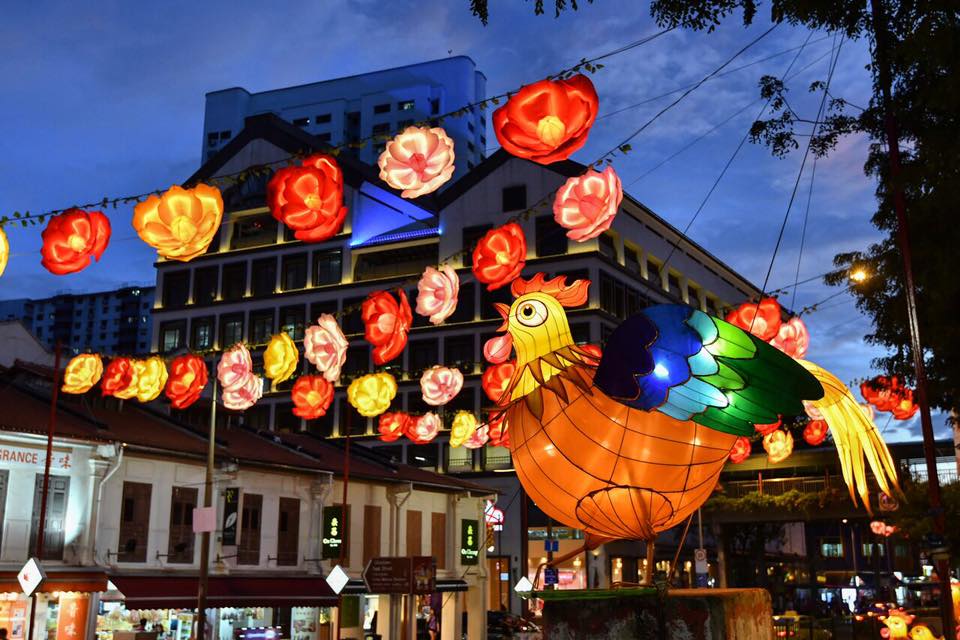 If you can head to only one place in Singapore for Chinese New Year, it'll have to be Chinatown. With this being the year of the rooster, the streets of Chinatown are lit up with lanterns of roosters, hens and chicks in addition to the usual auspicious symbols that will be hung around the area.
You also have to visit the festive bazaar along Pagoda Street, Smith Street, Sago Street, Temple Street and Trengganu Street. Here you'll find every possible thing that you need for Chinese New Year from decorations to every Chinese New Year snack you can imagine. There are also nightly performances from now till 27 January 2017, with the Chingay parade —the largest annual street performance and float parade — passing through on 12 February 2017.
For more information, visit chinatownfestivals.sg
River Hongbao

A regular fixture every Chinese New Year, this year's River Hongbao is held daily at The Float @ Marina Bay from 26 January to 4 February 2017, 2pm to 11pm. Your eyes will be immediately drawn to life-sized lantern displays scattered throughout the premises and there are live performances each day, including one by Nathan Hartono on the opening night. Also not to be missed are the daily fireworks and laser shows that take place nightly at 9pm. Our tip is to head there with an empty stomach as there will be a food street selling all types of local food.
For more information, visit riverhongbao.sg
Esplanade
It's all about Chinese heritage at the annual Huayi festival at Esplanade. From 3 to 12 February 2017, the venue will host a series of musical performances, concerts and dance items featuring artists from China, Taiwan, Hong Kong and of course, Singapore. If your little ones enjoy watching martial arts movies, they'll like the Wuxia performance by the Singapore Chinese Orchestra that features the theme songs of movies and drama serials of that genre. Over the weekends, Singapore storytellers, Regina Foo and Jo Kwek, will tell stories related to the rooster, while Chinese calligrapher Chew Ho Son will share about writing Chinese couplets and calligraphy. There are also workshops for children where they can make rooster related crafts.
For more information, visit esplanade.com 
Singapore Shopping Centres
Nearly every mall in Singapore is decked out in Chinese New Year decorations. Just walk in and you'll be greeted by strains of Chinese New Year songs and beautiful Chinese decorations. As an fun activity, try to spot how each shopping centre has artfully reused or transformed their Christmas decorations into ones suitable for Chinese New Year. Our personal pick is what Orchardgateway has done — picking a generic fantasy underwater world theme for both Christmas and Chinese New Year and making it more Chinese New Year suitable by adding koi fish decorations.