Spooky season is here and if you're still wondering what to do and where to go to soak in the Halloween vibes, we've got the guide just for you. Time to dig into pumpkins, dress to your freakiest best and have a beastly time with the whole family! Here are the top Halloween events and restaurants to head to this weekend.
TOP HALLOWEEN EVENTS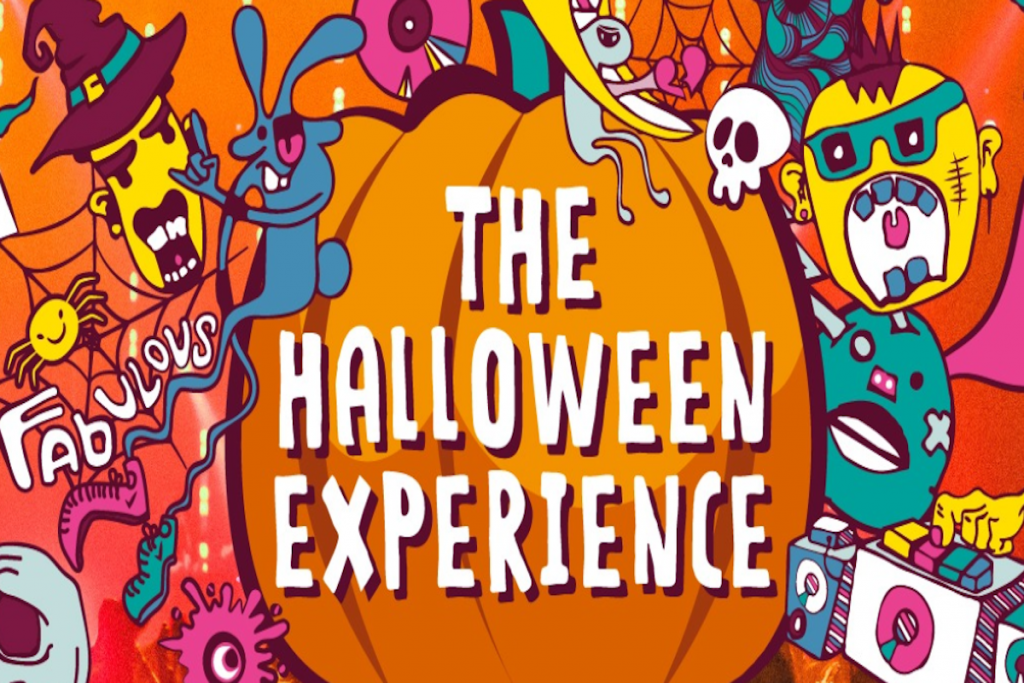 Feast your senses and celebrate Halloween amidst the lush greenery at the biggest outdoor Halloween-themed festival organised by Episode. From 29 to 30 October 2022, expect a carefully-curated spooktacular weekend with Instagram-worthy Halloween photo spots, Halal Food Truck tasty treats, pumping music, fun games and entertainment at The Meadow, Gardens by the Bay. While day one of Episode is rated M18 with its exciting line-up of EDM and hip hop performances till late, day two of Episode Junior will be a jam-packed family-friendly event filled with interactive activities.
Grab your friends and enjoy an all-exclusive VIP Igloo tent access for both days. Day One of The Halloween Experience package includes four entry tickets, a bottle of limited-edition Sing Sing whiskey, Beer bundles, snack box and 10 games vouchers worth up to $2,800 while the Day Two Halloween Kids Blitz package includes four entry tickets, a fruit basket, two Halloween-inspired bundles for kids and 10 games vouchers worth up to S$1,800. Simply message Episode on Instagram or Facebook for more information. Limited at only 15 tents for both days, so hurry and book yours now!
Tickets can be purchased at all SISTIC outlets islandwide, or online at https://www.sistic.com.sg/events/episode1022a for Episode: The Halloween Experience (includes two complimentary drinks) and https://www.sistic.com.sg/events/episode1022b for Episode Junior: Halloweeen Kids Blitz.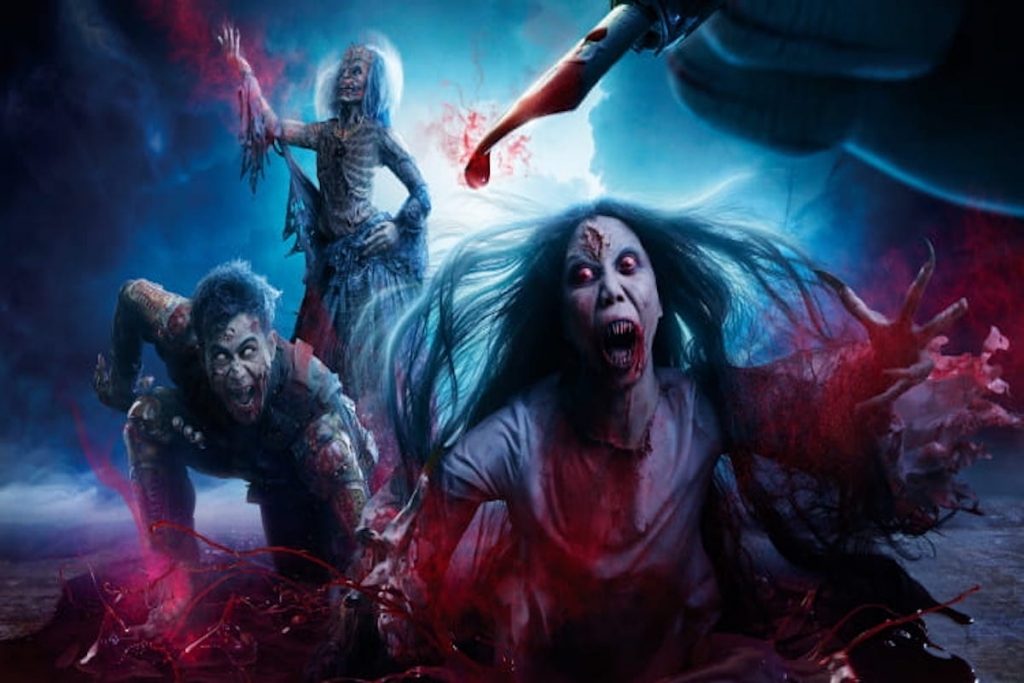 Southeast Asia's biggest Halloween event is back with more spine-chilling thrills! Enter the twisted world of the Killustrator and come face to face with the evil entities he has conjured. Go deep into the jungle as you join the hunt for the insatiable Pontianak. And fight to escape demented villains in our special laser-tag experience. All these terrors and more await!
Do note that this event may be too intense for young children and is not recommended for children under the age of 13. No costumes, full face make up or full face masks are allowed.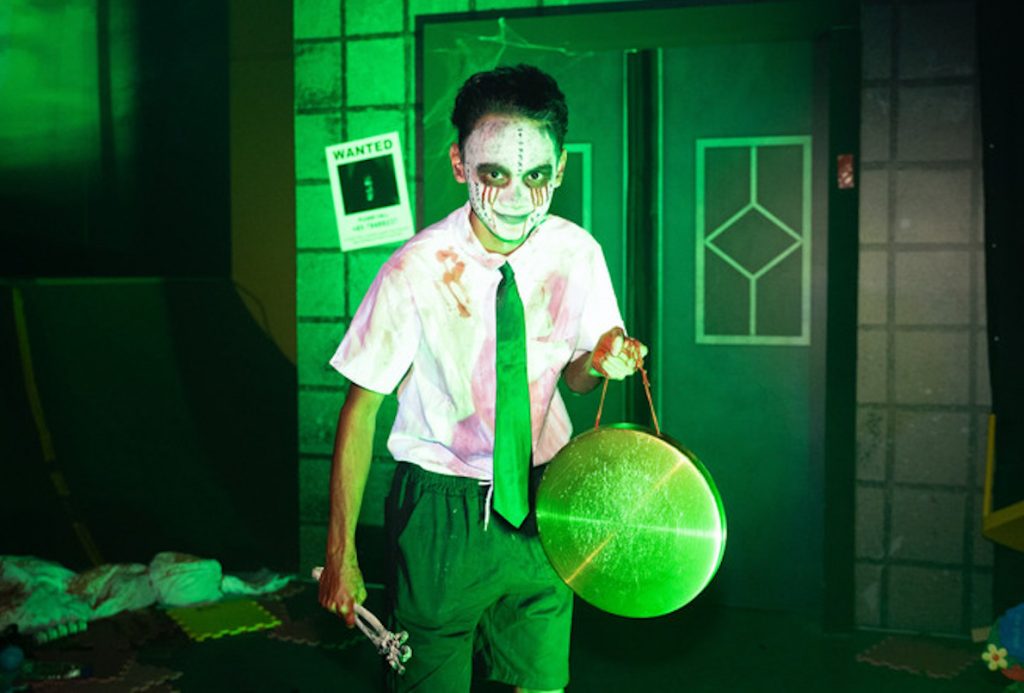 SuperPark will transform its skate and scoot park for the very first time into a spooky haunted maze! Expect bloodcurdling and gruesome encounters when you visit the local "Mama" Shop, where all the terrifying encounters happen behind a wholesome façade. In the Haunted Maze, enjoy a game of marbles with the lonely child with a vacant stare, who knows what might happen when you start playing with him. As you wander through the haunted maze, meet the Butcher, his kitchen is dripping with blood, and knives are sharpened and ready to kill. If you're lucky, you will manage to escape his grasp – but beware, the neighbour from the underworld is always watching, and he's never far behind. This is a place where all your fears come to life. If you're brave enough to enter, beware… you may never come back out the same again.
Besides the Halloween element, SuperPark fans will still be able to enjoy the 20 sports centric activities throughout the night! Do note that you need to reserve a time slot prior to your visit here. As well, you cannot be in costume or don a Halloween mask. SuperSpook Halloween Sessions are open to those ages 18 and above.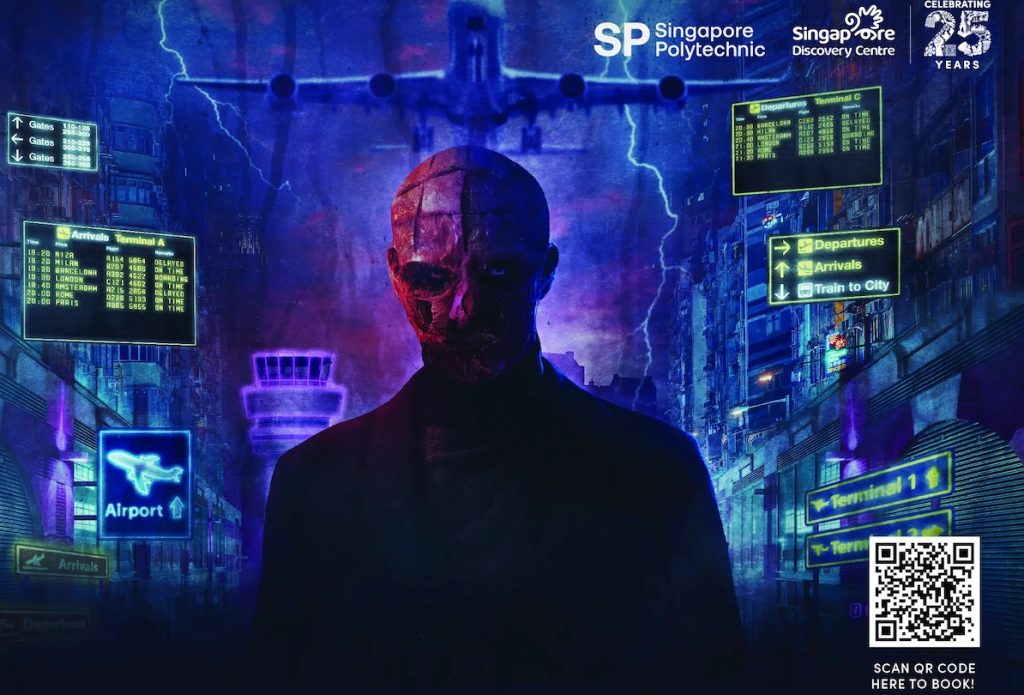 The Harrowing Halloween haunted house is back and will be open at Singapore Discovery Centre from 7 to 11pm. Definitely not for the faint-hearted and recommended only for older kids aged 13 years and above, this year's edition of Harrowing Halloween features loads of jump scares and terrifying costumes! What's more, the event has a storyline inspired by an airport! More information here.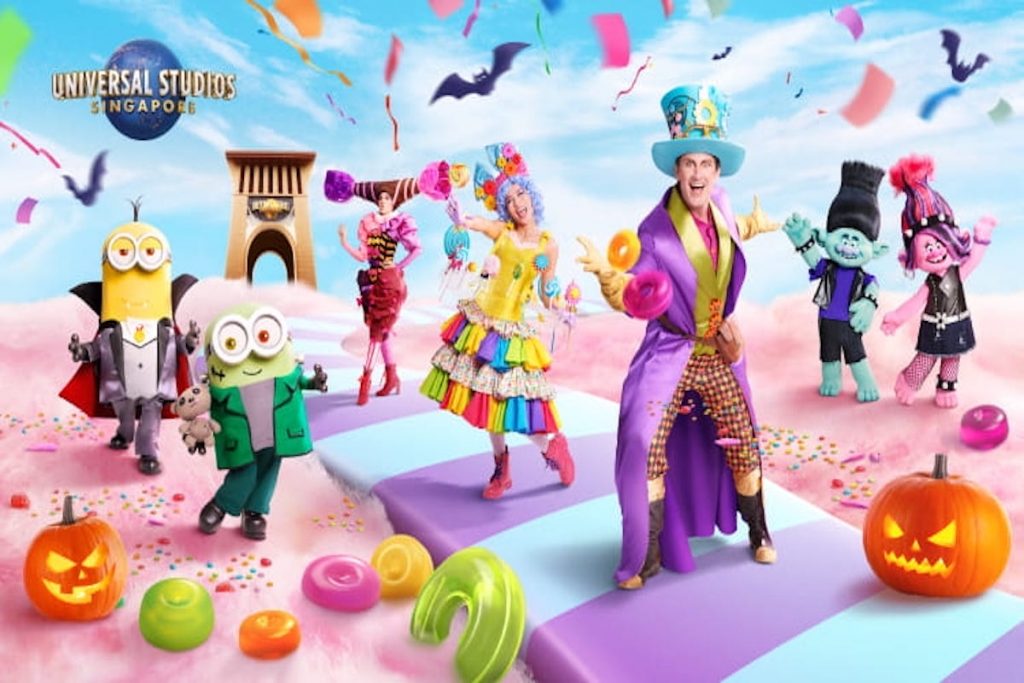 Get into the spirit of Halloween with Universal Studios' celebration for all ages. Join their Sweet & Sour Squad as they take you on a whimsical parade through the park or go trick or treating to meet their Universal Stars dressed in their Halloween best. And don't forget to come dressed in your favourite costumes! You can also grab selfies with Illumination's Minion Monsters and Gru's Girls as well as snap pics with the stars of DreamWorks Animation's Madagascar. Book your package deals here.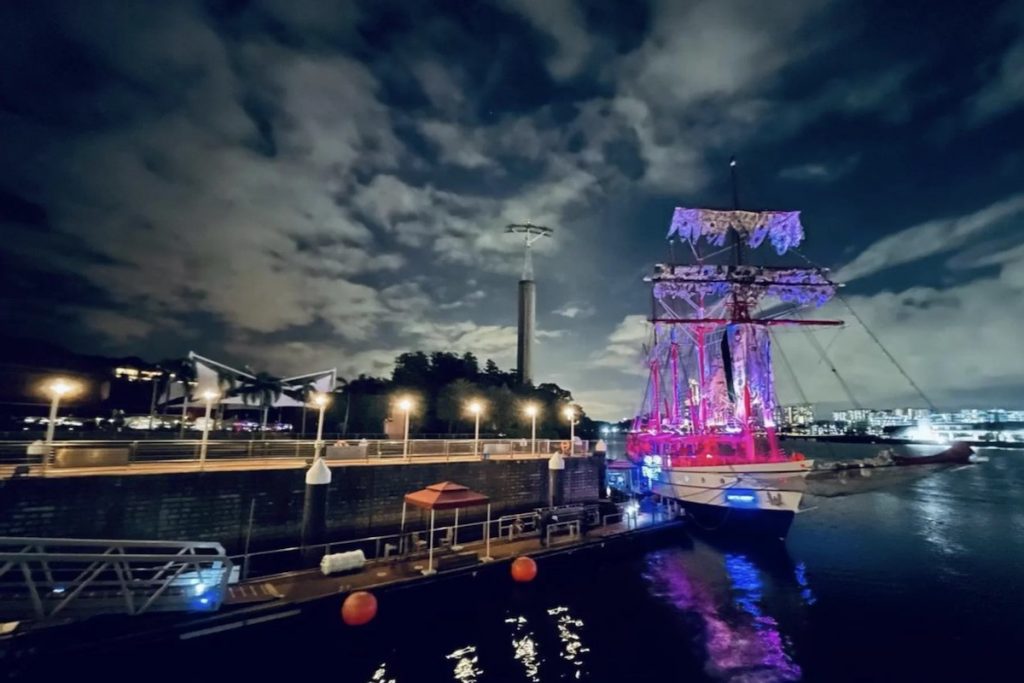 Step onboard the Royal Albatross if you dare, for a voyage into the Sentosa Triangle and see her transformed into the legendary ghost ship of Sentosa! Sip from the ghost captain's brew and you might just hear the ghostly howls of the sea hounds and other lost souls from the bilges below. Feeling brave? Ask their crew "Who is held below?" and be shown the way to the haunted Captain's cabin. Enter if you dare! Book now for an Extraordinaire five or seven-course Dining Experience Out at Sea with a Dark Twist. There's also a dog-friendly cruise option!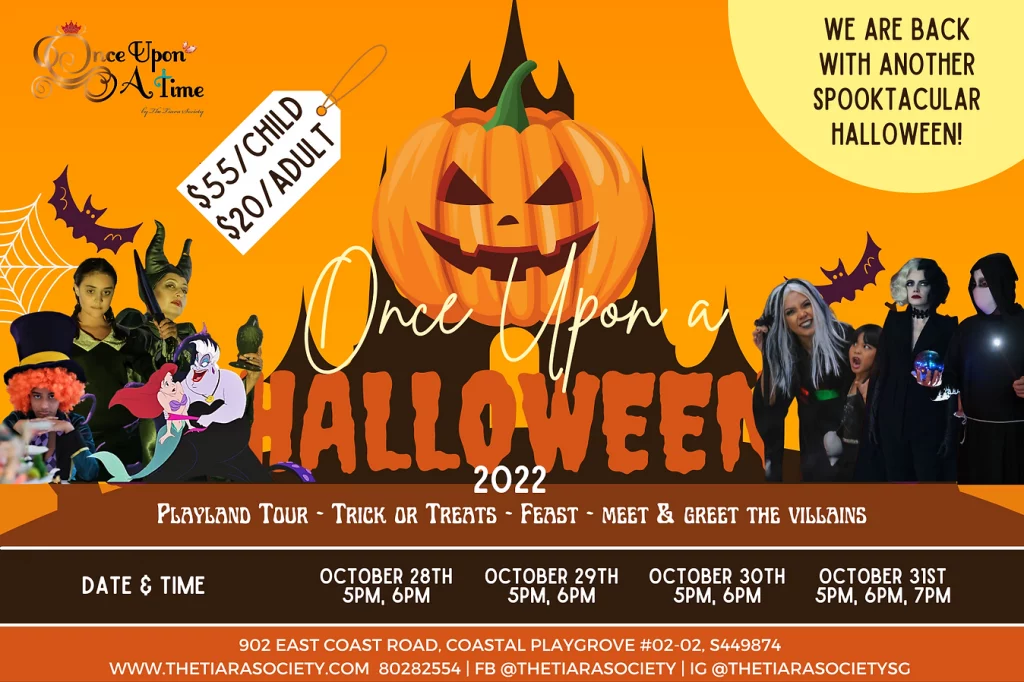 The Tiara Society at East Coast has got a kiddy-friendly line-up for Halloween this year by bringing back Once Upon a Halloween, the spooktacular feast of all Hallows at the haunted playland filled with villains! Embark on a spooky tour around the haunted playland of Once Upon a Time or immerse yourselves in some trick-or-treating. In addition, there's also a spooky feast and a meet and greet with the Villains! Purchase your tickets here!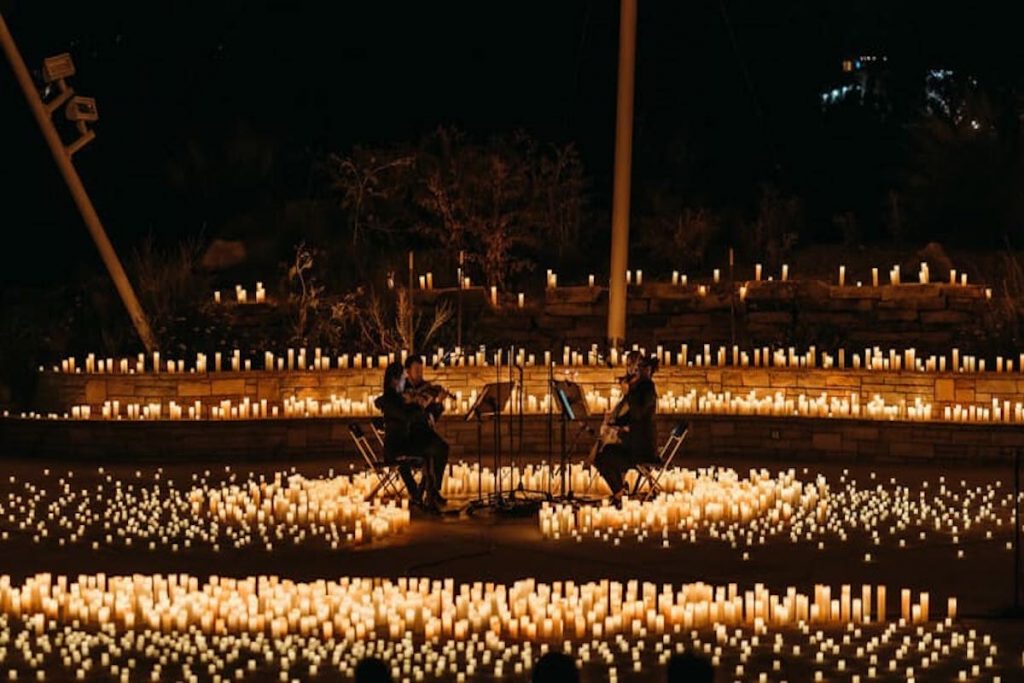 Candlelight Concerts bring the magic of a live, multi-sensory musical experience to a hair-raising venue! Buy your tickets now to discover chilling classical compositions at Haw Par Villa under the gentle glow of candlelight. This experience includes admission to Hell's Museum, Haw Par Villa's infamous 10 Courts of Hell exhibition. Get your tickets here.
TOP HALLOWEEN DINING DEALS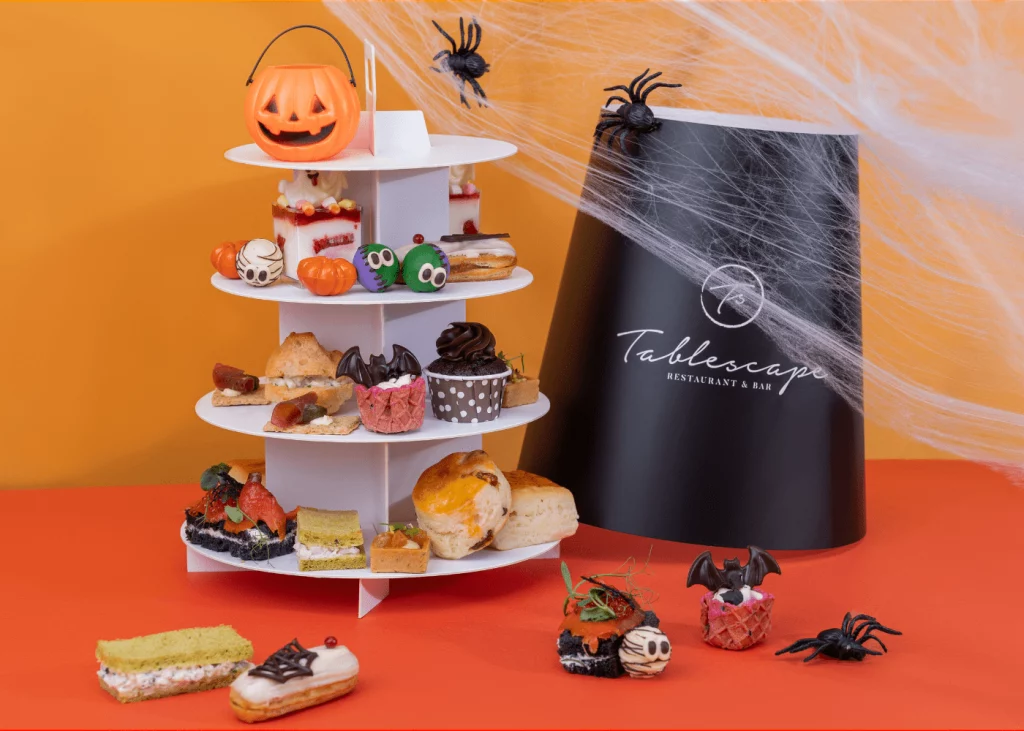 Not fancy going out this spooky season? Then bring the scary treats right to your doorstep instead with Tablescape's limited edition Halloween afternoon tea set. These tasty treats are available throughout the month and you can savory delicacies such as a Foie Gras Tartlet with Nectarine and Pistachio as well as Velvet Cheese Mousse. Each takeaway set costs S$78 and is also available for dine-in with a S$30 top-up for free-flow Prosecco.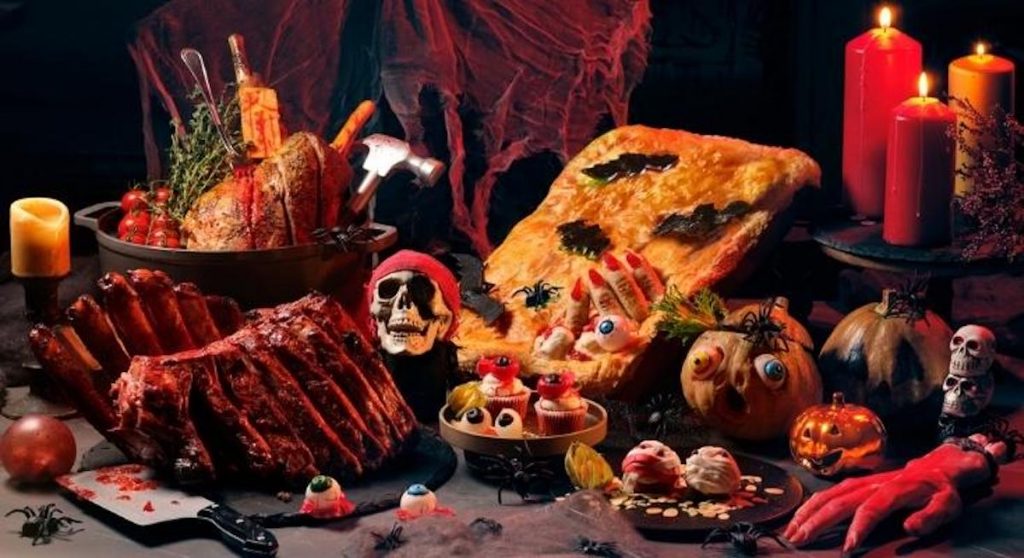 The Halloween Specials Dinner Buffet at Spice Brasserie, PARKROYAL on Kitchener Road is the perfect place to get into the spooky Halloween spirit. It features a variety of dishes that looks frightfully delicious andbegins with a photo booth stocked with fun and glamorous props to capture the night's festivities. You will love their Halloween Special's succulent, tender, and flavourful 12-hour-cooked Whole Lamb Leg with Fresh Herbs. There's also a scary-good Baby Pork Ribs in a smoky BBQ sauce, Roasted Pumpkin stuffed with Cinnamon and Spices as well as a Creamy Chicken Pot Pie. No Halloween feast is complete without a stunning Red Velvet Cup Cake topped with Blueberry Compote!
From now to 31 October, you can stand a chance to win a One-Night weekend stay in their Family Room + breakfast for four at Spice Brasserie. Simply follow them on Instagram, take a picture at their Halloween photo booth and post. Remember to hashtag #ShareYourMoments and #parkroyalonkitchener!