Looking for somewhere to bring your little ones this week? Here are our top picks of things to do with the family in the week ahead, and with Easter happening this weekend, there are lots of Easter egg hunts around the island and opportunities to meet the Easter bunny:
Pet Expo 2017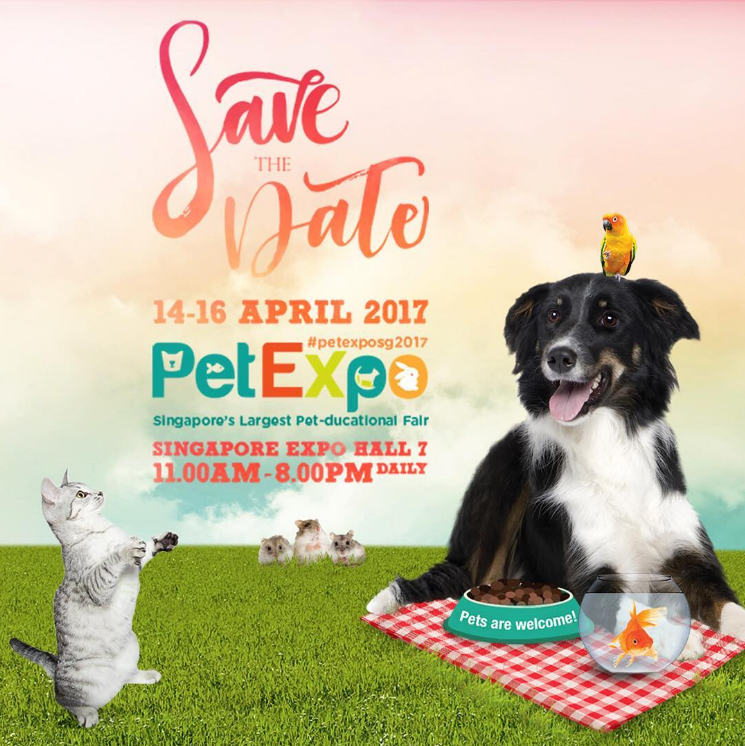 Calling all pet lovers! The fourth edition of Pet Expo is here and there'll be many booth and contests that involve your cats, dogs, rabbits, hamsters and for the first time, even fishes. Attend informative talks, participate in the various pet competitions. There's also the opportunity to adopt a new furkid into your family!
Venue: Singapore Expo Hall 7
Date: 14 to 16 April 2017
Time: 11am to 8pm
Click here for more information.
Easterville 2017
It's a hop-pening Easter celebration over at Cafe Melba. Kids can fill their tummies with Easter milkshakes and hot cross buns and have a great time out at the bouncy castle and Easter egg hunts. All the adults need to do is keep back and enjoy their meal.
Venue: Cafe Melba at Goodman Arts Centre and Cafe Melba at Mediapolis
Date: 14 to 16 April 2017
Time: 8.30am to 10pm
Click here for more information.
Camp Kido: Easter Special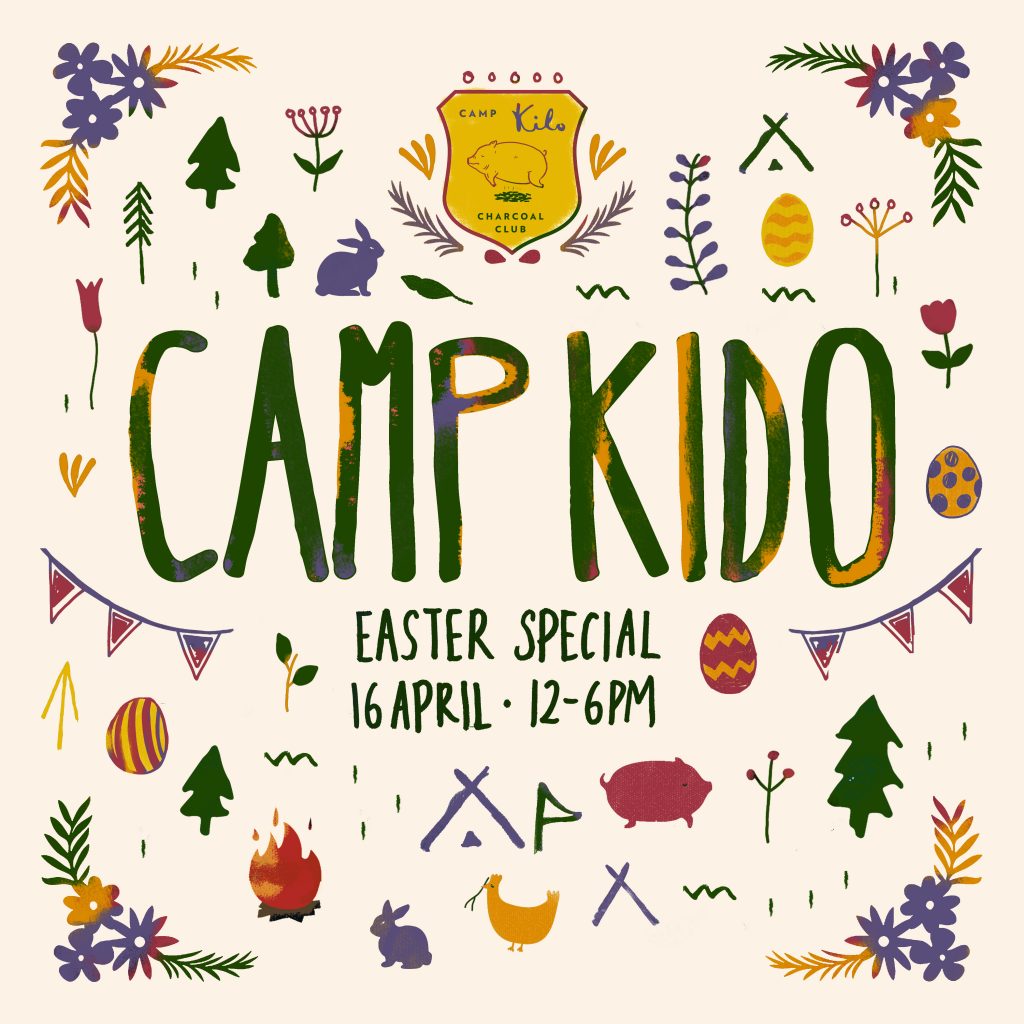 It's activities galore at the Easter special edition of Camp Kido – a bunny mask making workshop, Easter egg painting, "Pin the tail on the Bunny" competition and a grand Easter egg hunt are just some of the fun that the kids will have.
Venue: Camp Kilo Charcoal Club
Date: 16 April 2017
Time: 12pm to 6pm
Click here for more information.
Uncover Hidden Egg-citement With Smurfs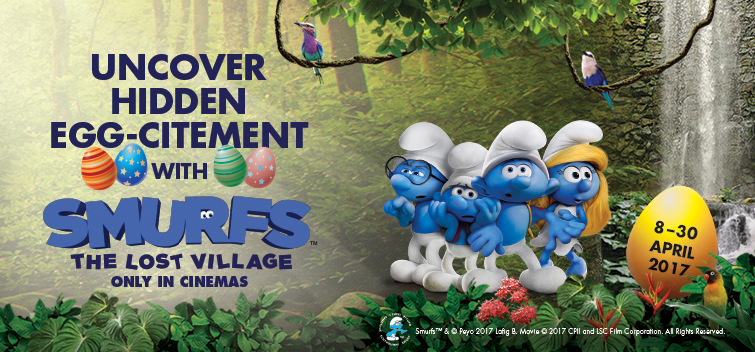 You wont just be looking for eggs at this Easter hunt, you'll have to keep your eye out for the 300 Smurf figurines spread across the Waterfall Aviary at the Jurong Bird Park. After that, meet Smurfette, Papa Smurf or Brainy Smurf, and have a blue feast – there'll be  blue-hearted brownies, carrot walnut cake and lychee blue lagoons. If blue is your favourite colour, Jurong Bird Park is the place to be this Easter.
Venue: Jurong Bird Park
Date: Now till 30 April 2017
Time: 8.30am to 6pm
Click here for more information.
The Party Elves Easter Picnic 2017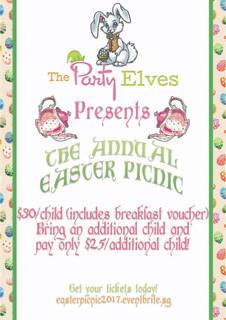 Look forward to sack races, a petting zoo with bunnies and guinea pigs, face painting, and a special jewelled egg hunt at the annual Party Elves Easter Picnic! For children aged two and up.
Venue: Tree Lizard
Date: 16 April 2017
Time: 9am to 12pm
Click here for more information.
CHIJMES' Easter Egg-Splore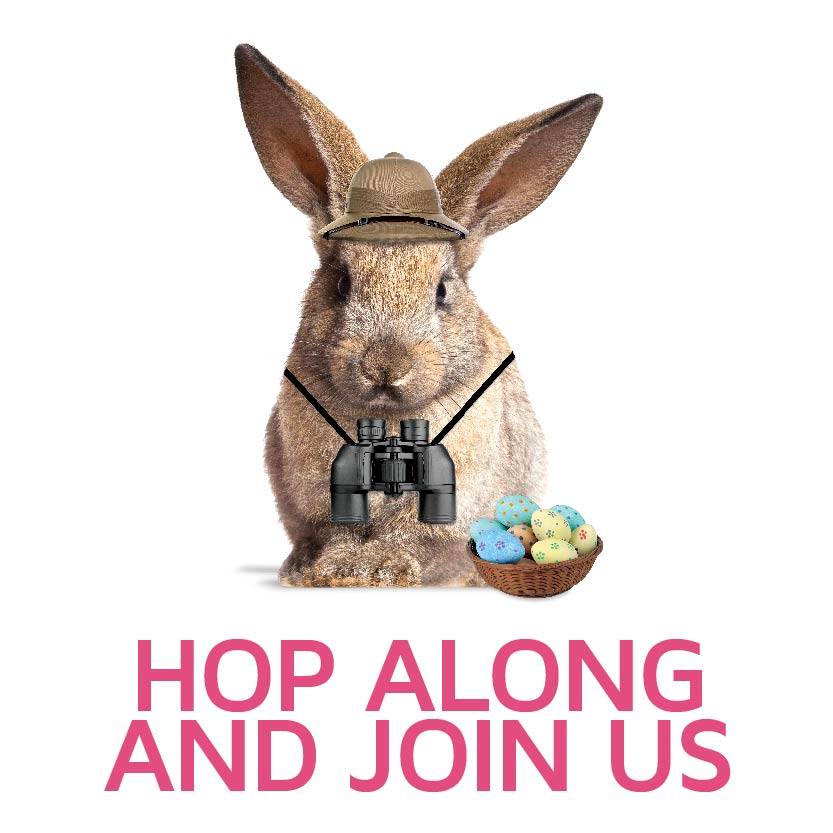 Little ones won't just have to use their seeking skills to win this Easter hunt, they'll have to complete tasks at various stations to earn their eggs. They should also comes dressed to impress Easter style for the chance to be the "Best Dressed Egg-Splorer" of the day and of course walk away with a lovely prize! For the adults, don't fret. There's a mini market selling ice cream, cold-dripped coffee and other delightful nibbles for you to enjoy.
Venue: CHIJMES
Date: 15 & 16 April 2017
Time: 2pm to 6pm
Click here for more information.
Rabbit Tales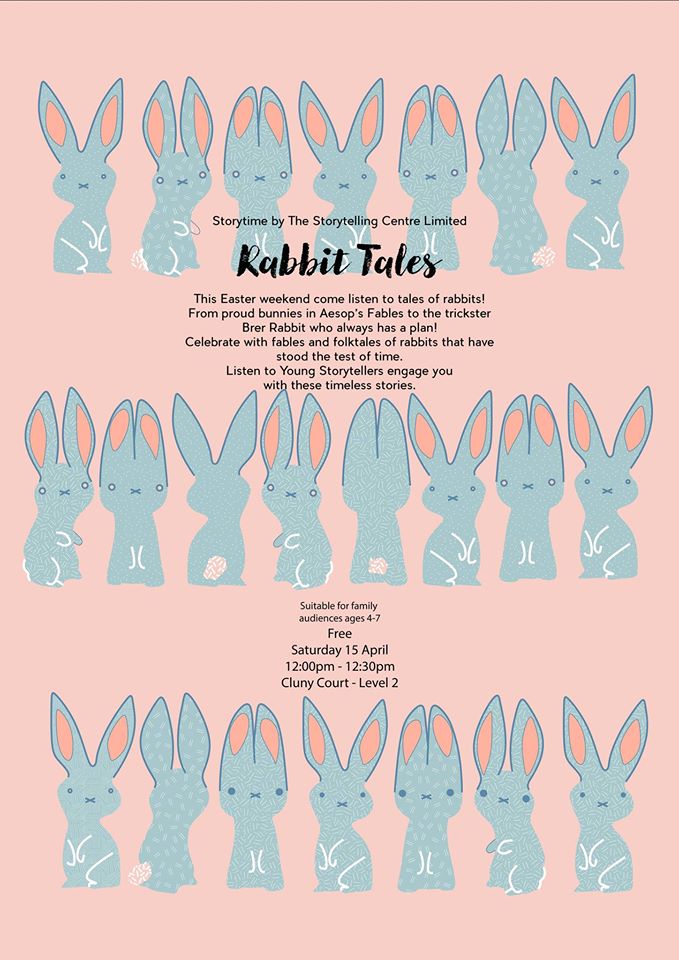 Rather not have your little ones scampering around on their fours and looking high and low for eggs? Head over to Cluny Court for a storytelling session filled with all things rabbits, where little ones will be introduced to classic stories and fables involving bunnies. Recommended for children aged four and up.
Venue: Cluny Court
Date: 15 April 2017
Time: 12pm to 12.30pm
Click here for more information.