With a mum who's a Kardashian, you'll expect Penelope Disick to always be fashionably dressed. After all, mum has a reputation to maintain, given her reality television and social media personality status. However, as aunt Khloe has testified, this little girl is a fashionista in her own right as she picks out her own outfits daily from her extensive designer wardrobe.
Having grown up under the watchful lens of the reality TV camera, we can say that we've seen this little girl grow up in front of our eyes, from being a tiny newborn to the little princess she is today.
Perhaps that's why she has developed a great sense of fashion and usually spotted rocking the latest trends from the runway.She has been seen effortless rocking ruffles, an oversized denim jacket with patches and furry slides, all in one trendy outfit, not just once.
She has been seen effortlessy rocking ruffles, an oversized denim jacket with patches and furry slides, all in one trendy outfit, not just once.
Adding visual interest to your outfit with an embroidered jacket, check.
Here's ruffles, lace and trumpet sleeves, all in one good looking boho chic look.
She also has a girly side to her, like any other little girl, but she does it with a twist. While other girls would pair fancy ballet flats or shiny sequined shoes, she wears skater girl worthy slip on shoes.
Wearing matching outfits with mum is also a must, given how popular the twinning trend is worldwide, but she doesn't do it in an obvious manner by wearing an exact replica of what mum has on. Instead, the mother-and-daughter duo chose to go monochromatic with matching ruffle and sandals details.
When we speak of Penelope in matching outfits, we can't forget her best gal pal and cousin, North West. The two are often spotted in similar outfits while out with their mums or on playdates.
The pair, who are born just two weeks apart, recently celebrated their fourth (North) and fifth (Penelope) birthdays together with a Moana-themed birthday bash.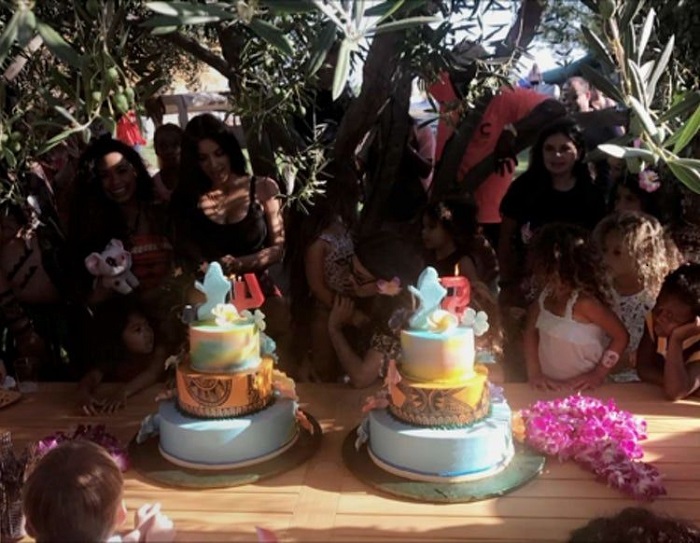 They both received adorable puppy dogs too recently, and Penelope named hers Honey.
Penelope also has an adorable personality that she showed off on Instagram as she demonstrated how to make slime.
Her favourite person to hang out with though is mummy Kourtney, and they are often spotted enjoying one another's company, be it snacking in bed together, sun tanning or just snuggling up for kisses.
We think this little one has a bright future ahead. After all, how many munchkins can look this good with a tacky "Happy New Year" crown on their head?
Click here for more trendy tots.