Resident fashion and style maven, Gidania Wong — also known as Mummyfique's chief marketing mummy — puts the Cocoonababy to the test with the help of her newborn son, Zyah. 
Being first time parents, my husband and I were quite clueless about what we should get for our baby besides the usual necessities such as a cot, a bathtub, clothes and diapers. A chance shopping trip two weeks after the birth of baby Zyah led us to discover the Marseilles-developed Cocoonababy.
Touted as an ergonomic nest which simulates the feeling a newborn experiences in its mother's womb, we were quickly sold on the benefits of this peanut shaped mattress which was supposed to improve the sleep quality of your baby.
Originally designed to be used in neonatal wards for premature babies, the Cocoonababy's medical objective was to find an answer for the premature baby which could be described as a 'follow-up womb'.  And this is determined by the support given, the way the baby is held tightly or contained and the curled up posture of the child's body.  The research team soon found that the benefits of using this nest could also extend to full term babies, hence the Cocoonababy was born.
Despite the slightly hefty price tag of $249, we were intrigued enough to purchase one and commence our Cocoonababy journey.
Uniquely designed with an incline and a wedge in the middle to aid in relieving wind, the Cocoonababy has also been billed as an effective option to combat colic and gastric reflux in babies and a tool to helping your baby achieve better sleep. Recommended to be used up to four and a half months of age, or when your baby has discovered the wonders of flipping, we were mighty pleased with our purchase.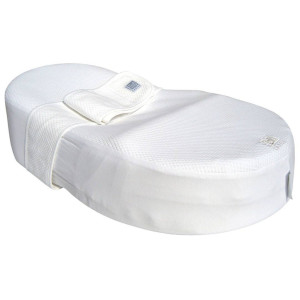 The first time we put Zyah on it, he wriggled his newborn self like a shrimp, then christened his new bed with a bout of tears and a lot of struggling.  We immediately wondered if we had made a bad call on the purchase.
He soon got the hang of it but still needed to be carried and rocked to sleep every night, before we slowly transferred him to his nest, which we placed in his cot. We did not notice any immediate improvements to his sleep quality or pattern but soon found that the Cocoonababy was handy to have around. We would place him on it in his cot, on the sofa and especially while co-sleeping with us. He seemed to be comfortable, enveloped in a semi-foetal position most times and we were pleased with his ever-growing well-rounded head.
Thankfully for us, Zyah did not have colic. He had some reflux and would throw up sometimes after feeds and despite one of the functions of the Cocoonababy claiming that it'll help avoid startle gastric reflux, we didn't think that the Cocoonababy helped improved his condition in any way.
The mattress comes with two removable, breathable and washable covers which made it a breeze to maintain the hygiene for our baby. However, after only two months of usage, Zyah started to be uncomfortable with the wedge, so we removed it. Then, at three months old, he did his first flip, albeit haltingly. We waited to see if it was a fluke or did he truly master the art of flipping. Alas, it was the latter and the Cocoonababy soon became dangerous for him to lie in, as I would find him precariously perched on the edge of it, in a semi-flip, mid sleep!
By about three and a half months old, our little boy outgrew the nest with his little feet sticking out at the end of the mattress. In all, we got about three months' worth of mileage from the Cocoonababy and while good to have, does not seem really practical, looking back.
3.5 Fiques
+ Recommended to prevent plagiocephaly.
+ While not an official co-sleeper, it proved useful for that.
+ Easy to maintain cleanliness
– Size is small for tall babies.
– Efficacy in relieving reflux was not immediately evident.