With snowy vacation dreams on your mind, a mountain excursion in the Jungfraujoch region in Switzerland is a great option to consider. Young school-aged children and teens alike will find loads to love about the experience, plus Jungfrau Railways makes it easy to access.
If the kids haven't been on a train, make the ride on Jungfrau Railways – the highest train station in Europe at 3,500m – to Jungfraujoch their first. Railway construction started in 1896 (imagine building it with just pick axes, shovels, and human labour!) and it officially opened in 1912, after 16 years.
Read on below to discover the perfect mountain adventure for your family!
Jungfraujoch — Top of Europe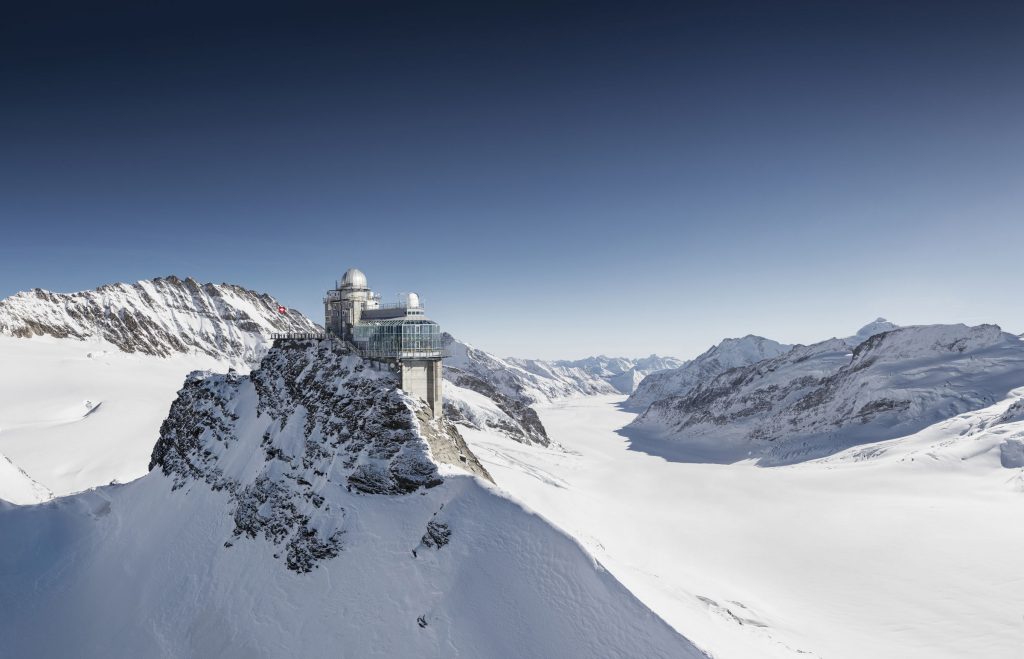 It's best to set off from Interlaken East for the best experience of arriving on the top of Jungfraujoch. The trip takes about 2 hours and 15 minutes each way and the spectacular views on the entire train journey via Lauterbrunnen or Grindelwald are sure to take your breath away.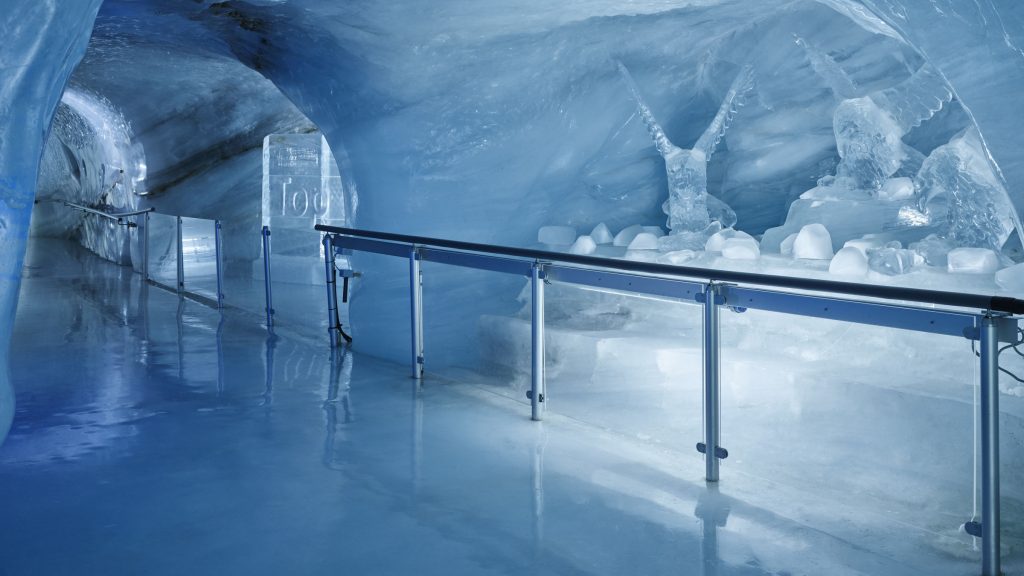 There's lots to do at this mountain destination which features eternal snow. The Ice Palace is an indoor area that features stunning ice carvings that children will adore. It's a touch cold (make sure you pack some good winter wear!), but it's sure to impress you and the family.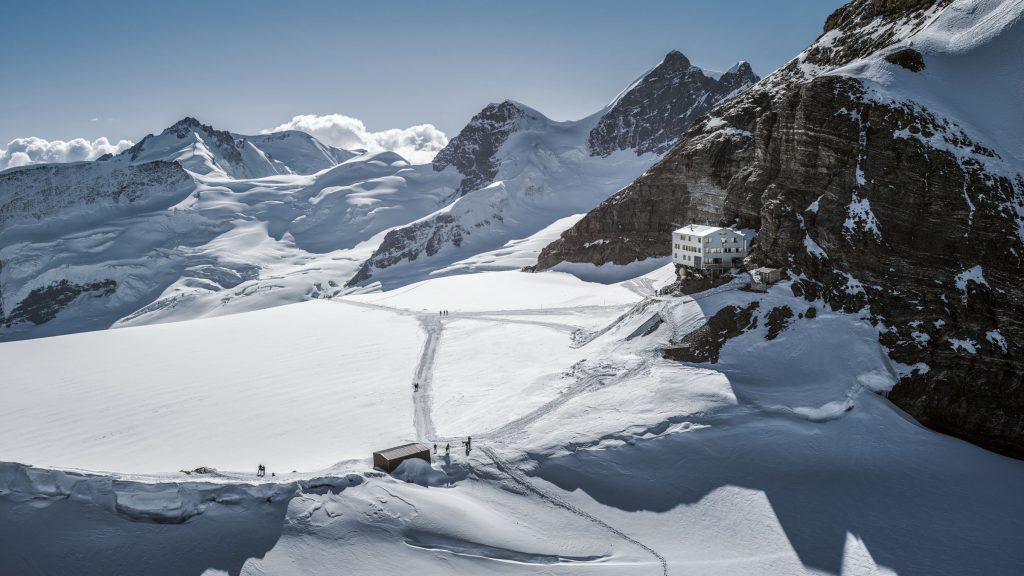 Then there's the Mönchsjochhütte – Switzerland's highest occupied hut – which has something for everyone including ski trips, mountaineering, and day trips amid the UNESCO World Heritage Site. All tours begin here, so it's the perfect place to stay the night with food and drink service via snowmobile. How cool (in more ways than one)!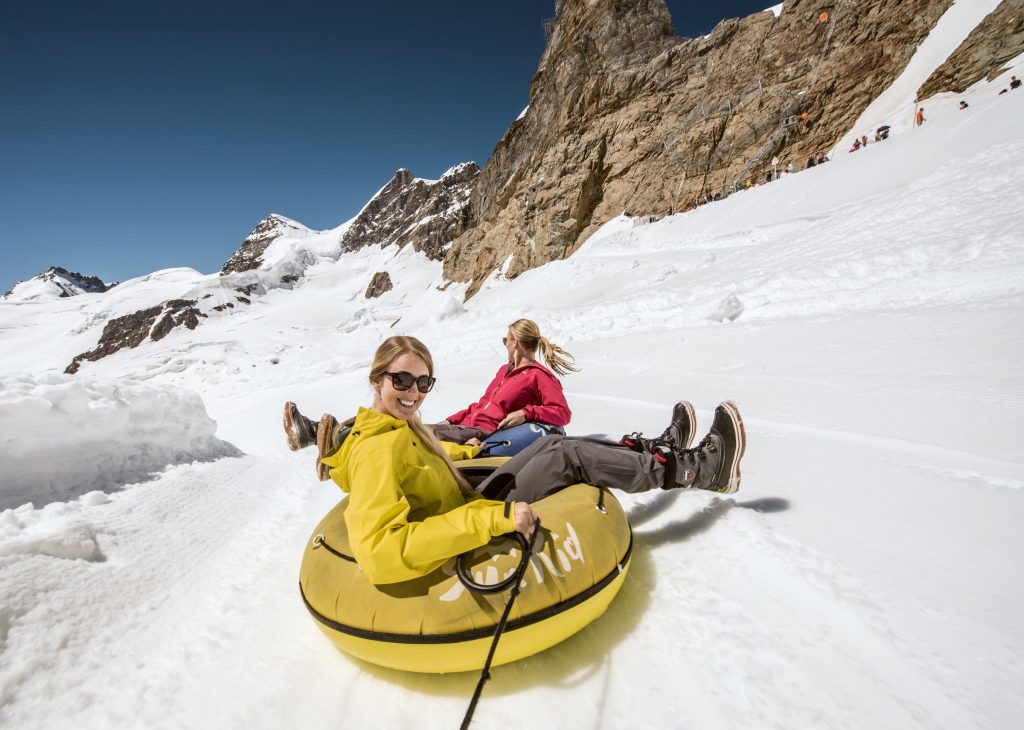 Snow Fun Park is everyone's favorite excursion. Go sledding, tubing, skiing, snowboarding, and more. All the equipment you need is easy to rent for the whole family. Never been skiing? No problem! You can take lessons, or simply rent snow-shoes to crunch about in.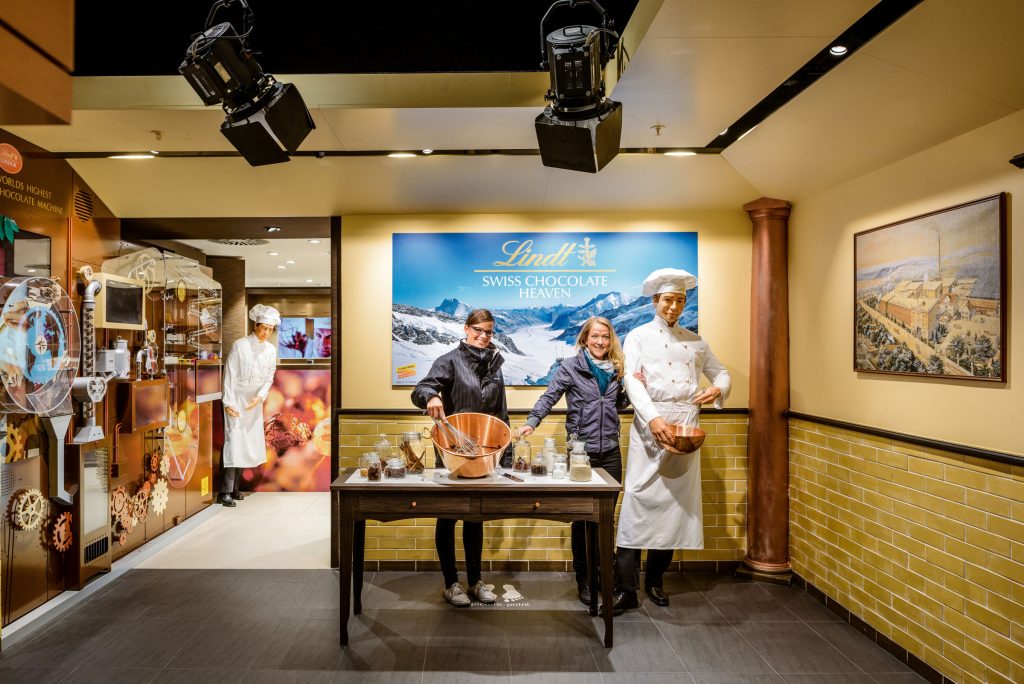 And if you'd simply like to get out of the cold, Lindt Swiss Chocolate Heaven is like heaven on earth for anyone who loves indulging in chocolate. It gives you a quick tour where you see how these divine chocolates are made and then you can shop for chocolate indulgences to take home as souvenirs…if you don't eat them all first!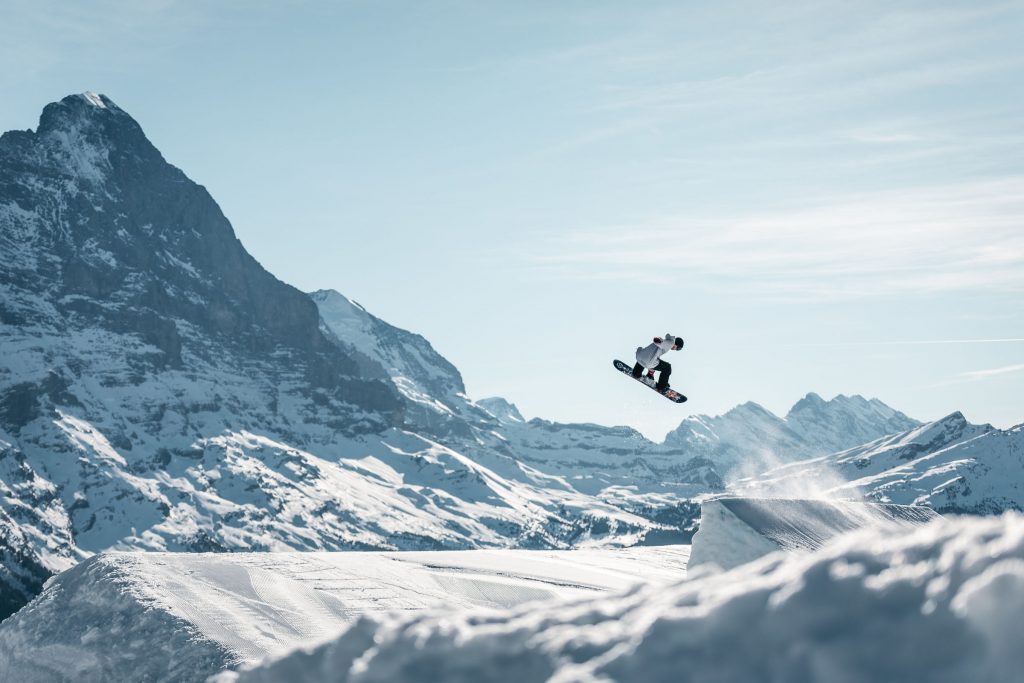 Dreaming of flying high above the mountains? Here's your chance. Outdoor activities abound here, and it's recommended you plan on at least half a day to spend enjoying them all.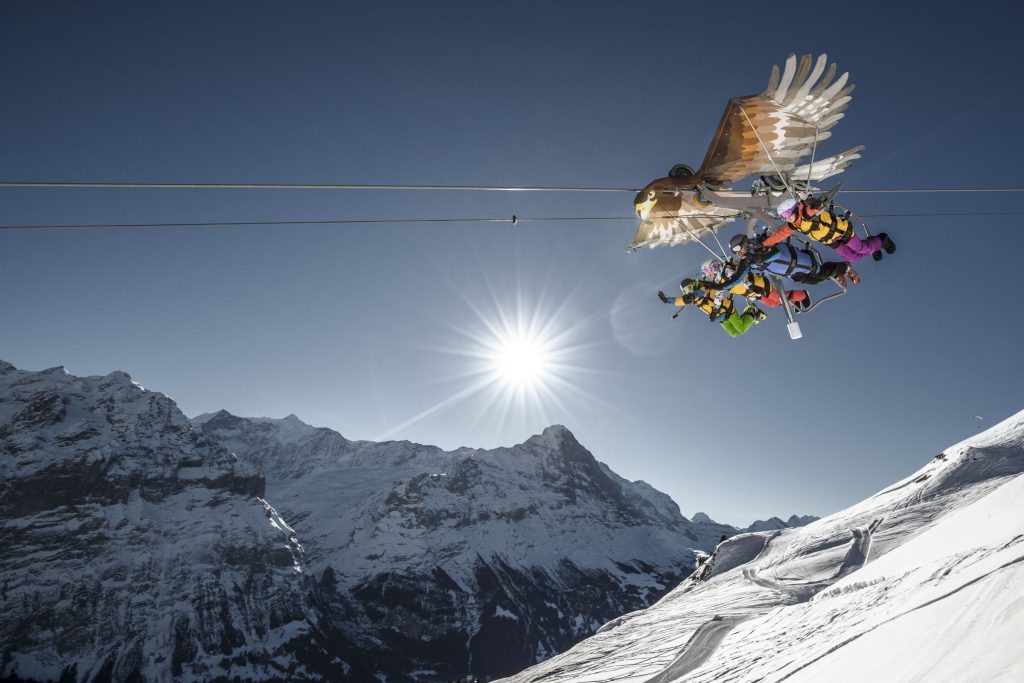 If you have children aged 10 and up, they'll beg to go on the First Glider over and over again. On board this eagle-shaped glider, you'll propel 83km/h through 800 metres. A family of four can ride together and have thrills to last a lifetime! You can also fly solo over the alpine meadows on the First Flyer. A zipline for those weighing at least 35kg on up to 125kg, it's a fun and fast way to see the sights from a bird's eye view!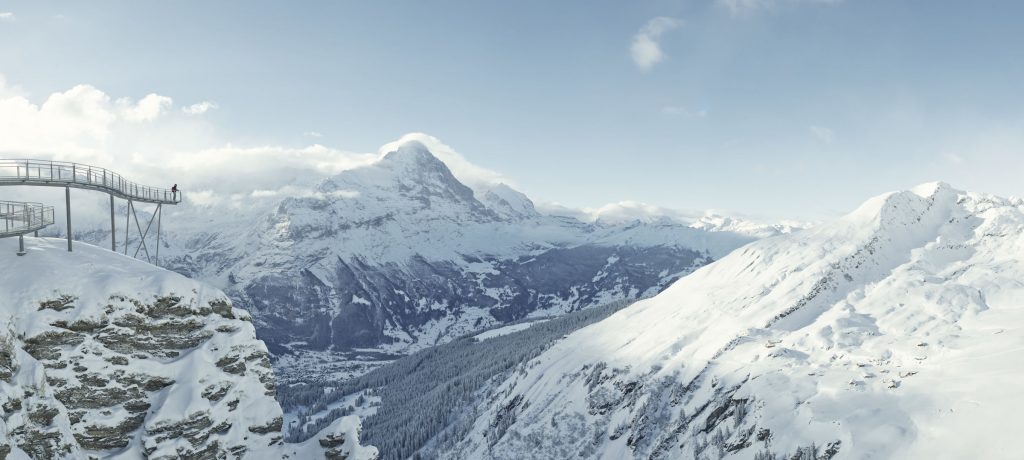 If your family loves heights, we highly recommend going for the First Cliff Walk to get the best views of the Alps and the Eiger mountain. Located near the cable car station, anyone can walk on the steel frame structure that goes around the side of the mountain. For adventurous families with older kids, take a 60-minute hike to see the 'Blue Jewel' or Lake Bachalpsee in all its glory, try a bike tour, hop on mountain scooters and carts, and get out there. Grindelwald First is the best place for active families to play in the mountains.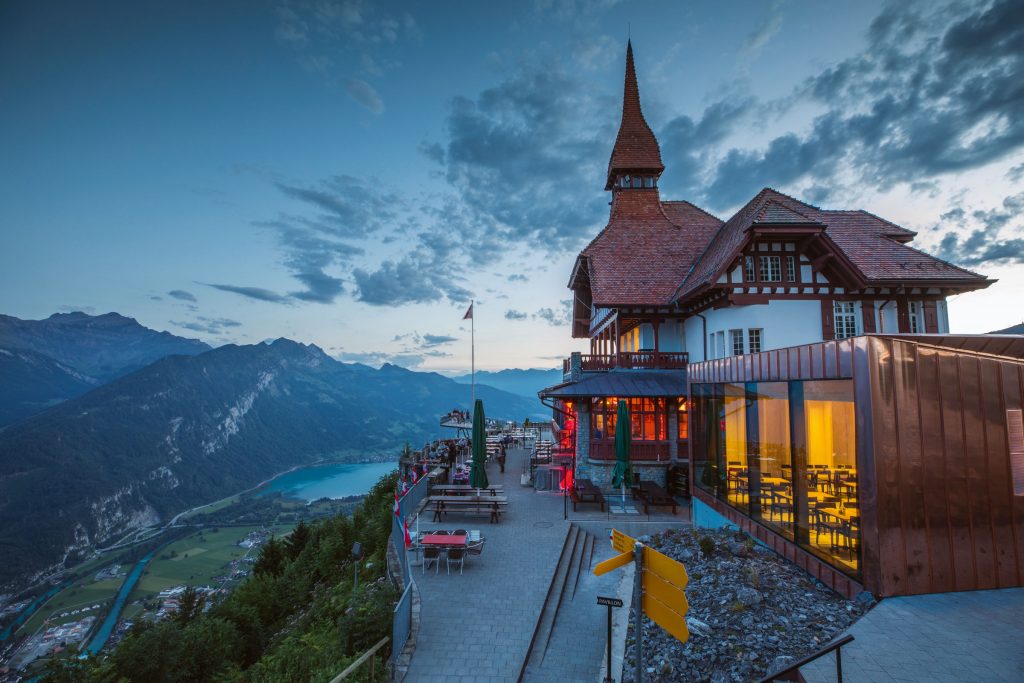 If you're travelling in Summer between April and November, you must visit Harder Kulm just above the village of Interlaken. A relaxed excursion to go on after a full day of activities or if you have younger children, your trip up the mountain starts with a 10-minute ride on a panorama funicular from Interlaken.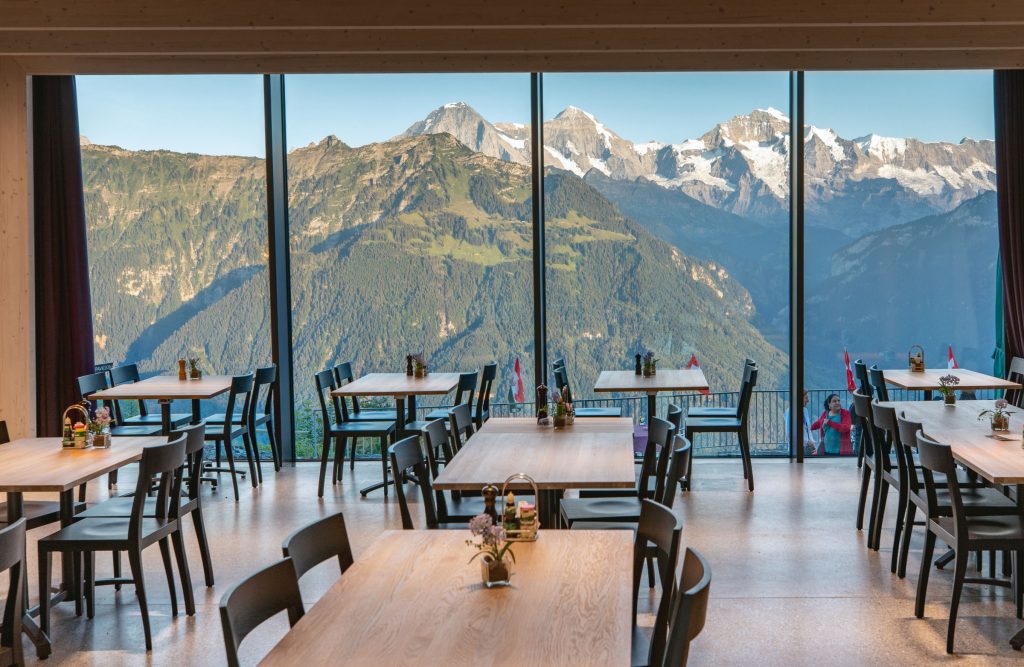 Here, you can discover more about alpine culture with typical Swiss folklore performances. The traditional setting is full of charm set amid the backdrop of the mountains Eiger, Mönch, and Jungfrau. The performances are only open from May to October, so plan your trip accordingly.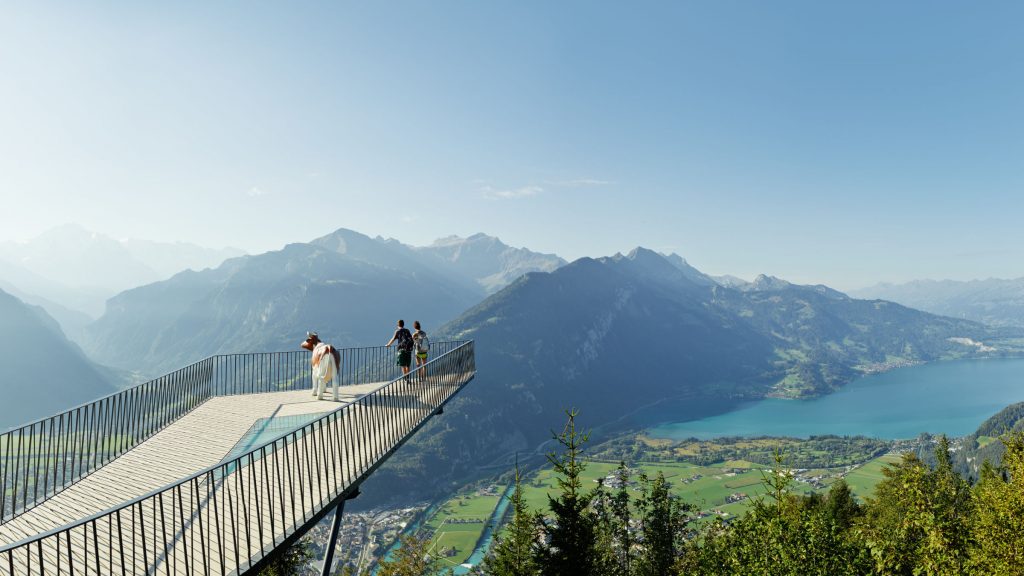 Two Lakes Bridge is another place to see in Harder Kulm. At the end of this footbridge sits a cow statue overlooking two lakes (hence the name), Lake Thun and Lake Brienz. Come see for yourself between April and October and stop in the Harder Kulm Panorama Restaurant to refresh. A beautiful view and delicious food await, including famed Swiss raclette that you simply must try. In the summer, evening trips up the mountainside are strongly encouraged for the sublime sunset!
Hot Tip! Get the Swiss Travel Pass!
Thinking of coming to the beautiful country of Switzerland for a family vacation? If you have children ages 6 up to 16, they can travel for free on nationwide public transport with the Swiss Family Card if at least one adult traveling with them has a Swiss Travel Pass.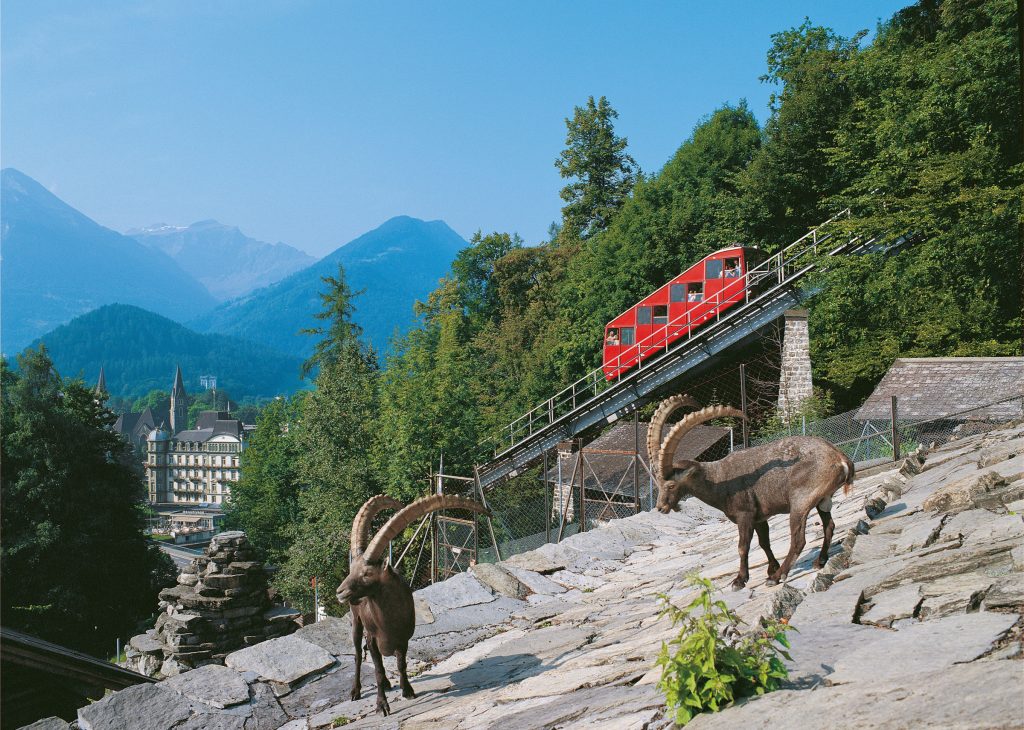 The Swiss Travel Pass is easy to get and gives you so many benefits. You'll also get a reduction of 25% to 50% on most mountain railways. You can also get other free travel perks on the trains and boats on the lakes surrounding Interlaken.
Even better, you can use the Swiss Travel Pass to visit more than 500 different Swiss museums free of charge. With this handy pass, you'll have access to the best of the country for less than you expect.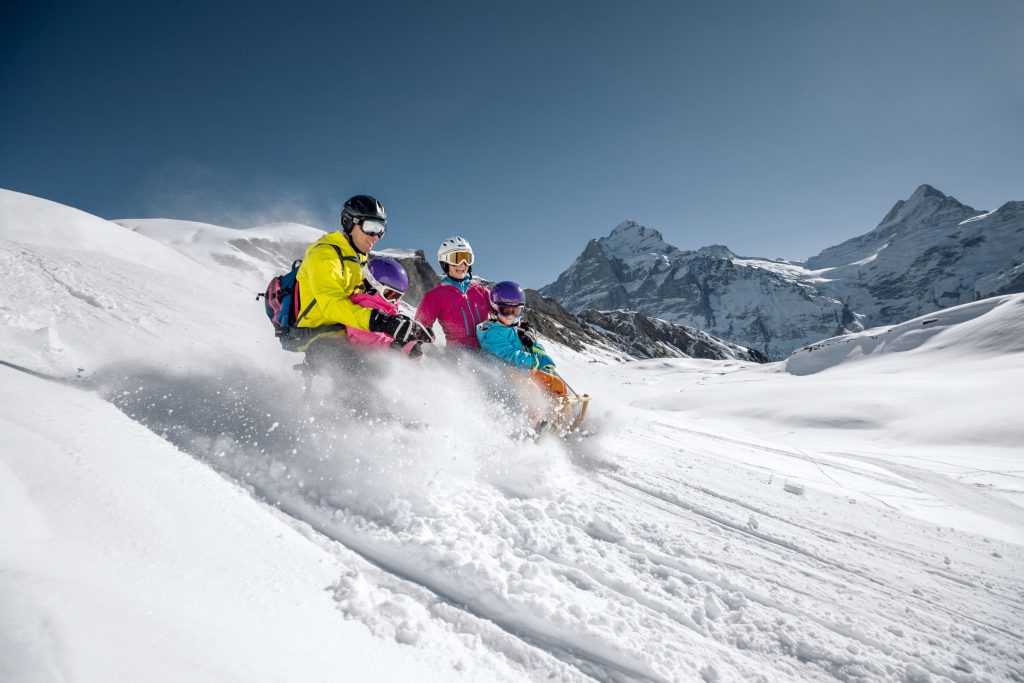 With so many different activities to entertain everyone in the family, these 3 mountain excursions are the best way to explore Switzerland. The snowy mountains, shimmery lakes, heavenly chocolates, and comforting food, and the plentiful activities that range from tame to wild make it easy to craft a customised vacation that fits your family's lifestyle. Plus, with the Swiss Travel Pass, you'll have more access to it all while enjoying greater savings. That means you'll have more to spend on souvenirs and activities to create even more spectacular Switzerland memories!
Article contributed by Allyson Klass.