Located at the gallery on level 10 of the National Library building, From the Stacks is a unique opportunity for bibilophiles to get a rare glimpse into the publications and daily life of Singapore's founding period all the way to the pre-war days. I had heard great things about the exhibition, so when there was an opportunity for a tour with the curator I jumped at the chance to bring the children along.
At six years of age, David is just discovering the joys of reading and he is definitely appreciated the exhibition more than my younger son Ethan. One of the first exhibits was of one of the earliest newspapers printed in Singapore, it was interesting snapshot of daily life which included everything from notifications of ships scheduled to sail to rewards offered for missing goats.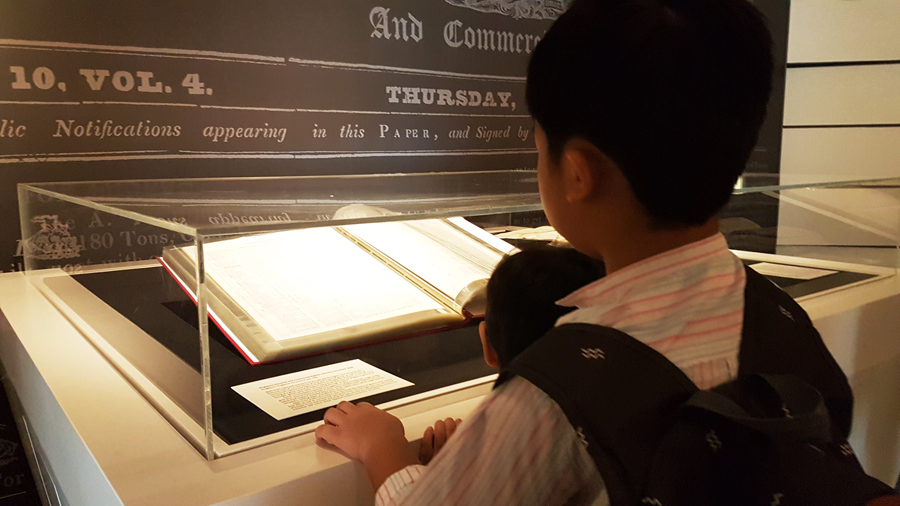 One of the highlights of the exhibit was a series of dictionaries offering translation to the native tongue. Understandably, these publications were essential for trade during the period, the Chinese dialect to native Malay dictionary was particularly interesting as it was written entirely in Chinese dialect.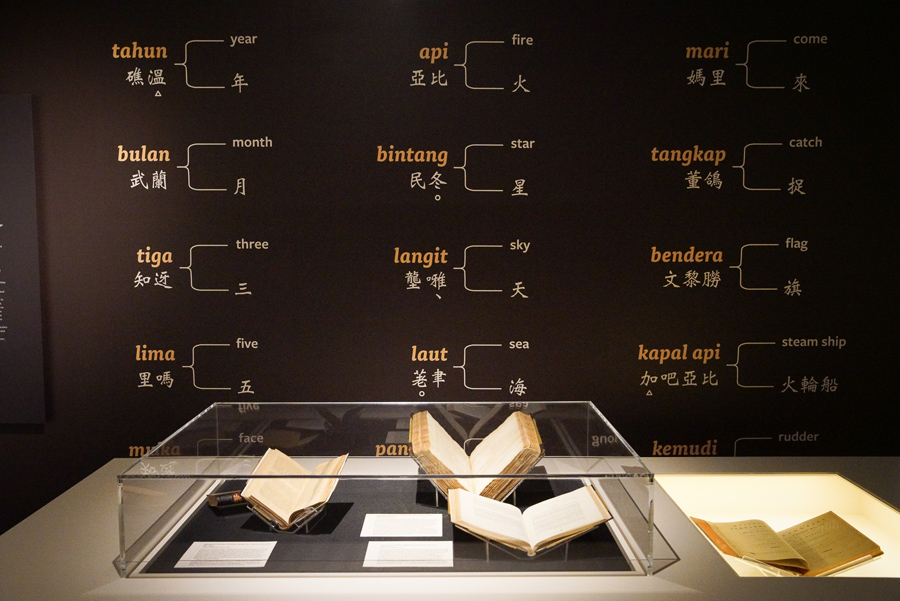 Other larger curated items included early maps of Singapore and letters written by Sir Stamford Raffles himself.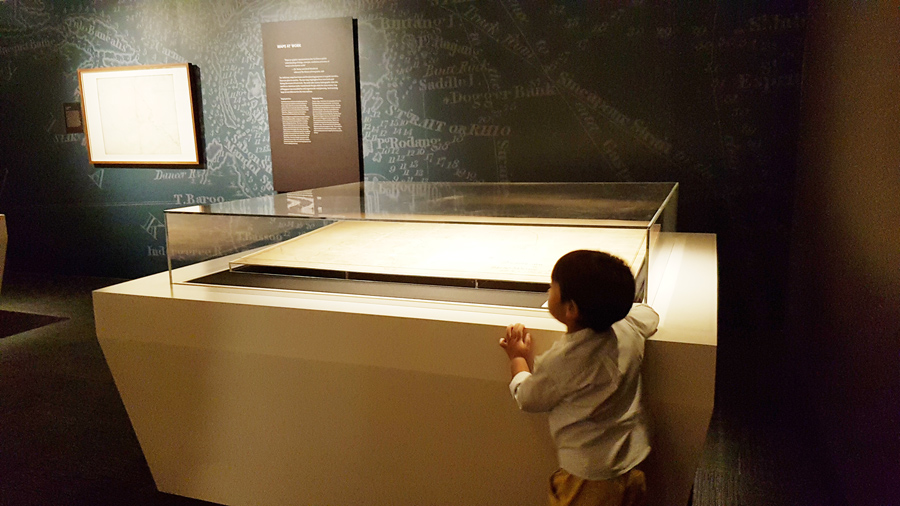 For older children, this exhibition is a fun look back at the history of Singapore through original publications and materials. There were a number of interactive stations that incorporated digital displays to help capture the attention and imagination of the little ones. Older children may enjoy poring over one of the first business directories published, the curators also included interesting facts of prominent businesses of the era into an interactive digital display.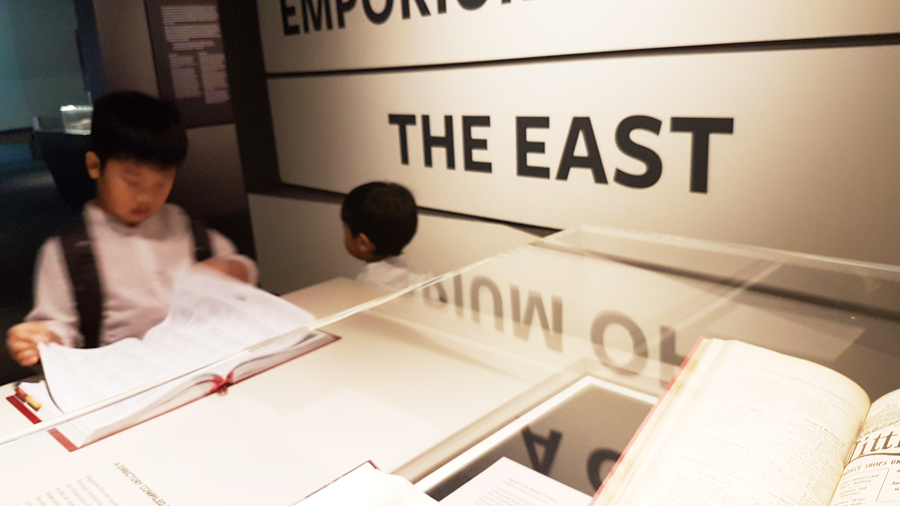 An effort has been made to bring the books to life with complementing videos and installations throughout the exhibit. The children especially loved the giant versions of Haji's Book of Malayan Nursery Rhymes by A.W. Hamilton that was first published in 1939. A product of the time, the book of rhymes was created to help foreigners learn the local language by translating well known English rhymes into Malay but preserving the spirit and idioms of the Malay language.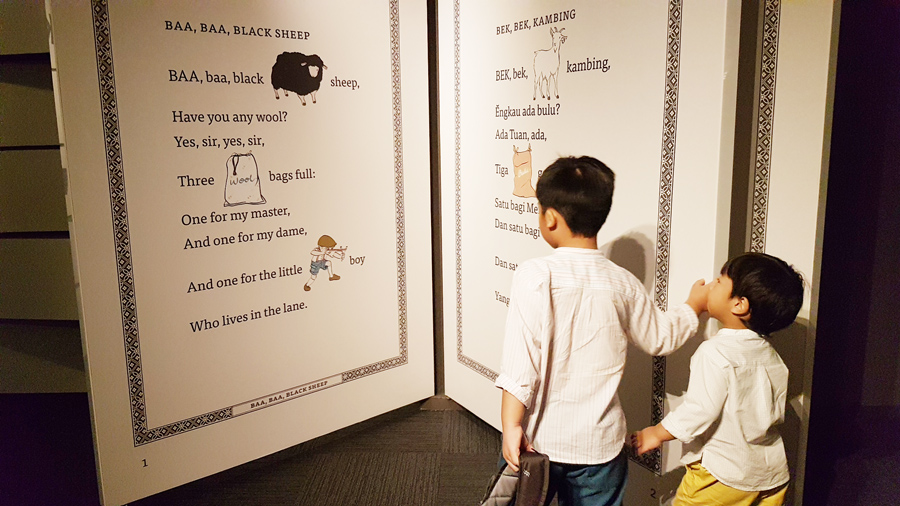 At the end of the exhibition, there was a fun bit of nostalgia as children were invited to stamp on cards resembling the 'library borrowing' cards of old.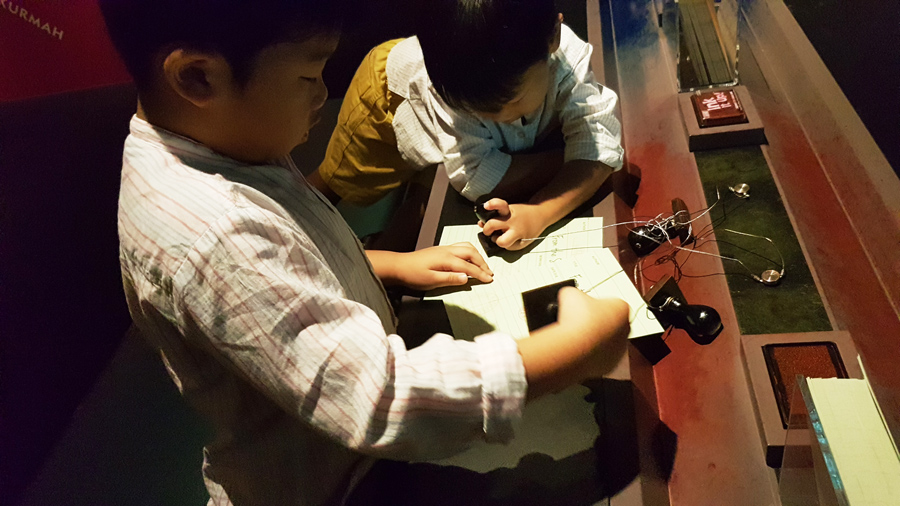 The exhibition is a good learning experience for older children. For younger kids like my son who's three, it was a nice well thought out area that helps stimulate their senses.
From the Stacks: Highlights of the National Library runs till 28 August 2016 and is located in the National Library Gallery on level 10 of the National Library building.