If you love European cheese and are looking for interesting ways to use them, here are two recipes from Saint Pierre's Emmanuel Stroobant using Gouda and Bleu D'Auvergne that are easy to put together but oh so delicious.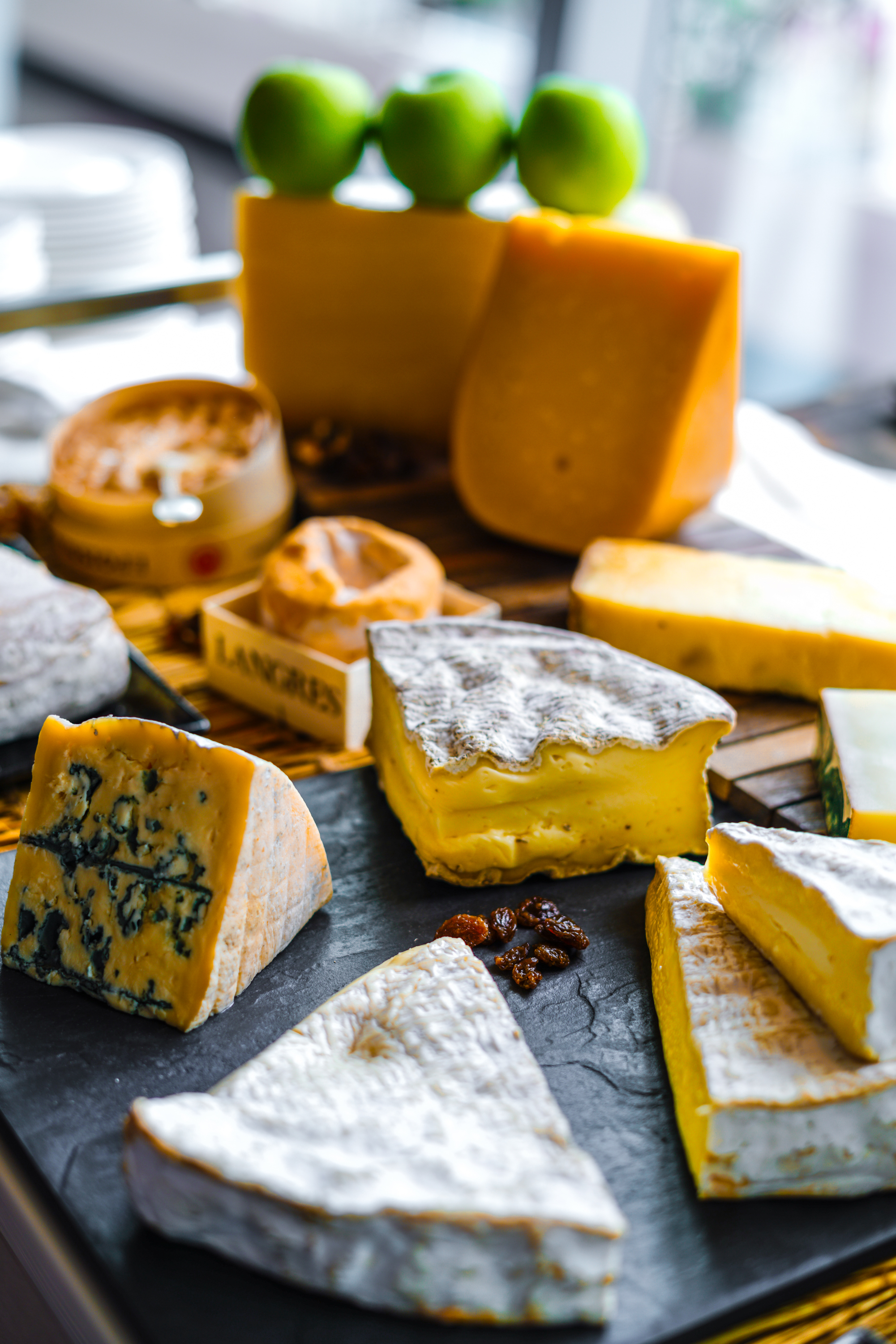 Spring Roll, Lemon Grass, Carrot Puree, Gouda 
Serves four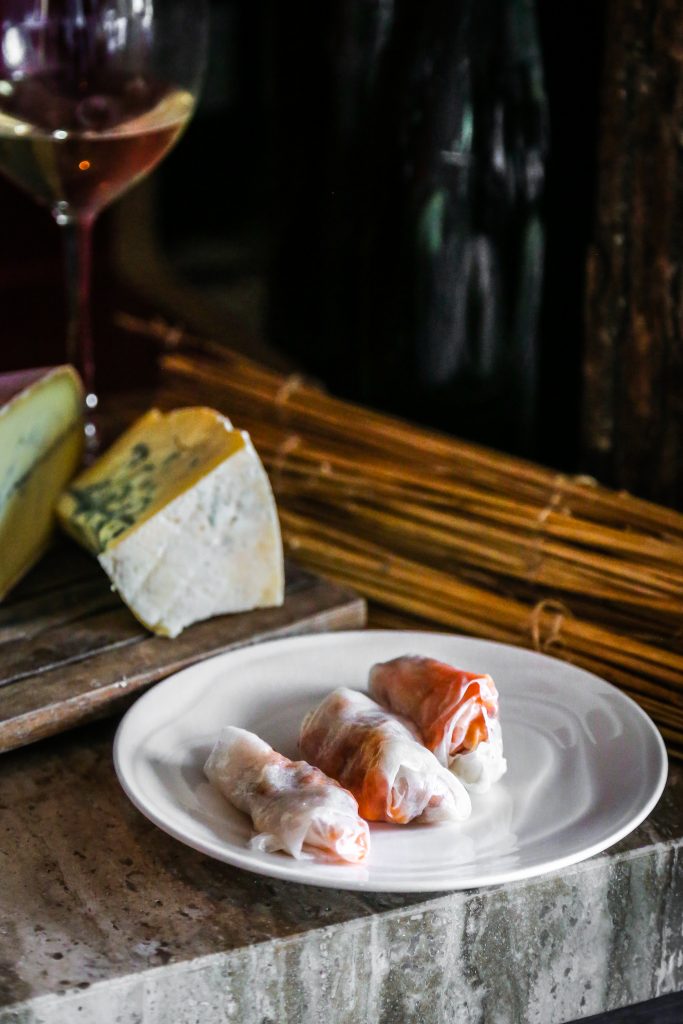 Ingredients:
2 tablespoons of canola oil
15 stalks of lemongrass (white part only) — finely chopped
30g of young ginger — finely chopped
2 tablespoons of toasted cashew nuts
2 tablespoons of dried shrimp
1 1/2 tablespoons of soy sauce
1 1/2 tablespoons of fresh lime juice
1 1/2 tablespoons of brown sugar
2 red chillies (seeded) – finely chopped
4 shallots (peeled and chopped)
100ml of cream
Salt and petter to taste
60g of Gouda cheese
4 spring roll skins
Method:
Heat oil in pan. Add lemongrass, ginger and shallot and fry until fragrant. Add cashew, shrimp and deglaze with soy sauce, lime juice and brown sugar. Season with chillies.
In a pot, combine cream and carrot. Cook slowly until carrots are fully cooked. Blend to obtain a puree and pass through a sieve. Season to taste.
With a peeler, make a small shaving of gouda.
Wet the spring roll skin with water, top with lemongrass, carrot puree and gouda. Roll and eat.
Bleu D'Auvergne, Papaya, Kiwi, Apple Cider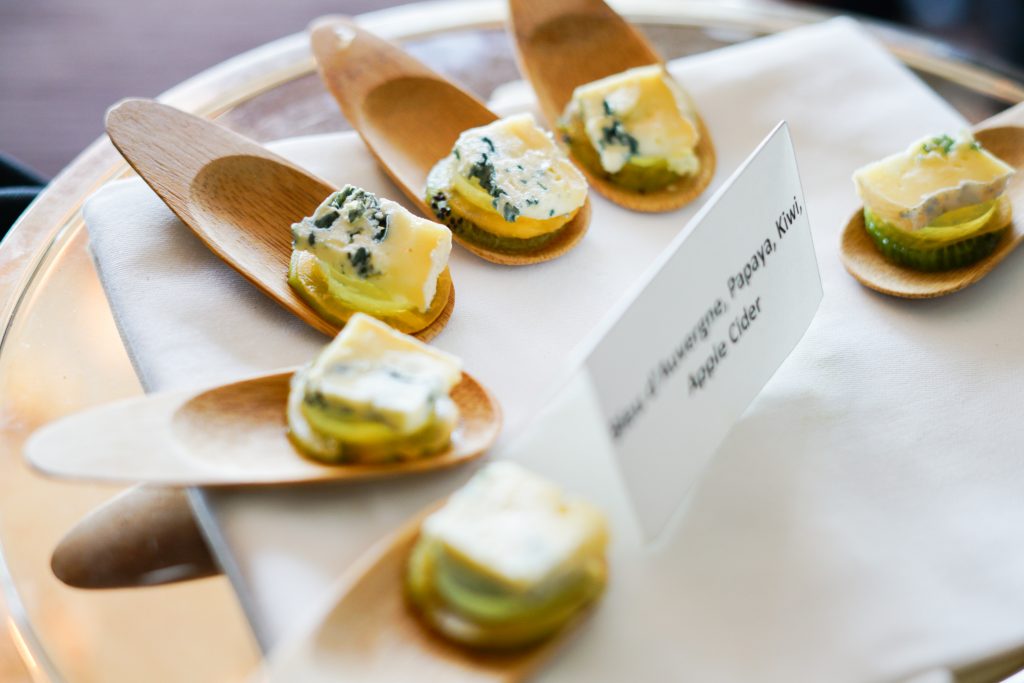 Serves four
Ingredients:
80g Bleu D'Auvergne cheese — diced
80g of papaya — peeled and diced
40g of kiwi — peeled and diced
100ml of apple cider
1.5g gelatine sheet
10g fresh dill
Method:
Bring cider to simmer, soften gelatine sheet in iced water. Press water out of the gelatine and add to apple cider.
Set on a small tray and allow to set for one hour.
Once set, chop the jelly.
Combine all the ingredients like a fruit salad.
Keep or serve chilled.
If you're a cheese fan, keep an eye out for the Say Cheese food truck at the following locations: 
Changi City Point
Date: Wednesday, 26 October 2016
Time: 11.30am to 2.30pm
Venue: 5 Changi Business Park Central 1, Singapore 486038
Mapletree Business City
Date: Thursday, 27 October 2016
Time: 11.30am to 2.30pm
Venue: 10 Pasir Panjang Road, Singapore 117438