S.E.A. Aquarium's Junior Ocean Protector Camp, part of Ocean Fest 2022, ­is great way to educate your kiddos about protecting marine life. This fun and enriching day camp inspires the future generation to become true-blue ocean protectors. Kids between the ages of seven and 12 years have the opportunity learn about the oceans and marine biodiversity, how to protect marine animals, as well as the threats that they are facing. Here's Mummyfique's first-hand experience of what went down at the Dolphin encounter camp!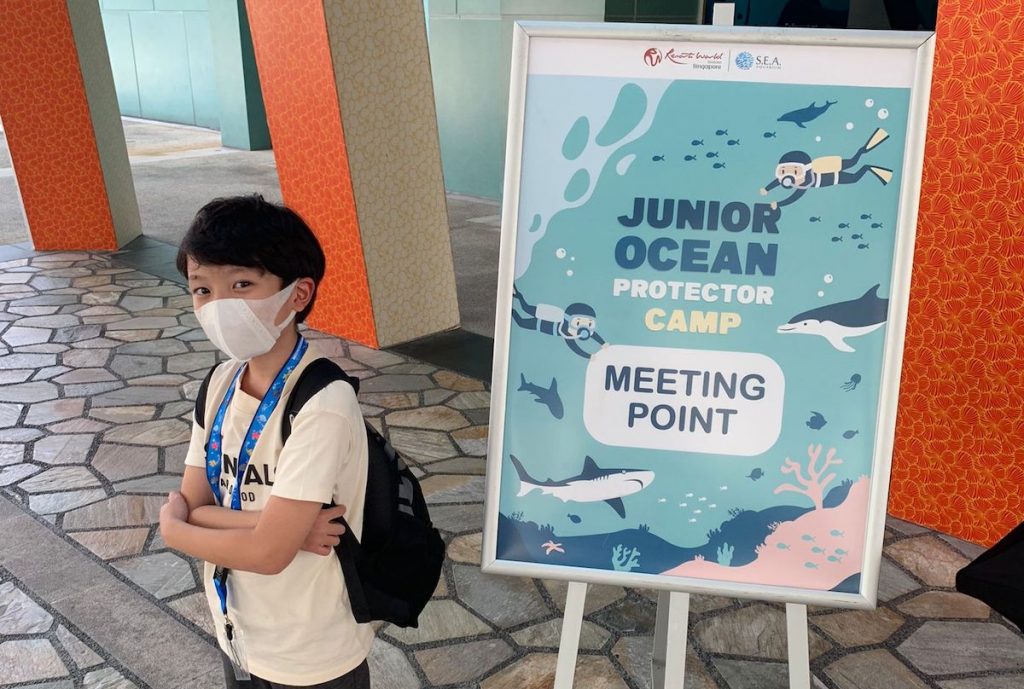 Embark On The Ocean Protector Trail And Dolphin Encounter
Firstly, junior protectors embarked on a guided Ocean Protector Trail. This comprised of various missions to help them learn about marine animals at the aquarium. Secondly, they also had educational encounters with selected marine animals. For instance, the kids took a trip to Dolphin Island where they had a short tour and met with the lovely dolphins! The kids had a ball of a time interacting with the intelligent and playful Indo-Pacific bottlenose dolphins. As well, they learnt fun facts their anatomy.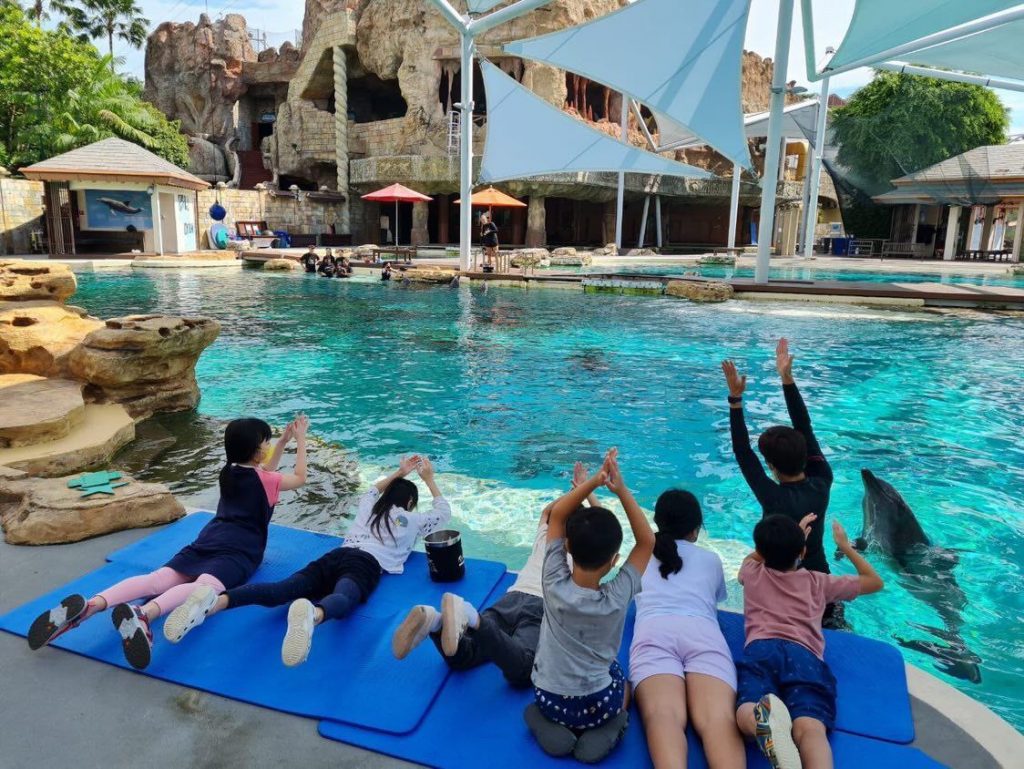 Learn To Reduce Waste Through An Upcycling Activity
Thirdly, the kids also participated in an upcycling activity where they learnt how to create an LED design lamp out of a plastic carton bottle. Through this experience, they learnt how to reduce waste.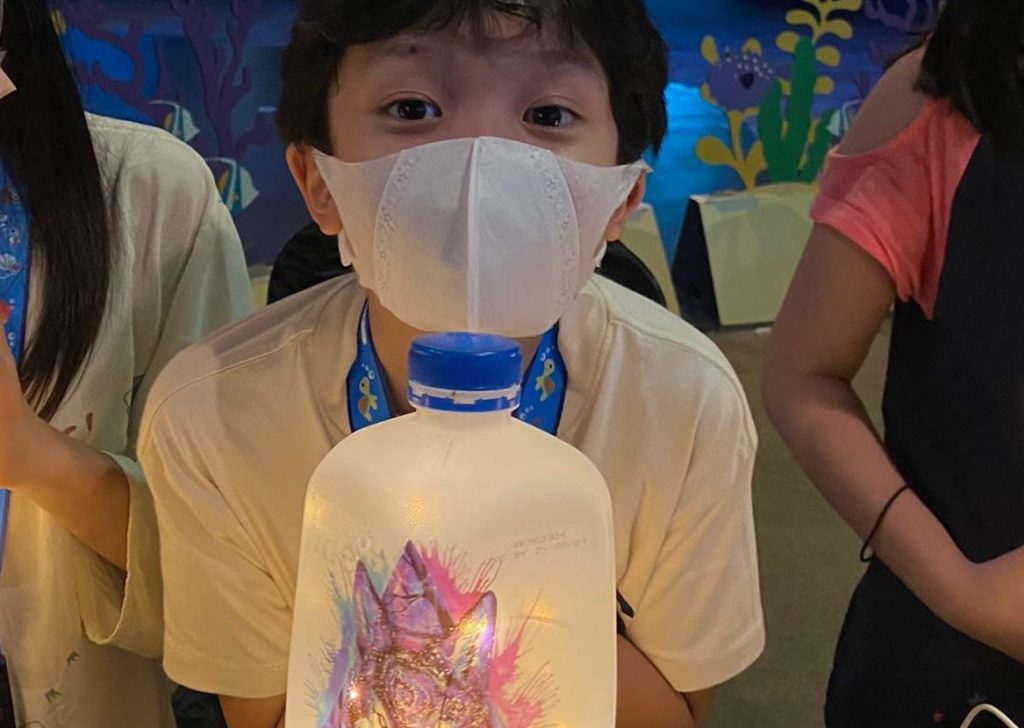 You're A Junior Ocean Protector!
At the end of the session, the kids brought home a souvenir as well as a certificate marking the completion of the camp to remember the lessons learnt.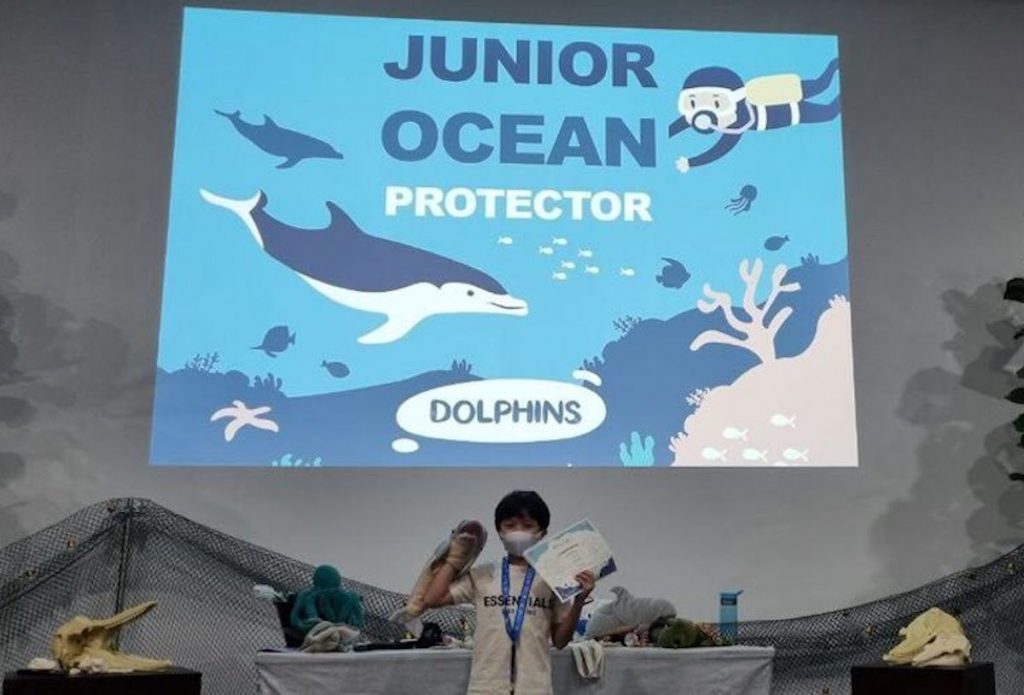 Overall, it was a wonderful experience for the kids as they uncovered fascinating facts about marine life. In addition, they had the opportunity to dive into the many ways to be change-makers for ocean pollution. It's never too early to be an ocean explorer and protector!
The Junior Ocean Protector Camp takes place every Friday, Saturday and Sunday from 28 May to 26 June 2022, with two sessions a day, one in the morning (9.00am to 1.30pm) and an afternoon session (2.00pm to 6.30pm). Participants will be split into groups based on their age and each group has a maximum capacity of 20 children. Parents can enrol one child (S$248 per child) and receive a complimentary dining voucher worth S$30, or enrol two or more children and receive a complimentary dining voucher worth S$80.
Check out other activities at S.E.A. Aquarium in celebration of World Oceans Day (8 June)!
A Colourless Ocean (Now to 16 August 2022)
This World Oceans Day, S.E.A. Aquarium is filled with activities that promote sustainable living which helps keep the oceans healthy. Discover the importance and wonders of the vibrant seas with A Colourless Ocean at S.E.A. Aquarium. Through an educational and inspiring journey, you'll learn to love and protect our oceans before they turn colourless due to the harmful effects of climate change.
Firstly, immerse in an ethereal art installation titled OBNOVA at the Shipwreck Gallery. Created by local award-winning multi-disciplinary artist, Rizman Putra, OBNOVA gives you a glimpse of how an ideal future would look like with a restored and flourishing oceanscape.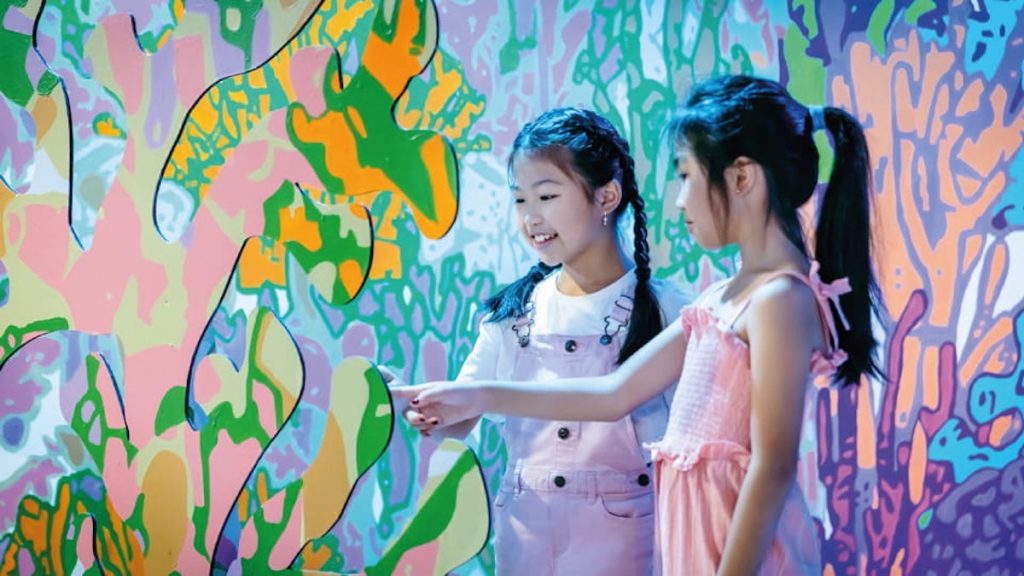 Secondly, you can interact with marine debris and learn about the impact of microplastics at the Ayer Ayer Shore Table. It reveals the extent of marine debris in our oceans and aims to inspire you to take action and participate in beach clean-ups. The Ayer Ayer Shore Table is filled with microplastics collected from Singapore and Malaysia's shorelines. You can sift through the sandy Shore Table to collect the microplastics, similar to a coastal clean-up. The microplastics collected from the Shore Table can be used to create colourful mosaic artworks that you can bring home!
Lastly, pledge to reduce plastic consumption and refuse single-use plastics by contributing their mosaic artworks to the Pledge Wall. This is the perfect way to end off your visit to Ocean Fest.
A special Ocean Fest Bundle Deal at S$48 per adult and S$38 per child is available during the June school holidays. It includes one S.E.A. Aquarium admission ticket and one S$5 meal voucher. There's also a S$5 retail voucher for adults or an educational worksheet for kids. For more information on S.E.A. Aquarium's Ocean Fest ­– A Colourless Ocean programme and admission tickets, visit www.rwsentosa.com/promotions/attractions/ocean-fest.