When the Pockit Stroller first hit the market, it was touted as the perfect travel stroller as it was lightweight and most importantly, folded into a small tight package – it is the 2014 Guiness World Records most compact stroller.
What do you do when you have a good product? You do research and find ways to improve your product, which was exactly what the good folks at gb did. The fruit of their labour is the improved Pockit+ Stroller.
So what are the new features?
There is a recline strap that allows you to adjust the seat angle to a comfortable setting for your child.
Have a child that is a bit too small for the Pockit+? You can get an adapter that allows you to click on a gb or CYBEX infant car seat.
These new features do mean that the size of the stroller is compromised, but not by too much. In the ultra compact fold, which you only need when wanting to stow the stroller in the overhead compartment, is now 200mm(L) x 320mm (W) x 380mm (H). Previously the fold was smaller at 180mm(L) x 300mm (W) x 350mm (H). The Pockit+ is also heavier than its predecessor, weighing 4.9 kg compared to its previous weight of 4.3kg.
How does the Pockit+ fare in real life? Mother-of-one Yu Shuyi and her son, Avery, put this new stroller and tells us what she liked and what didn't fare so well.
Pockit+ Thoughts
Positives:
Small size when folded
I was surprised by how small and compact the stroller was when it was folded. It's also great that it can stand up on its own and you can put it in a small corner. I have been to restaurants where the waitress asks me to park my stroller at the front of the restaurant. As the Pockit+, folds up into such a small packet, I can have it beside me without getting in anyone's way.
Stands on its own
It's ability to stand means that I can handle it easily on my own as I can leave it on its own without worrying that the Pockit+ will topple over in its folded state. It is also very manageable with just one hand, and I can easily handle my kid while popping it into the car with the other.
It's small size means that it takes up very little space at home too. In our apartment that already has many things, I view this as a positive.
Opens up easily
The Pockit+ unfolds into a stroller very easily, although there are a number of 'folds'. With the normal strollers where you have to "release" an internal latch before it opens up and press on a locking mechanism to lock the stroller in place. With the Pockit+ stroller, all you have to do it to unlatch the top, and it will unfold and lock into place with a strong flick of the wrist. You will have to use both hands though, when folding and unfolding it.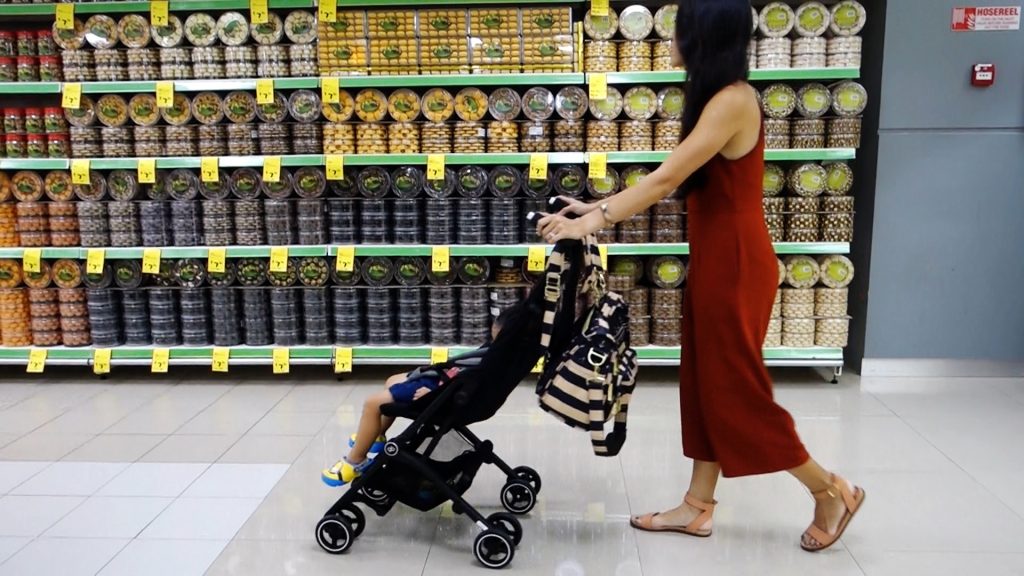 Easy to push
It handled the various 'city' surfaces very well – going up and down was not an issue – and it remained stable even as I pushed it around. I even managed to manoeuvre the stroller with just one hand. It also has a small turning radius, allowing me to easily weave my way through tight corners and crowded places. I can even do it with just one hand.
One 'switch' brake system
Having just one "switch" to control the brakes of both wheels was convenient – a normal stroller has one on each wheel. And the brakes are strong, the stroller hardly budged once you put the brakes on.
Adjustable recline
The new feature where the angle of recline of the backseat can be adjusted is a great one and I like how you can make it the precise angle that you need it to be. With typical stroller, even if you can recline the backseat, if can only be done at 'fixed' level.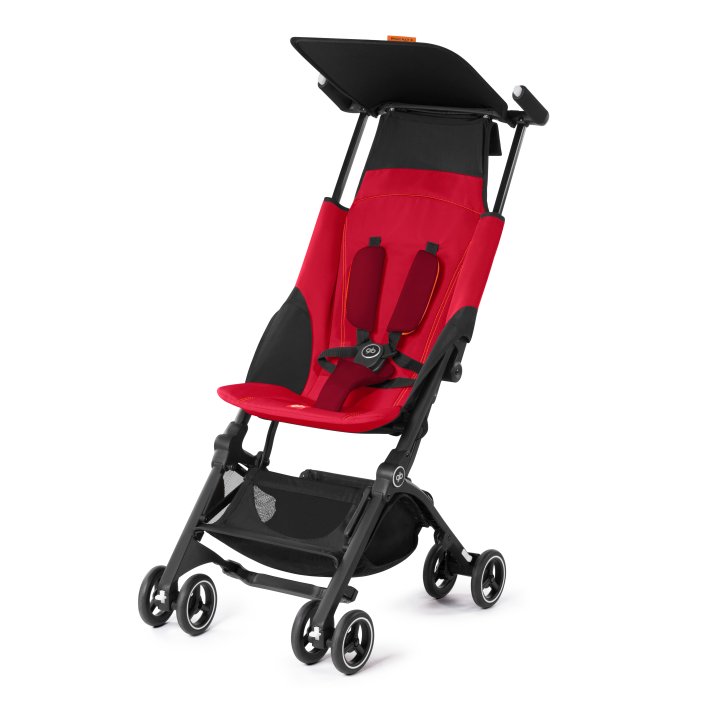 Cons:
Slightly shaky
The Pockit+ does sway when you shake it sideways, and can feel a bit unsafe for the son, but as long as I was mindful, Avery was not bothered by it. The lack of suspension means that it can be tiring to push it for long period as it vibrates at the handles.
Cannot fold with things inside the stroller
Do note if you are mum who likes to have a lot of things in the stroller, such as spare wet wipes, diapers and snacks, you won't be able to fold the Pockit+ while these items are still inside. I managed to fold it while I still had a pack of wet wipes and Avery's water bottle inside, but it would still be better to remove all items inside.
Unable to see child while using the stroller
While the shade is pulled down, I am unable to see Avery's movements as there is no see-through panel. It's not a big deal, but I personally like to be able to keep an eye on him even as I'm pushing him in the stroller.
Final Thoughts
I think that the Pockit+ is a great addition to any family, especially if one of you travels frequently alone with your child. Though there are still some things that can be improved upon, the pros outweigh the cons, and the ride was comfortable enough for my son to fall asleep mid-journey as I was pushing him, and he didn't stir throughout. Most suitable if you have a toddler who can already stand and walk, and just needs a stroller for when he gets tired.
The gb Pockit+ retails for S$399 on Mothercare and is available in three colours: dragonfire red, capri blue and monument black. From now till 16 July, you can pre-order the Pockit+ for just S$349 as part of Mothercare's Great Singapore Sale special.
Click here to purchase yours or to get more information.