Pretend cooking or masak masak is a favourite playtime activity among children. No matter their age, most kids enjoy the simulation of flipping and frying food over a stove and serving up a "meal" to their parents and friends.
The Play-Doh Kitchen Creations sets — Sizzlin' Stovetop and Shape 'n Slice — take the idea of playing masak masak to the next level. Children get to make their own food, in whatever colour that they want it to be. There is an assortment of food moulds that they can use to make all sorts of different food such as broccoli, prawns and oranges.
The tools that are included in the sets are quite special too. Other than the usual frying pan, spatula, knives and chopping board, there's a rolling pin, tongs and even a noodle maker. The noodle maker in particular, was a hit with our little tester, Ethan, who wanted to make every sort of pasta he could with the device.
Click on the video below to see our little Mummyfique tester try out the sets for himself.
We liked that there were many types of 'food' that could be made using the various moulds and tools, from a steak to noodles. Everything was also just the right size for a preschool kid to use. We were also very taken with the stovetop set that makes realistic sizzling sounds whenever you place a pot on top of it. It made the cooking experience seem more 'real' for kids.
The downside is that as an activity, it can get rather messy if you leave the kids to their own devices as stray bits of putty can get all over the place if you are not careful. Then again, this is a problem that can easily be fixed by laying newspaper on the table or the floor. Prying the dough out of the mould in one piece can also be challenging, so little ones may get frustrated when they can't get the perfect fish-shaped Play-Doh.
All in, the sky (and one's creativity) is really the limit when you have the Play-Doh Kitchen Creations sets, and it is bound to entertain your little ones for hours on end.
Mummyfique is giving away two Play-Doh bundles (as shown below) filled with goodies for you to make your very own kitchen creations. Head over to our Facebook page for more information.
Bundle 1: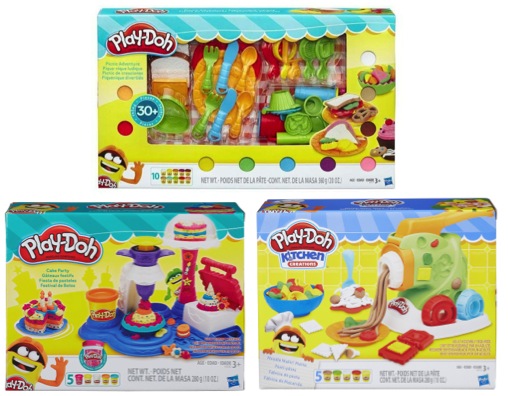 Bundle 2: