The husband and I are rather frequent travelers, and we've always made it a point to take our daughter to visit her grandparents in the UK on a regular basis.
Now, she never caused too much of a problem when she was a baby and in fact, pretty much slept her way through most of the flights we were on, even if they were long-haul.
But all this changed when she turned one and suddenly, we found ourselves with an energetic toddler in hand. I distinctly remember one flight where she spent a good four hours just running up and down the length of the plane — suffice to say that mummy and daddy were very, very tired as a result.
On our last visit back to the UK, the husband had booked tickets on Etihad Airlines, and I was rather excited about the prospect as I know that they offer a Flying Nanny service.
I first heard about Etihad's Flying Nanny programme when they introduced the idea back in 2013. I wasn't a mother then, but I did publish a news snippet on the launch in a previous job role. Fast forward a few years, and faced with the prospect of travelling with a rambunctious toddler, I found myself in a position where such a service was of interest to me.
As a background, there are some 500 Etihad Flying Nannies that serve on flights that last upwards of 6.5 hours, all of whom are trained at Norland College, an institution that has supplied childcare providers to royalty (such as the Duke and Duchess of Cambridge) and celebrities.
According to Etihad's vice president of guest services Linda Celestino, the training includes everything from pediatric first aid, to activities that are designed to entertain highly-energetic children for short- to medium-term periods. There is no extra cost to use the flying nannies, and their help comes as part of the service experience you get when you book an Etihad flight with young ones in tow.
Ok, so that all sounded pretty good on paper, but in all honesty, I didn't know what to expect. I had tried to find more information and reviews on the Internet, but there wasn't much floating out there, apart from some mums saying it was great, and others commenting that it was more like a member of the crew who happened to like kids.
Here's our experience:
With a stopover in Abu Dhabi, this meant that we were on four different planes to-and-from the UK, each with a different flying nanny on board. What generally happens is that when you board the plane, a flying nanny — who is garbed differently in an orange pinafore, so there's really no way you can miss her — is there to greet you. If not, she'll come and introduce herself once you've boarded the plane.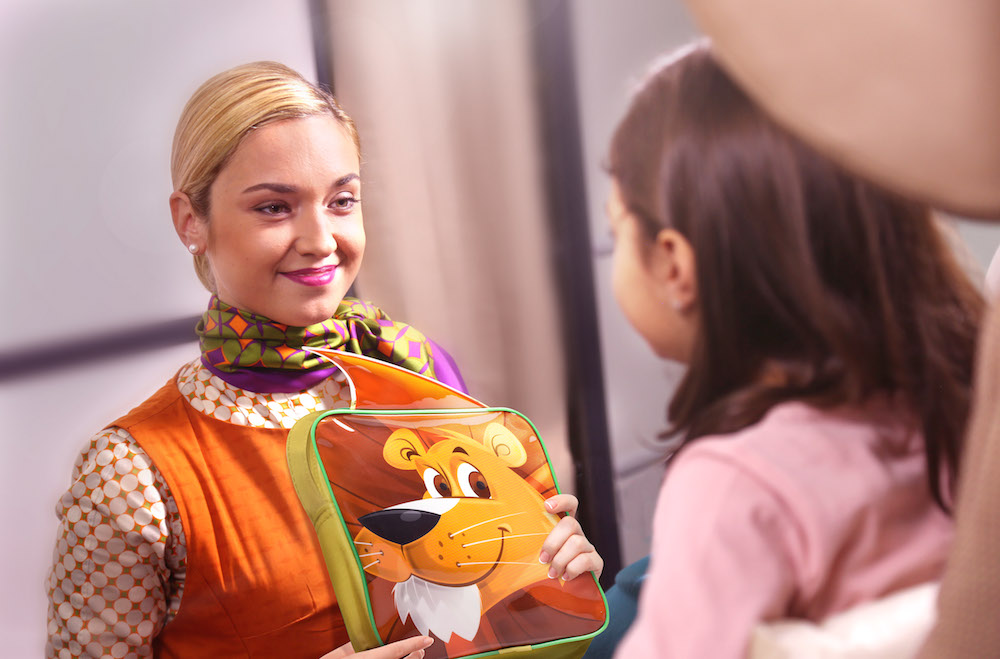 At various points throughout the flight, they come by and check up on you, to see if you need their assistance, whether it be staggering the meals so one parent can eat while the other watches the child, or even entertaining the little one so you can eat in peace or visit the bathroom. The idea, is to offer parents, the opportunity to have some time to themselves.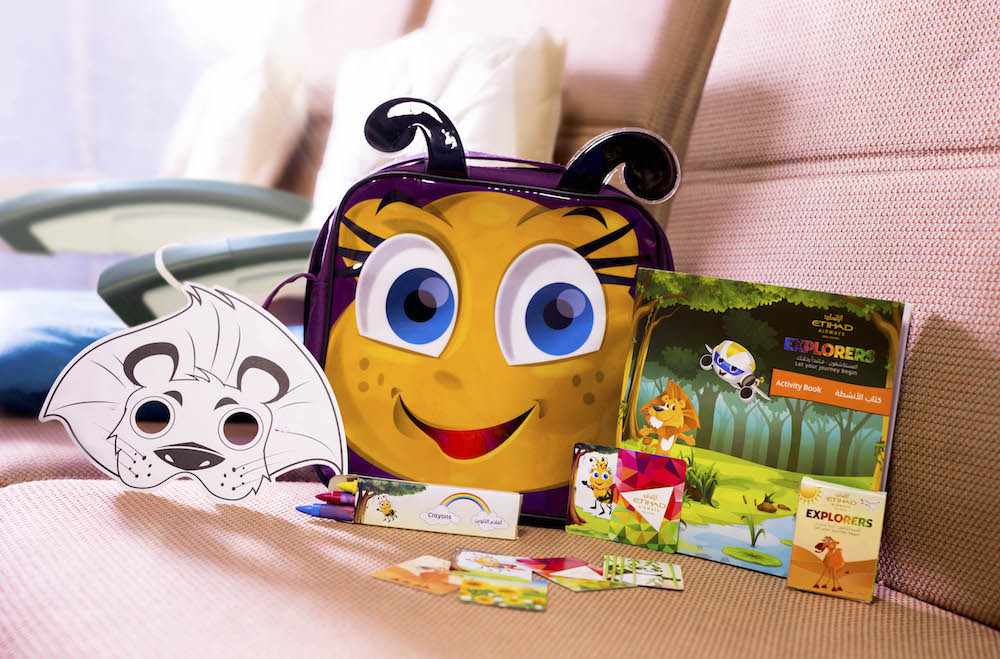 One thing I did notice is that they are armed with a plethora of activities to entertain kids. For the younger toddlers, this could be anything from story time, to finger puppets, and for the older kids, there's plenty of art and craft and even karaoke to keep them busy. "Children are super energetic at 38,000 ft., because they are in a confined space and have to be seat-belted in," explains Celestino. "So a lot of the activities are designed around distraction and engaging children as much as possible."
But the experience, I have to say, differs from flight to flight, or should I say, from nanny to nanny. On the first leg of our flight to the UK, the nanny on board (unfortunately I forgot her name), was excellent. Not only was she very proactive in coming by to check on my little one, she went above and beyond giving us break so we could visit the bathroom or have a meal in peace. She took my daughter to the galley for a good hour or so, entertaining her with stickers and finger puppets, allowing both my husband and I to get some shut-eye time. Even upon her return, my daughter kept running back to her for more, which is testament to her skill with kids.
On our second to the UK and the first leg on the way back home, the nannies, though enthusiastic, were probably a little less useful. In fairness, my daughter slept more on these legs, so perhaps we didn't need quite as much help and they did check from time to time to see if we needed any assistance. Not, that we expected the flying nanny service to be a drop off sort of programme where we board the flight, hand the infant over, and then pick the child up at the end of a flight, but their presence didn't really feel that different to any other flight that we were on.
That said, on the final leg, the flying nanny that was on board was again very good. She made very regular checks to see if we needed help, constantly brought over new toys and activities to keep our toddler entertained, and even watched her for short periods of time while my energetic (then) 18-month-old ran up and down the length of the plane. I was six-months-pregnant then, so this really helped a lot. My husband commented that she was excellent with our child, I was inclined to agree. My advice: if you need help, it does pay to just ask, although I can imagine, that many mums would feel embarrassed (and thus would be reluctant) to do so, in which case, a proactive nanny really is key.
All in, the flying nanny is a nice-to-have on flights, especially considering that there is no extra charge for the service. Depending on the quality of the nanny on board, it can really make the difference as to whether the flight is a pleasant one or not. As Celestino points out: "Nothing stresses out everybody on a flight more than a stressed out mum," so in reality, everyone — and not just the parents — benefit when there are well-entertained, and thus well-behaved children on board.