Stocking up baby essentials in bulk can be a great money saver! Often, you'll get the most bang of your buck and will always be prepared from diaper blowouts and ever ready to feed your little one. Especially with the current pandemic, buying your baby essentials online is the way to go and there's no need to brave crowds or carrying those bulky essentials home. 
From 19 August to 25 August 2021, stay safe and save up to 50% with Giant and Cold Storage when you shop at their online exclusive baby fair! Brands on promotion includes some of your favourite brands like Similac, Pampers, Nan and many more. With a click of a button, you can easily bulk purchase milk powder as well as diapers and have them delivered straight to your doorstep. What's more, enjoy FREE delivery anytime (with min. spend of $59)!
If you need to stock up on key essentials urgently, delivery can be arranged as early as the next day. Less time shopping in-store means you can devote more time at home with your little bub! 
Here are our top 4 recommendations of not-to-be-missed carton deals available exclusively at Giant and Cold Storage!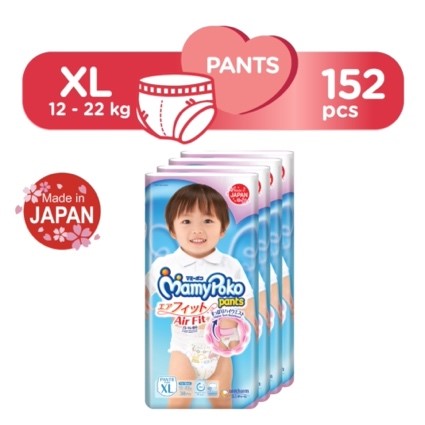 MAMYPOKO's Airfit Pants prevents leaks and provide dry comfort throughout the day; there's no worries about leakage no matter how much your baby moves! The soft higher waistband gently fits around your baby's waist to prevent sagging and leakage. It also has superior absorbency for up to 12 hours. The wider leg guard is designed to follow your baby's movements to prevent side leakage. Its breathable dry cover allows superior air flow for dry comfort plus there's a wetness indicator to know when to change your baby's diaper.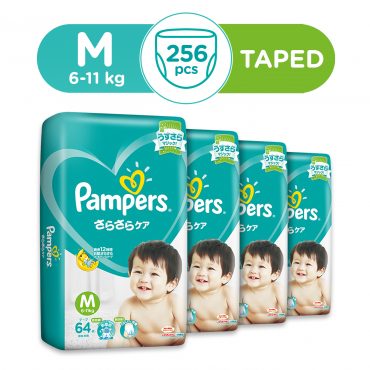 PAMPERS Baby Dry features up to 12 hours of skin dryness with New Magical Pods that absorbs quickly and distributes wetness evenly. In comparison to the previous versions, this new Pampers is designed to be thin and dry! It ensures all round breathability to prevent diaper rash and the soft cottony over wraps your baby's skin in comfort.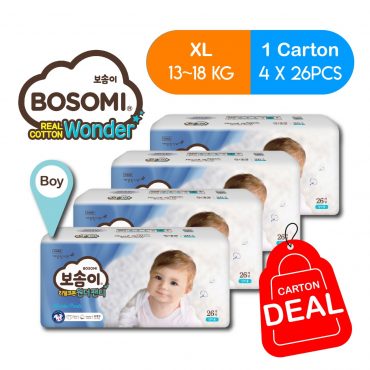 As diapers are on sensitive baby's skin for 24 hours a day, BOSOMI dedicates themselves to providing safer and softer diapers for babies. Made with 100% U.S. cotton materials and upgraded absorption power, BOSOMI Real Cotton Diapers protects your baby's skin and the 360-degree Air Cover emits residue humidity in the diaper to keep them fluffy. It also features a double-up leg band that keeps urine from leaking to the side. The Double Stretching Cotton Band also means that the diapers can comfortably fit your baby's size. It is also fitted with a Urine Alert Line that changes to blue colour to let you know when to change the diaper.
SIMILAC Gain 2'-FL Growing Up Milk Stage 3 (850g)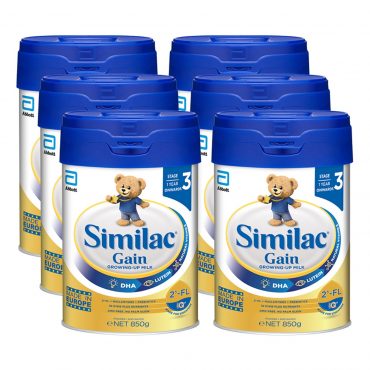 SIMILAC Gain formula is the 1st in Singapore with new and improved formulation of 2'-FL and nucleotides as part of Immunify ingredients. Their EyeQ Plus nutrition system consist of Natural Vitamin E, Lutein, plus DHA for synergistic, incremental neuronal connections. The formula is supported by a nutrient absorption system with a unique vegetable fat blend that has no palm oil. Over 20 important nutrients including Natural Vitamin E, Lutein, DHA, AA, Taurine, Choline, Iron, Zinc and Folic Acid that are lacking or lower in regular milk
All the above promotion items are available while stocks last, so don't miss this opportunity to grab the best deals and shop at Giant or Cold Storage online exclusive baby fair happening now till 25 August, 2021